Microsoft releases Windows 10 build 14393.222 for Insider Release Preview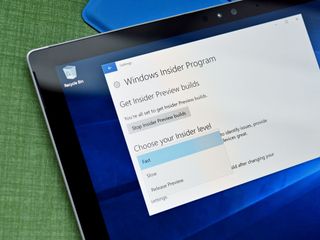 (Image credit: Windows Central)
Microsoft is taking the unusual step and releasing a late night (for those in the US) cumulative OS update for Windows 10 for the PC.
Cumulative update KB3194496 is now live for those on the Insider Release Preview ring (and likely Slow as well). Microsoft posted the changelog for the update and we're reposting it below.
The changelog applies to both Windows 10 build 14393.222 for PC and Windows 10 Mobile build 14393.221 released earlier this week.
Build 14393.222 (PC) / 14393.221 (Mobile)
Improved reliability of the Windows Update Agent, shared drives, virtual private network (VPN), clustering, HTTP downloads, Internet Explorer 11, Hyper-V platform, multimedia playback, and Microsoft Edge.
Improved performance of push and local notifications, Hyper-V platform, and some social media websites using Microsoft Edge.
Addressed issue where mapping a drive from an elevated command prompt doesn't work with administrator credentials.
Addressed issue causing movies that were ripped using the transport stream (.ts) format to play without sound in Windows Media Player and the Xbox One Media Player app.
Addressed issue causing the Movies & TV app on the Xbox to stop working when attempting to play content that was just purchased from the Store.
Improved support for networks by adding new entries to the Access Point Name (APN) database.
Addressed issue causing "Print all linked documents" to not work in Internet Explorer 11.
Addressed issue preventing some users from changing the default download location in Windows 10 Mobile.
Addressed issue causing unnecessary notifications about fixing Microsoft account in Windows 10 Mobile.
Addressed additional issues with multimedia, Windows kernel, Windows shell, enterprise security, storage file system, Remote Desktop, core platform, Hyper-V platform, Windows Update for Business, display kernel, near field communication (NFC), input and composition, Bluetooth, Microsoft Lync 2010 compatibility, Windows Storage API, app registration, Trusted Platform Module, Group Policy, Internet Explorer 11, virtual private network (VPN), BitLocker, wireless networking, datacenter networking, Cortana, PowerShell, Active Directory, connection manager and data usage, Microsoft Edge, Windows Recovery Environment, file clustering, Universal Windows Platform (UWP) apps, audio playback settings, DShow Bridge, app compatibility, licensing, cloud infrastructure, domain name system (DNS) server, network controller, USB barcode reader, and Adobe Flash Player.
Also, Microsoft notes that the builds for PC and Mobile are the same except for "an additional fix to improve the reliability of downloading games (like Forza Horizon 3) and game updates from the Windows Store" is included for PC.
The late night update follows a cumulative update for Mobile on Monday evening that brought the Insider Release Preview and Slow Ring to build 14393.221.
Daniel Rubino is the Editor-in-chief of Windows Central, head reviewer, podcast co-host, and analyst. He has been here covering Microsoft since 2007 when this site was called WMExperts (and later Windows Phone Central). His interests include Windows, Microsoft Surface, laptops, next-gen computing, and for some reason, watches. Before all this tech stuff, he worked on a Ph.D. in linguistics and ran the projectors at movie theaters, which has done absolutely nothing for his career.
Unable to update from 187 to this build. Says cannot complete update, undoing changes. Will wait for fix or next build.

You're not alone. Happened on my main PC too. Dell XPS 15 went fine though.

Aren't Slow rings for Mobile & PC now using RS2 builds* not RS1? The article's a bit confusing... *at least for Mobile I'm sure that's true

Hmm, must be the ~90hr wks & no sleep, head's a little fuzzy.

Only Fast Ring is on RS2 at the moment.

I'm having the same problem, my main PC installed it fine but my Surface 3 repeatedly fails. I tried clearing out the temporary files and uninstalled some applications to make more space and have now run the Windows Update troubleshooter which identified and fixed some issues, just need to wait and see if that fixed the issue. If I remember correctly this isn't the first time Microsoft has had issues like this.

Rs2 preview builds 14396 for pc/mobile has arrived on insider fast ring.

Add me to the list. Failed 1st time. Tried again after uninstalling some software and failed . Uninstalled more software, tried the 3rd time and failed again. Gave up and wait for Microsoft to fix this.

Same problem here (Surface pro 2)

+1. Same issue here. Tried 2 times on Surface Pro 3.

My Surface 3 too, with or without mSD card.

Is fast ring will see a new build this week.?

We were told last week that we will get a fast ring this week so I would expect one. It seems that they are really struggling with Redstone 2.

I wouldn't say any more than usual at this point of a new branch. It's going to be slower because more core code is being changed - give it a few builds as once they get past this phase and into adding features the quality and frequency is as high as we could reasonably expect.

Still nothing for the fast ring. Fingers crossed we will see more than just bug fixes when that new build comes.

I am waiting for a build where can charge when mobile is off. When connect with charger its automatically on. Why its necessary to on?

That's popular request but why it's necessary to "off"?

It allows the phone to charge quicker.

You can allow fast charging by activating flight mode and it works ;)

Since win8.1 my mobile use to Turn ON when i plug to charger. Is it s/w or h/w feature ?

If anything like Android, its set by the Kernel, or in our case, probably the bios on Lumia.

What about iPhones? They have something like that?

iPhone do the same thing. Posted via the Windows Central App for Android

It was that way at least since WM6. My old PDA was on while charging.

Li ion devices can never be charged with the system really OFF. Some phones fake its off.

if I am correct, my Lumia 610 use to charge when phone is Turn OFF

Phone maybe off but it is not actually off. Well, you can search the web for it.

This is absolutely correct. Li Ion batteries need active circuitry within the device to properly charge the batteries. It may not be running the OS, but some low level services have to be powered on and running in order to charge the battery. Otherwise, the battery would continue trying to accept a charge once full and would overheat then explode. If the phone's screen is off, and you've got airplane mode enabled, and there are no apps currently running in background, then there is no difference between that and the "off" of other devices that claim to charge while off. They just fake it like that.

Actually if the phone cant boot it w8s a lil bit to get more battery then boots up :P well i dont think it changes anything tho since it charges fast and when the screen is turned off its like i lose no power :P

The phone is turned on when connected to charger so that you don't miss anything.Glad to have it.

Downloaded on my 950 XL, Dell Inspiron 15 7000, NuVision Win 10 Tab, and Dell Inspiron 13 7000! Sweet!

I got this on my phone early Tuesday morning (east coast US). I was wondering why there wasn't a WPC article about it. I guess it was a delayed rollout.

Looks like a great update! Lots of fixes for enterprise features, important!!!

Are you using enterprise version?

Surface Pro 4 on .187 failed, rolling back... Will try again later... Also second time no luck on Surface Pro 4

Store issue still hasn't been resolved :( Got 6 apps ready to be updated or installed for weeks now... Its the biggest thread in the Feedback Hub's Store section.

Update is not showing in my mobile

like many others, failed to update my .187 build on Surface Pro 4. Also not seeing it offered on my WM10 that is on Slow Ring and still on 14915. After the botched WM10 Fast Ring build last week, seems like flighting is borked these days :(

14915 is greater than 14393. How do you want to get it?
For your device on 14915, either go back to Fast ring, or restore it through WDRT.

D'oh. Brain fart moment ☺

Release only. And not RS2.

Nothing here in the UK, yesterdays latest preview or otherwise.

Update is really slow and I did a reboot to get it going again. Now installed, had this same issue with previous update.

what is size of update ? for me hangs on 45% downloading again after 200 mb DL + 150mb DL by system proccess, windows update in windows 10 is sh***, i disable win update and leave insider program,

You can get a Standalone package | Cumulative Update: [url="https://catalog.update.microsoft.com/v7/site/Thanks.aspx?id=150"] via MS CATALOG; open this link in INTERNET EXPLORER only [/url]

for now my problem isnt update, is "system" process, this f*** process is eating my bandwidth

Either I'm blind or it's not on the Update Catalog at the moment

Installed no problem this morning (8am UK time)

Downloaded OK, but failed to install. (UK also)
Will try again later.

Failed installation on surface pro 4 in 2 attemps

Those guys are getting more builds then those on the fast ring

Wonder if this fixed ReCore from crashing from the last build.

Update doesn't work, failed twice. Noticed that it takes ages to start download the package.
After reboot system gets restored.

Did it fix the VPN issues while using apps like One Touch VPN?

No such app found in store....Could you please send me the link? Thanks!

the windows ink workspace is so unstable

Office suite on W10M is getting newer update. Runtastic Pro have also added Shoe Tracking in the latest version.

I've tried installing this update on my PC multiple times and always failing,

Anyone tried installing the .msi from the Update catalog? This might work for people if WU isn't working, also I had to on one occasion disable my AV during the install on one of the Release Preview updates

That would work but it isn't on the Update Catalog at the moment

Same here on my Surface 3. :)

Remember when install failed last time because of attached drives or microsd cards? Anybody try without these attached? Posted via the Windows Central App for Android

I'll give that a try if it fails again

I don't have any drives or cards attached and it fails anyway.

Tried on S3 w & w/o SD. Same result. No.

I hope they will fix random crashes in this build. It is really anoing. Lumia 950DL after AU it is disaster! :-(

I Hope they FINALLY FIX THE WRITTING LAG! It so f***** frustfrating to write ANYTHING with e.g. WhatsApp Beta autosuggestion enabled where the responsivnes of the keystokes are too late behind.. F***** OFF AND FIX THE BASIC STUFF MS!

Same issue, 3 machines wont install this update. 2 desktops and a surface pro 4. Going to wait until they fix it

The internet sharing bug has to be fixed on Mobile ASAP. It is super buggy right now and basically doesn't work at all on my Lumia 950 XL

12 different model/make PC's, all fail to install. Numerous retries: "We couldn't complete the Updates" Since Gabe Aul stepped back from the Insider program, Insiders and the Insider program has suffered.

May I suggest everyone with the failure to install 14393.222 also use the Feedback to register the problem. Only eight (after mine) reports when I typed in "Release Preview 14393.222 fail". There are more peeople stating they have the issue here than there. Just a suggestion.

You mean in the Feedback Hub?

Failed on Dell XPS 1640 laptop. Tried twice.

Cant ya just use NLite and slipstream the update then whenever u have to refresh / format ya pc its already integrated with the windows 10 iso

That's not the point, you shouldn't have to slipstream an update into an ISO and reset your device to get it installed!!!!

Don't know whats wrong with this update, even manual installation with .cab file doesn't work.
After failed installation update loop starts over and over again...

Makes me wonder if the problem lies with the update itself as it seems to affect a lot of different devices and manual install doesn't work either.

They should do some performance updates. The lumia 950xl is still to slow for a windows phone with a freaqing octa-core.

I agree.. With that amount of raw power beneath, it is a bit amazing why the overall performance is so "poor". There should also be a switch to TURN OFF all transition efects on UI. Views should just appear like lightning, snap!

Windows 10 build 14393.222 for Insider Release Preview Ring took my system 23 minutes to download and install. All seems stable. Perhaps I'm lucky because others are voicing difficulties with successful installation. Sorry, don't have any suggestions.

Then you're one of the few lucky ones

Installed this morning no problem on my Surface Pro 4 in Ireland

This is exactly what is making it so difficult to diagnose in that it installs on some devices but not others. I know of people who have been able to install the update on their Surface 3 but I'm unable to get it to install on mine.

I'm not sure if its connected but I recently did a restore because the surface was freezing a lot and notifications were buggy as hell, all seems well with .222 so far

Any update on the install issue some are having?

20 hours after failed with the releasing and still no respond from microsoft.

Tried twice with both ending up in fails. Now I need to change my "Insider" settings so that this update doesn't "tie up" my computer and attempt yet again to install an update that won't work, rendering the PC useless for my wife when she needs to work on it during update hours when it's going to attempt another "install/update," a RPITA! But turning off InsiderPreview won't help because this is a "Cumulative Update" and isn't affected by the Insider program right? So how do I turn off whatever... so that my PC isn't trying to install this "Cumulative Update?" I'm fine with Registry edits, I just want this turned off until we hear it works. Thank you in advance! (BTW, tried to send this comment originally on my 950 XL running the recent WC version... and NO luck, would not send post. Just adding insult to injury.

I hope this will help http://www.howtogeek.com/223083/what-does-80%9cdefer-upgrades80%...

You realize you're griping about "Preview" software right? This is for Insiders, not for production release yet. You should not be running that on any computer you intend to do real work on and need reliability. That my friend is your fault. If you don't want to deal with the issues that arise from installing Insider builds, don't sign up to be an insider. We signed up for this, we are here to test this software and report any bugs/issues we find through the feedback app so that Microsoft can fix the issues before pushing it out to the masses.

@histroypsi - OK, incorrect WC topic... my bad, but no need to jump down a persons throat. I'm talking about the "Cumulative Update"

@MsftMan Update is only available for insiders, so leaving the program should stop it trying to install. Have you looked at changing the "active hours" so it doesn't try and restart while she's using it?

There is an official tool from Microsoft with which you can hide updates so they won't be downloaded again, I've used that for this cumulative update and I haven't got it again.

Any idea what this tool is called?

Here's a page that describes and has links to what Gatanui was writting abuot; http://www.zdnet.com/article/microsoft-releases-tool-to-hide-or-block-un...

Thanks for the link and thanks to Gatanui for suggesting it.

PaPaPanda, Matthew, Gatanui... Thank you guys appreciate the assist. I think I have it locked down for now. Again, Thanks.

Sakar knows about the issue. The question is, why hasn't it been pulled?

actualy today I downgraded my 1520 back to windows phone 8.1 and I have the snapiest and bug free phone with the fastest apps and best battery life ever.... this is the best upgrade for me...
Windows Central Newsletter
Thank you for signing up to Windows Central. You will receive a verification email shortly.
There was a problem. Please refresh the page and try again.