Windows 10 Mobile build 14393.221 arrives for Release Preview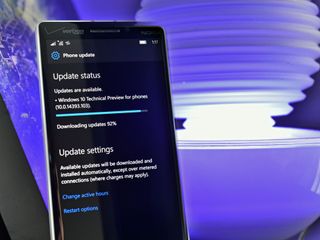 Despite it not technically being a 'Patch Tuesday' Microsoft is pushing out some new OS updates for those on Release Preview. Windows 10 Mobile build 14393.221 is now live for those on the Windows Insider Release Preview Ring.
The update went live sometime in the last 90 minutes and should be available for everyone on the 14393 branch on Release Preview. No update is yet available for PC, which is still on 14393.187.
As to what exactly is new, we have to wait and see until a proper changelog is posted. For now, we'll just have to assume some bug fixes and optimizations. Assuming all goes well with the update non-Insiders should expect it sometime in October during the regular 'Patch Tuesday' period.
Thanks, Luiz, and William, for the tip!
Daniel Rubino is the Editor-in-chief of Windows Central, head reviewer, podcast co-host, and analyst. He has been here covering Microsoft since 2007 when this site was called WMExperts (and later Windows Phone Central). His interests include Windows, Microsoft Surface, laptops, next-gen computing, and for some reason, watches. Before all this tech stuff, he worked on a Ph.D. in linguistics and ran the projectors at movie theaters, which has done absolutely nothing for his career.
I hope it doesn't brick the sim card again on my wife's 1520.

Isn't this the same update that was dished out to the fast ring a week or two ago - just patched up a bit?

No. Fast ring is on an entirely different branch.

Then I will not be beaten by the woman again.

Is your wife into tech? Mine isn't (but uses it and needs it to work) and she'd be pissed if I put her onto some sort of iOS preview that stopped any of the basics from working. Always curious when people say they put their SO's phone onto any sort of preview ring whether or not they actually are interested in tech - I feel like the Insider builds on any device should always be down to the owner/user to decide on. Not a dig like, I'm just curious. I'm the same way I wouldn't go and put a customer on Insider builds as they just want it to work

After switching between all OSes my wife declared she no longer wants to touch iPhone or Andorid anymore. Yet she uses my old HTC 8X currently.

The HTC 8x was a fabulous phone, one of my favorites out of the Windows phones I've owned over the years. I would have liked it very much if HTC had continued with newer models based on this type of design. It also had the taller display meaning you had an extra row of tiles on display when compared to the Nokia's.

Yeah, I kinda regret I sold it and got 930 instead which feels like a brick. Not saying 930 is bad but 8X was really premium device.

Is she into tech? I don't care if she is or not, really. She'll play ball until it doesn't work. I put her phone on the fast ring up until the last release, partially because I could, plus I wanted her to have the best looking version of WM - even though she basically just wants a phone that works which is her problem, not mine, LOL. Also, maybe, perhaps to a small extent, I am a little bit jealous that she has a 1520, for mine had broken and I miss it more than my first true love. I would like to see how it does. BTW, I have a 950 now and I hate my work iPhone 6 S+ (ridiculous name to type).

There is no release preview iOS, and there is no crying in baseball.

Unless you play for the marlins.

She was in a tizzy, so I slowed her down to the Slow Ring. I was under the impression that the slow ring was the same branch, just has had more time to cook, hence less bugs.

That's what the slow ring is, but right now it is still on the RS1 branch, as it is very early in the development cycle. But it can jump to RS2 any time. So I suggest that you flip her to Release Preview, to be safe.

I see, so my understanding of the concept is correct - I feel a bit better now! Thanks for sharing. To be honest, I always focused on the fast ring, so I really just glossed over the slow ring - until my wife's phone crashed. Mind you, she comes from an iPhone and is not complaining. I'd like to keep it that way.

I think it's a bit risky to be on the fast or slow ring on your main phone. I have my 950XL on release preview, and I bought an extra 640 just to play with the fast builds. My 950XL jumped to the fast ring only when it was stable enough (sometime in July) and it went back to release preview after the official release of AU. But of course you decide for yourself.

Yeah, I felt that way early on in RS, but I want this platform to succeed, so I risk it on my 950. Plus, MS has the easiest rollback and restore I have ever seen. WM is, in my opinion, the best OS - I use all three all day. IOS 10 is an improvement to be fair and as has been the trend, these OS's are becoming more and more homogeneous.

Yea but not worth it your wife phone, keep her happy ;) my wife only went insider fast when I believed in anniversary. Since official anniversary RS1, I put her back to production

Release Preview cooked even a bit longer than Slow Ring. It is the final Beta stage of the OS before it comes to production.

Note, you can't go from Fast Ring to Slow ring and go back to the previous RS1 branch; you will still be on the RS2 branch. You gotta use the device recovery tool to get back to RS1.

Valid generally but not always. You can go from slow to release preview right NOW. Both are on RS1 (but will not be for long).

Valid generally but not always. You can go from slow to release preview right NOW. Both are on RS1 (but will not be for long).

I went to slow ring a month ago from RP and have had nothing since. My phone seems locked on RP.

Please read what I wrote above. Release Preview and Slow get the exact same builds right now. They will not, when Slow moves to RS2.

What's the difference between the Slow Ring and Release Preview?

Slow & Fast Rings are previews for the next major update to the OS (Redstone 2, 3, or whatever it will be called). With 'Fast' being the newest and 'Slow' usually about a month behind and slightly more stable. Release Preview is just slightly early access to the next update for the current branch (Anniversary Update), and is usually very stable.

Slow ring contains dev builds that were promoted from the fast ring, which is a development branch. The release preview is based on the production release from july 2016. All of my devices are enrolled in the release preview.

I love the casual sexism in this thread.

That ain't sexism " That's life " you go stick your wife's phone onto fast ring download build 14926 give it back to the wife and let us all know how long it takes her to get angry at you or file for that divorce as some say. LoL

It's not casual sexism tbh, when somebody says "I put x on my wife/husbands phone" it usually suggests that the persons partner isn't necessarily into the latest tech or just wants things to work (i.e is a "normal" person). Personally, I don't think the decision to move off production builds should ever be made except by the person who owns the phone. If you didn't choose to move off production builds yourself you probably don't really know what the Insider builds are, and you probably arent enough of a fan of Windows to want to feedback on the next major release (You just want to carry use the tech for it's intended purpose with as little disruption as possible)

My 650 is repeatedly crashing after installing this version. Just stops. No error. Have to restart.

If this is a RS build,,, is there anything new and exciting, in RS2 for mobile?... IOW, am I missing out on anything big by not being an insider this time around?

I started to opt out, but I moved down to release preview.

Me too.. I've been on test builds for two years straight.. Since 8.1 test builds. I need a break.

Yep.
Insider program just sets fans on edge, and we've got enough issues. Since I got the 950, I've stayed on Release Preview and decided to just enjoy my phone for what it does.

I'm on release preview on my main phone now too. Same reasons... Been on test software so long I wanted a break. It's still Fast Ring on my spare Lumia 435 though. I keep an eye on the fast ring builds still. No new features really right now, mainly just more bugs since they're still in the core changes phase where most things break before getting better (As expected, so that's not a dig at them, it's the reason there's a RP ring after all)

Same here I keep my surface on fast ring though but release on my phone and desktop. Once RS2 fast either has more features or is a bit more stable ill probably switch back again.

Yep! It brushes your teeth and combs your hair. :-)

Really, now.. Wow. And, some dude yesterday said that WM was way far behind iDroid.. SMDH. Look what we got!

There's a hidden feature that allows Cortana to sing you to sleep and... Well...and another feature, if that fails. She only responds with 3gigs or more.

On Release Preview, It's still on RS1, just receiving bug fixes and optimisations' on the current AU update. I believe Fast ring is the only ring with RS2, however, it is rather unstable atm due to their works on OneCore (I use fast ring on my secondary device with no issues, but had come across some app compatibility (apps from store) issues.) So I wouldn't recommend fast ring at the moment unless you want to risk it :) You aren't really missing out on anything yet, as its mostly just updates to Onecore right now.

Ohhhhh, my bad. Nevertheless, the question still remains.

This is a RS1 build. It's release preview, not fast.

Redstone 2 is till just a fast ring feature from what I know. It is still very early in development, so I'd advise against upgrading to it now. Plenty of people have issues after installing it. Release Preview is the safest ring to be in. My daily use device is in Release Preview.

Slightly off topic, but after using WDRT to flash my HP Elite x3 to AU and V2 firmware it is now running like a dream. Forget surface phone, its here now. Boom

Yeah I'm using x3 dock at work, first time I've not experienced random reboots. I'm using WI RP latest build it's great.

For what it worth, I finally tried the Bluetooth toggle in the action center and it didn't lock up my phone. And, immediately disabled. Dunno if this was fixed sooner was too scared to use it.

Agreed, same here! I was having an issue with the Bluetooth toggle so I'm so glad it responds properly now!

Bluetooth works a bit better in latest production ring but still could use some fixing. Good to hear it works as it should now in RP build

Oh that's good to know. I have just actively avoided that button for awhile now. I'll have to see if mine works.

Yeah the last build or two on Release Preview ring were unusually buggy for me. No showstoppers but just some weirdness here and there occasionally. I hope this fixes them.

Same here on my 930, like some wifi networks not showing when I had flight mode active. Also had issues with the camera app saying that I had to close other apps because it was already used....

I noticed WiFi issues when in Flight Mode also. When on holiday I like to keep the phone in flight mode and utilize the WiFi when sitting around the pool, you know how it is. But I noticed that I could pick up a better WiFi signal at longer range if I turned Flight Mode off. You would have thought that by having Flight Mode on it would boast the power to the Wifi antenna - - appears not! From what I can remember I did post a Feedback comment on it, maybe Microsoft will pick it up.. PS - Also a Lumia 930 user, AU + Release preview Ring. Bluetooth, especially via in-car radio, is still my main pain point with Windows 10 Mobile and I do not believe it is related to my car sterio and/or electrics... Worked fine on WP8.

I wish they fix the 5ghz WiFi problem on airplane mode

Does it fix scaling bug on Lumia 635 636 638..??

Last update on fast did that.

This is not helpful, because what is in the fast ring comes to public next year and this problem needs to be fixed NOW!

Yeah like Demanding on WC is gonna get it fixed any faster.

Complaining about bugs that are present for many months now is not demanding, and telling people that there comment does not help people waiting for it to be fixed in the released version is also not demanding in my opinion.

The " Fixed NOW " kinda makes it look like a demand as Caps on a full word normally means shouting.

No need to thanks me, i just did the right thing! You guys know if microsoft already realized a change log?

Unrelated but does anyone else had any problem with Outlook Calendar Live Tile not updating/stuck on W10 Mobile? I've repinned the app multiple time to fix it but at some point it'll just happen again. Even opening the app doesn't help. I've switched to One Calendar for the moment but it'll be good to know what the problem.

No problems on my 640XL running release preview. What are you using?

Lumia 535 with W10M build .189.

Solution : Change the tile size of calendar/mail. Live tile would be update.

Already tried that. Didn't work :(

"Simple Calendar" has a better live tile (show more info) and is more reliable in my experience.

No, but the gadgets app no longer works on my 950.

That hasn't worked for me in a while. Don't forget to say so in the feedback app

I received an update for Gadgets in Fast Ring last week which repaired it. Though no messages with DT-904 atm. Guess it will come to the other rings and production soon.

My Gadget app and DT-904 are finally working correctly with my L-850. Finally!! Note that you may have to re-sync the DT-904 to get it working correctly. I am on Release Preview, downloading 14393.221 as we speak...

Yeah, same here since getting the 14393.X builds. Hard reset didn't help, I will wait until this will get fixed some day. Lumia 640.

Have you turned on the Battery saver? Try resizing the tile at once. I hope it works.

Battery Saver is always turned off. I've resized the tile multiple times already, still doesn't work. Thanks anyway

Same issue on my 640XL, plus Outlook live tile too. Resizing the icon is working, but this is not a fix of this bug...and it became quit annoying :(

It happened in 10586.xxx but was fixed. Still broken for me in rs1 even after some outlook updates and os updates

I'm facing it after AU non insider update.

Have you tried going into your email accounts settings and tinkering with the email sync update time frame - might work...