Microsoft Remote Desktop Preview updated for Windows 10 with bug fixes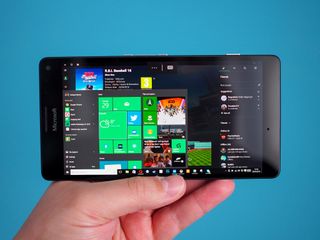 Microsoft has updated its Microsoft Remote Desktop Preview app for Windows 10 on the PC and Mobile. The minor update just contains bug fixes.
The new version number for the preview app, which allows remote access to other Windows 10 Pro, Enterprise and Server PCs, is 859. While officially, Microsoft only lists PC support for the Remote Desktop Preview, it does also support Windows 10 Mobile devices like the Lumia 950 and Lumia 950 XL, along with Windows 10 Mobile's Continuum feature.
Download Microsoft Remote Desktop Preview for Windows 10 PC (opens in new tab)
Ok but when is it out of preview its been a while and it works great. What's the holdup

There is a preview one and a regular one preview just has the new features to test.

Prefer to use Windows build in RDP combined with WOL (Wake on LAN) to wake up a sleeping PC. Don't see where this app has that capability.

Teamviewer is great and has one of the best apps in the windows store.

Agreed, and the person who voted your comment down is probably just a Microsoft fanboy who hates to hear about alternatives.

I use the Windows RDP with this app and a separate WOL app just called WOL. I'd link it if I could. The icon is black with a power button logo on it.

And when will you fix buggy W10M VPN setup???

What bug are you referring to? I use the VPN every day and haven't had any issues with it at all.

If your VPN needs "Maximum strength encryption" set because that's what the VPN server requires, it's simply not usable on a phone (because the only way to enable that client side option is via the registry or the "old" VPN configuration interface in "Network Connections". While not necessarily a bug, this makes it completely unusable from my phone. It works just fine from my colleague's iPhone (and yes, this is Microsoft's own VPN server implementation that we're talking about). Posted from Windows Central for Windows 10

Maybe the windows Mobile registry editor would help you?

Excellent point. I saw that show up on WC recently and was very tempted. I'm a little hesitant to sideload something that I have no way to uninstall. Also, once it is loaded, can one turn off the developer unlock? Or once you have sideloaded apps, do you have to leave the phone in developer unlocked mode ad infinitum? Posted from Windows Central for Windows 10

Need a tutorial for this app and how to connect with pc by phone/continuum/PC Sent by Lumia 532 W10M

While I personally am very familiar with using RDP (I literally use it all day every day to connect to servers), I agree that this would be a good topic for a How To article. Posted from Windows Central for Windows 10

Really want to see how this works with a HP Elite X3 and the Laptop Extender. My ideal setup would be able to do half my work on my desktop and the other anywhere with WiFi (HP laptop extender/continuum). I know its not its not quite as seamless but it is the closest we'll get to running full programs anywhere.

I MUCH prefer Teamviewer. On all devices.

Anybody knows ,any chances of windows 10 will be coming for Lumia 920??
India

You can get it via Insider but the 920 won't be getting an official upgrade to W10M.

To be honest, I never managed to get it working on neither of my Windows PCs/phones and different routers. And I think I have tried everything.

It requires a Pro edition of Windows, and if you're connecting from a different network (such as over your data connection or your friend's wifi network) you have to port forward Sent from my Toaster Oven (Lumia Icon)

No idea how to use this app and from the article it seems it's not for the Home users... So it leaves me no choice but to use TeamViewer

I've been using Splashtop but since upgrading to the 950XL the functionality is broken. Suddenly it's completely un-usable with severe latency issues and all kinds of touch problems. I guess I'll have to check out this TeamViewer app.

Nice article pic. Windows 10 looks nice on the phone.

Agreed, although turning on tablet mode would make it a little easier to use when using it directly on the phone. In Continuum, it's definitely better to turn tablet mode off. But regardless, it's awesome that you have the choice. Posted from Windows Central for Windows 10

Yes! This is the first time I'm seeing and I clicked just because of the picture. It looks absolutely badass on the 950XL.

This app is so much more than just another Remote Desktop app. It now has support for Azure Remote Apps, which is an elegant way to leverage Continuum and x86 applications. I realize that few folks would have a need for this, but it is a very powerful solution in the Enterprise. (The HP X3 is aimed dead at this feature set) Many folks think the Surface Phone would be a bust without an X86 processor. But that simply isn't true in the Enetrprise arena.

Hello!!! What does this app do actually someone pls Posted from windows central for windows 10 mobile

ok you finally get full windows on mobile :P

I would like to suggest LiteManager Free remote access support all windows platform and mobile
Windows Central Newsletter
Thank you for signing up to Windows Central. You will receive a verification email shortly.
There was a problem. Please refresh the page and try again.