Microsoft reportedly buys Surface Pro 3 pen maker N-trig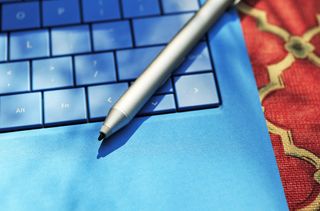 Microsoft has acquired N-trig, the Israeli company behind the Surface Pro 3 pen, according to a new report. Calcalist states the deal is worth at least $200 million and will see the 190 workers from N-trig integrated into Microsoft Israel to form a new research and development center.
After switching from Wacom to N-trig for the Surface Pro 3, Microsoft has taken the time to explain why their new pens are a better choice for the tablet experience over the industry favorite. Microsoft also owns 6.1% of N-trig, and an all-out purchase would make sense with the company continuing to back the stylus pen.
Source: Calcalist, via: Reuters
Rich Edmonds is Senior Editor of PC hardware at Windows Central, covering everything related to PC components and NAS. He's been involved in technology for more than a decade and knows a thing or two about the magic inside a PC chassis. You can follow him over on Twitter at @RichEdmonds.
Behold.... Phablets with stylus support incoming...... :)

what do I say, what do I say... Oh I get it... SAY we all

I hope so..give me a reason to upgrade from 1520....

Not before one or two year since they just bought n-trig? I can't see them including it with phone like the surface because n-trig doesn't make stylus for phone yet.

+1530
+Surface Pro 4
+Surface Mini

Hmmm...I don't know about a n-trig pen/stylus for your phone. Think about it...the stylus for the phone would require a battery!!!

I think it might happen. A posted a specualtive article on January 28th, 2015 that looks at the possibility of a Surface Mini Phablet and how MS can position it. Is a 7″ Microsoft Surface Mini Phablet on the Horizon? – "The Tablet That Can Replace Your SmartPhone" – By Jason L Ward (@JLTechWord) "Some may contend no one wants a phone that big. This is true. But many people do want a tablet that small. It's all about how this 7" Surface is positioned and marketed." – Jason L Ward

THE SURFACE MINI The "anticipated" Surface Mini (speculation) will probably take advantage of this arangement.
Curious to see how Win10 and the sub 8inch OS impacts how they position a Surface Mini. (If it happens) Will it hit at 8" or will MS be creative and place it at 7" and make it a Phablet? No, few people want phone that big l, but plenty people want a tablet that small. Positioned as a mini tablet with telephony capabilities and sold with the accompanying accessories of a pen AND a Bluetooth it could be the the tablet that replaces your smartphone.:-) Is a 7″ Microsoft Surface Mini Phablet on the Horizon? – "The Tablet That Can Replace Your SmartPhone" – By Jason L Ward (@JLTechWord) https://jltechword.wordpress.com/2015/01/28/is-a-7-microsoft-surface-mini-phablet-on-the-horizon-the-tablet-that-can-replace-your-phone-by-jason-l-ward/

I hope so. This is really big feature that the 1520/1330 is missing.

I'll give you three guesses who is going to power the pen in the Surface 4, and the first three don't count.

Damn, I was hoping they'd go back to the Wacom they had in the SP2. I miss being able to flip the pen around and erase with the end that looks like an eraser... and I'm not the biggest fan of being dependant on those elusive AAAA batteries.

N-Trig allows them to make thinner screens, though.

It was gimmicky. The eraser had to be laid flat and it was quicker to bind a button to undo/erase than flip the pen.

Yeah.. I just yesterday had to use an oldschool pen to write something and when I wanted to erase, I tried to press from the side like how I'm used to with the SP3 pen, then I was like doh and was like damn this flipping around is surprisingly quite a bit more tedious than having the button :D

It was a gimmick. Like the Steelers.

The same could be done with N-trig technology.

Good news for all those who have been crying for a Microsoft's rival for the Galaxy note series.

I think they should merge their previous plans of a "Surface Mini" tablet and make it the Surface phone: a 7" phablet with a stylus, a kickstand, and a snap-on keyboard/cover. That would be my nice phone. I suppose that's too small to make a working keyboard, though. Although, if they could use the camera on top to make a holographic projection keyboard, like this, that would be amazing.

I want an Intel-powered 5-6" PC in my pocket with built in telephony. It needs wireless charging, wireless display, removable storage, and an accessible USB port. When on the go, it looks like a phone/tablet. When wirelessly docked to a big display, it looks like a PC. I would pay two grand for this. MS: Windows phone is a failure. Time to try something different, like the above. Instead of going low end, go ultra high end and capture the market /above Apple's. Leave the $30 phones to Firefox OS and Android.

The consumer market for such a device is so small that it would be a terrible move for Microsoft. Most people don't need or want a PC in their pocket, they want a capable smartphone. The device you conjured up in your head would be so expensive and niche that it would fail faster than WP (which I would argue is not failing). W10 will be the perfect solution. A lightweight version of Windows made specifically for mobile devices.

@Tense @coip @blaxerailerx SURFACE MINI 7" PHABLET I don't want to repost my link, but if you'd like to read a post that addressees how MS could position a 7" Surface Mini Phablet, I actually posted a piece on that very topic just two weeks ago on January 28, 2015 entitled: Is a 7″ Microsoft Surface Mini Phablet on the Horizon? – "The Tablet That Can Replace Your SmartPhone" – By Jason L Ward (JLTechWord) You can find the link earlier in the comments or you can Bing it. I'm seeing comments about such a device. I'd be curious for your feedback on what I proposed. "Some may contend no one wants a phone that big. This is true. But many people do want a tablet that small. It's all about how this 7" Surface is positioned and marketed." – Jason L Ward

7" is a tablet, phablet is below that

That'll be a tablet case and simple. Outrageous for a phone. Posted via the Windows Central App for Android

lol yeah, I held a nexus 7 to my ear. Terrible.

And all the wacom fans cried out in despair while everyone else cheered for better integration..... :)

But my Wacom is great. No batteries required

Perhaps Microsoft will push the N-Trig team to develop in that direction.

Oddly, the new Wacom pen on the Toshiba Write does require a battery :/

I don't understand why battery is an issue. Have been using my sp3 surface pen for 6 months. The battery has never been an issue. And the weight and size of the pen, just feels right

I was introduced to WACOM with the Motion Computing LE 1600. I've been a heavy handwriting user for almost a decade, and the Motion is still hands-down the best handwriting experience I've ever had. I was introduced to N-Trig with the Dell Latitude XT2. Easily the worst handwriting experience I've ever had. My Surface Pro with a WACOM Bamboo pen doesn't feel any worse than the Surface Pro 3 I've used - though only playing with the SP3 a little in the store and when my dad had his with him. So, yes, I've got a very queezy feeling about them buying N-Trig. I want to believe, but...

It seems MS is on a shopping spree.

That same thought ran thru my mind! But its all for the progress of the company and its products so hopefully they will all be good investments

Yeah. It'd be nice if they let me tag along on their spree too haha.

It's smart timing. You can get a lot of great deals in the months after Christmas.

This is why nadella sees the pen as extinct in 10 years time.

Maybe Microsoft will buy a company that makes a stylus holder next.

The keyboard has a stylus holder

Or an industrial 3D Printer

The keyboard can hold the pen and the charging slot has a magnet to secure the pen.

that's for the pro 1 and 2 i think, the 3 only has the keyboard thing

If this means we can get a 1520 replacement with pen support I'm all for it :)

It's interesting, because Microsoft and OEMs have used Wacom in all the original Tablet PCs for years and while good, they were never a strong, compelling experience. I've been using tablets for over a decade now, and SP3 has been the best of them when it comes to the pen. It's fast, precise, and unless you're an artist you're not going to care about pressure points. It's a special function used as a buzz word in conversations like this.

In fairness, a minimal number of pressure points make all the difference when putting handwriting into OneNote... Just looks better with pressure sensitivity...

I see your point, but as an avid OneNote user I rarely keep my notes in handwritten form (I've never seen anyone's tablet handwriting that looks good). I instead always convert it to text. For that purpose, pressure-sensitivity may hurt more than it helps.

But One-Note with the SP3 Ntrig pen does have pressure sensitivity. If 256 different pressure sensitivies isn't enough for handwriting, then I'm not sure what really is. I can agree for artists the difference to Wacom might be signifigant enough, but I'm not buying that someone needs the 1000something sensitivities over the 250something of Ntrig. I use handwritten notes ALOT and there is roughly 3-4 types of pressure I tend to apply on any kind of regular basis.

They have a lot money hehe

Great stuff! Microsoft definitely needed to bring this in-house and focus on improving and integrating pen tech in Windows 10. Hopefully we'll see pens available on all Microsoft devices in the future, and see the price of entry drop dramatically (The Encore Write for example is, what, $150 more than the non-pen version? Madness) too as it'll never take off properly in the mainstream until it's available on a $99 7" tablet. Throw in Microsoft's cloer partnership with Adobe and hopefully we'll see some cool new things this year with pen tech...

So this means if you want a Wacom in a future tablet, Surface is just off the table now, shame.

Blame Wacom for not wanting competition for their expensive Cintiq tablets.

I haven't had experience of any of the Surface devices, but how does their pens fare? All the adverts and reviews show the pen being implemented in Photoshop to draw or doodle. I believe that typing on a tablet is awkward and that a pen is to go for creation of documents, notes and emails, like on Note 10.1 tablets. How's Surface in this department?

I love the pen support on my SP3. Personally I prefer typing for notes (at school for instance), because I'm a much faster and more efficient typer, and my handwriting is bad. However, when I use the pen, I'm hardly ever disappointed. I find the only times I may get upset are when the app isn't perfectly utilizing the support. Or if I try to write very small, but that's probably my bad handwriting that mucks it.

after good calibration, the pro 1 pen is awesome

MS these days be like "oh im bored, what about buying 2 ou 3 companies to integrate their services to mines?" Good job MS, Satya was for sure the best CEO you could get after Bill himself

MS doesn't make many acquisitions compared to Google or Apple. Acquisitions make sense for a big l, established tech company as the start up process serves as a sort of elaborate vetting process for the viability of a technology. This same vetting process is difficult to duplicate for technologies developed internally because politics, red tape and varying degrees of influence and power among internal players make the vetting not as accurate.

Sweet. Looking forward to Lumia 1530 with pen support.

Microsoft's latest acquistions are some I haven't had to qusetion at all --- unlike the MIcrosoft of past. Another great pick up for MSFT.

Don't google apple or Microsoft invent anything any more?

Apple never actually invented anything.

they sure are throwing loads of cash out, must have something BIG up their sleeves... Windows 10 ftw :D

But... Wacom >>>>> Ntrig.

I personally prefer the pen on my Surface Pro 3 to the pen on my Surface Pro 2 by a huge margin.

ehmm Wacom is not that great..... only because Wacom is popular it doesn't mean it's better? why do you use Windows Phone then? I mean, android and iphones are more popular, you should be using that if you believe wacom is so superior to ntrig.... and it's not like Microsoft doesn't have money to refine ntrig. then they can throw 1024 or 2048 levels of pressure, and then make people believe they are so much better, because some people think 256 wasn't good enough, and then judge based on just that. and then lie their minds like "omg, this looks so much worse, because it's not Wacom"

Oh no no. You misunderstand me. I'm not saying better in terms of how it draws. Of course most people don't need so many pressure levels, and if they do then they should probably be using a dedicated graphics tablet anyway. I'm talking about the battery operation. Wacom pens work on magnetic resonance and don't require batteries whereas most N-Trig implementations I've seen use batteries. Sure they probably don't need to be replaced for a good long time, but it's still something that comes around to happening. Passive tech is just more interesting (to me, as an engineer), and considering that Wacom has made a more interesting product. But it is patented. Otherwise I'm all for N-trig :) Pen to screen (lack of) lag is incredible on SP3 too!

It's indeed about tradeoffs. Passive pen is nice so that you dont in most cases have to bother with batteries, but it makes for thicker devices. I rather take the actual device thin (SP3 says hello) and the pen being the size of an actual pen (SP3 says hello again) than have a thicker and heavier device with a pen that is just a piece of plastic :P I really love the SP3 pen. It feels so good in many ways.

ITA, resonance tech requires an extra layer to detect those waves from the pen. Considering how well SP3 has implemented the N-Trig pen, it is a better implementation than most Wacom ones I've seen. SP3 has pretty much nailed it. There are actually no other serious computers that have done it so well; most are thicker and heavier and their pen lag is big. In those cases Wacom is a better choice anyway. But for SP3 I think N-trig was a better design choice. :)

Wacom is better (due to them being much older) but not by that wide of a margin. I'm perfectly happy for MS to break the expensive stranglehold they have on digital artists. N-trig has come a long way from where it was and I expect it to improve even more.

Yay for the Israeli company too!

Damn, Microsoft is just eating up everyone lately. Very Google-like in terms of acquisitions.

This is a good strategy. It secures small but important partners to the system. What would MS do with their SP3 if Google had moved in and bought this company and then shut it down? Not beyond them these days.

What else have they purchased lately? I have been super busy and didn't know of this.. :)

That email app, that calendar app, and now this.

This makes sense as when on the Windows 10 event as they was showcasing the Surface Hub, the presenter was talking about designs for pens.

Awesome. I'm guessing they probably aren't planning to launch a separate competitor to Wacom's USB drawing pads, but some competition would be great there, the prices are ridiculous because Wacom has a monopoly on the market.

I don't think n-trig is necessarily optimal for anything other than a device around the size of a Surface Pro. For a phone with a pen, I'd rather take a slim wacom stylus rather than lugging around a pen the size of SP3 pen. For SP3 though I absolutely love the pen. It looks good, feels good, works great. I use it all the time!

All these Israeli companies are amazing!!

MS ain't F'ing around anymore...... BING on the Surface Pro phone, we all want it

Nice imagine a 1520 with stylus support and office. That would give the note 4 some real competition

I've been a diehard Wacom user for many many years as a photographer. I use an Intuos for my desktop workstation, and have had laptops with Wacom support for years. Even used the Wacon pen on the sp2. But man, after using the Sp3 for pro photo work, I think I'm sold on ntrig. The accuracy is excellent, and the number of pressure points is fine, despite being much less than Wacom. I do miss the eraser end, but its fine. I just wish the button on the sp3 pen can be used programmed to do whatever we want.

Microsoft should also buy Glide and replace/integrate Skype's Qik with it...

I want a mini smart phone that fits in my business slacks, that syncs with a phone the size of my 1520 which is in my brief case which can sync with surface tablet that has a cellular radio in it. All carrying the same # and carry call through with smart phone features... Go for jog, take a call on my mini phone through blue tooth, get home transfer call to Bigger phone....go to work in car...get to office have option of transferring call to laptop 4 for video calling, chat, etc. The later two with a pen support... Dreaming I know...

wow these are amazing news. I haven't tested ntrig on mudbox or 3dsmax or anything but it looks nice. Microsoft surely can make ntrig be better than lazy expensive and boring wacom.

Just wait for Apple to release their active stylus... Then it will be the best "invention" Apple has come up with yet. Lol

This is definitly a move to prevent Apple from purchaseing it, like they did with the AuthenTec.

n-Trig is way more than just a stylus company. Note that n-Trig was also one of the first makers of multi-touch touchscreens. Back around the time the iPhone came out, they were one of the companies we talked with about multitouch for our gaming devices (before everyone had one in their pocket). The other giants in industrial touchscreens all told us that no one would ever want multi-touch and insisted on treating a touch as a mouse action (where you obviously can't easily handle multiple touches). Idiots! n-Trig understood the need for multi-touch. They also made the first touchscreen that accepted both touch AND stylus, before there was integration with Wacom. I happen to really like Wacom for a stylus and have that on my Fujitsu T904 convertible (love that it doesn't take batteries), but with the acquisition, Microsoft is getting a lot more than just a stylus company, they are acquiring one of, if not the, greatest touchscreen tech innovator in the world.

Hopefully this gives them an avenue to productize related MS Research projects more easily.

Don't quite get the logic behind this but ok

Microsoft seems to be on a shopping spree acquiring all these companies lately. Not bad if it all aligns to their goals and help them reach such goals faster.

aw, I wish they tried harder to get Wacom. Oh, well.

Microsoft has some focus on hardware, if there is anyone who can compete with Wacom, it is Microsoft. Microsoft can also shake up Apple as well.

i'm a bit bummed that this means we won't get the glorious battery free wacom pen from the surface pro 2 back. i don't care how long it lasts, i don't want to have to change a flippin battery when it doesn't come with any real advantage.

Actually there is one big advantage to the N-trig tech, lower device costs due to needing only one digitizer layer that supports both touch and pen. Wacom now has the same type of tech and the pens require a AAAA battery just like N-trig.

I think that Microsoft has a business angle to this N-Trig tech purcahse. A lot of business people want a 7 ot 8 inch tablet for Business document signing and orders, note taking, Waitress order taking, Ware house inventory work, Airplane flight log and flight check list tablets ect. there fore look for the introduction of a Surface "One Note" Tablet. Microsoft I think wont use the Surface Mini name since they killed the product due the fact the decided to not make anymore RT OS tablets. Imagine a Windows 10 smart phone working with out a phone dialing service with just touch freindly Microsoft Office and other Windows10 Universal Apps. that's what i think Microsoft has upit's sleeve and will introduce at MWC next month. it will be a like a Dell Venue 8 inch tablet it will run Windows 8.1 / be Windows 10 ready, use an Intel Atom CPU, 2 gigs of ram, 32/64 gigs main memory with Micro USB mem espansion to128 gigs,Come with an N-Trig Tech Pen, MS office 365 and a folding kick stand case combo if it does not have a bulit in kick stand and cost 350 to 450 dollars. it will sell fairly well but not be an Ipad mini killer. it may be the tablet you see a lot of restaurant waitresses using/ Go Microsoft GO
Windows Central Newsletter
Get the best of Windows Central in in your inbox, every day!
Thank you for signing up to Windows Central. You will receive a verification email shortly.
There was a problem. Please refresh the page and try again.