Microsoft reportedly plans to launch its own stores inside other UK retail stores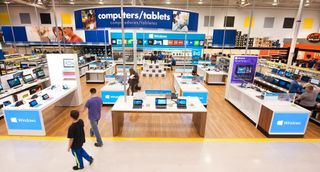 Microsoft may be close to expanding its retail presence in the UK. A new report claims that the company is looking to open stores inside established retailers in that country, rather than launch its own stand alone Microsoft Store locations.
According to The Register:
The report didn't offer any more details on these plans, nor did it offer a launch date. However, Microsoft has already established over 500 "stores" inside Best Buy locations in the US and over 100 in Canada.
Thanks to Gareth for the tip!*
Source: Register
Windows Central Newsletter
Get the best of Windows Central in your inbox, every day!
Yeah! Just as long as it's not within Apple stores lol. I would like to see them in John Lewis, that would be enough for me.

Yeah, I'm guessing John Lewis or currys pc world. Not much choice otherwise - I think they needed to be in, and staff, all the major department stores and get in wherever they can... Just maybe avoid virus currys pc world as they're useless!

Pointless being in PC world, they're all on retail sites, they need to be in shopping centres. Posted via the Windows Central App for Android

John Lewis or house of Fraser? Otherwise who else is an electronics retailer? Anywhere in Bluewater or central London, west London or Canary Wharf and I'm happy. At a stretch Brighton too.

Brighton would be tooo much of a stretch for alot of people :P.

What happens on Brighton stays... Ah you get out lol

"Anywhere in Bluewater or central London, west London or Canary Wharf and I'm happy"
As I'm sure the rest of the UK would be ;)

Would have loved to see a dedicated store in Regent Street opposite that rotten Apple

Microsoft should really open a few premier Microsoft stores in the main cities. London, Manchester and Bristol To really excite the brand. The Microsoft stands within PC World and John Lewis Stores etc are really sad affairs, neglected, non functioning Surface devices, grubby, with distinct disinterest from any sales staff, compared to the Apple Tables which are always kept clean tidy and operating and attentive staff.

Bristol? Lol guessing that's where you're from haha

I live in London Actually, but I don't want to be excused of being SE centric. So what is so wrong with Bristol serving SW UKanyway ?

Jules W you certainly don't appear SE centric or even SW centric. A little S centric maybe ;)

They should do. They have been pushing their products a bit more through advertising, it'd make sense to have brick and mortar stores in the UK. I'd personally have stores in London, Birmingham, Bristol, Manchester, Liverpool, Edinburgh, Glasgow and Cardiff at minimum.

I was hoping that a "store within a store" was really going to be a store staffed by Microsoft employees. If it is anything like some of the BestBuy arrangements that I've seen in Massachusetts, I don't believe that it bodes well for Microsoft. When left to non-microsoft employees, I've yet to have a great experience inquiring about Microsoft devices. The strange thing is that Microsoft must know by now that its phones and devices are not showcased well at these other outlets. I've read it here numerous times and it has been my experience as well. Maybe we ought to record our experience then forward on the videos to Microsoft if they still don't get it.

Very true about the JL stores - see my comment below re: Kingston

Needs one in every walmart in the usa Hehe...

About time! Can't wait to have one near by!

The concept of time, its about it.

They could open them inside the UK Best Buy stores...oh, wait... ;)

Hope it is executed at least 10x better than their, alleged, US Best Buy efforts from last year.

Quick guesses: John Lewis & Currys \ PC World

Will Currys/PC World virtually have a Microsoft section in there now anyway, with loads of signage and Surface and Lumia stuff. It's very impressive so it would make sense to expand on that relationship.

But if it's going to be run by curry's reps.... No thanks. 99.5% are clueless like every other retailer.

Microsoft has stores inside Best Buy in Canada? Do they mean that table with the surface tablets?

We have a Microsoft Store in Portugal. Shhh don't tell anyone. :)

About time, but still no flagship store :( why Microsoft?

Well, bestbuy UK (joint venture between cpw and bestbuy) locked up their doors a long time ago. http://www.bbc.co.uk/news/business-15616445 . Maybe use the Nokia care centres?

Hmmm - well John Lewis Kingston, Surrey has just re-vamped their tech department and Apple have been given a MASSIVE section all to themselves. The previous MS 'bench' now sits behind a structural pillar and blends in with the other 'stuff'. Even Samsung have a full display. Don't hold much hope for John Lewis doing anything in Kingston as they've already set their stall out!

JL in Bluewater has at least got a bench - but it's not much...

So true, popped in JL in Kingston today, asked about the SP4 and was given a blank look! Apple display looks nice, Microsoft display is non-existant.

I actually saw the MS rep at JL on a lunch break on her iPhone!!!

Could be. Like last week the Apple MDM business sales rep was on her Surface Pro 4. You need to know the competition.

Yep I go to John Lewis store in Kingston to fondle new devices. Big new revamp in the Tech section, going to see tomoorow.
But their treatment of Microsoft products is pretty lame. Discarded non functioning, broken, MS devices on grubby little table with lacklustre interest by John Lewis sales staff, it almost as if JL feel embarrassed to have to showcase Microsoft products. So I cannot see Store in Store working any better for Microsoft, better to just a few premier stores.

Mainland Europe please. Inside stores like Medimarkt. Like Apple has.So Microsoft products will have a much better product placement.

Why no mentions for the Co-op or Tesco

Tesco could work, but Co Op? Really? They sell food, not electronics.

I've seen this kind of store in Akihabara before. I think it's under Sofmap or Yodobashi-Akiba.