Microsoft reveals details of recent Surface Pro 3 and Pro 2 firmware updates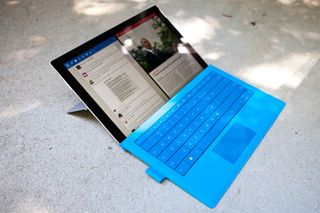 Last week. Microsoft released new firmware updates for the Surface Pro 3 tablet, along with the older Surface Pro 2. Now the company has updated its Surface support page with change logs for both firmware updates.
The Surface Pro 3 has the following firmware change log for May:
Surface Pro 3 UEFI update (v3.11.850.0) includes changes needed for compatibility with the updated graphics driver.
HD Graphics Family driver update (v10.18.14.4170) improves graphics performance and includes better Miracast (wireless display) support.
Display Audio driver update (v6.16.00.3172) improves audio experience and supports compatibility with the updated graphics driver.
The change log for the Surface Pro 2 is basically the same as the one for the Pro 3, with only the UEFI update getting a different version number, v2.5.250.0. None of the other four current Surface models have received firmware updates in May.
Source: Microsoft (opens in new tab)
Get the Windows Central Newsletter
All the latest news, reviews, and guides for Windows and Xbox diehards.
Hmm... I'll have to try again with the Xbox Wireless Display app to see if it performs better with this firmware. Wasn't super impressed with my first attempt on my Pro 3.

Hi. I wasn't quite getting what you meant. Are you sayig that you were able to use your XB1 like you would a Miracast adapter? I'm not familiar with this "XBOX Wireless Display" app you're referring to.

The Xbox receiver app ("Wireless Display") is still in preview, I believe.

Yes with the preview app, you can cast to your Xbox One just like you would an actual miracast adapter. Xbox Preview Members only right now I believe.

"Display Audio driver update (v6.16.00.3172) improves audio experience" Does that fix this bug? https://www.youtube.com/watch?v=7pCB8i0l08I If it does, I'd feel a bit stupid as I would have sent in my Surface in for nothing. :P I assumed it was a hardware fault.

I could be wrong, but Isn't the firmware update only available if you are running Windows 10 preview? If not then I guess it hasn't rolled out to my Windows 8.1 SP3.

This is what I'm thinking as well. I know of only two people that got the firmware update and both were running W10TP

I thought that the major update for 8.1 was called "update 1", is it still called "Service Pack"?

in this case SP3=Surface Pro 3

Ah.. I don't know why that didn't occur to me when I first read it.

same here, am on original/stock 8.1 and none of these updates on my sp3

I got it but I'm running W8.1

Seems to me that Microsoft is doing a slow and cautious rollout.

I think this is just a standard update Tuesday update for 8.1. Albeit with some good improvements.

I received it, but I am on Windows 10.

I got a firmware update for 8.1 this morning.

Strange I have yet to receive these updates on my Surface Pro 3 and I have been checking ever sonce I saw about them a few weeks ago. Posted via the Windows Central App for Android

Improved Miracast would certainly be nice. I ended up returning my MS Wireless Display Adapter because my SP3 connection to it was inconsistent garbage. Still a feature I'd very much like to use though.

i wonder y the dont fix the bluetooth issue on sp2. it disconnects from time to time and takes 4-5 seconds to come back on. (and yes power saving is turned off)

The latest firmware update fixed the issue I had with multiple moniter support with the surface pro 3 dock. If I had one moniter plugged into the dock and the other plugged into the surface itself I had to loose being able to use the surface pro 3 screen in order to use my other monitors.

Yet again another firmware update for my SP2 that promises improved graphics yet messes them up so much that gradients are completely screwed. Have had to install latest graphics drivers from intel directly. Would have thought that almost 2 years later they'd get it right!

Send link. I also have a Sp2, and would like those graphics driver. Posted via the Windows Central App for Android

Me too. Maybe you could post the links here?

MS support told me to use the latest desktop hd4400 drivers which you can find here https://downloadcenter.intel.com/download/24870/Intel-Iris-and-HD-Graphics-Driver-for-Windows-7-8-8-1-64-bit you both having gradient banding issues too?

As a rule of thumb, never use windows update to get your latest graphics driver. In many cases, it just makes things worse. Unless you completely remove the your current driver from the o/s.

I have not seen this update either. I check my Surface Pro 3 UEFI is at version 3.11.760.0. I have been checking regularlly since the original article dated May 14. I am running WinPro8.1.

I checked each day over the weekend, and then it finally became available on Monday morning. Seems like it's being rolled out slowly in phases.

Agreed, as I suggested above

I got it, but now my screen flashes on boot and wake up. Anyone else had this?

Same here screen flashes on boot... maintenance and defragment did not solve this.