Microsoft reveals new Samsung Mango device [Video]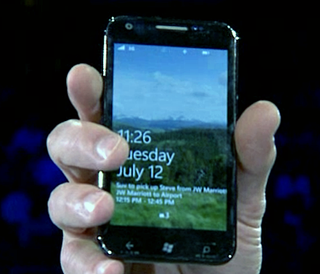 We recently covered a Samsung device, namely the SGH-i937 (opens in new tab), which shares the same Bluetooth characteristics as Windows Phone Mango (as well as appearing on Occasional Gamer's list of devices recently). This model number is plus 10 from the SGH-i927 of the Galaxy S II handset so one could assume that this is a WP7 powered Galaxy S II MK II.
In the video above, Steve Guggenheimer (Corporate Vice President of the OEM Division at Microsoft), shows off a Samsung device that not only looks like the Galaxy S II, but appears to have a front facing camera. Also present in the video are ZTE (opens in new tab) and Acer (opens in new tab) handsets as well as a waterproof Fujitsu device.
Mango is expected to include front facing camera support. While it has not been officially announced by Microsoft, a leaked HTC device (opens in new tab) and references found in the Mango developer tools (opens in new tab) beta 2 both point towards the possibility.
What do you make of the four devices shown, are you more interested in what Nokia has to offer?
Update: Microsoft has requested the video be removed because those devices were not to be shown off. So instead, you can head to WithinWindows to watch it or to Microsoft's own site where they still have it up, ahem.
Rich Edmonds is Senior Editor of PC hardware at Windows Central, covering everything related to PC components and NAS. He's been involved in technology for more than a decade and knows a thing or two about the magic inside a PC chassis. You can follow him over on Twitter at @RichEdmonds.
Yes! No big clunky button. If the specs are in line with the Galaxy S II, this will be a monster of a phone. And I have a upgrade available! :)

you alredy have an upgrade?? ! lol . maybe i can get my self a early x-mas upgrade :Pbut i loving the waterproof Fujitsu device :P could be usefullhonestly the only thing i can see Nokia giving out is a better camera,,, witch i almost never use. soo think img ona stick with Samsung on this one.

Yes sir! I got a iPhone 4 about a year and a half ago, traded for a Focus in November 2010. So I'm saved a upgrade by trading for my WP7!

Looks amazing. Maybe this will be my HD7 successor :-)

I'm probably most interested in the Fujitsu phone (interested as in "its cool", not that I would buy it). Because that is the ultimate girls dream phone. Girls always complain about dropping their phone in the toilet. Plus it's pink. Not to mention its freaking attractive! I have a dell venue pro. So you can tell I go for the more unique and rarer phones. With hat said, I'm going to wait for a new unique design before I upgrade.

All upcoming windows phones must have dual core front facing camera, 4.3 or more inch **** and ultimate display!!! And the most important thing, give incentives to the sales agent etc....It doesn't matter how good the os/hardware if sales agent doesn't promote it.. U done!!! So come on Steve give em some money...

That's your view, dual core yes but 4.0 screens are plenty big, and give me a Nokia CBD display over the super amoled in the Omnia 7 and I will be a happy chap.

If none of these are coming to Sprint I'm in the outs either way!

I know what you mean. I like my Arrive, but I'd much rather have a choice in what Windows phone I get.

I certianly like the thiness of the new samsung it looks really great a 4 inch screen like the focus is fine a little bigger certainly ok no word on storage memory or sd card expansion ability I suppose?

Will be my next phone. Good bye HD7 and hello Samsung....YESSSSSSSSSSS. It has everything i wanted a screen size at least 4.3 inches, better screen resolution and a FF camera. Please let it come to T-Mobile or Sprint because i do not want a cap on my internet.

Nokia and Samsung are both going to be great OEM's for the next wave of devices, and will both have excellent phones to choose from. Never impressed with HTC's, and we will see about the rest.

Samsung phones do have great screens and, unlike HTC devices, can simultaneously have high specs and run more than 4 hours on a charge.That said, their notorious upgrade problems -- both in the Android and WP spaces -- would at least make me cautious.I'm probably going to go Nokia, but I am on Sprint (and would like to stay there) and I'm not sure there'll be much in the way of CDMA support from a European manufacturer. Thus, something like the Samsung may be my only choice. Still, I *really* want Ovi maps!!!

I'm kind of cautiously hopeful about CDMA support from Nokia. One of the major reasons they never gave much attention in the past was because they and Qualcomm never got along, and if you make a CDMA phone, you have to a Qualcomm baseband chip. No exceptions.So now that Nokia is forced to use Qualcomm SoCs and because of their agreement with Microsoft (whose main market is the U.S.) I'm really hoping for some good Nokia phones on Sprint.Oh please oh please oh please give me a Windows Phone that aesthetically looks just like the E7. I will forever be grateful to you Nokia.

Great comment, this sums up exactly how I feel. Ovi Maps can't come soon enough.

I was really hoping to see a QWERTY phone in the mix. I'll keep my focus until then (and no I don't want the DVP).

Still early, but by my count we have seen these 4, the sea ray, and 2 HTC's. Not any real specs on anything yet. They launched with 10 handsets. I am sure that there will be some of what your looking for. I personally love the virtual keyboard and I was not sure if I would or not.

Anyone else think that Fujitsu phone looks like the Nokia N9 from the front?

Looks nice, but just like another Samsung android phone. One distinct advantage Nokia will have is that all their devices will be unique so for that as well as getting a pentaband GSM unlocked phone I am Nokia all the way.

Being a Verizon customer is frustrating. Waited so long for an entry level wp7 & could arguably say none of the fine pieces are coming my way...i would pay retail for the Samsung device...any day!

I feel your pain! Quite some time back I did hear that Verizon was working with Nokia on a WP7 device, no other details, it was just a line I read someplace, so it could have been complete BS, but one can hope. That Sammie has a better than decent chance of ending up on Verizon. I did go ahead and get the Trophy, but if I see something that I want grafted to my hand, Retail buddy!

It looks like the Samsung maybe has stickers for the back and search buttons or something?I dunno, but one important thing that caught my attention was him saying "we're going to be seeing phenomenal screen resolutions," which was something I guessed at with the rumored HTC Eternity being so huge. Could that and the Samsung be getting 960x576?Anyway, I'm unfortunately also in the "please make a CDMA version" camp, but I'm glad we have some new devices to look forward to in the WP7 family. Nokia better not slack!

can wait when it comes this sept.

Please come out on Sprint!!!
Windows Central Newsletter
Thank you for signing up to Windows Central. You will receive a verification email shortly.
There was a problem. Please refresh the page and try again.