New Galaxy S II like device to run WP7?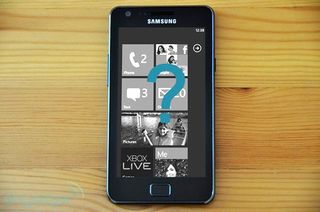 Could a version of the ever popular Samsung handset be making a move to Microsoft's platform? Possibly. The Galaxy S II (see Android Central) model number is SGH-i927, add on 10 to that number and you get SGH-i937 (if you don't then you should reach out to a calculator for some advice), which has appeared on Occasional Gamer's list of devices recently (see the Google cached page below).
Not only that but the model number has reportedly cropped onto Bluetooth SIG and features identical Bluetooth characteristics as Mango handsets. Could we possibly see the same specification on WP7 as is present on Android? This news could also bring the possibility of a new Omnia for us Europeans (while Americans get a new Focus), which would be exciting stuff.
The Galaxy S II sports a 1.2 GHz CPU with a 4.3" 800x480 Super AMOLED Plus screen along with a front-facing 2MP camera and 8MP in the back. In addition, it comes with 16 or 32GB of memory on board and a 1650mah battery to power it all. No word if any of those specs would carry over directly to the SGH-i937.
Source: Occasional Gamer (opens in new tab), Bluetooth SIG (opens in new tab), via: Engadget (opens in new tab), WMPU (opens in new tab)
Rich Edmonds is Senior Editor of PC hardware at Windows Central, covering everything related to PC components and NAS. He's been involved in technology for more than a decade and knows a thing or two about the magic inside a PC chassis. You can follow him over on Twitter at @RichEdmonds.
this is VEVRY possible,first , that's a Photoshop pic!! hehe :Pbut like others are claiming that the FOCUS is soon to be Discontinued ( as stated by some AT&T rep ) so is this the the beginning of the FOCUS 2? the AT&T thing + the Bluetooth thing = Most likely the second Generation Wp7 by Samsung!

A focus replacement I have heard will either be 16 or 32 GB storage memory would be nice if one still had the ability to add a 32GFB microsd card if stable. A 64 Gb focus 2 would be great!

Damn you choices, I really dont know which device to get now!

u can buy all of them and try them out then give the rest to me :)

im just really wanting the the SAMOLED 2!!! but its not that much nicer , hehesorta like the Hd7 and the Hd7s , lol hope the hardware is gona get a facelift doh

I am definitely getting rid of my Arrive for whatever HTC brings... and I am hoping for the "Eternity" or whatever its called. I want new handsets not these subpar handsets we have been seeing. If the standards are "minimum" can't manufacturer's produce higher spec devices (always wanted to know). I like Android (unlike most people here) just as much as WP7 but I hate how powerful their phones are while ours aren't making much statements (please save the "they need more power to support their crappy OS" jokes).

My Arrive does sputter and choke from time to time. Usually it's while using third-party apps (The Weather Channel app is great and informative but sometimes it can be very laggy), but not always. I'd like to see a WP7 device with cutting-edge specs that are equal to contemporary Android devices... a guy can dream, eh?

I guess you love your android battery eater phone. Good luck in having your android phone last for whole day. Wp7 wins and battery life on wp7 last for 2 - 3 days with heavy use. :)

Ball is in your court, Nokia...

After all the **** Samsung pulled with the Focus, I wouldn't trust a WP7 device from them.I also can't stand how cheap and flimsy their devices feel. No matter how fast they are on the inside. My next Windows Phone is definitely either another HTC or a Nokia.Whoever can deliver the best QWERTY slider on Sprint to replace my Arrive.

Samsung, as well as the other launch manufacturers were skeptical as to how well the platform would fare. Why, as a company would you invest millions of dollars in R&D when they could make something quick and easy for the Windows Phones. The Surround from HTC is not a well made phone either, but it can get the job done. Think of the launch phones as trial handsets, or developer units. The next batch, or second generation Windows Phones that are "designed for mango" will have hardware that is supposed to rival any Android or Apple handset to be released. The internal hardware is supposed to be competitive to allow users to ultimately decide on OS rather than CPU or graphics chip. Besides, there is nothing wrong with the build quality of the focus. I use it as my main phone, with a inspire 4G as a backup for apps that are not on Windows Phone yet. I would nonetheless like to see a Galaxy S 2 WP also.

I'm referring to the fact that Samsung released two hardware versions of the Focus without informing Microsoft and causing all these headaches with the NoDo update.

I notice a few ppl say they have a "backup" phone. How does that work? Do you have two carriers? Are both phones on the same carrier? Did you get an unlocked second phone? I just can't justify purchasing a $500 phone just to have for apps... So maybe I'm missing something. I would LOVE to own an Omnia 7 in addition to my dvp

We've been hearing a lot of stuff about new mango handsets lately. Each on it's own I would readily disregard as fanciful rumors, but now I'm sitting here, hoping, wishing that this is indicative of a massive announcement of new awesome WP7 devices hitting the market just round the corner.

i have Galaxy S2 from over years and i'm really happy i don't have any problem with it http://www.electrogsm.pl for this phone is lot of spare parts on the market if you brake front glass or display
Windows Central Newsletter
Get the best of Windows Central in in your inbox, every day!
Thank you for signing up to Windows Central. You will receive a verification email shortly.
There was a problem. Please refresh the page and try again.