Microsoft reveals when support for Windows 10 Mobile will come to an end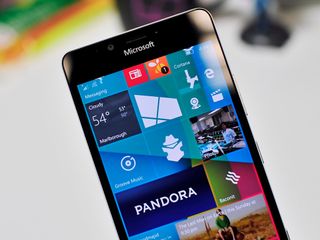 Microsoft has revealed that the company will cease to support Windows 10 Mobile in January 2019. The company has yet to roll the release out to consumers, but already we have an idea as to when we can expect to see those still rocking this version of the OS to cease receiving support. As well as the date, Microsoft has also published details as to what kind of support the mobile operating system will receive.
For the time being, you'll need to hold off for Windows 10 Mobile, unless you're either an Insider or have the new Lumia 950 and Lumia 950 XL. It's an important date to note as this will be when the initial release of Windows 10 Mobile will hit end-of-life. More details can be found on the Microsoft website.
Source: Microsoft (opens in new tab), via: WinBeta
Windows Central Newsletter
Get the best of Windows Central in your inbox, every day!
Rich Edmonds was formerly a Senior Editor of PC hardware at Windows Central, covering everything related to PC components and NAS. He's been involved in technology for more than a decade and knows a thing or two about the magic inside a PC chassis. You can follow him on Twitter at @RichEdmonds.
Before someone wonders without reading the news.. the upgrade of the OS like GDR1 will push the End of Life further than the current set date!

And its a minimum of 24 months. Actual support could be longer. They are guaranteeing you 24mo.

Oh come on you ruined all the fun!!! I just went to comments to see whining kids :( EDIT: lucky for me there are a lot of stupid people below that could not read neither the article nor your comment :D WCentral please correct this clickbait title, or remove the article altoghether !

Windows 10 will replace Windows 10 Mobile. Microsoft will go all in with the new Surface Phone, Intel x86, phone UI lifted from W10M in phone mode then full Windows 10 and Win32 with Continuum. Message and Phone app already there in Windows 10 as well as the other UWP apps. Game changer.

Followed by the return of Tupac.

Classic Tupac statement haha

But that can't be. Tupac is Caput. Gettit? Tupac spelled backwards? Ah never mind...

This just means that if someone installs windows 10 mobile at release, and never downloads any updates, Microsoft will stop supporting the old version of Windows 10 on their phone in 2018. If you keep your phone up-to-date, you shouldn't have any issues with compatibility. Windows 10 will not replace Mobile. Mobile needs its own version which does special phone-y things like make calls, and is built around 4-5.7" devices.

OK and? Desktop apps for Smsrtphone??? AND NOW THIS IS GOOD? This is Good Only with smartTV. For Mobile? Universal APP FOR NOW SUCKSSSSSS. Microsoft Windows 10 mobile apps is nothing. Android support stop. SO WTF doing Microsoft with NEW AMAZING PHONE (for apps)????? NOTHINGGGGGGGGG. AND YES THIS IS TRUE.

id reply but i dont understand what your saying can you confirm with coheasive sentances plse. If you are asking whats a good windows phone for you to use id recomend the 930 or even the 830 both are great phones. And if your asking about universal apps then yes you can use universal apps on windows 10 on both these devises when it comes out officially.

So what happens after win10 end of support? I thought win10 was for life.

Its contingent on sales by that time whether or not well see a reboot of wm/w

You could not be any more incorrect.

After Windows 10 Mobile is released, it will receive regulary updates. Windows 10.1 Mobile will be available sometime, but users who do not update to the latest version, and stay on 10.0 will have guaranteed support (updates, security updates, software compatibility) for 24 months. After that, if they still haven't upgraded, they may get fewer updates and may not be able to use new features. I.E. you can't use touch-and-hold on an iPhone 5s that's running iOS8, you have to update to the newest version.

The article makes none of the above clear though does it? In any case I was under the impression that the weren't going to be any "versions" of windows 10, just updates to the same o.s. So then in the future we're going to see versions like windows 10.278 etc if it just keeps going up?

They don't release the date when the OS will come out of beta* ... But they let us know the end of support ..

Windows Phone 8.1 is officially supported to 7/11/17 but the last major update for WP8.1 was in 2014. So if history repeats itself . . .

Do the maths: A minimum of 24 months suport, as cited by the article, means a release NO LATER than January 2016. Along with the fact they've been unofficially hinting at a December release time, that's not bad. Besides, it's Windows. You don't install the new version on release day, anyway.

And you should install iOS 9?

They said W10 (the first version) will be supported for 24 months after its release, ending in January 2018. If you count back 24 months from then, you get December 2015.

#doomsaying #fuelingnegativitytowardsMS


Unbelievable! We have an end date before a release date. SMH.

Actually, you can't have one without the other. The end date is 24 months after the release, whenever that is (supposed to be December).

You can buy a 950/950XL with it preloaded. It has been released. It's not perfect but it's released.

shame the 950 and 950 xl dont look premieum for me. I hate the camera pretruding, the plastic shell and nope i dont feel third party alternatives is a acceptable option for a flag ship, shame cause they got the specs spot on, shame the body of the phone isnt. But windows 10 on their phones have linked email im told. I hope i get that back on my windows 10 lumia 930 casue i miss it loads. Wheres gestures. Do 950s or 950 xl have gestures back?

Its already running it seem they aren't encouraging people, unless its an official like the l950 or insider. I personally think all the different extra device's would more likely great a problem not needed, I might be wrong but I doubt it.

This is how they work, and it's the very reason why IMHO this article shouldn't have been published, as it's promoting a piece of information that does nothing but confuse and worry people, all because it's communicating an internal policy of the workings of the company.

It's really not confusing. It's pretty darn straight forward. Posted via the Note 4/Nexus 7 (2013)/Lumia 1020/Lumia 2520

Didn't know you can do one post from different devices! Amazing!

This gives you the release date in an arse about face kind of way.

It's like proclaiming your child's date of death before he is born. Nice parenting.

I think its more like saying when you will cut your kid off financially and expect him to get the hell out of the house. However, some kids just stick around using resources that could be used for better things.

I'm a bit confused even after reading lol

Me too. But I was before reading, so no harm no foul.

Kinda easy, they support each version of the product for 24 months. Since they update every some months the OS the 24 months period will start from zero each time you'll update.

Each version, ok, but will 10 Mobile have different versions or just updates?

Updates ARE different versions, 10 is the major version of this software but the version number is composed by many numbers). You do not update the OS without changing the version too :) The whole thing is explained (badly) by this: "Customers need to install each update in order to remain supported." The whole article is a mess, the title is too.

I'm REALLY confused after reading your comment...

Read other response above :)

Easy, in 2019 Windows 10 mobile becomes Android.

They're waiting for Google to reach the letter W for Android.

Android version 10.0 : Windows
But we cant eat Windows so not gonna happen :p

yeh your not alone same here.

I'm confused by this, so Windows 10 is supposed to be like the end all windows, and if they already have a kill date for Mobile when they will stop updating it is this forshadowing that they want to end Windows Phone? What about the surface phone? will it come out with only 12 months of Windows 10 Mobile support left?

Basically it's just saying you'll need to update your phone in order to have support past 2018. If you don't update the phone at all after it gets RTM'd you won't get support.

I think its more of the current version of the OS. By then we will likely have a 10.1 or something and that will be supported till 2019/2020 and so forth

Windows as a service, that's what the cheerleaders were touting. Windows 10 would be the last version of Windows, they said. Just click bait or what? The extended service support end date for Windows 10 is 10/14/25.

That's end of life date for Win10 Mobile "RTM" (we can't use this name anymore idk why), when they release Win10M Redstone, we'll have a new end of life date. But they need to publish a date because of old devices (they can't support old devices forever).

First release OS, later u can speak about other dates...

Yes, please ask Mr.Shetty before you can say anything.

Yes, please ask Mr.Shetty before you say anything.

What will happen after the end date? Would another iteration of Windows Mobile come out?

Basically it's just saying you'll need to update your phone in order to have support past 2018. If you don't update the phone at all after it gets RTM'd you won't get support.

The device will self destruct

Service Pack 1/2/3 etc. Or Threshold 1/2/3 as they're calling it. Just like XP, XP SP1, XP SP2, XP SP3

This just means that if someone installs windows 10 mobile at release, and never downloads any updates, Microsoft will stop supporting the old version of Windows 10 on their phone in 2018. If you keep your phone up-to-date, you shouldn't have any issues with compatibility.

They havent rels yet ,, wp 10 officialy fr all devices,,bt they make a final date to end of wp 10 .. Woo verry good .news .. Bloody ms .... ... No news about wp 10 rels date ...

This just means that if someone installs windows 10 mobile at release, and never downloads any updates, Microsoft will stop supporting the old version of Windows 10 on their phone in 2018. If you keep your phone up-to-date, you shouldn't have any issues with compatibility.

Not sure why WC is using WinBeta as a source when links to the Microsoft page were posted in the WC WM10 forums before this article was posted.

I believe, that they acknowledge that WinBeta posted the news first

Stellar article. I really appreciate the time you took to let your readers know possible logistics of why windows would be talking about an end date for the OS.

Might be a little too controversial for a fan site like WC. They usually let other sites dive in first.

Funny as hell, no release date but there's an end date?? Who are we kidding?

Rich, you should edit the post to say the base version of the OS will remain supported until 2018 but any updates after that extend the support lifecycle in big bold letters either at the top or the bottom of the article.

And then this would not be a click bait. Like the article about quarterly sales labeled as market share. They spread misinformation just to get clicks lately. Money is money I gues...

So... minimum 24 months starting from january, means that the release date will be january 2016? I don't care that much because i have been using w10 as an insider on my daily driver for almost six months now... so official release date won't bring nothing new, I guess...

What I understood is that the next 24 months all updates will not be commulative. But you could apply all patches to upgrade from 10240/10586. Then you might not be able to.

Then read the above comments

Wow. The end of Windows Mobile. It appears Android and Apple are the Winners in the mobile division. Why bother upgrading to the 950? Wow.

What are you talking about? When's the last supportive update you've seen for Jellybean or iOS7? All this means is that Win10, if left exactly as is on a phone (RTM) will receive no security-type updates after 2018. By then 10.whatever will be out.

In fact, read this to see how Google is winning, not: http://a.msn.com/r/2/AAfUUBc?ocid=News And this too see how Apple is winning, not: http://a.msn.com/r/2/BBneqN6?ocid=News Windows 10 FTW

Erm no. End of Windows 10 Mobile RTM. Windows 10 Mobile Threshold 1, 2 etc. (Or whatever they decide to call it), will still be supported.

I don't think you undestood what you read...go back and read it a few timews... Posted via the Windows Central App for Android

They freaked me out with the headline :D

Good way to get new customers for the Lumia 950 twins Microsoft! Make headlines about the end of Windows 10 Mobile, before it's even here for 99.999% of users! And this after the wacko rollout of the 950. Is there anything Microsoft can't bungle?

Lately? No. Windows 10 is a disaster. I fear for the company.

Lol, how does this effect the 950s? You read the year right, 2018... Do you plan on keeping a 950 for over 2 years even after the surface phone comes out?

Correct. I keep 920 for over 2 years.

If bought on contract then yes. For the rest of us. No. Posted via the Windows Central App for Android

What?
I need some fresh air. Posted via the Windows Central App for Android

Wtf. So does it mean windows phone will end also?

I wonder what will microsoft offer after 24 months :/....i thought windows 10 was here to live forever as a service!!

After that you will see a new Window, Windows 18.
Hahahahaha
#UDP

You wrote it correctly. Windows 10. Not Windows 10 Mobile ;)

That's the good thing about a service: You can cancel it anytime without prior notice.

Windows 10 will replace Windows 10 Mobile. Microsoft will go all in with the new Surface Phone, Intel x86, phone UI lifted from W10M in phone mode then full Windows 10 and Win32 with Continuum. Message and Phone app already there in Windows 10 as well as the other UWP apps. Game changer.

Careful. You might frighten the clueless and the uninformed with that bit of rational thinking... Posted via the Windows Central App for Android

Oh ok, that's so cool. So they'll reboot Windows Phone for the what? fourth time?

Richard, the WinBeta article says January 2019. NINETEEN. It 's even in the tables from the leaked doc.
Edit: Weird, the WinBeta table even reads 36 months of support, but going to MS' support page January 2018 and 24 months of support is mentioned. One year is a big change.

Direct OS support is 24 months. Security updates will probably extend to 36 months and then only critical updates after that... Posted via the Windows Central App for Android

This is when SUPPORT ends. Windows 10 Mobile won't last that long. By that time Microsoft will be out of the mobile game and the only thing remotely close to a "Microsoft mobile experience" will be, hopefully, small full Windows 10 devices that can also make calls but that are more a "computer on a stick" (disguised as phone) whose main purpose is to connect to displays and peripherals (ie. Continuum without the limitations of WP). You should see this definitive death of WP10 (or W10M, whatever) as soon as the Surface Phone arrives. From that moment on you can start to think of WP10 as Windows RT. It will continue to work and you'll get support for a couple of years more but that's it.

Oohhhhh, still hurting because Nokia don't make phones. Please, just get over it and move on!

Oohhhh, still hurting because Windows Phone completely sunk since Nokia left... Please, just get over it and move on!

Well, no hurt at all when you compare the disadvantages of Androids fragmented system to W10. http://a.msn.com/r/2/AAfUUBc?ocid=News Windows Phone/Mobile is a pillar of the future and Microsoft will continue until success is achieved. The next step being Windows 10 on all devices, and that means the Surface Phone.

Technically, Nokia's employees are still making phones. It's just that now they are working for Microsoft, as Nokia was unable to remain profitable or compete even though they had a strong fan base. Even had they chosen to go with Android on their phones, they would not have been competitive with Samsung, HTC and LG.

I would add Sony to the competition Nokia would be in competition with. Interesting article relating to current Android phone manufacturers: http://a.msn.com/r/2/AAfVjOg?ocid=News

You linked to an article named "Why Android users often suffer from app envy" ...on a Windows Mobile article. The irony is just too delicious.

LOL - true, but I was comparing the W10 platform in comparison to the fragmented Android platform. I believe Apple may see similar problems in the future: http://a.msn.com/r/2/BBneqN6?ocid=News

Going from W10M to Surface Phone will be like it was going from WP7.5 to WP8? Only if it is a Surface Phone that runs win32 apps. Then there wouldn't be as much need for UWP.

That's the entire point of a Surface Phone I think. To be able to run win32 programs. Doesn't make UWP useless...but doesn't depend on that strategy to have a chance. W10M is DOA and UWP are the only hope it has for a slight ressurection. If UWP fails (as I believe it will) Microsoft needs a plan B.

UWP would still be the foundation of the OS/ecosystem. There is a reason that core windows apps are being moved to UWP. It's the future for Windows, and it has a lot of benefits over win32 both for consumers, and Microsoft.

Basically, if you upgrade to Windows 10 Mobile and you dont install future updates, you will hit the end of life of that build. However, if you upgrade to, say 10.1 in the future, the EOL date will be pushed back. Nothing surpising/new here, beause they have done this before with Windows 8 / 8.1. So nothing much to moan about here. Move along, move along.

oh em gee That logic and truth cannot be used in the comments here. What are the whiners going to do all day now!

Right? Posted via the Windows Central App for Android

They'll probably go chip in on that "I'm returning my 950 XL" forum thread.

They will probably have the finished product ready in December 2017! Posted via the Windows Central App for Android

Relax guys... If you go to the link the end date is for "Windows 10 MOBILE" if what we are hearing about the intel processor in windows phone going forward is accurate, then there is a good chance they will be running "Windows 10" not the MOBILE os we have on the 950xl right now. Essentially this is the same as getting rid of RT and going to one OS on everything like they have been saying for years now.

Yup, that's how I'm reading it...

No. Unbelievable how much people are reading into this. EOL comes for all software/OS versions. This just means people will need to update their devices to 10.1, 11 or whatever succeeds 10 if they want continued support. This is no different than them saying you can't stay on XP forever and expect patches to come for eternity.

Although you may be right about a more unified Windows in the future, that's not what this means. Just as Android is still around, but there aren't many updates from Google for Froyo, Windows Mobile will still be around in 2019, but it may be WM10.1 or 10.2. All this is saying is that if you don't do any updates after installing 10.0, you may have compatibility issues after 2017.

Im sure some people thought there was a future for RT too after they found a way to put full Windows on a fanless tablet... But just like Windows Mobile, why would you have a "Mobile" OS when the full Windows OS can do everything it can do and more. Personally, I think if they manage to pull off full Windows on a phone, Windows Mobile is redundant.

Well, with rumors of the surface phone and intel working with it... I bet the master plan is to have all future phones support continuum and have a full version of windows running on a phone. My guess is something like tablet mode when using the phone and then windows 10 as we know it with continuum...

This just means that if someone installs windows 10 mobile at release, and never downloads any updates, Microsoft will stop supporting the old version of Windows 10 on their phone in 2018. If you keep your phone up-to-date, you shouldn't have any issues with compatibility.

Meanwhile, Verizon makes big announcement Summer 2016 they're all in for Windows again, actually launches WP mid Q4 2017.

Awesome. I don't see what this has to do with the stiry. But Good for you.... Posted via the Windows Central App for Android

All in for Windows again? Meaning they want an exclusive, they'll carry it for a week but their employees will tell people not to buy it, they'll delay the release of updates by two years, then they'll complain when MS doesn't give them an exclusive on the next one?

The os is not yet released to the end consumer yet. And the next thing is the validity of the os. What message is ms trying to send to the consumer.

That they have a support schedule for a new OS. Just like they have had for every previous version? Posted via the Windows Central App for Android

This just means that if someone installs windows 10 mobile at release, and never downloads any updates, Microsoft will stop supporting the old version of Windows 10 on their phone in 2018. People who regular download available updates will be on version 10.1 or 10.2 before 2018 and those will have their own 24 month cycle.

I salute your patience, Jeddic.

Well, they just managed to take something from the internet completely out of context..... Just read what's stated at the microsoft page, it is saying something completely different!

What if, it's more along the lines of Windows 10 mobile on ARM chipsets. The possibility of Full Windows 10 on a phone is likely their real vision, using intel chipsets, makinig it a true contuum experience. Everyone has phones, computer hardware and technology keeps getting better and smaller so it would be a shot in the head if Microsoft were to leave the mobile phone/computer out of their future. There's nothing to prevent them from doing that.

Goodbye W10 mobile - Hello Windows 10 ;)

Mobile Windows 10? Posted via the Windows Central App for Android

Although I know many are hoping for desktop 10 on their phones, that's not what this is saying. This just means that if someone installs windows 10 mobile at release, and never downloads any updates, Microsoft will stop supporting the old version of Windows 10 on their phone in 2018. People who apply updates on their phones will be on a later version by 2018.

Don't worry MS, many of Lumia users will acquire NOKIA PHONES.

Lol Posted via the Windows Central App for Android

This just means that if someone installs windows 10 mobile at release, and never downloads any updates, Microsoft will stop supporting the old version of Windows 10 on their phone in 2018. If you keep your phone up-to-date, you shouldn't have any issues with compatibility.

FUD FUD FUD, FUDDITY FUD...

Then windows 11
Just like ios and android Posted via the Windows Central App for Android

Android is highly fragmented and Apple is running two OS's. Windows 10 on all devices is the opposite!

This just means that if you don't get the available updates before 2018, you may have compatibility issues. Users who apply updates will be on a later version of Win10 Mobile before 2018.

MS is so slow at giving features.. But faster at ending devices and support

So we know end of WP 10. But why we cant know at first official release date of WP 10?

This just means that if someone installs windows 10 mobile at release, and never downloads any updates, Microsoft will stop supporting the old version of Windows 10 on their phone in 2018. If you keep your phone up-to-date, you shouldn't have any issues with compatibility. But based on this announcement, if you count 24 months back from January 2018 you get to December 2015, I think.

This does not mean the end of Windows Mobile, just a specific version of W10M.

The title and content really need to be clarified. The people that don't read the article don't understand what this is saying and will only cause the usual panic mode to set in. Just to be 100% clear: Windows 10 Mobile has a ROLLING end of life. That means each update has an end of life 2 years after it is release. They are talking about version 1 of Windows 10 Mobile. When version 1.1 gets release then the end of life for that update is 2 years out. So as long as the keep updating the OS then it will never hit end of life. This is the way it has always been for each OS. Nothing has changed. Nothing is being abandoned. Take a deep breath....

So is there going to be a WP8.2?

There was a similar confusion when WC started posting about EOL for Windows 10 on desktop too, IIRC.

I read the headline thinking that windows 10 mobile launched overnight or something, and Microsoft just now announced a date to end support. That was my train of thought, then I read the article. I don't understand their tactics at all.

The third paragraph in this article just told me to leave Windows mobile as a platform all together! I mean, Rich states that we hold off on Win10M, unless we are insiders or own the 950 siblings. That by itself will scare off any development of the platforms growth. You basically should run a Beta OS or grab "two" phones that will be supported for two years. This is some sad ass news! So much for new devices to come in the future due to not know what changes the new OS will bring. I'm mean look at the upgrade pattern thus far 7/7.5/8/8.1 and question mark on the two phones running an unreleased Win 10...... Question of the day Nexus, Motorola or IPhone?

Hahahah Never like Google:
http://a.msn.com/r/2/AAfUUBc?ocid=News Never like Apple:
http://a.msn.com/r/2/BBneqN6?ocid=News Windows 10 - one OS to rule them all

Motorola. They have thus cool, kinda 80s name: mo-to... ro... la.

This just means that if someone installs windows 10 mobile at release, and never downloads any updates, Microsoft will stop supporting the old version of Windows 10 on their phone in 2018. If you keep your phone up-to-date, you shouldn't have any issues with compatibility. Windows 10 Mobile, according to this info, will be released in December 2015 (Jan 2018 -24 months). The last paragraph, when read by its plain meaning, says that right now the only way to get Win 10 M is to join the insider program, or buy a new phone. In the future, Win10M will be available to download as an official release. The new phones will be supported for more than two years, but if you don't download updates, you may have software compatibility issues, after years of neglecting to update. Not so scary now, right?

Not cool to release end date before launch date.

Generally users change phones every 2 years or so thus a 24 mnths support period should be fine. The newer phone will come with a updated or different OS anyway with a further 24 mnths support duration.

What the hell?!?!? What happens after that? I mean there will not be any new OS after that date?

This just means that if someone installs windows 10 mobile at release, and never downloads any updates, Microsoft will stop supporting the old version of Windows 10 on their phone in 2018. If you keep your phone up-to-date, you shouldn't have any issues with compatibility.

Is this what they mean by"putting the cart before the horse"?

This piece was purposely written to grab attention and create anxiety. It's not that hard to do in the WP community. It's just crappy journalism looking for a comment storm.

^^ this. Shameful. The title should be re-worded or the article deleted. Posted via the Windows Central App for Android

Agreed, the article is just to cause WP minions to panic for no reason. Someone should rewrite it properly and tell what it actually means for those that don't know what it means.

This just means that if someone installs windows 10 mobile at release, and never downloads any updates, Microsoft will stop supporting the old version of Windows 10 on their phone in 2018. Users who apply normal updates won't have to worry about software compatibility issues, as they will have a newer update of W10M before 2018.

Jeebus guys what a TERRIBLE title for your article! Do you even know what Microsoft was trying to say?! They're merely guaranteeing support for the platform for a timeframe. Read the whole release, people. Posted via the Windows Central App for Android

Well compared to android, 24mnth life cycle for a particular OS version is great.

No, that is not great. What I, as consumer, am reading is that my 2017 or late 2016 Win10M purchase will be supported until 2018 & to me that does not fly. Sure a droid updates are iffy but those sweet treats are so minor now that waiting 2 or 3yrs to buy a new droid device is ok because the app support continues. Hell, MS stating that an OS is mystery after 24 months from release date is scary an unpredictable. Even the iPhone 4s runs ios 9. Some features is missing but at least consumers know their lifecycle will be about 48months and the platform is established. I don't see how this news will attract new users.

You're reading it wrong. This is saying the current version of Win10M (the OS, not the device) will reach EOL in 2018. As long as you continue to install the updates as MS releases them, you will continue to be supported long past 2018. It's a rolling 2 year EOL with each new version of the OS. It's always been this way.

This happened with windows 7 mobile when windows 8 mobile came out, no further support for that after a certain date and if you want 8 you needed to get a new phone.

This is much different. This policy is stating that MS can only guarantee software compatibility for a given version of W10M for two years. This is the same as the cycle for W10, IIRC. People who apply available updates on a regular basis will have a later version of W10M before 2018, and that version will be supported for two years after its release, by then, a new version will be available. They will all be Windows 10 Mobile, however.

Microsoft does some dumb moves that I hate, I've used all the major OSes and I think windows mobile is great, but still needs work. I upgraded to windows 10 mobile, but words like this will only damage the windows ecosystem. Also, why the f*ck Microsoft doesn't advertise their products on TV etc.? People need to know the product in order to buy it,a lot of people I know, don't even know that windows phones exist. Make smarter moves and don't play around is my advice to Microsoft!

Personally.. If this is happening because a surface phone is coming running full win10 I think Ms jumped the gun announcing eol win10 mobile this early and should have waited until they actually ready to release a surface phone.. If this is the case that is.. My opinion fwiw.

This policy is stating that MS can only guarantee software compatibility for a given version of W10M for two years. This is the same as the cycle for W10, IIRC. People who apply available updates on a regular basis will have a later version of W10M before 2018, and that version will be supported for two years after its release, by then, a new version will be available. They will all be Windows 10 Mobile, however. This announcement has nothing to do with the fabled "Surface Phone" and these policies are normal for software companies, i.e. Apple doesn't guarantee that an iOS6 device will have the latest updates or that it will be compatible with all apps and services. The difference between MS and Apple, of course, is that WC covers MS news and posted this article which I think is really poorly written.

I read this article and I know the time to leave windows phone and back to IOS is very sooner than I thought.

This policy is stating that MS can only guarantee software compatibility for a given version of W10M for two years. This is the same as the cycle for W10, IIRC. People who apply available updates on a regular basis will have a later version of W10M before 2018, and that version will be supported for two years after its release, by then, a new version will be available. They will all be Windows 10 Mobile, however. This has nothing to do with the longevity of Windows Mobile, and it also doesn't mean that you HAVE to update your phone. It just means that MS may not push as many updates to phones running Windows 10 versus Windows 10.1, so you should apply updates within 2 years to avoid missing out.

And you'd be making the right decision. I'm already going back to iOS, from fragmented, slow Android. Posted via the Windows Central App for Android

Lol my god.. The comments. End date = most likely an update for windows 10 without 'mobile', the goal Microsoft has been saying for a while now. New phones won't end, win10 won't end, windows phone won't end, the brand won't end. Some really need to take a chill pill.

I'm sure you're really excited about the mythical "Surface Phone", but this doesn't have anything to do with that. This policy is stating that MS can only guarantee software compatibility for a given version of W10M for two years. People who apply available updates on a regular basis will have a later version of W10M before 2018, and that version will be supported for two years after its release, by then, a new version will be available. They will all be Windows 10 Mobile, however.

Along similar lines to XP. Supported for ages, many updates and only recently ceased support. Shame they didn't kill of Vista extend XP life span

If the Windows 10 platform is a S.a.a.S, how can there be an support end date?! Or they are working on Windows 11 or what the future name might be?!

This policy is stating that MS can only guarantee software compatibility for a given version of W10M for two years. People who apply available updates on a regular basis will have a later version of W10M before 2018, and that version will be supported for two years after its release, by then, a new version will be available. They will all be Windows 10 Mobile, however.

I understand that. But then they should refine the words in the articles and in their policy to prevent such discussion. The way you read the WC article right now, it suggest that their will be no W10M after january 2019.

Who cares about Microsoft future we are still waiting for Windows mobile 10 public release.

So what, this is the end for mobile windows OS ?

This policy is stating that MS can only guarantee software compatibility for a given version of W10M for two years. People who apply available updates on a regular basis will have a later version of W10M before 2018, and that version will be supported for two years after its release, by then, a new version will be available. They will all be Windows 10 Mobile, however.

So my understanding is that W10 Mobile will end after 2018, and by then there will be a Windows Phone (Surface brand, or otherwise).

This policy is stating that MS can only guarantee software compatibility for a given version of W10M for two years. People who apply available updates on a regular basis will have a later version of W10M before 2018, and that version will be supported for two years after its release, by then, a new version will be available. They will all be Windows 10 Mobile, however.

It was a bit of a click-bait, and I got scared. But it basically means you wanna upgrade your phone by then. Close call. Uff.

It just goes to show that Microsft cant be trusted and Apple is the only company to trust overall especially when it comes to supporting their OS and devices. I'm just glad I'm heading back to iOS and this report justifies my stance. Posted via the Windows Central App for Android

Lol really?... So u can't trust a new update and perhaps line of phones and the most important thing, their goal MS has been talking about for a long while now to achieve on that end date? Bravo... Clap clap. Shows why this article is misleading and should be removed.

Using iOS is not that bad, even though I don't like its interface. But you don't need to lie about it. My Lumia 920 is running the preview. MS is supporting their phones. On the other hand my friend's nexus 4 that was released at the same time will not be updated even it has a better SOC.

Using iOS is fantastic, I love the interface and ease of use and how it all ties together. The best user experience on a smartphone, I think Windows isn't all that bad compared to Android, but with Apple I get consistency and updates the quickest and everyone gets them at the same time as the carriers are taken out of the equation. I'd say Windows very nearly matches iOS in smoothness (Im not fond of the metro user interface of Windows) but needs a bit of work to do if it's to reach the level of polish of iOS Posted via the Windows Central App for Android

Support lifetime policies are common though, usually not this widely reported. Apple EOLs its software as well, i.e. you can't use "forcetouch" on an iPhone 4s running iOS 7. This policy is stating that MS can only guarantee software compatibility for a given version of W10M for two years. People who apply available updates on a regular basis will have a later version of W10M before 2018, and that version will be supported for two years after its release, by then, a new version will be available. They will all be Windows 10 Mobile, however.

Pure ignorance. You're acting like Apple doesn't do the same exact thing. They're no longer supporting many older versions of iOS. The only difference is that I don't think Apple publishes a roadmap stating when certain versions of iOS will no longer be supported.

Even if Apple do this so what? Why would anyone be using an older version of iOS anyway when there's iOS 9? Either Microsoft needs to get their act together with Windows 10 and with this decision to publish its EOL why would any developer want to port their apps to Windows now Microsoft has dropped this bombshell? Project Island Wood is now a waste of time now because of this. Apple will be laughing and so will scroogle. Posted via the Windows Central App for Android

Fanboys are shaken up! Loll!

Glad I chose to move on, this has become a friggin s*#t show with how MS is handling everything, soooon and then the END, awesome.

Every company announces support windows for their software, the difference with Microsoft is that they have the benefit of WC writing terribly done articles like this to stir up FUD. I'm not sure that WC meant to scare people, but that's certainly what they've accomplished. Obviously most people will update their W10 phones regularly so software compatibility won't be an issue, they'll be running 10.2 or something before 2018.

WC......."explain it to me like I'm a Two year old" lol

You got to have an update first and that is one place MS is lacking on WPs. As for WCs article(s), I'm not so inclined to blame them since they report as it becomes available, MS is the one spinning in circles having no clue which direction they should go.

You don't know what you're talking about. Let me clarify this. I currently own a Lumia 950. If I don't ever update my device to a newer version of the OS, I will no longer receive support after the EOL date that's listed. Newer versions of the OS will be supported for longer. Microsoft has always done this, it's nothing new.

Well you just have to look back at WP history to see how supported your device is/was: W7M - Released Nov 8, 2010 W8M - Released Oct 29, 2012 W8.1M - Released Apr 10, 2014 (PFD) W10M - "SOON" I see a trend here and it isn't looking promissing...

The day w10m is released is the day they will end support.

Am I interested? Maybe but I am waiting for w10m. Posted via the Windows Central App for Android

Per Microsoft support page - W10 Mobile mainstream support will end 1/9/2018 https://support.microsoft.com/en-us/lifecycle/search?sort=PN&alpha=Windo...

http://www.windowscentral.com/windows-phone-78-mainstream-support-ends-s... "That means that after September 9, phones that have Windows Phone 7.8 won't be getting any more new operating system features or major performance improvements. However, those same phones will still receive free security updates for the next five years" I remember how well that went

W8.XM hasn't seen diddly squat for ages as it is now let alone 7.8, ever since the Denim fiasco things have gone steadily downhill, rapidly.

In January 2018 your 950 will turn into an iPhone using Microsoft Azure based data streamed down into a 3d printer attached to a drone that catapults through your window. Then the drone will steal your cat.

I hope they don't include this in their marketing campaign to the general public. Your average Joe reads this as "We are selling the last mobiles we make and you will be able to use it 24 months from today."

What marketing campaign to the general public?

Good thing I jumped ship. iPhones get OS support for like 5 years.

The iPhone 4S is the oldest supported model, and it was released three years ago.

4 years ago, Oct 2011 ;-)

The iPhone 4S is years old not 3. But hey this just shows why Apple is still ahead of Microsoft in Mobile. Posted via the Windows Central App for Android

They should try releasing a decent mobile OS instead of worrying about when they'll stop supporting it. Strange priorities MS has...

Not even all WP8 smartphones are getting the latest WP 8 version. Therefore I highly doubt that there will be any real support for W10M.

Yep they dropped W8.1 like a hot potato after less than a year, Demin took so long to arrive that some thought support was longer, GDR2 as you said never even made it to all/most phones unless you chose a workaround, do agree that W10M support does look dismal at this stage of the game especially if history means anything.

Time for a classic movie line......"explain it to me like I'm a two year old"......Good job I jumped ship?? Really?? Why still posting here? People NEED to understand W10M is subject to the same as W10. Continual updates, to maintain support. IMHO, by ceasing support for W10M can only mean one thing.....W10 on your device long term supported. Why are so many doom mongers and nay Sayers, who have 'jumped' ship, show such an interest in an OS that no longer fulfilled their needs. Some of you guys think 2 years support is bad. Go buy an new Samsung and see if you get two years support there. I have an LTE Galaxy Ace a year old. No update from 4.2.2.

Speaking for myself… (1) I may have "jumped ship" but still have two WPs I use (2) We do understand W10M is subject to the same as W10 but that is the problem, where is the support/updates! (3) In hopes that "SOON" it will fulfill my/our needs (4) Haven't seen much support for my 1 year old WP and even less with my 2 year old one, those updates that did come did little to better the overall experience or functionality

Microsoft is still working on W10M, as is evident by the ongoing 10586 releases. We've got 10586.0 for the 950/XL, 10586.11 for the Insiders, and 10586.17 is being tested for release to Insiders right now. Yeah, I see how there is no support or updates from Microsoft. /s

If you want to call that support or updates, MSs guess and by golly approach only to have it arrive fixing one thing then breaking two more, too late to use the beta/IP as an excuse and so much for them being the "software gurus" as you could have fooled me... The amount of devices were talking here is minuscule yet it seems to be a mountain too tough for MS to climb.

Cool.. Microsoft will probably ship Win10 mobile to devices in Fall of 2018.. lol.

I am glad to know there shall be phones running Windows beyond 2019!!

(yes I've read the article before any smart arse comments) so does this mean as an insider and keep updating I'm safe for now cause w10m not even released officially and Ms talking about stopping support In 18 months remember no smart arse comments

Too many ignorant and confused people. This is the EOL for the current or first version of Windows 10 Mobile. It's the same as when Microsoft stopped supporting Windows 8, you could still update to 8.1 and receive continual support.

Is it because people are ignorant or because the article is confusing as hell?

So when is Windows 11 coming? Soon? I hear it will fix everything!!

They said "resuming..." shall be fixed in Windows 15, USB OTG Windows 20 and Split Screen Windows 50

Well, as much as Windows Phone is struggling in the market, you can buy a $40 phone today that will receive security updates for at least a year longer Samsung's $700 Android phones.

And so you will give us an android ROM in 2019? Microsoft get real already, you are fucking around with us too much now!

Most likely I imagine this refers to the length that a model phone will be supported. Windows 10 will likely have unlimited new builds, but your phone will only be able to get new builds for one year (or more depending on the product). Then your phone becomes obsolete and it's time to buy a new model otherwise you will not be able to get the newest updates. That I believe is the idea behind windows 10 as a service. Same thing with Windows 10 desktop... although it is weird how they wrote it. They say that Windows 10, RELEASED IN JULY 2015 will get 10 years of support. What does that mean? I think there's two possibilities. One is that buy the RETAIL version of Windows 10, and support for the license you buy lasts 10 years, then you have to renew it/ get a new one to get new updates. I think that they will then sell another copy of windows 10, that starts with a build far away from the first one, and that one also comes with a 10 year license. Or an alternative explanation is that they will provide security patches for each build of Windows 10 for 10 years on the long term service branch? That is something else that has been confirmed; maybe that is what the Windows 10 desktop support page is referring to. But!... it has two asterisks, and if you read the small text it indicates that Windows 10 OEM versions will have product lifetimes based on the device they are bought on... I think this is a ploy so that the average consumer has an auto updating pc and doesn't have to worry about getting it updated, and it keeps patching itself until one day it's "product lifetime" is up and the person gets a notification saying that their operating system is insecure. They would go to a store and they would be told to buy the new model of the device, and the average consumer won't understand that it is possible to just buy a new non oem bricked license of Windows 10 and install it on the computer... although support for drivers for the new Windows 10 builds might not be rolled out for obsolete devices, serving as another obstacle to extending their life. Microsoft is counting probably on an average consumer not questioning when their Win10 device becomes obsolete and just buy a new one based on the suggestion by the guy at the tech store. Standalone retail non OEM versions of Windows 10 are probably gonna be meant for gamers building custom rigs, and there will probably be a difficulty to installing another instance of the OS, and tech support won't do that, so that consumers are discouraged from doing it and they sell more new devices. In addition, Satya has laid off the majority of fulltime employees, and has passed a rule of requiring that american vendor employees (contractors) need to take a 6 month break every 18 months to "preserve" confidentiality among projects, but he does not in any hurry to implement it outside of the us, so some people are speculating that it is a move to discourage Americans from working for Microsoft, so that he can get cheaper outsourced labor from countries such as China or India where many people are pressured to be engineers and will work for cheap. So imagine a bunch of indian and chinese workers managed by a small amount of american elites, and the whole windows operating system will be outsourced to be patched there. But in order to make up for this, Satya has implemented mandatory telemetry in Windows 10 that can't be turned off completely except for enterprise machines, and that data will somehow make up for the lack of employees, especially dedicated bug testers, as the company undergoes this major restructuring. So what I envision happening is that they will ship rather buggy new versions of their operating system and hope to fix the bugs with quick patches, but we will have to deal with the unrefined bugridden ones that will eventually be shipped to the enterprise when they are bugfixed and deemed fit. And finally, what if the Windows 10 upgrade is a trick to end the product lifetime of the Windows 7 and 8 devices earlier than they would stop recieving security patches. In a leaked powerpoint of "forward looking statements" by Microsoft, they said that device lifetimes for devices upgrading from 7 and 8 to 10 could be 2-4 years. So what if it is a trick to compell you to buy a new machine faster? I am just speculating about these things but Satya's new leadership is a bit eery to me. PS: If you don't turn off the settings that make Windows 10 machines trade updates with other machines, and even if you do just cus of the Automatic Upgrades to new builds that you can't turn off, if you have data caps and do not make your network identified as a metered connection Windows 10 has been said to blow right through them.

Wasted time reading your comment

In 2020 mobile flagship standards:
5g technology.
WiFi (ad) with dual 5gh.
LiFi visual data tech for non rf phones.
Dual 3d cameras for rear and front with laser flash.
Finger scanner with foolproof.
Iris camera with foolproof.
Minimum 64gb inbuilt memory.
Dedicated Ram for graphics.
Virtual OS for mobiles.
Customization for mobile hardware as per users wish.

Ah, foolproof! why didn't they think of adding 'foolproof' all this time. Imagine how safe the world could be.

"The initial release" I believe the end of build 10586. But it's a very confusing article.

Could you have written a more confusing article? :)

In particular - "for the time being you'll have to hold off windows 10 mobile. Unless you have a 950/xl." What?

Don't know why but I am feeling that MS has begun the process of killing windows phone or better say lumias for the betterment of Surface Phones or may be they want to exit from mobile market. Whatever is the reason but surely they are planning to kill Lumias.Till now they might have realized that WM10 and 950s won't save their boat from sinking.

Each update will have a lifecycle and consumer will have 24 months to do the update. And since updates are incremental previous updates are required

Has it occurred to anyone that they probably expect their phones being capable of running the full windows 10 by then? Think Surface phone!

Calm down everyone. It's not the end anymore than ios7 not being supported because ios8 and ios9 have been released is the end of iPhone. Just means by that time there will be another version/update that will replace it. As noted in the article a public release of this information hasn't been released. I'm sure it would make more sense to the general public than internal memos etc.

What if an article said "IOS 10 is not yet released, but will stop being supported end of 2016. We recommend you hold off on IOS." Its pretty badly explained if you ask me.

There's a big difference between Apple and Microsoft, and that is Apple is successful and makes products of the highest quality at most people are running iOS 9 on their iPhone while Microsoft has has made mostly junk that was almost always dated on release . Posted via the Windows Central App for Android

Wow, too much information today regarding Windows Mobile Future, finally Lumia 950 and 950XL are available in Mexico, but then I read this, what does this mean? That my Lumia 950XL phone won't work after 2018?

From the utter lack of effort MS has put into W10M you would think it's discontinued already.

They are trying to kill it, it's us fanboys that won't let them :-)

You're right it's only the fanboys like you that are keeping Windows 10 mobile alive and Microsoft has long since lost to Apple and Google. My loyalty is to Apple I plan on switching back iOS next month and dumping my android phone. Posted via the Windows Central App for Android