Microsoft revisits its Flight Simulator series with the web-based Flight Arcade game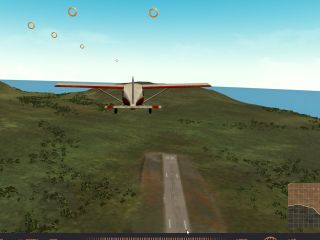 Microsoft is showing off some new web-based coding and technologies with today's launch of Flight Arcade during Build 2015. The free-to-play flight sim is meant to show how modern browsers, such as the upcoming Microsoft Edge, can handle high-end 3D graphics.
The game itself lets players take control of planes as they put them through a series of challenges. Players can earn achievements and unlock more planes, missions and levels as they go through Flight Arcade. The site also has some highly technical information on how Microsoft created Flight Arcade, using a combination of WebGL for graphics, the Web Audio API for audio, and the Gamepad API which allows the game to be controlled with a gamepad, joystick or even just a keyboard.
While it's not exactly a full Flight Simulator game, today's launch of Flight Arcade shows that Microsoft still remembers the series that began way back in 1980 (on an Apple II no less). Perhaps the company will release a full successor to the series at some point, but for now this free web game will have to do.
Source: Flight Arcade
I know Flight Simulator. That is NOT Flight Simulator. Or, rather, it certainly isn't anything remotely close to current. That reminds me of the very first version of Flight Simulator. Lame.

When did anyone say it was flight simulator? Is flight arcade, and it runs on the web. Please understand the article before commenting. Thanks

Props WPUser2. Well said.

Everybody expected an improved brand new Flight Simulator. Microsoft released a brand new toy instead.

I believe they actually alluded to it being a nod to the original so...

But I though another company took in charge the future of Microsoft simulator?

Dovetail Games I believe. They rereleased it Steam. Bought it for £2.99. Bargain.

Lockheed Martin bought off the assets I believe. Prepar3d is the spiritual successor of the series now.

Seems like a good game for a web based game. The aircraft aren't very responsive though. Makes it a bit harder to get through the gates.

The controls are horrible.

You love it when dogs fight? Sicko.

MS needs to revive lots of things. Creative Writer by MS kids would be a nice start. They have other good programs that would get great use on an all in one.

I know people who used the flight simulator while actually studying to get their pilot license. It was that good.

Think I heard rumors about the 9/11 terrorists using flight simulator as well.

You *think* you heard *rumors*.... that's a reliable source. I think I also heard a rumor terrorists use Android!!! Oh the humanity!

Flight Simulator + HoloLens = TAKE MY MONEY

Um, well, unless you're going to just fly around your living room that really won't work. Hololens is AR not VR.

Imagine playing FSX with physical flight controls that are mapped against a virtual 747 flight deck where you use your hand to control panel inputs that aren't there. You can even turn your head at a moments notice instead of setting up three or more monitors and the whole view follows. HoloLens + FSX. Take my money.

Me too! That would be awesome. Posted via the Windows Central App for Android

It was unplayable for me. fps too low :(

And as expected, another Microsoft website that doesn't work with windows phone.

Team up with Red Bull air race please!

Hopefully this can lead to a revival of Microsoft Flight...
I still have my savedata on my external hard drive.

I don't mind that it's called Edge, but I would like to see a different icon for it. They want to distance themselves from IE but then create a similar icon. To me, it does not make sense.
Windows Central Newsletter
Thank you for signing up to Windows Central. You will receive a verification email shortly.
There was a problem. Please refresh the page and try again.