Microsoft pushing Lumia 535 software update to fix touchscreen issues in 'select markets'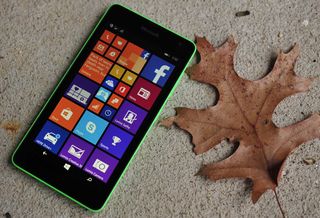 Microsoft is currently rolling out a software update for its latest Windows Phone, the Lumia 535, in certain markets. The changelog hints strongly that this update will fix some touchscreen sensitivity issues that have been previously reported by owners of the device, along with some other improvements and additions.
Here's the changelog for the update:
Touch screen performance improvements.
Cortana, the most personal digital assistant, is now available in more markets.
You can easily switch your mobile data connection on or off in the action centre.
Install phone updates more easily by scheduling them for a time that works best for you.
Stability and performance improvements.
Be aware that this update is just for certain countries and that it may take a while for every Lumia 535 device to receive it. Currently our unlocked Lumia 535 is not seeing the update, so this could take a few days to completely roll out.
Source: Microsoft
Get the Windows Central Newsletter
All the latest news, reviews, and guides for Windows and Xbox diehards.
GDR1 is already present in the phone from release.

Lumia 535 launched with GDR1 and Denim. This update fixes a nagging issue while also updating the OS build to the latest version of GDR1.

its more a small update, not a full Update per se

Some denim and DP update features.... Lol

Why don 't make updates to denim for all phone lumia 520 in Europe?

1520 MS? Have they even admitted or addressed?

This. I can't say how many times I have miss tapped something due to the crazy sensitivity.

Right.. I have many issues with my 1520, sound not working everywhere.

Sound doesn't work on my 1520 either, touch screen is garbage, capacitive keys stopped lighting up. Replaced with 830 and am alot happier

There was article regarding this, I think you missed it, the issue appears to be hardware based. It had to something with misalignment of plex or something. So, there was also a temporary fix for that.

Some games are unplayable like hungry shark evolution and i keep opening apps that I don't want to in my home screen. You get used to it but it still annoying

It should have been covered under lemon but Nokia and att refuse to replace or fix. In hated them for that. I've sent many complaints about it using Rate Us.

No, the issue arises because of the large size of the screen, as the article notes and not because of a single component, so for effective correction they have to replace the whole design, which I don't isn't gonna happen.

Not too sure on that, the 930 doesn't exactly look like the 900 or 920. So the next 15xx phone could look different.

Its huge, touch is really crazy.. It skips 7/10 times. Rest descent rear cam, but awesome front cam.

Its a great phone. Initially it had some touch related issues but I got an update today morning and now things seems to be much much better. I would have loved the capaitive buttons instead of on screen buttons but it is something i can live with since i am getting good value in this price range.

I too got an update for 535 it said critical update. But still the touchscreen issue is nit solved. Moreover there came a new problem that sometimes when I unlock the screen, the display gets enlarged with magnified letters. I need to restart the fone. This happens twice till now. Do u face the prob @rahul

+1 for the Anoying issue with " when I unlock the screen, the display gets enlarged with magnified letters. I need to restart the fone. This happens twice till now. Do u face the prob @rahul" Lumia 535 ver 8.10.14192.280 Any idea or fix are well appriciated

Yes i was also facing this problem. This is in fact a feature that turns into a problem due to this touch bug. The feature is that when the screen magnfication is on from the "Ease of access" setting, we can magnify the screen by double tapping with 2 fingers. In this mode, we need to use 2 fingers to scroll and 2 fingelr double tap to get back to nornal. So next time you face this issue, use a double finger doube tap to get back to normal. To totally do sway with it, just disable the screen magnification from ease of access settings. Do post here if you are able to get it done successfully.

Thanks man. This worked for me. :)

Thanks Bro. It really worked. I was about to throw the phone. Good you saved it !

after updating to windows 10 with an insider app my phone stopped working it is displaying (this device has been locked for security reasons,connect your device ta a power source for at least two hours and then try again) what should i do now please help me

hii dear, go the settings then go to ease of access then u ll get screen magnifier option. just off that. then ur problem ll be solved

Hii, you can turn off the magnifier in Settings -> Ease of Access -> Screen Magnifier..
I think it solves the issue..

how to update this touch related issue, please reply me at my gmail, here it is, zerald786@gmail.com
plz reply sir

Its fast still no resuming sort of appeared.. Got orange colour.. So will test it now with games, videos music etc

I found it really cool. Just the shape and look didnt appeal to mess I have 3 more Lumia all having Sharp edges and this is the only havungcurved. Else , perfomance wise, the phone rocks. But cost cuttings are clearly visible as the body is not very firm.

I have a recently bought Lumia 730.. But clear black display on 730 really rocks.. Still 1gb of ram with ffc, sd card, rear cam with flash.. All demands have been full filled by MS with huge 5" display

waiting for windows 10,1 month to go for the next event. of consumer preview.

Would appreciate if someone in the "select market" could tell us how much their touch screen has improved. I'm planning on a repurchase after a refund 2 weeks ago.

In theory, it should be just like any other phone. This sounds like a simple calibration fix and not hardware. Hopefully more of us will get the update soon to verify.

When would it come to India?? Touch is really crazy.. Have to press a lil hard

daniel,im from indonesia,we got update just before Xmas,since the update,its litlle bit helping for our touch problem for 535, but today, after one week, the problem is back ( never install any game,use whatsapp and browsing most of the time ), now it's going too sensitive,like ghost touch,lock screen suck,and it's look like hardware problem. So please,what is this? if that's true about calibration and next update for more fix,i hope it will come soon,otherwise we want claim to get our money back. ( sorry for my english )

Ah... Glad you asked. I was going to buy L535 until I heard about this issue.

Don't wait for it go for a 730 it has better display resolution and a better camera, you won't regret

I recieved the update in the morning and things have improved a lot. I tested it using "multitouch test" app and it seems to have gone better. Not perfect still but the normal usage seems to be improved a lot with this update.

These issues need to be eradicated beforehand.

Thats right. And if not in testing then also it should be quickly fixed within a few days. Its been weeks since the phone has launched and this issue has put a very wrong impression in the market. And many issues like this still need to addressed. But Microsoft is lazy and that's the problem.

So a phone which is available in few countries is getting an update which is available in even fewer countries? :P

Lol , if just read the headline it may make people angry, "selected market " only will get the fix version .

Went down to the Nokia store here in Laos and played with the 535... The phones here have the screen problem, but besides that I would say it's a good phone for the price.

My GF Lumia 535 can't open camera and even the proximity didn't work in just a few days

Remove Protector from proximity sensor after that it will work fine

Is the update available In India?

Not yet.. But would come soon

Just updated it a few hours back. Christmas gift i suppose.

Why no 1520 screen sensitivity patch fix?

Same problem in lumia 730.
Lot of bugs. Double tap to wakeup is not performing as good.... Could not smoothly working... Swipe up & down the colour is lightly changing... Please fix the problem.
Please add mobile data in action centre, audio levelling in music player & bring glance screen to lumia 730.
We are waiting for upcoming update.

denim will be rolling out soon.

What about the Lumia 830? Isn't that also having touchscreen sensitivity issues?

I had no issues until I stated using a screen protector. Now the search button doesn't work.

635 needs touch screen fixes as well. I can't even check my visual voicemail or end a Skype call.

The Best WIndows phone is lumia 620, i am using this mobile since March 2013, Touch sensitivity awesome. so far i have not faced any issues. I choosed correct windows phone in first attempt :)

dude..i am totally with you...hail 620

625 is a better choice big wide screen 1080p 60fps, reliable 4G, graphic equalizer. It seems to handle anything, I suppose its everyone to there own I would like 1GB RAM +... But this is on Denim

great news, just ordered two Lumia 535s from http://www.1shopmobile.com/Microsoft-Lumia-535.html for $143 ($115+$28 expedited shipping) ,one for my mom and my neighbour wanted one also, best budget phone around.

What about the lumia 730 and 735 screen flickering issue??

Is the Lumia denim update available for Lumia 525 in India?I read an article saying its available but I didn't see any new updates when I checked manually.

Update not seeing for my predev phone...

I am not using mine in pfd.

How about the freezing issues on the 925 and 1020

Oh no! Now I'm again tempted to upgrade to this device from my Lumia 525 for obvious reasons. Good job Microsoft. Shouldn't have screwed up in the first place but still. Since this is the best budget device on the market, I'll still take it.

Please feedback for those who installed the update..
Thank you

It's definitely better than before, now I can use "swype" keyboard, scrolling overall is much better, but Snap Attack still doesn't work properly :( The phone stops registering your finger after a few letters and needs time to "recover" before you can go on. But its much much better overall! (Germany and Single Sim, by the way) p.s.: You also get Cortana (alpha) without dev prev

So the problem only in snap attack?
All the other problems in touch and screen are solved so far?

i am more than happy that msft is addressing this issue ASAP. well, as it should be! they surely don't want this microsoft branded lumia to carry the stigma as being crappy upon initial release. not a good thing to begin with. totally not cool. rumor spreads too quickly, and i'm already seeing bashers who puts emphasis on it too much. hope it dies soon. i do hope msft will bring Clash of Clans to WP! that's what other friends of mine are holding back to switch. they love the design language bcause it's unique. i don't play it, but it's really popular here. but this is another topic though. :))

Why on earth did they build this phone with zero USA support.

Hello Team, I am facing the Problem related to touch sensitivity.It is not running on single click. And Lumia camera zooming is not done. It is major problem in Microsoft Lumia 535, I am using this mobile from last 15 days and very dispappointed from Microsoft because of touch sensitivity and camera zooming feature is not tested. I hope Microsoft will give update soon.

am a lumia 535 yser from india. i dont see any updates to solve my phones touch issues. how can i get an update?

Have 535 in UK, no update available.

Update will be available in 27 December!

It should be done for the 730 aswell, the back sametimes does what it wants...

For the first time that i heard on rewievs that this phone has touch problems i couldn't belive because it comes from a huge comapany like microsoft , Anyway hope it's a software problem and the update fix the issues , because for the price and specifications is the best phone you can find and i will buy after i check if the update fix the problems. Also i want to know if the update will be for all version's 535 only sim and dual sim ?

I just received the update here in India , and the touch is better than before , but not as good as the supersensitive touch screen in the Lumia 520

so still touch is not prefect as should , so maybe was as software issue and a hardware issue
software issue is fixed by update but hardware issue will be always :(
So at Last nokia 535 is a dissaponted phone?

Updated to 8.10.14226.359. Athough it is better now, it is still having the same problems. The problem is worse at the bottom of the screen. It is also horrible when the phone is charging. I faced the exact same problem with 620 last time when it was first launched. This is extremely stupid. Why cant they make a touch screen phone with a working touch screen. I'm from Malaysia if anyone is interested

You say you faced the exact same problem with 620....did they fix the problem with software update ?

I changed to a 820 after a while (it was still not fixed then) so I don't know whether they have fixed it. But the 620 problem is not as bad as 820. At least it registered one finger touch correctly. The 535 touch is just plain broken. Sometimes the one finger touches don't register. At other times, it registers continuous on off touches even if you do not lift your finger off the screen. Don't get me started for multi touch. It is totally unusable.

No problem dude. Just buy screen guard. Mine works fine.

Cortana doesn't work in the Lumia 535 that one of my family member got. It doesn't recognise voice.

In lumia 535 both camera's are not working after update(after 2 days).when i open cmera it skips to start screen.Anybody help plzzz.

Yes. I am also disappointed. Both the cameras are not working. When we want to invoke, if we touch it, loading...... appears and again in few seconds the screen reverts back without loading the cameras. Whether MICROSOFT WILL LOOK IN TO IT and fix it urgently. Earlier when NOKIA was informed of such issues it will be resolved IMMEDIATELY. No much problem were also faced earlier. AFTER MICROSOFT COMES IN TO PICTURE errors are more and the user dissatisfactionis also increasing.

@ Riyas Deen. I have same problem as you, though i know your post is quiet old, but i wonder if you got a solution that could be of help. Please i need it real seriously.

Check out the latest video on how the latest firmware has solved anything? The phone had been updated and reset. http://quickvid.org/watch.php?v=vRZQI8DYTt-

Speech language packs are not downloading after update. Any help?

my lumia 535 lock screen some time zooming. how to avoid it

Its a worst scrapped mobile which I never seen in my life. & had worst service center & they won't give any warranty which company provide to the customers. They'll provide only guaranty. Have any doubt can call me to my no.: +919700333084

Is the Touch issue only software related bug or is it a manufacturing defect.?

I am facing the Problem related to touch sensitivity.It is not running on single click. And Lumia camera zooming is not done. It is major problem in Microsoft Lumia 535, I am using this mobile from last 8 days and very dispappointed from Microsoft because of touch sensitivity and camera zooming feature is not tested.plzzzzzzzzzzzz update and fix ........i am in indian

i am from bangalore india.... i am planning to buy Lumia 535 next week, i have a few doubts regarding this product.. first one touch screen issue. till yesterday i was feeling ok with this product but when i watched a video about touch screen issue i am seriously thinking to change my mind as some of the shops here are selling mobile packed before december 2014 27th which says its manufactured before solving this issue.. other point in this issue is i wont use keypad as swipe system i will be using as TAP TAp ones. but any ways with out solving this touch screen issue one cant think of buying your product as this is sensible issu............ other thing is where can i find Lumia 535 latest released products (after fixing this issue... if fixed!!!!!) also will the warranty cover for Lumia 535 purchased in Flipkart or Amazon ie online store. get back me at the earliest.. pls i am waiting..

Today i have saved my $ 600 USD . because i was going to Nokia Store for purchasing Microsoft Lumia 535 Mobiles for my workers. after reading the reviews of the Lumia 535 users experienced peoples. now i have decided to buy android phone for my workers. i wonder that microsoft lumia is the failed mobile was launched by microsoft company. it iwas the first mobile device. its means the first expression is very very bad from the microsoft. Microsoft cheated with their customers. like me lot of microsoft customers has been left over to microsoft. it is sure, microsoft used chian low quality peripherals in their lumia 535 device. microsoft should announce to give back all lumia 535 devices from the customers. becuase it is failed and full of bugg mobile. i suggest microsoft sell back Nokia to their previous owners. becuase microsoft cheating with thier customers. Microsoft selling bugg full devices it is shamefull act.

I needed to reinstall my Microsoft 535. After that am not finding Cortana. what to do?