Microsoft rolls out new cumulative update for Windows 10 Version 1703
By Zac Bowden last updated
A new cumulative update is rolling out for Windows 10 Version 1703 with fixes in-tow.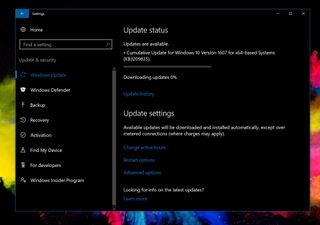 Microsoft is rolling out a new cumulative update for Windows 10 that brings the OS build number up to 15063.632. The update began rolling out on September 25th, and includes two new fixes for cellular connectivity and Microsoft Edge.
The update in question goes by the name KB4040724 (opens in new tab) and is available now for Windows 10 PCs via Windows Update.
Changelog
This update includes quality improvements. No new operating system features are being introduced in this update. Key changes include:
Reliability improvements and fixes for cellular connectivity.
Addressed issue in Microsoft Edge where on first launch after installing KB4038788, or periodically thereafter, users may observe performance issues or unresponsiveness until the next launch of the browser.
Head to Windows Update now and get the update installed.
Zac Bowden is a Senior Editor at Windows Central. Bringing you exclusive coverage into the world of Windows 10 on PCs, tablets, phones, and more. Also an avid collector of rare Microsoft prototype devices! Keep in touch on Twitter: @zacbowden.
Am I the only one with input issues. The language option disappears from task bar

Be nice if they fixed whatever it is they have done for insiders that's stopped access to I tunes store and stopped me making comments on Windows central. I've had had to buy an Android device to leave this comment!!!

I wish I understood what your comment means. You can't access the iTunes store, and somehow that prevents you from making comments on Windows Central, so you had to purchase an Android device to do it? Don't you have a computer with a web browser? That's what I'm using.

Rofl I'm commenting on my 950xl

So... the insiders update has somehow stopped access to I tunes store on 3 devices I have. It still works on a forth which hasn't been getting insider updates. It's also stopping me making comments on 3 devices and my 950 in the Windows Central App. The "send" button after typing a comment simply doesn't work. It's as though it's not there. Windows phone support n9w so poor I've just changed to an Android phone. The App on Android works fine. Answer your questions?

You do realize that the comments problem has been an issue for months now right? Also, I'm posting this right now on my L950XL via the web browser. Sure its not ideal, but it's possible.

Yep...so even less excuse for Microsoft not fixing it yet. It's bad enough having hardly any apps without the ones we have left not working

Microsoft does have a fix for your problem, it's called "Don't run insider builds if you're not willing to put up with some glitches".

Put up with them yes...accept them ignoring them for months...nahh not good enough...What's the point in feeding back if they bloody ignore it

"Priorities", they fix the problems in order of priority. Also, could be the app developer has not made the changes to be compatible with the latest insider builds.

Most of the time it's the is that's broken or screws itself up...and inconsistently

I had the input issues, as well as the lagging/stopping of edge. Will keep an eye on it now to see if it's really fixed. But in all seriousness. this is what happens when you leave testing to "suckers'.....i mean insiders!

My Lenovo PC no matter what I do will not download or install this update :(

I was not able to install KB4038788, I don't know if this update will fix it or it will fail too.

I just did the update, now edge is almost totally un-responsive. I was having no problems with it prior to the update but now getting it to do anything is an exercise in frustration and patientce. One step forward two steps back....

Neowin also posted that 14393.1737 was released but my Lumia 1520 is not seeing it. Anyone else get that build or no?

Went to reboot my PC an hour minutes ago. Still Getting updates ready. No indication this would happen. Had to use another PC to get work done. I'm going to Best Buy to get another SSD to pop in and test Ubuntu for a while and see if that works out. Hopefully it does. I will never look back. I'm so ******* missed with his much time this OS wastes, and how inconvenient it has become, to use. Windows 10 is a prison of inconvenience.

I so agree. I've wasted so much time on crashes, fixing **** they break, rebuilding start menus data or apps it's untrue. I have 3 pc's on the insider buld and they all work in different ways now (or don't work) even though they are running the same version of windows. For example in settings for notifications on the MS mail app is grayed out and unaccesable on one, works fine on another and isn't even listed on my surface device. F***in ridiculous!!!

This update broke the network discovery of my WD 2TB MyCloud NAS. Can still access through the WD QuickView System Tray. But refreshing Network doesn't find it now where it was okay prior. . . :-(

The last update destroyed usability on my Lumia 950XL. Made me reflect on how I would read comments from other people about updates making their phones unusable, but I always thought there was enough doubt to determine it could be other causes. But, nope. My Lumia went from the ocasional reboot to rebooting every few minutes after the update. I had to move to a backup Android phone (which I'm hating btw), but my only hope is waiting for the next Mobile update and see if that fixes anything. Hard reset sounds like a total hassle, so if a future Windows Update does not work, I'll be moving on to another device/platform.

The last time I updated Windows, when it rebooted, my 4K HDMI tv no longer received a signal. So I had to revert to a previous version of Windows and turn off automatic updates

Is it only me or do others have an issue with Google Chrome freezing in Windows 10 since two updates back?

Reliability my foot! The last two cummulative updates have really messed my laptop up. I don't know what is causing it, but I can not stay connected to the internet, never had this issue before the last two cummulative updates. In addition I keep getting error codes with some app updates in the store too. Ughhh!
Windows Central Newsletter
Get the best of Windows Central in in your inbox, every day!
Thank you for signing up to Windows Central. You will receive a verification email shortly.
There was a problem. Please refresh the page and try again.