Microsoft says Surface Hub sales have 'exceeded initial forecasts'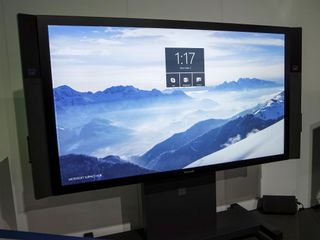 Microsoft says that sales of its big Surface Hub touchscreen Windows 10 PCs for business customers have 'exceeded initial forecasts'. The company added that it is "ramping up production" to meet demand.
The big 55-inch and 84-inch PCs began shipping in March, for the price of $8,999 and $21,999, respectively. However, Petri reports that some potential customers have recently been unable to purchase Surface Hub models. In a statement sent to the site, Microsoft stated:
Microsoft has not offered any specific sales or unit shipment numbers for the Surface Hub.
Windows Central Newsletter
Get the best of Windows Central in in your inbox, every day!
Okay I do not want to be the pessimistic one here but did they not say something similar for the 950/950xl ?

THey shipped like 500+ of these. It's not a big numbers game with it right now. Do you think they inflated it from 450 units? The 950/XL was also exceeded because they knew is was a fanboy phone... they didnt make 20 million of them and then sit on the stock lol

I get your point but all I am saying is that they should probably give us some numbers to back the claims maybe or maybe they will sometime later. I just hope this device make the Surface brand even more valuable so that once we have the Surface Phone, people would actually aspire to buy it. I could have talked about inflation but only if some actual numbers were given. From what I remember, they said the 950/950xl sold more than they could produce; only later to launch a BOGO offer on those devices. Correct me if I am wrong.

BTW it is in the price range of $8999-$21999. So, 500 is Reasonably good.

They didn't say they shipped 500+ units, they said they shipped to more than 500+ different customers. Who are you to say that every enterprise customer bought only one of these bad boys?

I know one company that's ordered over 25 of them, and they're still waiting for 10! They have ten conference rooms in London and their subsidiary office, and 5 each for two branch offices. No idea about their offshore operations. When management first got their hands on them as a test during a board meeting they basically wrote a blank cheque the same day to upgrade all the conference rooms and rip out of all the old projectors, Cisco and video kit. Going by what the AV team have told me they're going to be saving at least 100k per year by using the Hubs not having to worry about servicing projector bulbs (£300-500 a time for bulbs), service contracts for the various conferencing gear and also the simplification of the network support infrastructure (only one or two patch leads compared to 4-6 currently) meaning free ports on the routers/switches and more importantly, it frees up IP addresses which is always at a premium. Most major corporations who have pockets deep enough for these will always have multiple multimedia rooms. Usually 3-5 fully tricked out rooms per site (if not more) with all the tools they need and the rest is what's necessary for AV and telepresence conferences.

Agree with everything except to correct you on this- 500 customers not equal to 500 units...this is business customers we are talking about, they will wanna buy in bulk...and am pretty sure microsoft can easily do more than a unit or two in a day and fulfill demand if it were 500 units...lol! :D

500+ different companies, not 500+ units. My company has shipped over 200 at last count and we are far from the only reseller (though we are by far the largest integrator that MS invited to resell the Surface Hub)

They haven't said anything significant in this Regard too i.e. No. of units sold.

You can't really compare $550 and $650 consumer/fan oriented smartphones to $9,000 and $22,000 enterprise level wall computers. You are trying to make a numbers game out of a product in a completely separate category with a completely different target audience with a completely different budget and use case. It's the same situation as the Toughpad line. They are specialized computers and you'll rarely see them but the brand has existed for a while and is successful for it's intended purpose.

"We thought we'd sell two, but shocking everyone, FIVE were sold! 250% boost, it's going WILD!" :P

How about letting us know how many units were sold instead of just how many customers bought them? That would be more interesting to me.

Why should they? From a business standpoint, the fact that they have 500 customers who were willing to shell out $9,000-$22,000, potentially for more than one unit per customer, is good news. They don't owe hard numbers to people who are unlikely to buy such an expensive device and businesses usually buy things like this to fit a need, not just because it's popular.

They don't have to, but then why not? Why are you against being provided more information?

I'm not against more info. It just seems bizarre to feel entitled to hard numbers about the unit sales of a product that has nothing to do with the consumer market. Do you think MS is required to satisfy the skepticism of people who aren't even in the running to buy a Surface Hub?

I don't feel entitled to know the number of units, but hearing 500 customers makes me think it was just 500 units. it sounds like a good number of customers, but not so much as units sold. I'm sure they just reported the numbers in a way that makes it sound the most impressive.

I agree that they do not need to. I also agree that it is a much more expensive device. What we don't know yet is, how much of these do they actually have to sell to make it a profitable venture (both in terms of the money they make and in terms of the value of the Surface Brand). I just hope this device is a success and paves the way for the success of the Surface Phone, specially considering that MS would probably only or mostly be targeting the enterprise market through the Surface Phone and the Surface Hub is majorly an enterprise product (as of yet).

And what difference does it make to you how many they sold? Does it affect your life at all how many they sold? And if they said they sold X, we know you will be whining about how you demand to know how many of the $9000 vs. $22,000 devices sold. This is the funny thing about people like you, when companies like Apple love to brag about how many iPhones they sell, giving exact numbers and you cheer about how many they sold against Windows Phone. But when they don't announce how many iWatches they sell claiming that they want to "focus on the quality than annoucing sales" then that is OK and anyone who may question them are just haters who need to be silenced. But Microsoft doesn't break down the exact number of m3, i5, and i7 Surface devices sold, the SSD sizes of them, the exact demographics of who bought them, the number sold per Microsoft store, how many were sold during a full moon, well, then you rant and rave that Microsoft is trying to hide something and lying about the figures (which would actually get them in trouble with the SEC).

Chill out. I'd rather know the number of units because that is more telling than number of customers. If 500 customers are just doing pilot programs, then MS only sold 500 units. The unit number is much less impressive than 500 customers. In the end, I do not feel like they must divulge this information, but it would be more telling of the actual interest in the product.

These things do look cool... not $$$$ cool but still, neat

500 wtfish Posted via the Windows Central App for Android

it's minimum price is $8999. What else it could have been?

Still more than the NuAns Kickstarter! Posted via the Windows Central App for Android

Its not 500 units, its 500 customers...that's a significantly different parameter...

They sold 2. 100% over forecast. On the other news, Windows phones still get some love:
"Avast learned the following about the Republican National Convention attendees:
•55.9 per cent had an Apple device, 28.4 per cent had an Android device, 1.5 per cent had a Windows Phone device, 3.4 per cent had a MacBook laptop and 10.9 per cent had a different device
•13.1 per cent accessed Yahoo Mail, 17.6 per cent checked their Gmail inbox, and 13.8 per cent used chat apps such as WhatsApp, WeChat and Skype
•6.5 per cent shopped on Amazon, and 1.2 per cent accessed a banking app or banking websites like bankofamerica.com, usbank.com, or wellsfargo.com
•4.2 per cent visited government domains or websites
•5.1 per cent played Pokemon Go
•0.7 per cent used dating apps like Tinder, Grindr, OKCupid, Match and Meetup
•0.24 per cent visited pornography sites like Pornhub.com" http://www.theregister.co.uk/2016/07/21/gop_wifi_privacy_fail/

Woah I never imagined that Apple would have an higher percentage than android. Or is it not IPhones only? Posted via the Windows Central App for Android

iOS has a higher marketshare in the US than Android.

Wow that's great. I like that no one os has absolute dominance in all the world. You know, different regions, different strengths. Although Microsoft doesn't claim dominance anywhere. sigh... But way to go apple. Here in Jamaica, Android pretty much rules due to low end and affordable phones , but IOS also has its strong hold among the rich folks. I'm probably the only person in the entire country who uses windows phone and likes it. Lol Posted via the Windows Central App for Android

Is it true that Windows Central app is better on Android? I'm still using WP8.1 app.

I don't know. The android one can download podcasts as mp3, save articles. I don't comment notifications, but maybe I need to turn it on. Other than that, I don't see why other features that would be absent from windows. I would also note that is stable and it never crashes. I'm only using an Android phone cuz I lost my Lumia 928 though. Posted via the Windows Central App for Android

I would guess it includes all ios devices as MacBook's are in different category.

Well, I'm happy for Apple. I was always afraid that they were in too much of a distant second. Posted via the Windows Central App for Android

Despite android being the dominant mobile OS in the world, I'm not surprised by these statistics. At all.

Its these kind of companies that are going to buy the HP Elite X3 in bulk by the hundreds or even thousands.

Don't think so. Companies require long support and MS can't provide it for phones. Those companies that have used Windows phones will never do the same mistake again.

What do you mean, we have one OS accross devices, HP spent 2 years asking thier enterprise customers what they want in a phone and the X3 is the result, this phone will fly off the shelf. Enterprise has been screaming for a secure easy to deploy mobile solution and the X3 is it, Android is a joke and Apple have no interest or experience with Enterprise. Blackberry was the darling until they imploded and we all know how sucesful they were in that area, HP (and thier competitors who take notice in due course) will own this space. Virtualization running full fat desktop apps with continuum, yes please. Companies are also brand agnostic, they go to the best tools that make them money as well as save money and/or time.

You would be surprised on Apples market share on corporate echelons what comes for mobile.

You will be surprised as to the reasons behind those decisions, >>no alternative<< As a business owner dealing with CTO's and IT Directors of companies around the world they all say the same thing. The reality of BYOD is very very different from the idea. Apple have no intention or experience with Enterprise....Pushing iPads, cmon, seriously?

IPhones are secure and supported. No app-gap. Users like iPhones. MDM takes care of the rest.

True up until a point however enterprise tends not to care what the users like. They get a lot more integration with a windows device and at better price points.

What integrations? All MS services are as good or better on ios. Both can be managed by MS Intune.

Hopefully they'll get it right this time. Especially since windows 10 seems to be one continuous operating system. Posted via the Windows Central App for Android

Bit confused by the statement around companies that used windows wouldn't do it again. My company has been using them since seven without issue. They have pretty much been the most reliable phones we use. We came from BlackBerrys which seemed to always be faulty. We do also have Apple phones in the group but the only difference I see is they pay twice as much for their contacts and can play Pokémon go not really a business need we have made in my company.

Sorry to pop your bubble, but I know a company that's waiting for 15 devices for a 6 month trial. They ditched Android and Apple does not play nice with their network or their WiFi. They currently use a mixture of 830/930s and a number of iPhones (mostly management, but they're getting weaned off iOS they've alrady ditched their iPads for a mixture of tablet devices such as the Surface/Surface Pro). Also for security the X3 is, on paper, one of the top phones in the world, and MS will support Windows Mobile as long as they need to as it's the same codebase as Win 10. The total cost of ownership of a Windows Phone device compared to Apple is about 20% lower, that's over a 2 year period including software/hardware, MDM and contracts. It's also easier to roll out policies to the Windows Phones.

Great. Surface devices are now on the move! Let's hope for the next Surface Phone to be at the same fate as Hub... (no signature)

HP certainly set the bar very high, I cant wait to see what MS and others do.

The place I work has an 84", we also have some Smart Lync Room Systems and Polycom Treo's. Surface hub is a great device, similar to the Smart LRS, but more polished. One thing that doesn't work so well is that due to the 4K screen content sharing over Skype from the screen is jerky. For example to wow people with the device we generally use the maps apps and go 3D to zoom in on sites and locations, over skype it is a painful experience. Everybody who has seen it walks away impressed and wants one until they hear the price, the trolley alone costs around 5K. This is why we have rolled out Polycom Treos to most of our meeting rooms instead.

Customer our resellers? I strongly doubt this infers to customers. So if we consider this to be distribution then it could be a small leap to imagine we are talking 15 to 25,000. Now let's put that number in perspective these are car prices so the value could be in the hundreds of millions. This is all good news for the surface hub team but will they continue the momentum or as happens often it's a spike followed by apathy.

Well Surface revenue has been stagnated last couple of quarters. We would see if any significant impact from these. But as Rubio says MS is not makings hardware for sale but just for demonstration purposes.

Wow.. Guess that's their best fast get rich hardware sales then. I really love what the Surface Hub can do. Wish my workplace buy it so I can play with it Hehe!

They must be selling quite a few of them. Looking at the job openings on careers.microsoft.com they have been adding assemblers, shift leads, qc and testing folks for 3rd shift as well as more warehouse people.

Every hospital and large business with money to burn cant get one of these fast enough, no matter what the price. Really not surprising when you consider the competition of other expensive crap conferencing hardware on the market. This thing is literally generations ahead of everything else.

The surface brand just goes from strength to strength.

Just for yakking purposes, some customers bought 1 some bought 2-3 and a few big ones bought 20. Could be about 2000 to 2500 units. At an ASP of say $11,500 (more 55") that's $25 million in sales. Not bad! It would take a heck of a lot of Bands to sell that much.

It you need sales numbers perspective for this, go to your local Audi dealerships instead of an Apple store.

It doesn't matter how many they sold. As long as they are profitable and businesses like them and continue to buy.
Windows Central Newsletter
Thank you for signing up to Windows Central. You will receive a verification email shortly.
There was a problem. Please refresh the page and try again.