Microsoft to sell Surface tablets through retail chains in US and Australia [Update]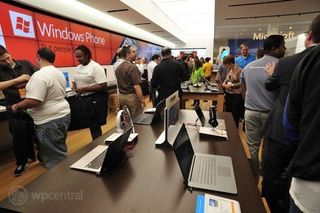 Microsoft has announced today plans to make its Surface RT tablet available at retail stores as soon as mid-December, to take full advantage of the holiday season. In addition to the extension of sources where Surface tablets will be available for consumers to purchase, Microsoft will also turn several of the temporary stores that were opened for the Surface launch into permanent retail outlets.
Panos Panay, General Manager of Microsoft Surface had the following to comment on the announcement:
Starting from mid-December, consumers will be able to purchase a Surface tablet loaded with Windows RT from retail stores in the US and Australia, with more countries being added in the coming months. This shows strong signs of progress for the company, attempting to push the product into as many hands as possible. Steve Schueler, corporate vice president, Microsoft Retail Sales and Marketing, continues:
The hardware is currently available at Microsoft retail stores in the US and Canada, as well as online in Australia, China, France, Germany, and the UK (as well as the US and Canada). The company isn't looking to slow down with just the expansion of its stores and locations where is latest hardware is available as Microsoft has also been in talks with landlords to bring stores to Europe.
The Surface tablets have been restricted to a handful of markets, so it's positive to see Microsoft taking measures to increase productivity as well as availability worldwide.
Update: According to a report over at Yahoo!, Staples is one of the named retail chains that will be selling Surface tablets. The product will be available in stores and online as early as December 12th. Those who purchase a Surface RT tablet from Staples will receive free personalised training, free support and free startup for their new tablet. If you opt for the $699 model you'll be eligible for a free data transfer from an old PC.
Source: Microsoft (opens in new tab)
Rich Edmonds is Senior Editor of PC hardware at Windows Central, covering everything related to PC components and NAS. He's been involved in technology for more than a decade and knows a thing or two about the magic inside a PC chassis. You can follow him over on Twitter at @RichEdmonds.
This is what I been waiting for since Dallas TX dnt have a Microsoft store

I know! Can you believe that there's no store here?.. Well, there is one at Stonebriar Center in Frisco, TX.. But we need one closer to the center of the metroplex. One in Fort Worth, and one in Dallas would be nice.

Love my job, since I've been bringing in $5600… I sit at home, music playing while I work in front of my new iMac that I got now that I'm making it online(Click on menu Home) https://goo.gl/lyde2

From your description, it sounds like you webcast porn.

Very true I went down to Houstons one a while back it was cool

Great great news I will check staples tomorrow....with my surface in hand....

Lol.. You might want to wait a week or so.

Hell yes! Give away a free WP with it to increase market share, and awareness!

How would that work? Giving away a $600-700 phone with a $700 tablet?

It would be exactly like the deal the att stores are running right now with the 8x, and W8 tablets available. There would be a contract involved silly. But, the devices could be given away for free!!

#awesome - SO TIRED of news outlets reporting "disappointing sales" of Surface Tablets!
Sheesh, It's sold exclusively on-line and only a few hundred stores. You can't physically move millions of units that way.
A retail outlets move is awesome. Everytime I open my Surface in public people FLOCK to it.


Try a few dozen stores... For now...

This is so true. And so far the two big praisers I've got are both Mac users.

Yes. The articles do not take into account you cannot find these in malls, stores in most areas. I have yet to see one and I live in Washington. They should get these in best buy

Yes, best buy should have these - that's what I was hoping for when I saw the headline.

Definitely a positive that latent demand is so strong. That should mean more developers are attracted to the platform, which hopefully means better and more creative apps. Win for all of us.

The DFW area does have a popup store in Frisco at the Stonebriar mall. That's where I got mine.

True; but there is no way I would drive all the way to Frisco to visit a Microsoft Store if the drive was more than 30 minutes. People who live in the mid cities, or Fort Worth...I personally don't see it being worth the drive, and would just order it online.

The thing is is that DFW is one of the largest metropolitan areas in this country, and the only place Microsoft could think to put a pop up store is in Frisco? Ridiculous.

It's amazing that there isn't one at the parks mall in Arlington. Have you seen that place during the holiday season? These guys must either be crazy, or just outright stupid

Parks mall in Arlington is a badass mall perfect place for a Microsoft store HOME OF THE DALLAS COWBOYS we goin to the Superbowl

cowboys to the super bowl? Not this year

The 30 minute drive was probably cheaper than paying for shipping online and then waiting to get it. That to me is ridiculous, sort of like my right leaning political views. (GO Reagan!)

Dont.Stop.Tha....I said more than 30 minutes :)

Besides, time is currency for many people.

So what it boils down to is Microsoft giving the OEM's a chance by not selling in the prime holiday season. The OEM's didn't capitalize on it and so now Microsoft can get in the game after having a "soft" release and a couple months of advertising.
Would have been nice to have them in retail for the holiday season but this is better than nothing and in theory should boost development of RT apps.

That's my take on it, too. It's high time the OEMs stepped up to the plate.

Actually what I think it boils down to is they tested the waters through a limited distribution channel, met their real internal targets, and are expanding out. Since I live in a city with a Microsoft Store, and do see the tablets around at times, I am not surprised they met their targets.

Why would you use a windows phone pic when your are talking about a surface

How, is this a WP picture? Its just a random picture of the store. The WP graphic sign in the back just makes the picture more relevant to a WPcentral post.

Still waiting for the pro

Which should have been available from day 1!

Id love to get one, but its a bit too pricey for me. I do think that they are going to have to try and be more competitive price wise for the Surface 2 if they really want to move these things and try and compete. Unfortunately, Apple has a good hold on the tablet market, due to branding and price.

I see the price decreasing exactly like how game console prices decrease.... Affordable by the time a new Surface is due out.

It only costs a hundred to make ,not willing to pay a Microsoft tax

How about putting up some numbers to demonstrate it only costs a hundred to make? Don't bother since it is not true. Even the Nexus tablets and the Kindle Fires cost MORE to make than the respective Google and Amazon list prices and those are plastic media consumption devices (aka toys).

You're correct in your assertion sir, good day!

Awesome, I have a trip planned to the US this weekend. Will pick it up at Staples.

I still don't get it why they are limiting this to so few countries. I'd already have bought one if they'd at least ship it to Austria from their German online store like every decent online retailer. I am very disappointed by how companies still cut Europe apart with country specific release dates. I wonder if the EU will ever do something about this. It's definitely against its principles.

Come on best buy i have alot of certificates to use by January!!!!!

Any list of the stores being converted from pop-up stores to permanent ones?

"Free data transfer from an old PC"? Really? Maybe with Surface Pro and Windows 8 Pro I would understand... But with Windows RT... I guess that's for people who use their PC only for pictures and music... And who have less than 64 gigs of data on their PC... Anyway, other than that, it's great news!!! I hope they also sell it in Staples in Canada, I've got one right next to my house!!!

So when are they going to update this promotion. I want to trade in my HP Touchpad for a new Surface!!!!

If you enter www.staples.com/surface you get redirected to http://www.staples.com/MicrosoftSurface/cat_CL168873 looks like they may have a place holder page active.

No, its too late for the OEMS they had there shot and they blew it. Now MS can release 3 new tablets after xmas and a couple of laptops too.

@thurrott strikes again...three weeks ago

Best Buy now has the Surface listed on their website.
http://tinyurl.com/aox9rvo

(Had to use a tinyurl link because apparently WPCentral flags best buy with no space between each word as spam. The link http://www.best buy.com/site/Computing-Promotions/Surface-with-Windows-RT/pcmcat290500050018.c?id=pcmcat290500050018 just remove the space between best and buy in the address.)

Yessssss!!!!! $200 in certificates to use right now!!!!!

Yessssss!!!!! $200 in certificates to use right now!!!!!

In Australia they'll be available from Harvey Norman and JB HiFi. Unsure how HN will get away with it's standard $120 - $150 price hike.

To be exact, Harvey norman are selling theirs from the 14th of december (friday). They are the same prices as the microsoft store. JBHIFI havnt listed it on their website yet. You can order it from HN now.

Staples? Why not BestBuy?

Its now on sale and in stock at some Staples stores

http://www.staples.com/MicrosoftSurface/cat_CL168873?icid=HP:HP:XLPBTOP:...

This is what they should have done all along but I guess they needed to test the market or production wasn't quite there? Good news either way.

Staples? Really? I can buy paper clips and a Surface at the same store? Do we have any confidence that Staples employees will actually be able to explain what the Surface is?
Did Best Buy want too big a cut or something? Surface should be at Best Buy, instead of or in addition to Staples.

When's the last time you went to a Staples store? There one next to my house and they've been selling Windows 8 PCs and tablets since they're available. And everytime I go there there's always one of two employees right next to the tablets to help customers make their choice, and to convince them that Win 8 is the way to go. Staples isn't just paper, they've been selling computers, monitors, printers, ... for a while now! And normally they've got pretty good prices! (Oh... And no I don't work for Staples...)

best buy now has a coming soon page for RT

it will be available Sunday 16, according to Endgaget

http://www.engadget.com/2012/12/11/microsoft-surface-windows-rt-retail-presence/

Hope this will be in Singapore because there aren't any Microsoft Stores here :(
Windows Central Newsletter
Get the best of Windows Central in in your inbox, every day!
Thank you for signing up to Windows Central. You will receive a verification email shortly.
There was a problem. Please refresh the page and try again.