Microsoft is selling a customized Real Madrid Windows 8.1 tablet in Spain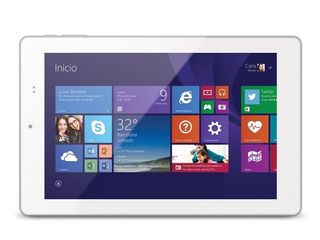 Microsoft is selling another Windows 8.1 tablet, but it's not a Surface product, and it's only being offered in Spain. Today, the company launched sales of the Real Madrid Edition Windows Tablet, with three different Crystal Case back designs that focus on Spain's hugely popular football team. There's even a way for buyers to have their name etched in the back of the tablet as well.
As far as hardware specs, the tablet has an 8.9-inch IPS display with a resolution of 1920x1080. Inside, there's 2GB of RAM, 32GB of storage, a 5MP rear camera and a 2MP front-facing camera. Pricing for the regular edition is 199 euros (about $220), but if you want your name etched in the back, that will raise the price to 249 euros (about $300). Microsoft throws in a free 1 year subscription to Office 365 Personal.
This tablet is just the latest development in Microsoft's multi-year technology partnership with the Real Madrid team that was first announced in November. In May, the official Real Madrid app for Windows Phone launched and we expect to see even more announcements from this deal in the future.
Source: Microsoft; Via: MicrosoftInsider.es
Get the Windows Central Newsletter
All the latest news, reviews, and guides for Windows and Xbox diehards.
Whatever. I'm more of a Barcelona fan.

I was waiting desperately to find out who's fan you were. /s

Well now you know. Thanks for the sarcasm BTW.

Yeah they should have partnered with Barca

Microsoft and Real Madrid are both global leaders at what they are doing and crazy popular brands. Besides, the "more than a club" of yours has plenty of sponsors already.

ca lecca hi mecca hiney ho

Not a fan of this club, but very cool!

Interessting, it seems pretty cheap for a Full HD tablet. I wonder which CPU will be in it.

Nope Mini was reportedly an RT Device.

Awesome promotion, now partner with the NHL so I can my Vancouver Canucks personalized tablet.

Although Vancouver is the closest team to Redmond, I think Microsoft would prefer to put winning colors on their devices. Just a good ribbing from a Boston NHL fan.

Of course its a dirty Boston fan who had to pipe up #NeverForget2011 #HeadshotsForMarchand

Winning colors? Then the Blackhawks are the only natural choice.

This must be from the Surface Mini stock pile that they needed to get rid of.

Only 2GB ram? No wonder Madrid takes a while to respond.

2GB for a cheap tablet is perfectly reasonable. Windows works fine with it.

For anyone interested, as far as I can tell its a rebadged CHUWI V89 Chinese tablet. A real vote of confidence from Microsoft in that little tablet.

http://www.dhgate.com/product/original-chuwi-v89-3g-tablet-pc-8-9-inch/2... Could be this one here - minus the 3g and half the storage.

I don't think so, the screenresolution doesn't match. This doesn't eben habe the correct ratio.

http://www.aliexpress.com/item/Original-Chuwi-V89-Dual-Boot-Quad-Core-3G... http://microsoft-news.com/microsoft-announces-real-madrid-edition-window... Scroll down to the specs on each, same dimensions, same weight, same processor and same resolution. One of the pics even has a similar looking case.

Waiting for FCB (Bayern Müchen and Barcelona) version :)

Yours Not gonna get that anytime soon.

Better than never right :D

But but Barcelona's sponsor was Nokia,was it necessary for MS give sponsorship to thier rival time after buying Nokia?

When in India? Aaaaaaaand seems footballier

The Microsoft Store is ALL about customizing your device. They will print custom skins for your device right in store.

Say, that's not bad! And price seems good too!

this looks very different from the ones I've seen sold on ebay... I'm beginning to suspect those on ebay might be fake madrid tablets

2 gb of ram..... this device cant get windows 10?

check your facts please. http://windows.microsoft.com/en-us/windows/preview-faq-system-requirements-pc

My question mark clearly indicates that I am asking and not stating a fact.

Uh, I would buy this!! HALA MADRID!!!!

Hala Madrid Y Nada Mas !!!

Haha I wonder if an Indian will require details of a possible distribution of this device in his country.... #wheninindia

Real Madrid: The real losers of La Liga

All those mega rich Madrid players probably have iPhones.

Wish there was a juventus version...

Hmm folks Microsoft was upposed to sell the Surface mini which had a an 8.9 inch screen like this one and came with a ARMS CPU runing Good OLD "Windows RT". I wanted Microsoft to sell a tablet that would cost 200 to 400 American dollars. is this it? If it is I donot think it is using the New Atom CPU used in the Surface 3 which can access and use 4 gigs of ram so it cam multitask better and run video's smoother. looks like Microsoft is doing some test marketing of this product overseas. if it sells well then maybe Microsoft will sell it in it's online store and physical brick and mortor stores If this is an older ATM CPU it will do MS office office OK, some Desktop Programs OK, surf the web, do flash Video sites. it will be as good as a Dell venue pro 8 inch tablet with a bigger screen.

Looks cool with that engraving..

Make this 1920x1200, with microSD support and I'm in. And how about GPS chip for kicks.

I love the look of this tablet. Everything looks perfect even the price is perfect except one major problem. The goddamn bezels!

UCL trophy enroute to Barcelona soon. All the anti cule fan quickly hide

So a repurposed surface mini that they had to do something with. No mention of the CPU so it very well could be. Honestly if it has a decent CPU in it and its brought to the states I might just get one.

I would love to have custom rear imaging like that on my Surface 3.

It so nice. I hope Microsoft will make a tablet for MU fan :)

Where can i buy this tablet? I am in Spain this summer.