Microsoft and Real Madrid CF will announce major partnership on Tuesday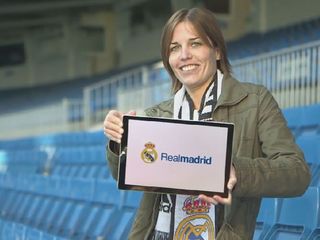 Microsoft will livestream a press event from the Santiago Bernabeu stadium in Madrid, Spain on Tuesday, where the company will announce a new and major partnership with the Real Madrid CF soccer team.
The event will happen at 6:30 pm Madrid time (1:30 pm Eastern time). Officially, Microsoft says of the announcement, "A digital transformation is coming to the world of soccer (or as it's more commonly known worldwide, futbol) that will change the game for millions of fans." However, Forbes is reporting, via unnamed sources, that this is a four-year deal between Microsoft and Real Madrid, adding:
Forbes estimates that the partnership will be worth about $40 million. Microsoft already has a $400 million multi-year deal with the National Football League that, among other things, gives the American football team access to special Surface Pro 2 tablets on the field. Is this new Microsoft-Real Madrid agreement going to help bring more fans to the company?
Source: Microsoft (opens in new tab), Forbes
Get the Windows Central Newsletter
All the latest news, reviews, and guides for Windows and Xbox diehards.
.I like Chelsey... Chelsea football club.

park the bus against big teams, play regular football vs smaller teams. Is that the team u are a fan of? common - even Mourinho hates it when smaller teams park the bus against his side. Yet his team takes their sofas, mattresses, caravan, and double bunk bed to the big games and hope to score on a set piece.

What's the gain when you play beautiful football ⚽ and win nothing?

we watch football for its beauty not trophies

Idk if you're a boy or a man but you're definitely a toddler in the world of soccer.

I don't think you know much about soccer and tactics in particular.

We are currently the log leaders and the only team unbeaten after 11 games

How is Chelsea doing in the BPL? 1st place? Yeah, stfu. And I'm saying this and I don't really care about Chelsea. I like most of the BPL teams but Man U.

Chelsea is the best! We need a official Chelsea fc app please

Amen! All hail the log-leaders!

I was hoping this meant that their jerseys would have the Microsoft or Surface brand written across them... Darn

That would only happen if they were sponsored by Microsoft

São Paulo Futebol Clube!!!

It's cause of Ronaldo, he's bound by contract to do ads for Real Madrid sponsors!

The official sponsor of Chelsea is Samsung ...

Yes, Chelsea is my interest in Cortana notebook.

I bet its related to surface pro 3!

Ie. The worlds best computer/tablet

"and the players will have Surfaces glued to the backs of their iPads!!" :P

I know this is just nitpicking, but isn't that Pro 3 upside-down?

No Microsoft no. Go for FCB. Messi for life.

Ohhhh wait until Sergio Ramos try's to use a Surface 3 XDDD sure he well be very proud of his new apple Surface XD

So many Madrid fans disliking our comments, lol

Exclusive things like that will increase Microsoft's OS popularity for sure.

She's holding it upside-down.
Brilliant.

I think that if it is in tablet mode position doesn't matter!

Apart from the keyboard port being visible on the top and all ports and buttons inverted.
But apart from that, totally the same..

So, Cristiano Ronaldo will be using a surface? Barcelona fan here but that would help surface a lot

Haha, my brother is a FCB fan too, he was like "Dammit! Should have bought the PS4, </3"

Dude Football > Soccer (as in meaning of the word). WTH is Soccer, its called football everywhere else in the world except US. Ironic that game that only involves kicking the ball few time is called football but the game where you actually are only allowed to use your legs is called soccer. American Football should be called "Throwball and only in a while kickball". Although I do enjoy NFL.

I hate to type this as I'm British but..... "Soccer" is derived from "Association Football". Rugby, or Rugby Football is a spin off from Football. Some American geezer liked Rugby and he introduced it to America where it became known as Football - or to give it it's proper name Rugby in Padding for Pussys ;)

Not a good decision ! They should've gone for Barcelona ! I am not happy !

fear of being bitten or chased by courts due to tax frauds might affected their decision :P

Agree 1000%!! Barcelona is the best...Messi is the Ultimate! Real Madrid are the rich spoiled brats of European Football. And its only called "soccer" in America. Everywhere else in the world it's known byit's rightful name"Football"

My favorite team and my favorite company...what more could I ask for. Go Microsoft! Hala Madrid!

Yep, same here. Real Madrid and Microsoft fan for the past 20 years. :-)

Being a Barça and a Microsoft fan, this news hurts a little ..

same here. I thought Barca signed a deal with MS a while back.

It'll hurt even more when RM wins Champions again and Liga... Hala Madrid!! Best FC in history!!

the pain is REAL.... they can't even get over la decima... imagine what will happen if we win the 11th this season :D :D

No, rm will never ever gonna win ucl this season :P

I keep seeing surface pro 3 ads while watching games in santiago bernabeu

I know right? It's FOOTBALL!!!

The guy said "more commonly known worldwide as futbol" considering the sport is from England, its known as Football not Futbol as people like to claim

Another paid endorsement that will have people calling it an ipad or using to block there own ipad use?

Stuffs like that only happens in the land of the isheeps...

Are we Spanish or something what is futbol. Its football we speak English only USA says soccer. Fact!

In Japan they use soccer as well.

Did you know that we South Africans also say the term soccer instead of football, but the dumbass who named the organisation in charge of soccer called it SAFA (South African Football Association)

Until that schmuck underwear ad punk called Cristiana(not no) can score 91 goals in a calendar year, he will never be the best or greatest player. Messi will.always be few steps ahead.

Barca fan here too. But mate this is Windows central not Football central. So stfu pls :v

Now I can get a RM app worth paying for, exclusive to WP to make IOS and Android users weep!!

Seriously? do you know how many of the 91 goals were scored in friendlies?... until that midget scores 17 goals in champions league in 11 games he will never be the best... (i can say so) BUT... i respect messi as a fantastic player with huge talent (as a football fan before being a madridista). Grow Up :):)

I just hope this doesn't end up like the NFL deal where all the announcers and players are referring to SP3 as an iPad...

Don't worry, the average European football player is way smarter than your typical NFL guy. They usually speak multiple languages, are well-spoken, etc.

Well Wait until Sergio Ramos wishes a Married Xmas with his Apel Surfase XD then talk about Smarter guys

We might see a Microsoft Surface/Lumia ad featuring Cristiano Ronaldo someday :p

Barcelona fan over here...

Was it 3-1 or something? ;)

I knew I would get that. :-/ You guys played VERY well. I congratulate you. We did not do so well. Suarez was best fit in the team for the game, and is starting to get his form and connection with the team. Our defense needs a lot more work, especially on the counter attack. We deserved to lose that game after the penalty conceded by Pique.

I want a sp3, but I'm very poor, plz help, ima sell kidney!
Lik dis if you cri evrytiem

Sell a kidney and get yourself a dictionary.

Great news!! Only the best for the BEST!!!

MCI is love, MCI is life.

Que la noticia.... Antes ha trabajado en la floristería Búcaro muy cerca de este estadio Real Madrid. Paseo de Castellana

#onelove #Microsoft #realmadrid love both am so happy

Yahooooooooooo. Now we can get the official app of RM CF, fantasy manager game all the other RM game n most important the subscription to the RM TV and Live streaming. Oh my god this is awesome news. Two of my best things are uniting. HALA MADRID

Awesome!!! I love them both so much!!!

Real Madrid its like the apple of football teams. Most of Real Madrid fans are Apple users just saying

Ronaldo uses and is sponsored by Samsung

This has got to be the dumbest comment ever

Y nada MAs , Hala Madrid , the best thing I ever heard

what about santiago bernabeu microsoft

Futbol?!? Really?? Who rights this articles?? Futbol is Spanish, so NO! It's not what people call it worldwide!! (except if worldwide means, Mexico, Spain, Argentina...)
The worldwide word is Football! I'm sorry you guys have a sport called by the same name, that the rest of the world doesn't care, but at least you guys could try to wrote articles that suited both sides.
You guys should write Football bought times, and make it clear at the beginning of the article, which one are you addressing, American Football or Football (soccer), but treat any of the sports equally, otherwise you are just upsetting your readers.

the words sound the same... if you used your brain you would understand that most regions spell it different and say it the same, so YES it's the worldwide word, since no matter how you say it it will probably sound the same. again say "futbol" and "football" isn't that the same? how can you say the english word is worldwide while the spanish is not even if they sound the same? again. we are not talking about spelling, but how it is said. so yes.... it doesn't make sense they put a spanish word in the middle of english text, but it doesn't change the context, so stop being a complainer about a word that sounds the same in spanish and english.

What I meant was if there is a worldwide word, would be football, since, for the many persons I met that didn't spoke Portuguese (my language) or Spanish, we all communicate in English. Like you said, the words sound the same (even in Portuguese, where we call it Futebol) but there is no point for a Spanish word to be in a English text, saying that it is a worldwide word for soccer. For me is a poor attempt to differentiate is "Football" from everybody else "Football". Like I said, I'm ok with bought being called Football, but I'm not ok when the author sends bad hints, pretending to name it soccer so it wouldn't use a "worldwide" expression, that happens to be just used in spainsh countries.

Ronaldo is sponsored by Samsung galaxy, even making a few awesome tv ads. How's that gonna work?!

because this is a deal with the team not the player. addidas sponsors real madrid's kits yet ronaldo is sponsored by nike (their boots). etc...

Glasgow Rangers or my other team, Arsenal could do with something like this!!

Stockport County fan here. Born and bred in Stockport but now live in Huddersfield. I'd like my lad to support his local club - Huddersfield Town but for some reason he appears to like the red scouse. Weird stuff!!!

Real Madrid, I have a nice shirt! not a jersey but one shirt I have never used. I like Real Madrid because of CR7 and now Chicharito. it seems they will be champions this season. even if soccer is a so bad made game, because rules are so stupid if you compare them to other sports, or even thing that should be logical... or just fixed a little so it doesn't become really bad and pathetic sport, it's always bad to have to turn the games off, because of the referee, for example. But sometimes I enjoy watching some matches, but lately I have been so lazy, of course a partnership can always bring the flame of love back to life so I keep watching RM games. it's good RM has CR7 the best player, I can't wait to see what this partnership brings.

my favourite company and my favourite team.... HALA MADRID

I like Barcelona better than real Madrid, but well...

I didnt see that in the last classico and madrid has 10 eroupean cups so Idk in what prespetive Barcelona is better than Madrid. But I have to admit that the city of Barcelona is more beautiful than Madrid. :)

They're both beautiful cities in their own way

Haha! Yes my favorite team. I was just noticing today while watching highlights of recent El Clasico, that Microsoft Surface Ads were displayed at the boards. And now this. Viola!

so jerseys with Microsoft logo?

The money is in English Premier League (EPL) if Microsoft wants to reach wider audience. Spanish La Liga appeals to Latin nations, though followed by some here in Asia, they're not that many fan base here vis-a-vis EPL. Just look at how far has Emirates Airlines branding reached via EPL live telecast and sponsorship.

Real Madrid is the richest football team around the globe, followed by Manchester United (MU pays ridiculous offshore taxes) and FC Barcelona

They don't even have official real Madrid app in the Store XD Also, make a deal with Manchester united if u want fans from every corner of the world

They should make deal with more top ranked club from every league

The news that made my day...

Oh yeah, hala Madrid, hala Redmond

so which devices they will use. surface is obvious. ehat about the band? i surely know they wont use windows phone for sure.

F**k it Man United for life!

No Doubt. Real Madrid fan were angry about bill gates which met Barca some time ago, and when they see this switch, they will switch to CR7 favors which now is MS time. Since Madridista is the most populated fan base in the whole world, this agreement is the last minute winning Goal in latest additional time which is 120+. With this Goal, Microsoft will win the World Competition in correct direction. Go Microsoft, Go!

Just get a guy named James to hold up a surface and they will sell. He's amazing and good looking. Oh and Ronaldo.

i dont care sp3, bring me sp4 13" please.