Microsoft shows off concept embedded car software that plays nice with Windows Phone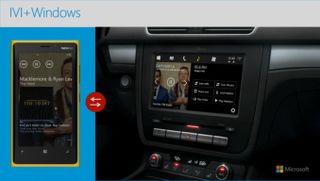 One particularly interesting talk out of Build showcased Microsoft's plan to bring Windows Phone into the car with a new embedded software concept. The idea here will be to project the data from the phone onto the dash display in a usable, safe format, but as you can see, a lot of the Windows visual style is retained. This is great, considering most embedded car system interfaces (Microsoft's included) are pretty ugly.
In the fully working demo, viewable below and starting at the 25-minute mark, Steve Teixeiria from Microsoft's Internet of Things group runs through all of the major content categories: music, GPS directions, calls, messaging, apps, and more. Right now, the mobile device is connecting to the car through MirrorLink, and isn't necessarily reliant on connecting to Windows as an embedded system.
Though this is still very much in the concept phase, it's easy to see that Microsoft is taking this pretty seriously as they're already well-established in the space. How many of you guys would base your car purchase on mobile connectivity? Are you digging the concept Microsoft is showing off here, or is there anything you would change or add?
Source: Channel9 via The Verge
More Internet of Things eh?

Is it works on TATA NANO ??

Microsoft can just concept things and in reality far behind innovationa and speed then google

Ah, so you mean Google already have a working model of an innovative embedded system that are already out in the market unlike Microsoft? That's funny...

Looks interesting, But with MS's record, they will either introduce it after everyone else has a solution, or they will work on it till it's fantastic, then scrap it....(cough, cough, courier).

like microsoft sync that is already built into ford

It doesn't play nice with windows phone though. At least not as much as android does.

Yeah, but Ford Sync sucks. So there's that.

Will it work with the Tesla Model S?

That would be sweet, to have more functionality with Bluetooth cars, especially the Tesla!

A Tesla with Windows is my dream car

Tesla owner said funny things about windows o his car. I hope it never happens

Tesla's owner thought that Microsoft would make their car "run over black people" and be "slower than a Beatle" when they licensed a Tesla for PGR.... http://jalopnik.com/teslas-ceo-feared-microsoft-would-make-his-car-racis...

You and me both man.. That's a dream..

I wouldn't base my purchase on it at all but I would love if they made a SDK letting people can put in there own cars some how...

An SDK for making your apps connect to your car's touch screen interface...not bad

The first minivan with that is mine.

Ford Sync and MYFORD Touch has been kind of a dud, and now Ford may drop MS from what I've been reading. Too bad since I like it in my Ford Edge, but there's really been no added feature to using it with a WP.

I also like MFT but it seems the most vocal group out there doesn't. Personally, I'd prefer getting a base system from my car manufacturer that allows me to plug in a windows phone, android phone, or iPhone and go. That's where apple is going with carplay. Seems like where Microsoft is going with their new system maybe?

It would be nice if there was a standard so that you could plug in any phone and have it work with your car like that, but both Apple and Google would surely refgust to cooperate if such a standard were developed by Microsoft. Apple loves to be proprietary, and Google only accept standards developed by Google.

You don't necessarily need one standard. Car manufacturers could accommodate 2 or 3 standards with little hassle.

I don't mind it, because it does everything I need it to do on a daily basis, but some features like, text messaging, can't access it. Apps, there's an option to download apps but where are they??? You can tag songs you like on the radio, but then what? It's a great concept and could've been great, but I feel like MS just kind of lost track with this system and unfortunately there are rumors that Ford's been thinking about dropping MS from their future vehicles, or at least integrating Apple.

My understanding is that the tagging only works with iDevices.

Apple is not going there with Carplay. Carplay will only work with Apple gear.

Correct. Carplay will allow iDevices to interface with approved indash systems. But carplay does not shut out other systems. You can drive any car that supports carplay with a different device plugged in. You'll just get the car manufacturers default system.

What people don't realize is that MyFord Touch is the best infotainment system at the moment even if it kind of suck.

Ford is dropping Sync, not may, they are. Ford is going to Backberry's QNX system. Why I find this article saying "MS taking this seriously" so ridiculous. They flat ignored the system for years and then just weeks after Ford's announcement we get this.

That's not true yet. Ford's nextgen system is out for bid but QNX isn't the winner yet.

I have heard nothing that will be for sure dropping Sync or MFT

Microsoft ignored Sync? IDK about that. From I've seen they never stopped work on Windows Embedded Automotive. https://www.windowscentral.com/e?link=https%3A%2F%2Fclick.linksynergy.co...

Ford Sync worked well. My Ford Touch was a disappointment, but it wasn't a Microsoft implementation from what I read.

From what I've heard, it's all made by Ford, but it runs on Windows Embedded. This would be something made by Microsoft themselves.

Yes, Windows Embedded was used for both. But, My Ford Touch was a Ford designed/developed UX, not Microsoft.

I wonder why Microsoft hasn't tried partnering with telsa, if it hasn't already, because it seems like it would be a good fit for the both of them.

The problem here is that most people don't feel Microsoft is a luxury brand and Tesla is. Microsoft and Tesla would have to find a way to introduce a luxury line of Microsoft products, and I'm not sure that's a place Microsoft wants to go.

I don't understand why the phone isn't used for the display, and simply transmit information from the car. Seems much more versatile.

Sometimes you don't always have your phone while driving...

Good idea, but many jurisdictions are outlawing the use of phones in cars. I know in Ontario, Canada their no electronic device law has been ruled to include using your phone for anything while driving. While that doesn't rule out doing this in its entirety, I'd be worried that it would pose too much of a headache and lose some practicality.

That, and Tesla HATES Microsoft. http://jalopnik.com/teslas-ceo-feared-microsoft-would-make-his-car-racis...

Never heard of telsa...:P

How many Tesla owners do we have here?

+822
Better then any in car system I've ever seen

If only they would make an app like this for my carpc....

I would definitely love to have a car that connects properly with my Windows Phone!!! I'm hoping this will be integrated in cars I actually want to buy, because at the price cars are sold, operating system will have an impact, but it will be a very small impact compared to safety and price and such. But it would still be really awesome!!!

Hoping this tech goes in to an American made car...would jump on it!!!

Chrysler, dodge, jeep, ram's system is awesome. Playskool but fast and easy. This would be an easier transition for their buyer, a good start for MS.

Currently Chrysler, dodge and jeep use blackberry owned QNX for uconnect. It would be a major win for Microsoft but they'd have to guarantee a system that's quick and painless like the current uconnect.

Wow... The yellow Lumia 920 is the only thing I noticed.

You would think auto makers would base their computers off a mobile phone. This would allow the customer to upgrade their phones and not their cars based on software. I have owned Ford vehicles with Sync and My Touch both are terrible. Plus you don't get too many updates and patches. Which is why I belief it is pointless to purchase a car with NAV system. Definitely not worth the money. But if a car had a display that would integrate the phone features that would be awesome.

Good concept Sync and MYFORD Touch, but just never really did anything for all the time it's been around. Would've been nice to access the WP features in this car.

Great minds think alike. I think this is the future too c

Actually I was wondering if you guys have a favorite car that works well with windows phone

It would have to be Ford since they run a MS system in their cars, but the problem is, it's still not very good.

I have a Fiat Punto that has blue&me usb connectivity, but except phone calls, nothing else works. Neither msg reader nor my music albums when connected with usb... My nokia E6-00 used to work full feature.

I have a Skõda Octavia Combi 2013 and the onboard system works quite well with my Lumia 920.

My 925 connects fine to my civic 2013 imidi. My lumia 900 was good too, but the 925 is more cappable, as it also tells me when a sms arrives. On the other side, I got less details about the songs of the 925 than the 900. I suspect the WP app I use connecting to PC is the culprit here. I'm going to test the use of the 925 as a pendrive to see if it works out better. One can hope! ; )

My 925 works great with the cassette audio adapter in my 1998 LeSabre.

Amen. That's my kind of ICE solution!

Whichever manufacturer has a system that brings all the convenience of my phone (my communications, my maps and nav, my music and entertainment, my onedrive content, etc.) wins my heart.

Mfw my Saab will never work with my Lumia 920. Actually no Saab ever. :-((

Nope. I did not see a blue screen. B(lue)SOD literally does not exist anymore because it's a different colour now ;) Like Linux/VMware has it's P(urple)SOD. Apple just does not (want to) tell and Android shows a Kernel Panic.

They needed to do this like yesterday? And yes, I would partially base my car buying decision off something like this.

All I really need is proper bluetooth support with controls integrated into the steering-wheel and a good phone mount. I use Tellme quite a bit; I'm thinking Cortana will improve the experience.

mft is so nice in my new ford fusion SE Energi - Just flakes out when playing Audible books from USB but, I think that is Audible itself that is crap as it is crap on my Lumia 1020. It is still very sweet to be able to download books to USB and listen though. Well worth any quirkiness.

I need this for my M37. Right now the current tech package in it constantly fights between the wife's phone and mine to connect.

Taking advantage of MirrorLink is a way better approach then having an embedded system. A system that is compatible with all phones, instead of the approach Apple has chosen, where only an Apple device will work. Also, from the videos I've seen so far, their solution was quite poorly implementet. Back to compatability, Apple seems to be the biggest enemy of industry standards...

This is what I expect to happen... Mirrorlink and carplay will be built into the next ten systems and will support win phone, android, and IOS.

A unified system as Mirrorlink can become, would clearly be an aspect in my choice. My BMW'S system are a real dinosaur.

I've been thinkin myself if I could buy a head unit and install windows 8.1 on it. That would be sweet, instead gettin a small w8 tablet and mountin it permanently in the car

This should be the new MyFord Touch.

All I want to work is the Entune that is in my new Prius but it constantly tells me that without a app it isn't going to happen come on Microsoft please fix this - if you make the app my car already can do everything that is mentioned in this article

So can i expect a coming update for blue&me usb connectivity for my fiat? Coz i could only my contacts are usable, and nothing else, not my msg reader nor my music files

The bad side of MS is: They want to be everywhere, when they are still nowhere.. WP is half made.. So much missing things.. Windows 8.1 needs a lot of work to be close to good.. And now Cars? Come on MS.. Do it one at a time so at least one of your products to work great..!

This site, my friend, is not for you

As much as I want cars to have WP compatibility, i would rather they all be universal.
I hate all iphone compatible phones/sofas etc due to solely speaking to one system. Although in the ideal world everyone would be on WP, some people are stupid and don't realise the capabilities of their phones!
Although I would buy a WP compatible car, money constraints would make me buy another car and be annoyed otherwise.

Its about time that car manufacturers give us a blank screen with a hard drive and allow us to install software designed to work with out smartphone OS. I would current love to have MS sync in my car but not enough to switch from Cadillac to Ford or Lincoln.

The problem with this is that a lot of the touch displays integrate with other parts of the car. My FordTouch is also the default for my climate controls and voice navigation.

That is absolutely true. For work, I regularly drive a 2013 Lincoln MKX. I understand what you are saying about how everything is intertwined. I do think that it is poorly done though. There are too many steps involved and I usually gave to take my eyes off the road for longer periods of time than when dealing with stationary buttons. This isn't just a Ford problem. Cadillac went to a large display and all touch sensitive capacitive buttons in 2014 which is just as bad.

Electric cars, right? I'm only for electro cars! Putting new technologies in old cars is more like having a sex with ex girlfriend. Thnx but no thnx.

shut up and take my money!

Imagine Cortana in your car...

This would be Perfect With Cortana.

What car maker will use this? Ford just dumped SYNC.

Where have you heard that?

Was in a news article recently. They've switched to a BlackBerry one I think (yep)....

I have read recently it's up in the air, but nothing official.

http://www.roadandtrack.com/go/news/ford-dumps-microsoft-from-sync-in-ca...

I remember reading that, but then these stories coming out days later saying nothing was official yet http://www.dailytech.com/Ford+Were+Not+Married+to+Microsoft+for+Sync+Gen+3/article34422.htm Regardless, we'll see

I wish that they'd sell this as a stand alone unit that I could put into any car.

The problem with car interfaces is they are static and not updated. Everytime Windows Phone is updated I gain or usually lose, features as the interface on my car fails to keep up.

From the Series: "shut up and take my money !!!!" :D

It shows state farm as an app. They currently don't have one for WP, wonder if one is coming.

They're soooo slow. The company needs to snowball efforts faster in the next 12-16 months.

I hope they bring MirrorLink to existing phones. Such a great idea. I was a GPS app enthusiast on Windows Mobile and Windows Phone, always got a new car mount to fit my new phone. Then my new car had a big GPS screen built in. Like every OEM GPS system, it's a bit crap, nothing on the features of TomTom, Copilot, HERE etc. But, it's there. I don't need to fish my phone out my bag and plug it in every time I get in the car, I don't need to angle the mount so that I can see it without it getting in the way of the air vents, or the indicator, or whatever. I don't use my phone for car navigation any more, because the in-dash GPS is more convenient. If I could have the in-dash screen do everything my phone can, without taking it out my pocket or my bag, then that's a winner.

They forgot to put Cortana in the system.! If they included that, then it will be a winner :D

GREAT!!!!! Partner with Tesla or something and get this moving

Car mfr's should just make it so when you connect your phone theough bluetooth, the phone takes over the cars entertainment system.....that way your not stuck with a propieatary platform that you dont use. My wife has an iphone, i have windows phone, we should be able to use each in the car if the auto mfr's do it right.

Off topic, but I couldn't help but notice the Amazon MP3 app on the image showing "My Apps". Could it be that the app is coming to Windows Phone? It's one I've been wanting for a long time. An infotainment system that works with Windows Phone will definitely factor in my next car buying decision. This system looks awesome.

I may depending on what brand they drop it in. Always though it be awesome to have Bluetooth \ sync based around my OS. Kia almost had my money when they were showcasing the Zune in one of their commercials. Then I realized how shitty their vehicles are and how ugly the Soul was. Hahahahah.

I can get my four year old Nokia to work with my car speakers and telephone system using bluetooth but I can't get my Windows Phone 8 to do so .

Gimme gimme !! I been waiting too long for Nokia dashboard GPS

The screen shots look spectacular. This would definitely influence my decisions. If GM put this system in an ATS or BMW put it in a 335i, it would be an automatic sale for me..

You missed most important feature for India.Lumia Need Fm transmitter for regional songs. I think fm transmitter is the best option to play any music file from your phone to car music system. specially for Asian(India) countries and mostly for play regional(punjabi,bengoli,gujrati, garhwali etc.) collection of music you have.

Wow, if this is the maximum MS can demonstrate right now, they are way behind Apple en probably Google as well. Why not use the Nokia Here Platform that will be used by Mercedes etc? It's not part of the MS - Nokia deal but why not take a license on that? Otherwise it will take much to long to become competative.

I wonder if my if it will be supported on my 29 year old corolla...

Please someone save us from car designers. I haven't seen a system I think works nicely enough. Especially given tech behind them I.e. CUE,etc

This would be great in my Expedition

This is seriously great looking stuff! It's really nice to start seeing things such as this being developed for something other than Android or iOS. Definitely looking forward to seeing it.
Windows Central Newsletter
Get the best of Windows Central in in your inbox, every day!
Thank you for signing up to Windows Central. You will receive a verification email shortly.
There was a problem. Please refresh the page and try again.