Microsoft shows how to convert an iOS app to Windows 10 with its bridge tool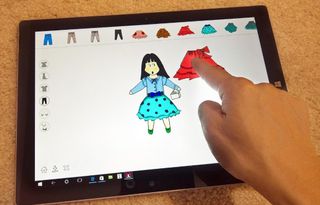 Microsoft has been hyping up the use of its Windows Bridge for iOS tool to developers who want to bring their iPhone and iPad apps over to Windows 10 without a lot of effort. This week, the company posted a highly technical blog post showing an example of how a real iOS app, Pori Fashion Show, can be converted to Windows 10 with the bridge tool.
The blog post states that Pori Fashion Show is the creation of Dong Yoon Park, a Microsoft team member:
The app itself, Pori Fashion Show, is for a younger audience:
The blog shows how the iOS app (opens in new tab) can be converted to a UWP Windows 10 app while still retaining most of its code by using the bridge tool. Some adjustments will have to be made; for example, developers will have to remove the iOS-specific frameworks and libraries from the app. The final result can now be seen in the Windows Store. The app normally costs $1.99 but for the next six days it is on sale for just $0.99.
Download Pori Fashion Show from the Windows Store (opens in new tab)
If the rest of the app app is due to these kind of apps, then for me, it doesn't exist at all Posted from Windows Central for Windows 10

I need the secret decoder ring for the above.

He means app gap Posted from Windows Central for Windows 10

Lol I meant app gap. Posted from Windows Central for Windows 10

Thanks for the clarification! It makes sense now.

Buy that Ovaltine! I am on my way to get one now. I really want to know! :)

If us layman audience would be able to make Windows applications easily without an expert knowledge of coding. I swear I would be making apps in my spare time.

//It's really not too difficult. Here's a simple statement. if company claims a conversion service works and company doesn't use service for its own software then it's probably a load of BS

lol - take an upvote for this.

Here's a more accurate statement. If a company has a conversion service that they've already stated is currently geared towards porting games versus more complex apps and that company does not currently make games, then of course they aren't using the converter for their apps. Can't call something BS that has already been used to port other apps by other companies. Pity the cleverness of your comment was just meant to couch yet another complaint without real merit.

Re: WPuser2,
Ok, you mean "app gap". Now what does the rest of the comment say? What do you mean that it doesn't exist for you? Why?

He's saying that he doesn't care about this game. So, if what is referred to as "the app gap" is nothing but more apps like this one, then there is no app gap in his opinion. That's because he doesn't care about any of them.

That's essentially it yes. But I respect Microsoft for their willingness to produce tools which devs can port useful iOS apps to windows. I'm all for that

I'm glad you asked, Kevin. What I meant by my comment is that, if the rest of the lacking apps are overpriced kids apps or apps with similar goals/uses, then those apps are no use to me. Therefore the app gap won't affect me and is non existent for me. And if I have kids in the future, they will be kept as far away as possible from these devices and the games that they present. I have had experience of how these devices impact on a Childs life, how they reduce maturity levels to the extent that it affects them through their teen years too. These days, teens becone physically mature before they become mentally mature. It should be the other way round. Anyway, back to where I was, these types of apps are no use to me and I'm perfectly happy with windows 10 mobile and my 930 for the most part. I don't mean to rant, just my expressing my opinion in a calm way. Posted from Windows Central for Windows 10

On a side note, another thing which impacts a Childs early life is tv. The more cartoons they watch, the more it negatively impacts them in my view. I've seen people who didn't have any cartoons in their childhood and they've grown up to be moral, caring and mature adults, who know how to be good parents and respect their elders instead of chucking them in old people homes. I've seen kids grow up with the tv and treat their parents like they see on tv, and treat their elders like dirt and grow up to be immature people who dint give a damn about their elders, nor about the rest of the world. It makes a difference. Trust me. Posted from Windows Central for Windows 10

You obviously didn't read the blog, in blog it says this is not limited to kids apps, all iOS apps can use iOS bridge, however there are issues, like removing the iOS specific frameworks, which was an easy task for this app, but who knows other important apps like Facebook, Twitter, Instagram, Pinterest, Spotify, etc how much iOS specific framework exist in their source code. Only the authors and God knows, and since these are closed source so we might never know.

You are correct that I infact did not read the blog. However you incorrectly assume I don't know what the ios bridge is. I know exactly what it is. I was referring to my first comment which was talking about the app gap. I said that if the app gap mainly consists of kids app, I'm happy to stick with w10m because the app gap doesn't exist for me. Simple. I'm glad MS made this ios bridge, so we can see useful iOS apps ported to windows 10. I love the tool, dint get me wrong. I was specifically to referring to an app gap which doesn't affect me Posted from Windows Central for Windows 10

Im sure more than 40% of apps on appstore have been never downloaded at all. But appstore compared to win10 store have many many many more useful and greate apps that non of em exist on win10 store. even the apps which are available for both OS s , iOS version is more advanced than windows10 vresion.

They are showing this Since my birth.. When will the devlopers Start to port games and apps

Very nice :) it seems we could see more apps skipping android, and coming to windows straight from iOS !

All depends on the resources it needs access to some stuff just doesn't have a rich ios equivalent API like aosp offers

This is why I didn't really like Astoria. Seemed like it was promoting the bloated process of porting from iOS -> Android -> Win10, and with even more diminished benefits...

Games requires little to no effort. I would like to see how complicated it is for an app that is not a game.

I believe the official Instagram app was brought to us using the bridge. Not sure how difficult that was, but as of now it runs almost seamlessly and it hasn't been a long time since it was released

A little more difficult then a photo/camera app

Once a developer does convert an app, what would they do when the time comes to do a major update of the app? Make the changes in iOS and port over the app again?

Either they'll do it from visual studio via xamarin or make changes in iOS then port over

Excelent question, and that is what is not too convincing about the current state of the iOS bridge.It would be much easier if all iOS libraries could have a bridge and not just a limited set.

First touch games said they have no plan for windows phone

When will the bridge be ready!??

I'll try to contact pango app developers (an app for car parking payment in Israel) and ask them to use this tool to make pango available for wp users is Israel, The only app I lack here in israel. Hope it will work...

The iOS bridge doesn't support latest iOS apps for porting yet. Only iOS 5 with deprecated APIs. Or am I missing something? Posted from Windows Central for Windows 10

You're missing something. Sent from my Lumia 950 running Windows 10 Mobile

Can you explain it to me? The last time I checked I wasn't able to port anything and I'm pretty sure somebody did clear it to me that the initial release of the Islandwood tools support only iOS 5 and deprecated APIs. Posted from Windows Central for Windows 10

They'll probably do it once and no updates thereafter. The curse of Windows... Posted from my Lumia 950XL

That is a good point, apps like Facebook or Instagram that get dozen of security patches fixed every week, not sure if having 2 different branch of source code lets 1 developer team handle all those updates on both platforms.

I need an app for convert my Windows Phone in a IPhone....

Dev team still needs to mantain 2 branches of code, for a tiny app like this is no issues, but what about Facebook or Instagram that get dozen of security patches fixed on every release. This is more difficult than I thought, no impossible, still doable, but lets see how giants like Twitter, LinkedIn, Facebook react to this blog. They should be the first interested in porting their iOS app to Windows 10 UWP as there are 270 million active montly users using Windows 10.

It should convert cross platform multiplayer game such as bomb squad ,mini milltia

so you're saying I can use iOS kik version on my WP 10?

Can u guys wrk out converting andrd apps ...... Like "mini militia
"
Windows Central Newsletter
Get the best of Windows Central in in your inbox, every day!
Thank you for signing up to Windows Central. You will receive a verification email shortly.
There was a problem. Please refresh the page and try again.