Microsoft shows off more of the Games Hub on the New Xbox One Experience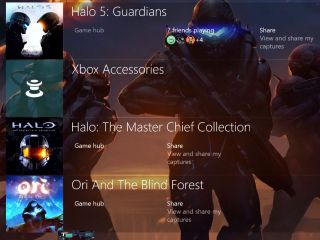 As we get closer to the rollout of the New Xbox One Experience update on November 12, Microsoft continues to post up new videos offering a tour of the Windows 10-based user interface. The latest shows Xbox Live programming head Larry "Major Nelson" Hryb and Richard Irving from the Xbox engineering team showing off the new Games Hub feature.
Each Xbox One game will have its own Games Hub, and as the video shows, not only does it allow users to launch the game directly from the Hub, it also offers information and updates for each game. That can include news updates directly from the developer of the game, which can show up in a Xbox One gamer's Activity Feed if you "follow" in on its Games Hub page.
It can also show which of your friends not only own your favorite games in each hub, but it can show if they are in an active game session or party. The Games Hub will also show personal stats as well as how many Xbox Live achievement gamers have unlocked, and that information can also be compared with friends. The Games Hub will also be the new home for any screenshot or Game DVR clip made for each Xbox One game,
Source: Xbox (YouTube)
Get the Windows Central Newsletter
All the latest news, reviews, and guides for Windows and Xbox diehards.
Xbox one truly doesn't excite or entice me at all. Still loving my 360 too much.

Curious, do you own one? I hate my 360 now. (not trolling you, honest question)

Same here. I still have my 360 but rarely use it anymore. I like the Xbox One much better.

Then your apart of the problem

Your grammar isn't apart from the problem

Your an idiot it it's the games that excite us not the device! Lol

Yes, but..... Being able to back out of a game, go to tons of apps, power it off and on numerous times (connected stand-by). Come back a week later to your game exaclty where you paused it is pretty awesome. Granted, some games hanlde better than other. But I freaking love that.

I got a PS4 first but after getting the X1 last spring I hardly ever use my PS4. The X1 is very versatile.

You should try out the NES. Sounds like you'd love it.

Don't get your hopes up. Next thing you know we gonna be paying for updates because too many people "abuse" the system LOL

The second the outrage turns into a hashtag, I lose all respect for it.

I don't like it so far. Would not load Halo 5. I had to launch it from the games store. The other one was far better IMHO

There won't be no going back

Its a preview that why. If you didn't want it then you shouldn't have asked to be a beta tester. Posted via the Windows Central App for Android

Thanks you took the words from my fingers... Dont use beta if you dont want bugs.

I didn't opt into this. It just updated for me. I'll live with it regardless.

Yes you had to if you joined the insider preview program you would get it eventually. Alternatively you can leave the program.

I don't get all this cummunity-stuff. I don't care what any game developers post about games I play, I don't care what achivements my friends have and all of my friends who have a xbox don't care either. Is this really a big thing for someone? I know that MS or Larry Hyrybyrbyrb said something like "people requsted more community related content" but who of you guys really use it? I know, if I don't like it, I just shouldn't use it. I'm just curious.

I love the game hubs, if that is what you are asking? And I am an achievement whore since day 1 of achievements. I am proud (not sure if a 36 y/o should be, but I am) of my gamer score and I want a higher score than my buddies. Overall and per game. I like this stuff....

While I, like Xsled, am an Achievement Whore, also was an XBL beta tester (coming up on 13 years on the service), an Xbox Ambassador, in the preview program and would place myself in the MS Evangelist category. I simply can't stand the overwhelming push for community elements on the dashboard, of course someone will find them useful and I am all for those that do - it's a gain for them, but I haven't at all. These new features just clutter the interface, If I want community I will go visit TrueAchievements. As for the console, I want a quick, responsive, reliable experience - while I am fully aware that the copy of the NXOE in the preview is not final and polished and there will be issues, I cannot see this being the slick, engaging upgrade it is touted as being with the overwhelming volume of issues I have encountered on a regular basis.

There are times when it is slow to load and I think it is the community section that is the culprit. Once it is all loaded up it is fine, I just think we should have the ability to hide that feature cause it does take up alot of area on the dash.