Microsoft shows off Windows 10 S laptops from Acer, HP, Dell and others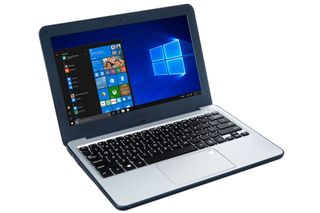 Shortly after debuting Windows 10 S, Microsoft noted that affordable laptops sporting the education-focused version of Windows 10 would be on the way starting at $189. Now, both HP and Acer have announced their Windows 10 S laptops for the education market, and Microsoft has highlighted a slew of others (opens in new tab) from the likes of Dell, Asus, Toshiba, Lenovo, Fujitsu and Samsung.
The entire lineup, seen at Microsoft (opens in new tab), is largely made up of a combination of previously launched models now loaded with Windows 10 S, and refreshed laptops labeled as coming soon. The common theme among them are the specs, with each packing an 11.6-inch screen, 4GB of RAM and 64GB of storage. The differentiators are simply design and your preference for a 2-in-1 or notebook form factor.
Prices are set to start at $189 and extend up to $299. That said, all models that will be equipped with Windows 10 S are currently labeled as "coming soon with Windows 10 S." For now, you check out the full lineup at Microsoft.
See at Microsoft (opens in new tab)
Windows Central Newsletter
Get the best of Windows Central in in your inbox, every day!
Dan Thorp-Lancaster is the former Editor-in-Chief of Windows Central. He began working with Windows Central, Android Central, and iMore as a news writer in 2014 and is obsessed with tech of all sorts. You can follow Dan on Twitter @DthorpL and Instagram @heyitsdtl.
We know there are perfectly decent $250 laptops available already, right? And they already have full Windows 10. Has anyone REALLY asked why people are buying Chromebooks over inexpensive Windows 10 laptops? I suspect not.

The Chromebooks were comparatively more secure and simpler for the IT dept. to manage

And cheaper and could leverage the android ecosystem for apps. 10 S PC's may be able to compete on price but on the ecosystem front thats much less clear.

Android apps on anything other than a phone are garbage. Blown up phone apps that look terrible.

I have not had this experience, could you give some examples? I keep seeing this comment but never find anyone that can show me this.

You have said it yourself. You are seeing it everyday but you don't have that experience. Some see it as garbage, some don't. So why bother giving you any example because it is a matter of opinion. I, on the other hand, don't see the advantage of these phone apps when I can use a full browser with these 11.6" screen

Instagram is a good example for something I use, it's just a blown up phone UI and doesn't support landscape on tablets, so can't be used in landscape with a keyboard or folio case. Not an issue on iOS or W10.

Spotify, Netflix, and Hulu all look great on my Chromebook. Not sure where you're getting your info from, but I actually own one.

Don't those work just fine from a browser?

Well they got popular before that feature even made it.

Yup, that's why this was released. Flash with required Data/settings in Just 30 seconds.

I doubt that it is more secure, simpler yes.

agreed with Scuba the whole concept should be about cheap prices but 250 for this with the downgraded W10 on it? Hell no... full W10 experience on laptops for around 199 is already happening this is a big fail, the same as with RT

Clearly you don't understand the target market strategy or you wouldn't be making these misinformed statements.

Agreed. Microsoft have been trying to remove the legacy win32 ecosystem for years. This is the first attempt that has a chance of success. You'll be able to give this laptop to a child and know they can't install anything from outside the store. Inside the store, you can use family safety so that they are only able to see apps appropriate to their age. Any speed boost or battery life extension will be appreciated. I'll be buying a couple when they come out to replace a Lenovo 100S I bought to try out the low end marketplace.

Is there info on whether other things are cut from Windows 10 S? I was hoping where possible certain legacy components have been cut out - There have to be quite a few services etc. running OOTB on current Windows installs that just aren't needed if you stick to store apps

Seriously? K-12 schools in the USA are deploying chromebooks nation wide. Some state-testing is "online only" where laptops are distributed to take the test. Also a lot of the cheap winbooks have 32GB + 2GB RAM and are insufficient vs the Win10S requirements leaked weeks ago.

I continually meet people that are flabbergasted by their laptops and criticize themselves relentlessly because they think its complicated...I feel sad for them, because goshdarnit, you are what you say you are! Anyway, these would be GREAT because they make it that much less complicated and protect these fools from themselves 😅

Since you asked... Do you have any idea why people buy a Chromebook over a Windows laptop?

There is no such thing as a perfectly decent $250 laptop.

There's such as thing as good enough computing though - I personally wouldn't need one of these devices I'd be getting something higher end but you could even use something like this (with a cheap upgrade to W10 Pro) to get started with a business if you had to pinch every penny.

Chomebooks sells better than W10 laptops mainly for the price and easy management. W10S devices are trying to address the price issue and the security issue by using lockdown to Windows Store. The recently released the 'Intune for Education' update is trying to make deployment and management easier. Chromebooks are also facing the desktop app-gap issue comparing to W10 PCs. W10S will further encourage developers to develop either UWP apps or porting their Win32 apps over to the Windows Store. Now it seems that MS are finally getting serious and focused on expanding into the EDU sector. It will be interesting to see how things would develop in a few years.

Yup, let's wait and see, but this is something i will definitly buy for my nephew and also use it with him to test and get myselft a Surface Laptop, haha. But seriously this is not just a copy of Chromebook, it has far more potentials. Now the best things to do is to buy one, try it and if you don't like it, return it, so simple...

Chromebooks can be reset, locked, constrained and controlled by a teacher, you can throw content on a whiteboard quite easily. On Windows S, you need additional software to do this, from a third party supplier. Which, btw, cannot run on the S version, because it requires system rights. I don't know what Microsoft is smoking, but this is still not competitive to.Googles offering.

You can do all that easily with a Windows 10 (S) laptop and you don't require third party apps.

I agree there's been cheap devices out there for quite some time, but a lot of those are struggling by with 1GB or 2GB of RAM. It's good to see these have 4GB - Would be nice to have seen the same prices but with 128GB storage IMO

Security, price and easy to manage

labeled as coming soon

So..when they will upgrade from the "Coming Soon" version?

Just looked at the HP 11 Stream Pro. Runs a Celeron 3060. Perfectly fine for an OS that is just a browser...but will get real slow real quick with actual app usage. I just converted my HP 11 Stream G1 with a Celeron 2840 from a Windows 10 Pro machine to a Cloudbook using Cloudready...it's a much better cloudbook than it ever was as a Windows cloudbook. The cheap hardware is not going to have a good user experience for Windows...

There will be plenty choices between $189 model and Surface Laptop.


Disagree, I have a $69 Windows 10 7" tablet with 16GB of RAM, BayTrail CPU and while it doesn't run heavy software is great for media consumption, reading books and small kids don't need to run math/design software, so the $189 model will be good for small children.

Exciting stuff.............

These cheap notebooks always sell well with kids going back to school. Nice to see they've up'd the minimum specs this year.

Only a win32 app for the PC Atm

Agreed 32GB is terrible... 😓

32 GB/ 2GB is very very usable on a Win 10 computer. Hell, I run Win 10 on 16GB/ 1GB and it runs like a charm.

I know what you mean. But most people here don't now about that because they use high end products only. I have myself used [z3735G, 1gb ram, 16 gb (only about 7 gb free)] and [z3735f, 2gb ram, 32 gb]. Yes they don't compare to devices that cost 10 times more but they are pretty amazing devices. Z3735G have highest recommended resolution is 1366 x 768 but I am using it with FHD TV for one year and running Kodi with no problems at all.

It was totally usable on a Win8 PC as well. Or a 7, for that matter, though 8 was better at it.

I'm shocked these are coming at 4Gb/64Gb instead of the 2Gb/32Gb systems that are normal for entry level.

Yes, I am pleasantly surprised by that.

Because 4gb/64 gb is entry level line for Win10S. Moreover it needs to be at least celeron processor not Atom :)

These are sticker prices, not volume discounts that a School District would negotiate with a vendor to deploy them into their schools. These are not for college students or anyone else. They're to be sold cheaply in volume where MS installs their backend software to manage & maintain them...that's the play here. Keeping kids on MS software & selling the backend management software. All this complaining about specs or whatever doesn't mean squat to a 4th Grader trying to take his/her Language Arts test.

Agreed, obviously all the whingers haven't read the associated articles and have no concept on what MS are trying to achieve here
Read 2 lines of an article, then spray MS online about something they obviously know nothing about.

Actually, these would work fine for the average college student. Especially millennials, who, let's face it, know pretty much nothing about computers anyway :D

Build it and they will/but probably not come. UWP is in it's final push.

For those criticising windows s, it does actually run faster BTW. And it's easier to deploy. MS haven't just tackled the price.

Have you officially tested it as a Beta Tester?

These are ugly. Where are the nice looking ones that Chromebooks have with backlit keyboards? Dell Chromebook 13, HP Chromebook 13...

There's is about 80 coming from 7 suppliers as of June, check the Ms edu website

100% failure if apps cant run on tabs, this is an absolute failure Microsoft should allow app developers to decide whether he can allow the user to run on tabbed mode / windowed mode / full screen mode games like forza, asphalt can run on full screen modes
apps like facebook, twitter etc should be allowed to be run on tabs i have installed facebook app from windows store from the first day it was available
still i use facebook on my chrome tab chrome tabs and extensions are the success of chromebook
microsoft should have more features and wow factors
Windows Central Newsletter
Thank you for signing up to Windows Central. You will receive a verification email shortly.
There was a problem. Please refresh the page and try again.