Microsoft starts rolling out Planner organization app to Office 365 subscribers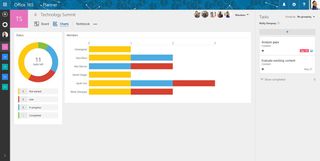 Microsoft is now rolling out Planner, its app for organizing tasks and projects within teams, to its eligible Office 365 subscribers. With Planner, you can easily update the status of a project, share files with team members, and see who is assigned to a project all in one place.
From Microsoft (opens in new tab):
Planner will automatically appear in the Office 365 app launcher for those with eligible subscription plans, which include Office 365 Enterprise E1–E5, Business Essentials, Premium, and Education. The rollout is expected to take place over the next several weeks, so don't be surprised if Planner isn't available for your right away.
Windows Central Newsletter
Get the best of Windows Central in in your inbox, every day!
okay MICROSOFT where is cumulative updates for non-insiders ? apps crashes like anything, battery sucks....

Second tuesday of June is next week, stop whining mate, all is more you're off topic :/

I would like to take advantage of this tool with office 365 personal/home to share tasks with my friends on social projects. will it become available to everyone also non business/education subscribers?

I second that. I fail to understand why Microsoft thinks only Enterprise, business, and education needs Planning software. I could use it for Home.

Because it needs underlying features not available in the consumer/individual accounts and it's geared towards groups. An individual account has no need for project management functionality when it's a single user license. If you want the feature, just upgrade to the small business account.

At a guess it probably has some Delve integration, which as you've mentioned, may not be available for consumer accounts.

You might be right that there are features which are not (yet) available on single accounts.
But I disagree that single accounts have not need for project management functionality. Of course I would not work on a project only by myself (but why not actually) but with other colleagues when we plan a social event, like a fundraising campaign or something similar, it might as well be useful for holiday planning with a group of people. All topics which are done outside business hours and not in a companies fix structure, sometimes with these colleagues, sometimes with family members...
Is it possible to have a small business account to create such a planner project and then invite people with standard single users accounts to contribute?

I have been trying to replace tasks with this but need our CRM software to communicate with it, it works with tasks at the moment and until they change I will be reluctant to run the two at the same time...

It's a stand alone tool that builds on the groups feature. It's more like project light than anything else. I would expect some integration with CRM eventually, as groups was connected recently.

Thanks... Hopefully it will, it does create tasks which our CRM system currently does, I then re-assign them Tasks to the appropriate member of my team... this looks much better, but as it stands there would be duplication after entering on the CRM if my Admin can not just tick the 'Create Task' box

Are there plans for apps to go with this?

Kind of reminds me of Trello in some ways, but looks much more powerful. No Office365 Home edition though?

No home edition bc home edition lacks groups.

Interesting, guess Yammer is dead or does this work hand in hand? what about Wunderlist integration.

Yammer is social networking, not project management.

Is it UWP? I mostly use continuum to get things done. It'd be a pity if it was a desktop-only app...

This looks like a web app.

It's a web app only at this point.

Needs a free single-user version to gain traction. Home/education users would love this application without all the Office365 integration. Just integrate with Office and take on Trello.

It would never exist outside the office graph because it builds on groups. It's not supposed to compete in the consumer space.

It should, that's the point.

Not necessarily, Microsoft don't have to take on every single product out there. Sure it would be nice to have more things integrated with your Microsoft Account but without the SharePoint/Groups/Delve features it would be like a Trello clone, and that does a pretty good job as it is as well as being mature.

A nice take on trello hope it comes the winpho store soon

I'm still waiting for the new Outlook.com look to roll out to me. I signed up a test MS account for a Windows 10 machine few weeks ago, and that account got the new Outlook.com. My main account I had for years still hasn't got it. Great way to treat loyal users MS.

Small businesses could really use this project "Planner" too. Office365 P1 and similar plans. Actually, we could use a good integrated CRM (Customer Relationship Manager) software too. Question, can the data be imported into and exported from this software/app? It is important to us, that we be able to back up our data.

It's available to business Essentials and Premium, p1 is a legacy plan that converted to Business Essentials. All Office 365 data can be exported.

Im using ONenote and Wunderlist for my personal projects, this would be great for work, perhaps personal projects as well.

I used Trello for quite a while but found in the end it did more than I needed for my day to day job and life in general. With most things I don't need to have various stages, so I use Wunderlist too now. I separate Todo's into their own lists for each of the companies I work for, and home stuff. Then I star the things I'm going to do Next for each list and use the Starred view to get a heads up of what's next on my plate. We still use Trello in some of the companies as it's great for collaboration and larger projects where we might want to show a client the history of work done. For things just involving me Wunderlist is perfect though

Can these be embedded to lets say SharePoint online sites? If not then useless.

Just checked, and we've got Planner :-) Having a play with it now.

Are there apps for W10M and iPhone coming soon? If not, it's kind of pointless. Does it have a project scheduler?

Iphone AGAIN Microsoft...

What are you trying to express?

Let's hope they add it to the Office.com suite, so people can use it for free. I don't see any particular reason to pay for Office 365, when I have everything I need at my fingertips already.
Windows Central Newsletter
Thank you for signing up to Windows Central. You will receive a verification email shortly.
There was a problem. Please refresh the page and try again.