Microsoft starts selling $1,199 Surface Book 2 model with 128GB of storage
Microsoft has lowered the bar to entry for picking up a Surface Book 2, thanks to a new $1,199 model with lower storage.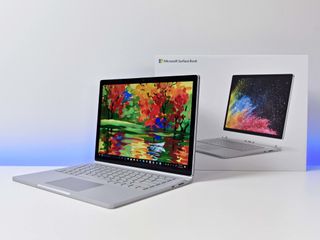 Hot on the heels of introducing a new, entry-level Surface Laptop model with a lower price tag today, Microsoft is doing the same for the Surface Book 2. A new version of the base 13.5-inch Surface Book 2 is now available at a starting price of $1,199 (opens in new tab) (via The Verge).
For your money, this new option comes with the same Intel Core i5 processor and 8GB of RAM that the previous base model sported. The differentiating factor is that the new model comes with half the storage, coming in at 128GB. That may turn out to be a little too restrictive for some – unless you're okay with making liberal use of external or cloud storage options.
While storage may be lacking, the benefit is that it shaves $300 off of the starting price for a Surface Book 2, potentially drawing in those looking for something slightly more affordable. It does introduce some interesting decisions for people trying to decide between Surface models, however. For example, a Surface Laptop with a Core i5 processor, 8GB of RAM, and 256GB of storage normally fetches $1,299 – though it's currently on sale for $1,099 (opens in new tab).
In any case, if you're looking into picking up a Surface Book 2, you can find the new, cheaper model at Microsoft now.
See at Microsoft Store (opens in new tab)
Dan Thorp-Lancaster is the former Editor-in-Chief of Windows Central. He began working with Windows Central, Android Central, and iMore as a news writer in 2014 and is obsessed with tech of all sorts. You can follow Dan on Twitter @DthorpL and Instagram @heyitsdtl.
If storage is the only difference, then this is a great deal! You can get 1TB external SSD for $300;")

I really wish the folks at Eve Tech would crowd fund a Surface Book alternative just like they did with the Surface Pro. Have you seen the Eve V? It's pretty cool. https://eve-tech.com/ I like the Surface Book detachable form factor better though. I'm sure Eve Tech could do it cheaper and better than MS.

Well that's a clever move.

Apparently not in Canada; the cheapest Surface Book 2 here is C$1,979.00.

Yeah, I wish they offer that here too.

They should have more configurations available. Why am I forced to have m3 CPU with 4GB ram? I want 8 gigs with m3 and 512GB SSD... Nope... MSFT knows better ;-)

Unless it's from a "custom" shop. Large manufacturers (not just Microsoft) will only offer certain configurations. Too many sku's will certainly require more lines or slow down production at the plant.

Ridiculous. Nothing about going from 128gb to 256gb costs $300, not even at RETAIL. The $1200 model should be the baseline, and that baseline should be 256GB.

128g is enough storage and also you can't make the price you think is ideal for someone else's company

I'm looking at replacing my original Surface book i7 256GB DGPU. I can get the same one refurbished from Microsoft for $1539 CAD, which to me is more appealing than buying a new Surface book 2. I sold mine a few months ago as I was barely using it anymore, but now I need a computer again. The perfect configuration for me will be a Surface book i5 7th generation or newer, 8GB Ram, 128GB SSD, and a DGPU with 2 Go memory. A Nvidia 960 will do just fine. I mostly use my machine for data analysis, and the occasional video and photo editing. I like the form factor of the Surface book and design, but I also don't want to pay more than $1550 CAD on a computer.

Going after the macbook air customer! NICE! A way better device for very similar money!

Really MS? Still going at it with the expensive laptops to compete with Apple? Gimme a break! Apple could care less about any competitor in the laptop pc realm when their iPads and IPhones are selling in the millions.

And Honda sells millions of cars compared to Apple. What's your point? Phones and iPads have nothing to do with pc sales.

You can't compare the iPad to the Surface Book 2. The Surface blows away that toy in terms of functionality. And it can be a tablet, too.

$1,200 for a laptop with 128GB storage? I thought Microsoft was not a "luxury goods maker"? That's definitely a "luxury" price tag.

I'm wondering how ppl take up so much space on these computers. 128 is plenty

For the average user yes. For others no. Choice is great. I have 2tb of storage in my dell notebook because I travel, take photos, videos, design client motorcycles, snowmobiles, ATVs , utvs and other things so 128gb would last about a month for me.

Waht made you think that MS was not a luxury goods maker? Microsoft developed the surface line as aspirational devices to show OEM's how to make good windows machines, and that there was amarket for them. MS wanted to stop the OEM race to the bottom. Surface devices have always been exoensive; the orice ibckudes a "Surface Surcharge" which allows OEMs to build similar devices and sell them at a lower cost, while still makeing a reasonable profit.

Little reason to buy a Surface Pro now, unless you need or really want the tablet form factor.

Do they no longer make apps for Surface Pro?

Your stement was just as applicable when the Surface Pro was first released. Do you include "pen and ink" in "tablet from factor"?

The Surface Pro is still a smaller, lighter device.
Windows Central Newsletter
Thank you for signing up to Windows Central. You will receive a verification email shortly.
There was a problem. Please refresh the page and try again.