Microsoft Store giving away $100 credit; simply trade up your Windows XP dinosaur (US and Canada Only)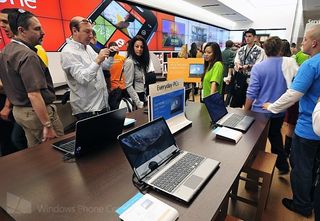 We have been announcing the end days of Windows XP for some time now, and if you are not planning on upgrading your poor sad operating system to a nice new shiny one, then we are a bit of a loss what more to say. Microsoft on the other hand, has one more trick up their sleeves; they are willing to shell out a $100 instant savings credit if you trade up your existing Windows XP machine.
The deal is available for citizens within the United States (including Puerto Rico) and Canada; unfortunately, our other loyal readers will have to find another incentive to dump Windows XP (although, there are quite a number of reasons to move). Simply bring in your existing Windows XP machine to a Microsoft Store or use it to make a purchase on the company's website to be eligible.
We should note that the offer is only available for PCs that are $599 or above in price, which quite honestly is still an amazing deal. In addition to the $100 credit being offered, Microsoft is including 90 days of free premium support where you can call in about anything you need relating to your new PC.
Some of our favorite PCs that fall above the $599 price tag are the Surface Pro 2, Lenovo ThinkPad YOGA, Dell XPS 12, Acer Aspire V7, ASUS's Zenbook, and Lenovo's IdeaPad YOGA series.
If you are worried about transferring all of your data from your existing Windows XP to a brand new Windows 8 machine – do not worry. Microsoft has collaborated with Laplink (opens in new tab) to provide easy and free data migration for your photos, videos, music, and files.
After April 8, 2014, all support will end for Windows XP including regular updates and security patches. We urge you to update now, before your machine becomes vulnerable.
Are you still running Windows XP – Y U NO MOVE ON?
Source: Microsoft Store (opens in new tab)
Windows Central Newsletter
Get the best of Windows Central in in your inbox, every day!
US and Canada only comments in 3, 2, 1...

Why the fuck is MS still excluding the rest of the world? Grrrrrrrrr

That is a BS excuse. I do wonder how MS wants to compete with Google and others that provide full support for all their services outside the US. MS is already paying a price with the Xbox One being limited to just few markets, and PS4 killing it in unit sales, yet they never learn from their own stupidity, sad.

Those companies do NOT provide full support to all regions. Go look up every product offering from Google and others and you will find the same restrictions are in place in some locales. I'm sorry that Microsoft makes desirable products that people in other countries want, but selling thigns across borders is not easy.

The PS4 is barely holding a sales lead over the Xbox One. The only large market they basically ignore is Japan b/c buying an Xbox in Japan is considered some kind of sin.

Ironically though it would probably be the rest of the world who would best benefit from this offer, given XP's embarrassingly high market share worldwide.

Nice. Time to find an old PC around the house to maybe buy an L-2520.

How would you do that? It is not on the list and is not $599+

I was hoping to combo it w/key board, but I guess you're right. That would have been to good to be true.

If you find a way let me know, I'd love to get a surface 2 through this :)

You can get the LTE surface pro 2 which I believe is $679? Att only, 64gb

The Surface Pro 2 does not come in LTE.

Funny, I was thinking the same exact thing. My kids PC (which is a giant tower) has Windows 7 on it. So if I go download XP and stick it on there, I can get a Surface Pro 2 for $100 off.

Hmmm...this might make a 3 hr trip worth it

The incentives to upgrade are ever increasing. You'd already save in the sense that upgrading helps keep you safer, makes you more productive, and makes life easier overall. But for those who struggle to see value in something without dollar signs in front of it: this should help give them one last kick in the rear to upgrade.

Too bad it's only on select PCs (and over $600)... I'd love to trade in an old XP box for some 8" Win8 tablet :)

It just has to be a PC valued above $599, I think.

Anyone have any idea whether this could stack on a student discount? If so I might be very very interested!

Ditto that's wat I thought

Nice but I'm sorry, not good enough. If this offer applied to things less expensive, like a Surface 2, I'd be there in a heartbeat. MS wants people to adopt W8, MS wants people to buy their tablets ( change 'wants' to 'needs', actually ), they need to be a little more liberal in offering deals like this. $100 for any XP machine towards any W8 hardware, $75 for any W7 machine, and I'd be there to buy 2. But I don't need a piece of hardware that's that expensive, so its no deal. Sorry, just how I see it.

I agree, and surely a surface two has never used XP, so they wouldn't accept it.

I'm pretty sure the poster meant that the Surface 2 would be desirable as the machine to receive with the $100 discount, not the machine to trade in for the $100 discount.

I have just re-read the article, and the comments. Turns out I misread both! Note to self: don't read posts or comment at silly hours of the morning, especially after playing Battlefield 4 for hours on end.

Lol just bought a surface 2. Luckily the promotion isn't for the surface 2. I think I'll keep my PC though, and just wait until I can install a higher version of windows on it, and I'll just upgrade the parts.

It just makes better sense to continue upgrading your device.

I recycled my old Dell Windows XP laptop in July 2011 at Staples. Oh, well. I can't really afford a new computer anyway.


This only applies to laptops?

I have a tablet that has windows XP can I turn it in?

I want this for my vista PC

As usual only North America matters to Microsoft, but even if I was there I wouldn't take advantage of it unless they would give me the $100 as a discount on Windows itself because I always build my own PCs.

I have two old cases with XP loaded on their HD. What just bring what? To the store for $100. Case only, the got a deal. If you have lug the display and other stuff to the car, into the Mall, to the store it would not be worth the effort!

Yea, does it say anywhere what you have to do? Seriously, they want me to lug in my giant PC case (dust, cat hair, and all?)

I'm pretty sure they have station(s) with monitors and mouse/keyboard in place if they need to check the os. Come on people we don't live in the stone ages anymore lol.

Damn, wish this would've happened when I made the choice to buy myself and my father a Surface Pro 2

Can u trade in two xp desktops for $200 off?
This discount really isn't one. Aren't entry level windows 8 devices around $300. Huge rip off forcing a $599 device.

How long will this deal last? Anyone have an idea? (Hopefully i wasn't in the article and i missed it)

Talked to my local store just now, they were confused about this specific deal, but as always super eager to just hook me up anyway, so I might bring an old OptiPlex 520 with XP on it, and get me something new (guy also said I could do a S2LTE, but don't take that as a rule).

I'd say if your not wanting a tablet or a laptop it would still be way cheaper per performance wise to build your own desktop. And to boot its not really that hard. The plus as well is if you piece it right you could have a PC with each part on a five year warranty. Just saying, something to think about.

So I could theoretically bring in a decade old computer with XP and get $100 for it?

I can't believe people are still clinging to XP. It's so dated, it was great for its day but c'mon now it's 2014. Windows 7 is exponentially better than XP.

So if they are giving away $100 for XP, does that mean they give away more for Vista?

It's is going to available for india too... As Me too need this windows 8 at lowest price and some giveaways from them for my new windows 8.

I have no idea if theres such a dinasour running XP worth $599.. This promotion is kinda silly if you ask me...

Is it possible to trade in multiple PCs for cumulative credit?

They still are advertising wp7 devices?

This is a terrible deal if you know anything about building computers. Lol. This might actually be worse if a deal than their $200 for an iPad or whatever, last year.

So I can't sell my toshiba laptop? It still runs on Windows XP....

No windows xp is too old this was 1970s computer
Windows Central Newsletter
Thank you for signing up to Windows Central. You will receive a verification email shortly.
There was a problem. Please refresh the page and try again.