Microsoft extends Security Essentials support to 2015, but is still ending XP updates this April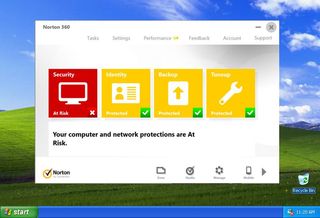 There has been a bit of confusion for Windows XP users (yes, they still exist) over whether or not they would be able to obtain antivirus support after July 2015. Let us take a few moments to talk about what antivirus support you won't have after the 2015 date, but what might still be available. In addition, take a second to learn why you will still be at risk after this April even if you choose to continue using a third party service's security solution.
If you are still using Windows XP and the separation anxiety is just too much to deal with, you will be able to stay protected with antivirus support after July 2015. On the previously specified date, Microsoft will end support of their free Security Essentials software for the now decrepit operating system.
What does it exactly mean that they are ending support for the platform? Well, the company will stop providing new antivirus definitions for the software. What that means, is that the software simply will not be updated after that date. If you continued to use Microsoft Security Essentials with Windows XP, you will be protected against viruses in the database prior to July 2015, but your computer will be susceptible to malicious software created after that date.
In essence, this means that you will want to abandon Microsoft Security Essentials when the 2015 date comes around town. The misunderstanding is that some people currently think that all antivirus support will end for the operating system – that is simply not true. While Microsoft is backing out of Windows XP and encouraging growth with Windows 8, other third party companies will still provide security solutions. You will still be able to obtain security solutions from companies including Norton, AVG, Trend Micro, and Kaspersky. It will depend on the exact company, but some are promising to continue providing support as late as 2019.
That being said, Window XP is twelve years old and it is really time to move on. While Microsoft Security Solutions may provide support until 2015, security and bug fixes for the operating system will cease this April 8. Even if you continue to use a third party security suite until 2019, the updates and fixes for the operating system will stop and that still creates a terrible circumstance. If new exploits are found in the operating system after this April that hackers could take advantage of to compromise your data, Microsoft will not be issuing any sort of patch or protection - you will be on your own.
Windows XP is truly coming to an end and we strongly urge any of you still using the operating system to get your stuff and move to a more modern operating system. After this April, there will simply not be enough protection for users still on the platform. Don't wait till April 8 to move though, do it now and get settled in to the future. If you truly hate Windows 7 and Windows 8, then I would rather see you on a Mac or Linux platform - at least you will be safe.
Please, purchase an upgrade to Windows 7 or Windows 8 soon – it is truly for your own good and security well being.
Get the Windows Central Newsletter
All the latest news, reviews, and guides for Windows and Xbox diehards.