Microsoft Store opens in Boston with a massive crowd and loud cheers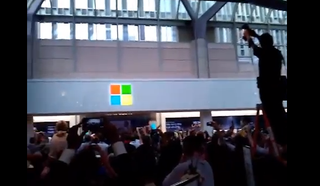 This morning in Boston, Microsoft dropped the curtain on their latest store at the Prudential Center to a massive crowd, loudly celebrating the grand opening.
Considered to be one of their new flagship stores (located very closely Apple), the Boston Microsoft Store managed to garner a large crowd who cheered the countdown and opening--certainly exciting to see. In addition to the new store, Microsoft of course also showed their new company logo.
Windows Phone developer Lance McCarthy was on hand to video the unveiling and it is certainly thrilling to see. It looks like Microsoft has some fans, after all. Thanks, Lance, for the video!
Daniel Rubino is the Editor-in-chief of Windows Central, head reviewer, podcast co-host, and analyst. He has been here covering Microsoft since 2007 when this site was called WMExperts (and later Windows Phone Central). His interests include Windows, Microsoft Surface, laptops, next-gen computing, and for some reason, watches. Before all this tech stuff, he worked on a Ph.D. in linguistics and ran the projectors at movie theaters, which has done absolutely nothing for his career.
Yay I wanna get a job there!

Hey MS, what about stores outside the U.S.? Central Europe maybe? ;-)

Is that Paul Thurrott over on the left?

I'm not sure. I did quickly look around for him, but I didn't want to appear like a stalker... "Hey, Paul! Paul! Paul! Let's go play some Call of Duty, there's an Xbox right over there" O.O

Na he is a cool dude im sure he doesn't douche it up on CoD haha :P

First comment on the site :) Please open a store in the UK!

Ah, the Prudential Center, I remember on the top of the Prudential tower. There is bar. 1:30 in the Morning bar hopping we came to it, got by security and enjoyed a over priced beer there.

Had to share...

I'll have to check it out next time I'm in Boston, Go Red Sox (yea, I know they stink this year)

only a Red Sox fan would say that when the Yankees are in first place...and I'm right there with you ;) Go Sox!

Big crowd...that was cool

Wish the video was a bit longer

Could the crowd have anything to do with Paul Pierce and Lenny Kravitz? It's hard to imagine people cheering the opening of a Microsoft store (or any store, for that matter). Apple stores are different because of the religious nuts that go there. I am happy Microsoft does not appeal to nuts.

Not only religious nuts but also in denial. he he he

Apple followers are like cult members. And the same over priced phone every years with one extra feature is the poison.

I'm a Microsoft fan, but there's NO WAY a crowd of people were this excited for just the store (unless it was because of a band or a promotion or something and even that is debatable.)
Only Apple gets this kind of response from groups of people. No other store from any other company (technology or otherwise) would get this sort of response unless there was a band or a special promotion appearing.

Doesn't every major store opening have some sort of celebrity appearance? That's just basic marketing.

Don't forget that Boston is very techie city. (MIT for example. Microsoft's New England Research & Development, aka NERD, is there too.) They could be genuinely excited for a new big name computer store.

I was there when it opened. Yes they were giving away 1500 or so wristbands to a Lenny kravitz concert on Saturday. I didn't get in line at first, but hopped in after it opened and waited maybe fifteen minutes. We got tshirts and bubbles. Paul pierce is to be there later today for Xbox hoops. Funny, I've never seen so many lumias before in one place before! You could tell who the corporate MS folks were by their single MS logo colored tops or bottoms paired with a conservative other color. The store is kind of small and long. I'll be heading there again come Windows 8 time for sure!

I was checking out the smoked challenge they were killing the Comp but there were a few people who lacked experience with the handsets so I gave em a few pointers ;) all in all it was awesome to see I shall apply and all I got was a tshirt :P

Was there deals on anything? Anything on sale?

Yeah but mostly for students and vizio has awesome stuff for their offering lol

I wasn't able to be there, but I'm glad that it received a strong reception! Hopefully it'll become very popular in the future. :)

In Austin. Apple has had a store in the Domain mall for a while now. They got a pretty decent place in the middle of a strip of stores. Microsoft got a big corner lot right next to Macy's. :-D

I came from Ireland, huge WP fan. Awesome stuff goin on! Unfortunately not much emphasis on windows phones there =( pity windows 8/windows phone 8 wasn't the focus.

I think the cheerins just a little pent up desire to shove it in the face of Apple fans (at least I'd like to think so).
I don't think many stores or product will get the devotion Apple gets, simply because there are not that many nuts to go around. God Jobs was just the guy to attract such nut cases.
BTW God Jobs, whatever happened to 7 inch tablets being DOA? did I hear something about an iPad mini? What I'll get a kick out of is when my iFan friends and colleagues start showing up with iPad minis (these being the same people that told me they prefer the largers screen - they prefered it because Apple told them to).

I'll tell you it was awesome watching them lose in the challenges :D

We need a store in New Orleans One Canal Mall.. Come on Microsoft show some love down here.

Microsoft stores are so better than crap apple stores. Too many gays at apple stores
Windows Central Newsletter
Thank you for signing up to Windows Central. You will receive a verification email shortly.
There was a problem. Please refresh the page and try again.