Microsoft Store starts selling Windows Hello BIO-key fingerprint readers for $40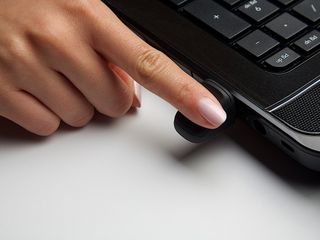 Microsoft has started selling three fingerprint readers from BIO-Key that support the Windows Hello security features in Windows 10 PCs. The devices are available at Microsoft's retail stores and on its website for $39.99 each.
The three products include the BIO-key SideSwipe Mini Fingerprint Reader and the SideTouch Fingerprint Reader, both of which connect directly to a Windows 10 PC or tablet. There's also the EcoID Fingerprint Reader, which uses a USB cord to connect the PC to the reader. Microsoft states:
Windows Central Newsletter
Get the best of Windows Central in your inbox, every day!
Can i attach it to w10m using usb otg?

Yes you can. Scott Mahnken
VP Marketing
BIO-key

Do some of these models work without "swiping" your finger? I've got one of the cheap fingerprint readers that you need to swipe your finger on, but I'm not happy with the accuracy (it was dirt cheap though) so I'd like something that works like the readers on mobile phones, that you just touch. It does look like only 1 of the models shown requires an actual swipe

I've answered my own questions by watching the full video...so ignore me :-p

Yes only one requires swipe

This is a great move, from the day Microsoft spoke about this feature I've been wanting it. So happy that i can now use it with this adorable bio stick.

Is this the same finger print scanner that Apple has had for years now? or am i missing something

Why can't anyone make a keyboard with a fingerprint scanner? Posted via the Windows Central App for Android

There are keyboards with fingerprint scanners. I don't know how good they are, but they are available for a reasonable price on Amazon and other places.

There are keyboards with fingerprint scanners.

https://www.amazon.com/Microsoft-Keyboard-Optical-Fingerprint-BZ5-00002/...

When can i open links from comments in wc app for windows 10 :/
Or at least copy

That fingerprint scanner is not compatible with Windows Hello or even windows 10. I haven't found one yet. I'll keep looking...

I had microsoft keyboards years ago with this feature. Intellitype keyboard with fingerprint reader Posted via the Windows Central App for Android

Or a mouse! Great question.

Since that is the first thing I am grabbing when I sit at my computer, yes that would be great. It's a more natural way for flow.

I saw the SideTouch attached to a laptop last night at the Microsoft Store. I thought it came with the laptop and didn't realise they were being sold on their own. Nice to know if I'm ever in the market for a biometric device.

What store did you see them in?

What store did you see them in?

Hi VP Marketing, I've had all sorts of drama trying to get it in Australia; See this excerpt from an Amazon thread, since this forum software will no longer let me share links:

Aaand for some bizarre reason the option to ship to Australia for the smaller packaged SKU's, it STILL not there.
I've had far larger items from Amazon shipped to Oz, what's the deal... Last time I had to speak to Bio-key directly, & they offered some convoluted way to get a 3-pack to me via a forwarding system. When I asked some more Qns they stopped responding to my emails, so I went with some cheap crap via Amazon that "did" ship. Why the F... can't I just buy it from Amazon, sigh... >.>

Then had a lengthy chat with MS Online Store, & they were "pretty sure" it's still just for US MS Store (Online/Off). Ugh, not worth the effort! >.> Advice? Thank-you, James

Hand cutting crimes expected to escalate in the future...

Removal of eyeballs as well, thanks to iris scanner :D

nice accessories....too bad most laptops these days don't have many USB ports.

Yeah, with only one port like the Surface, this will become very easy to misplace and forget about.

Definitely a much more affordable option than the fingerprint reader Surface keyboards, and you can use it without the keyboard attach. Although I wish it has a nicer design, or some other colours like silver to match the Surface at least.

Anywhere to pick these up in the UK? I have the cheap Egistec fingerprint reader and want something more expensive w/ better performance. These look great - Couldn't find them on Amazon UK so far

Eikon's finger print reader looks and works just like the BIO-key swipe product and it's cheaper. I use it at work every day. Here is the UK link: https://www.amazon.co.uk/Eikon-Mini-USB-Fingerprint-Reader/dp/B007P5J4H8...

I'll stick with my cheaper Eikon fingerprint reader that does the same thing as the BIO-key products.

Is this good only for login to PC or can be used for websites too?

Why would you even use this on a Surface Pro given it can do Windows Hello auth via camera? Their both biometric forms of auth. The only situation I can think of is in businesses where cameras are banned..

That's only the pro 4 camera