Microsoft to stream six-hour live Halo 5 launch event on YouTube on Oct. 26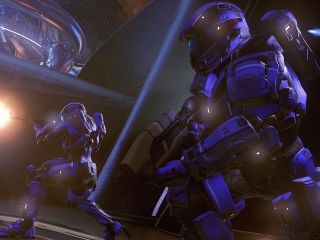 Microsoft was expected to go all out to promote the release of its Xbox One shooter Halo 5: Guardians on October 27, and that's exactly what they are doing. The company announced it will stream a six hour event on YouTube called "Halo 5: Live" on October 26 to help celebrate the launch of the game.
The stream will begin at 6 p.m. Eastern Daylight Time and end at midnight, when Halo 5 goes on sale in the East Coast of the US. Microsoft said that the stream will include "exclusive gameplay reveals, celebrity appearances, live interviews with the 343 Industries development team and much more."
Here's what the "Halo 5: Live" stream will contain, which includes launch events for the game from around the world.
The world premiere of "Halo: The Fall of Reach" episode one, the new animated series that tells the dramatic tale of the origin and intrigue behind the SPARTAN program that propelled characters like the Master Chief and Dr. Catherine Halsey into the pantheon of Halo lore.
The first Xbox roundtable featuring the writers behind "Halo 5: Guardians" and Nathan Fillion, the voice of Spartan Buck.
Special documentaries will get up close and personal with Halo superfans around the world, showcasing what makes Halo Nation unlike any other community in gaming.
A lucky fan in Australia will play "Halo 5: Guardians" from a helicopter flying over Sydney, as gameplay is broadcasted via a screen suspended from a second helicopter.
In London, iconic entertainment venue The Roundhouse will transform into a "Halo 5: Guardians" celebration, with a friendly tournament between four teams of YouTube creators and fans. U.K. fans can win a chance to attend the London event by visiting http://bit.ly/1REsmt6

(opens in new tab)

.
In celebration of a Halo superfan from Japan who has played over 10,000 hours of Halo, Master Chief and Agent Locke action figurines will travel to the edge of space for the most epic Gamertag selfie.
A Taiwanese cosplayer will bring his passion for the Master Chief to life when he collaborates with one of the hottest jewelry designers in Australia to recreate the Master Chief's helmet with more than 30,000 Swarovski crystals. The one-of-a-kind helmet will be unveiled during the show and kick-start a chance for gamers around the world to bid on it for charity.
In New Zealand, Halo fans will converge at the close of the Armageddon Expo for multiplayer sessions, cosplay displays and more.
In Hong Kong, a real-life course inspired by the new "Halo 5: Guardians" competitive Arena multiplayer mode, "Breakout," will be constructed, putting Halo fans into real 4v4 combat.
In New York City, a special fan destination will take place at the brand new flagship store Microsoft at Fifth Ave. and 53rd St., located in the heart of Manhattan and culminating in the midnight launch of "Halo 5: Guardians."
Pre-order Halo 5: Guardians for the Xbox One at Amazon for $59.99 (opens in new tab)
Source: Xbox Wire (opens in new tab)
I feel sorry for the loser who wasted 10,000 hours of his life playing a fucken game.

I feel sorry for the loser that can't spell a simple word such as "fuckin'".

As opposed to the loser who spent 10,000 hours judgmentally posting on the bottom of articles about said videogame?

U're right mann Posted via the Windows Central App for Android

Yet you troll the comments of a site devoted to windows products. Not sure what makes you much better...

It's counting all Halo games, in which case that's only around 8% of their time playing Halo, if h he or she started with Halo 1 in 2001. Rough math, by the way, so nitpick if you want.

That makes it sound worse

Says the guy who seems to be blue balling it his entire life...

I guess it's decided then, I can pick up my preorder the next day...I'll be off to the 5th Av. store for the party lol =]~)

Nice. So excited for Halo 5!

They must really want people to buy this game

Totally unexpected! Nice.

This reminded me to pre order.

I preordered that beautiful Halo 5 console. Get to pick it up on the 20th!

I'll watch via my Xbox one on the Xbox live events app.

Holy Moly, they sure are going all out!

Surprised they aren't leveraging Twitch. I'm know YouTube has a wider audience, but Twitch seems to better geared for gamers.

I would think they would simultaneous broadcast across all networks... I would be surprised if they didnt.

It's a pity that they weren't able to buy Twitch when they tried. At least Google didn't get it, though. Still, it is odd that Microsoft contributes to Google's monopoly by exclusively using YouTube to disseminate video content.

Can't wait to have a reason to leave Destiny behind!

The MCC with crap multiplayer function was a good reason to leave destiny. Hell, buying a Dreamcast was a pretty good reason to leave destiny...

Ill be streaming it on my surface pro 4

I left destiny after the taken king came out, it was the biggest waste of 40$ I ever spent I was really disappointed with it. I hope Halo 5 lives up to the hype I'm really looking forward to it.

So I made a smart choice not purchasing the taken?

"A lucky fan in Australia will play "Halo 5: Guardians" from a helicopter flying over Sydney, as gameplay is broadcasted via a screen suspended from a second helicopter." Of all of the ideas humanity has ever had, this has to be one of the worst. Hope dude's wearing a headset with some extreme game audio and noise cancelation.

Likely be a helicopter with a soundproofing.

Hi, take a look at this one, live streaming software for youtube -https://yatko.com/goLive
Windows Central Newsletter
Get the best of Windows Central in in your inbox, every day!
Thank you for signing up to Windows Central. You will receive a verification email shortly.
There was a problem. Please refresh the page and try again.