People are clamoring for Microsoft's Surface Duo 2 ahead of its announcement
Microsoft could announce at least five new devices this week, and our readers are most excited about the Surface Duo 2.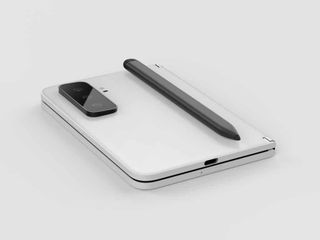 (Image credit: WindowsUnited)
What you need to know
Polled Windows Central readers are most excited about the Surface Duo 2 from the upcoming Surface hardware lineup.
Microsoft is set to announce several devices at the Surface hardware event on September 22, 2021.
The Surface Book 4 earned the second most votes out of the suspected upcoming Surface devices.
Microsoft will announce several new Surface devices at an event on September 22, 2021. Anticipation is building among enthusiasts, and leaks are starting to appear. With only a few days left before Microsoft announces the Surface Pro 8, Surface Duo 2, and other new hardware, we wanted to know which device people are most excited about.
Just over 33% of voters in our poll were most excited about the Surface Duo 2. Behind that, the Surface Book 4 (which may go by a different name) earned 27.06% of the votes. The Surface Pro 8 received over 21.42% of the votes, while the Surface Go 3 and updated Surface Pro X received less than 10% each. Lastly, 1.13% of polled participants were most excited about new Surface accessories, such as the new Surface Pen.
Keith Wallace, in the comments of our poll post, argued that the Surface Duo is trying to carve a new product category and that it should be the device people are most excited about:
There seem to be quite a few people anxious to see a mobile device from Microsoft. While the Surface Duo isn't a traditional smartphone, it is the first phone that Microsoft has made in years. The Surface Duo 2 looks to bring significantly improved specs compared to its predecessor, including a flagship processor, bigger screens, improved cameras, and support for NFC.
News Writer and apps editor
Sean Endicott brings nearly a decade of experience covering Microsoft and Windows news to Windows Central. He joined our team in 2017 as an app reviewer and now heads up our day-to-day news coverage. If you have a news tip or an app to review, hit him up at sean.endicott@futurenet.com (opens in new tab).
You should have added Surface Neo to your list if you wanted to see folks interested in a new form factor.

I just really want a surprise Surface Studio 3 announcement to replace my Gen1 Studio... I know it won't happen, but I would really love a new one...

How do you like screen from multi-windowed productivity standpoint? I'm using a 43" TV as my second monitor and have wondered if a 28" touch screen would be enough real estate.

I find the 28" display to be plenty for most purposes. The Studio is not my primary work setup though. I usually use my Surface Pro 6 along with two 24" external monitors for a 3-display setup and that works out best for me, personally. The Studio is my wife's photo editing device and she has been using it for work from home throughout the pandemic as her work device and does not really have any complaints when it comes to multi-windowed productivity.

I feel this. We've been waiting for so long. And it's been what? 2 years of rumors of a Studio screen too?

I voted to Duo 2 but I am excited about the Go 3 too

I wish they announce Surface Neo, it was so awesome!

Agree, but based on the situation with Intel canceling the chip it ran on, I'd guess it will be next year before this device becomes a reality with a different architecture.

I am most excited for the "one more thing" moment where they introduce the Surface wearable to compliment the Duo 2. Yes, I am dreaming.

I join you in this dream because it simply makes perfect sense!

Yes, bring back the Microsoft Band.

Me too! It would hopefully be wafer thin to match the Duo...

That seems weird. The duo isn't a high seller and it's pretty uninteresting. 🤷

It's not interesting? Let's think about that. It was probably the most talking about device (for whatever reason) since it came out, comment sections are full of replies about it, reviewers picked it apart for its faults and potential, we have several thousand members on our Surface Duo Facebook Group, I can't pull it out my pocket without people asking about it (besides the Fold, what device does that?) you commented on a post about it, and we're both talking about it right now. Lol. It may not be a perfected device, but it is most definitely interesting. 🤔

What's actually interesting about it now compared to the Fold 3?

Who cares about "what's interesting about it compared to the Fold 3" or any other device?... That's the most worthless question possible. Think about what you're asking, and how it even matters. If you think not then answer your own question, since you OBVIOUSLY find it comparable🤔 Use some logic in your life, and use your brain. If you want a Surface Duo then buy one. A Fold 3, then buy one, for christ sake. But, don't get wet over what other people find interesting, and definitely STOP RIDING FOLD NUTS, just because it's your dream device. I promise you NOBODY HERE OR ANYWHERE ELSE CARES. Please. Don't you ever, and I mean ever reply to one of my comments with that useless BS unless you have something reasonable to say, Bleached.

So I'm gathering you haven't tested the market of other foldables? Context: The duo was my first foldable, & I was obsessed with it before it launched. I even held on to it hard for about 10 months before trying a different brand of foldable. I can assure you (and anyone else) that thinks the duo form factor is "interesting" or that it is somehow a better multitasking device, that you're 1000% kidding yourself. I mean nothing says innovation like having to fold out your phone in order to take a high quality picture on the fly. It's just super interesting right? Don't get me wrong, I used to be you. Reading those critical articles and saying to myself "oh they just don't get the Duo".

It's more interesting than your iPhone...

Also every Windows Central article about the Surface Duo gets the most comments... So people do find it interesting... If MS can achieve all the rumoured hardware updates and more importantly perfect the software then sales this time round could be much higher... Looking forward to Daniel Rubino and Mr Mobiles reviews of the Duo 2...

I really don't care if Duo gets consistent updates more than I care about the device just working as expected. I'd rather 2 feature/fix updates a year that make progress over 12 updates that don't add or fix anything.

A Google based product is the most anticipated Microsoft release on a Microsoft blog. What does that tell you?
Windows Central Newsletter
Thank you for signing up to Windows Central. You will receive a verification email shortly.
There was a problem. Please refresh the page and try again.