Microsoft: Android 11 for Surface Duo will begin rolling out 'in the next few weeks'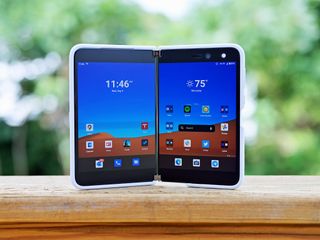 (Image credit: Daniel Rubino / Windows Central)
Microsoft has today provided an update on the status of the Android 11 update for Surface Duo V1. The company had initially stated that it intended to ship the update before the end of 2021, but that never happened. Now, Microsoft has issued a statement to Windows Central that explains why the update never arrived and when users can expect to see it begin rolling out.
The statement comes from Kimmo Lehtosalo, Senior Director of Program Management at Microsoft who provided the following:
So, the good news is the Android 11 update for Surface Duo V1 will begin rolling out within the next few weeks. Original Surface Duo customers have been left without a major Android OS update for over a year, which has meant critical bug fixes and stability improvements haven't been delivered.
According to our own sources, the Android 11 update for Surface Duo V1 has been done for a handful of weeks, but never began rolling out due to the holiday break. Now that the holidays are over, Microsoft can resume preparing the update for rollout, pushing it through "validation and certification" with partners such as Google and AT&T.
Microsoft says the update will begin rolling out to unlocked Surface Duo devices in the next few weeks, meaning it may take a little longer for locked AT&T models to receive the update. The good news is that if history is anything to go by, it won't be more than a couple of weeks wait between unlocked and locked devices getting the update.
Hopefully we'll begin to see more updates roll out for Surface Duo 1 and 2 once Android 11 is shipping on both devices. We know the next update for Surface Duo 2 will include support for customizing the Surface Pen's shortcut buttons, as well as add support for Your Phone's "Apps" feature. Perhaps the Surface Duo 1 will get similar improvements in the next few months now that it will also be based on Android 11?
Microsoft's next major Android release is also now in development internally, and our sources say Microsoft has opted to skip Android 12 and jump straight to Android 12L for the next OS upgrade. This is good news for Duo users, as the Android 12L release has significant improvements for devices like Surface Duo and other foldable and dual-screen devices. Hopefully we'll hear more about that in the coming weeks.
For now, it's good to see Microsoft being more transparent with its customers about the whereabouts of the next major Android update for Surface Duo V1 customers. The wait is almost over.
Zac Bowden is a Senior Editor at Windows Central. Bringing you exclusive coverage into the world of Windows 10 on PCs, tablets, phones, and more. Also an avid collector of rare Microsoft prototype devices! Keep in touch on Twitter: @zacbowden.
Finally. Looking forward to receiving this. What a difference one short paragraph of communication can make...

Great news! Thanks for keeping the pressure on MS to give this update, Zac! I'm on a Duo 2 now, but I handed my Duo down to my daughter who uses it with a Surface Pen for doing artwork on the go. I do hope the new Pen button features go to Duo 1 also.

And all it took for a statement was tech journalists running Microsoft's name through the mud for a few days :p

There's every chance that this statement would have been made regardless. They may well have been waiting unbroken they knew for sure that there would be no more delays.

And there was so much speculation that it was Google holding up the certification. Microsoft wasn't even done with it yet.

More than likely, they were done with it, but they say "we" meaning "us and our partners". Companies do this all the time to avoid throwing their partners (in this case, Google) under the bus.

. Microsoft literally said that they're finalizing certification and validation.
I hope you know android is Google's not Microsoft's and every playstore device has to be certified by them and AT&T validates every upgrade going through their service

I don't believe Google vets every device update for the OEMs that have Google services. They license it with requirements. AT&T on the other hand does reserve the right to certify updates on their branded devices. That has consistently had updates hitting AT&T devices a week or so after unbranded ones. This was just MS wasn't done. Could have said that before the end of the year. "We expect to begin Android 11 rollout in the next few weeks", is no more definitive and binding than " We are working to release the update by the end of the year."

The statement also says : "We originally planned to deploy Android 11 as an update for Surface Duo in December, but we needed a few more weeks to ensure a great experience for Surface Duo customers." Finishing/polishing the build obviously happen before sending it for certification.

Probably that's the case, but to be fair it COULD still be that they submitted it to Google, and Google is the party that reported some minor issues, and then there was ongoing discussion between MS and Google to gauge the severity. Maybe at the time, MS still thought it would go out in December (but I admit that seems less likely than the alternative explanations at this point). Having done large public rollouts of major upgrades, these are rarely black and white decisions. There are always known bugs in a release. The question is if the bugs are serious enough to hold it up or not. And it's often not the first order issue of the bug itself, but secondary concerns like could the bug cause other issues that are better to address before release, or will they be invisible for a while in which case it can be patched post-release without anyone even noticing. Reasonable people will disagree on that from bug to bug.

Will it be a full year until Android 12, which is already out? I better not hold my breath.

They said they are skipping 12 for 12L. So a longer rather than shorter wait for sure since 12 is out and 12L is still in development

Who said? Our sources say? That's definitive, and certainly nails down the timeline.

Did you even try to read the post?

I shall believe it when I see it.

I really hope this is it. Our Duo1s deserve better than this.
I hope that Microsoft learns from this and truly supports this device as promised. it has a lot of potentials and is a great portable multitasking device on the go.
I feel that I cannot go back to a traditional smartphone after this because of its multitasking features. It is the underdog of smartphones in my opinion.

Well, better late than never, I guess. Hopefully Android 12L plus the benefits of Project Treble can help Microsoft streamline updates and release them more often (I am assuming that the unorthodox form factor of the Surface Duo means extra overhead for Microsoft in terms of OS updates whereas Samsung can whip out Android 12 on its phones relatively quickly).

This form factor did not fail Microsoft. Microsoft failed this form factor. Microsoft was the only company that could have pulled this off as it doesn't make sense for say a Samsung to do a dual screen device at this point (since they already work with ultrathin glass despite the rumors of them working on a dual screen device akin to Duo). Then you have every other mobile focused company chasing Samsung. Microsoft as a company had an opportunity for a unique niche that fits their portfolio of devices but they HAD to be aggressive on executing EVERY right with the duo's development AND support.
I think their time to make a potential splash has passed with their lackadaisical approach to duo. As enthusiasts, yes, we understand the hurdles of the development to a sense and had the desire for a mobile device from Microsoft to complete their portfolio. But, the rest of the world doesn't and shouldn't have to. And you know what else? They never will. They just don't care. Microsoft failed this great form factor. It was ALWAYS going to be niche but the potential of how big that niche was going to be has been greatly diminished by Microsoft's inability to execute timely in the mobile space with software and hardware.
The Chinese companies are going to explode with foldables in 2022 which means the price of similar form factor are going to come down.
Microsoft will not be able to charge a high amount, poorly support existing customers, AND delay new hardware to 2023 and expect to be successful with this form factor.

Well said. Sadly, and as much as I don't want to, I agree. I know you're referring to a broader array of issues than just their customer service, but even for that, I've had the worst imaginable experience trying to replace a problem with my original Duo 2. I've always had great experience with MS in the past, but they don't have anyone accessible working the Surface Duo hardware support (it's a sub-group within the Surface group, only working during limited business hours on weekdays, and no direct way to reach them). The web site refers you to a phone number (there's a chat option, but if you select Surface Duo, no one even appears to respond to the chat, even when it shows no one is ahead of you in the queue), and the phone number directs you back to the same website. The only way to reach someone is to lie and say you're calling about something else in the automated prompt, then get ahold of a human who can provide very, very limited support. They tried to ship me a replacement, and per UPS tracking, UPS returned it to MS for mislabeling "hazardous substances" (I assume something to do with the Li-Ion battery). Then, they charged me for a second Duo 2 for not returning my original (even though they had already received their own failed shipment back). I literally could not imagine anything worse in the realm of customer service. To this day, the extra purchase is still on my credit card, and I may have to dispute the charge through the card, because MS seems incapable and uninterested in fixing.

Wow! Such a terrible after-sales experience. It continues to look like Microsoft has very weak (for non-enterprise) consumer support. They seem to have forgotten that the "experience" only starts with the sale and doesn't end there. Customer support is not an afterthought. You only get one chance to make a strong first impression that sticks. Microsoft often drops the ball on this. You think with all the experience they have and the mistakes they've made, that they would give all it took to never be seen as lackluster in their ventures, especially in the mobile device space. Old specs for the Duo, broken USB-C ports, underwhelming camera tech, glitchy and unfinished software. All those undermined and set the tone for the entire Duo project. A reputation that will always be the starting point for any analysis of any iteration of the line and cheap points for the opposition especially in the press...

In case anyone stumbles on this thread in the future, I just wanted to add that there is a support page that would have helped with this problem, but I never found it until near the end of that support nightmare (far too late to for me to help myself with it). You can initiate an advance replacement with a single click if you go directly to: https://account.microsoft.com/devices/select-device-for-repair Hopefully in the future, Microsoft will make this page more discoverable for its customers.

I notice there is nothing in that statement about having to vet it with Google or AT&T. There's been a common rumor about Google being on vacation. I imagine AT&T branded devices will still have to suffer their certification.

While Samsung sells millions of Foldable phones, MS, trillions dollars company can't sell even 100 k in a year
That's a real shame.

It is, but not really. MS has shown that they are more interested in being the company that inspires others to embrace their ideas. I've come to understand a long time ago, when Microsoft referred to Windows Phone customers as fans. When they began using that term, I realized that they had not real interest in appealing or selling to the masses. It's a sad realization, but it is what it is, at this point. As much as I would love for Microsoft to go full throttle with the average consumer, when it comes to their
niche devices, I also u derstand that if I decide to indulge in these niche products, I should be mentally prepared to accept the fact that they may stop supporting it at any given time. I loved Windows 10 Mobile and I love my Duo 2. I consider myself a fan of their devices and I enjoy being different from the masses, but that usually comes at a price. I can only hope Microsoft will bring some great things to the Duo devices in the near future and forward.

I really hope they will go through SD3 so I can be confident enough to buy one (Sd2 or SD3)

Are there any updates on when this will hit?

Should be NOW THEN....lol
Windows Central Newsletter
Thank you for signing up to Windows Central. You will receive a verification email shortly.
There was a problem. Please refresh the page and try again.