Microsoft unveils new Surface Hub 2 'Smart Camera' accessory with eyewatering $800 price tag
A newly upgraded webcam for Surface Hub 2 is here to enhance hybrid work meetings.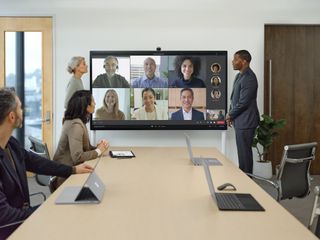 (Image credit: Microsoft)
What you need to know
A new camera accessory for the Surface Hub 2 has been announced.
It's called the Smart Camera and is built for hybrid work meetings.
It costs $800, has built-in AI, and is available now.
Microsoft has today announced a new accessory for the Surface Hub 2S, dubbed the "Smart Camera," which has been designed from the ground up for hybrid work in mind. This means it has optimizations and features built-in to enhance meetings where some members of your team are working from other locations.
Microsoft says this is its first webcam powered by artificial intelligence, allowing it to do things such as adjust lighting, automatically zoom and pan on the group when people enter and leave the room, and more. Featuring a sharp 12MP 136-degree sensor, this camera has a super wide-angle lens that allows the entire room to be in the shot, including people and items as close as 0.4 meters from the Surface Hub 2 as far away as 8 meters.
Here are the highlights of the Smart Camera from Microsoft:
12-megapixel sensor, with a stellar 136-degree field of view lens that can keep things near (.4m) and far (8m) simultaneously in crisp focus across a wide variety of conference room sizes and configurations.
1 Teraflop of compute power (a trillion floating-point calculations per second)
New algorithm we developed to automatically compensate for tilt, distortions, and wide-angle corrections so objects appear as they would in real life.
AI can detect people across various postures, lighting conditions, and rooms, ensuring every participant is equally visible.
The AI that Microsoft is packing into this Smart Camera allows everyone in the shot to remain in focus. A new algorithm automatically compensates for tilt, distortions, and wide-angle corrections. Hence, objects and people appear as they would in the real world.
This webcam aims to enhance the viewing experience for people who are not physically in the room. If you work on a team with some members working remotely, it's essential for those working elsewhere to remain included in team meetings. The Smart Camera will help ease the transition to hybrid workflows, which so many people are doing now.
Steven Batchie, VCP of Windows and Devices at Microsoft, said the following:
Now, the Smart Camera does not come cheap, and it's priced at a crazy high $799.99, which is quite a lot for a glorified webcam. But it's important to remember that the Surface Hub 2 is a unique device purchased primarily by business and enterprise customers, not individuals. That $799 price tag ends up being nothing more than another necessary expense for most companies looking to invest in improving hybrid workflows across their teams.
You'll be glad to hear that customers looking to buy the $21,999 85-inch Surface Hub 2 this new Smart Camera will come included with all new orders starting May 31. It's compatible with both 50-inch and 85-inch models and connects magnetically via the three USB-C ports located on the device's top, right, and left.
Microsoft is also highlighting several recent software updates to the OS that runs on Surface Hub, all designed to improve productivity for those in the workplace. Here are the highlights:
We have made it even easier for all participants to co-create in a Whiteboard session that includes a Surface Hub. The UI that previously was optimized for Whiteboard screen-sharing has been updated to share a Whiteboard session from within a Teams meeting where each participant has automatic access to edit.
Outlook will now allow you to RSVP to meetings and note whether you plan to appear in-person at the meeting or virtually.
Enhancements to the companion device experience will make it easier and less distracting to join a hybrid meeting from within a conference room.
Whiteboard now offers a rich set of capabilities that bring visual collaboration to life in Teams, including collaboration cursors, more than 50 new templates, contextual reactions, and the ability to open existing boards and collaborate with external colleagues in Teams Meetings.
Coming soon to PowerPoint, you no longer need to appear in person to deliver your message effectively. With recording studio and cameo in PowerPoint, you can create your own presentation, decide how and where you appear on your slides with cameo, record it, and have the presentation delivered with, or without you via PowerPoint Live in Teams.
Fluent emojis in Teams allow you to bring your personality to the conversation. With new and vibrant styling, 3D Fluent emojis will infuse expression and playfulness into every message.
Select a category to easily find the emoji you want and use the skin tone selector to pick an emoji that better represents you.
Get the Windows Central Newsletter
All the latest news, reviews, and guides for Windows and Xbox diehards.