Microsoft is looking to bring Surface to India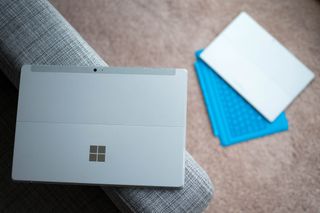 Speaking to The Times of India, Vineet Durani, Director - Windows Business Group at Microsoft India, shared that the company is looking at bringing Surface devices to India, following feedback from its current and potential customers including CxOs.
Vineet though refused to comment on any expected timelines for the launch, or any other details. This was the first such admission by him, or the company, since, in the past, Microsoft executives have categorically stated that the price-sensitive nature of the Indian market has had them avoid taking this step.
Unlike most tablets, Surface is positioned as a laptop replacement, especially for students and professionals on the move. The first-generation Surface was launched in October 2012, and since then, no model has been officially launched in India. Surface Pro 3 received great reviews, and I've seen a few enthusiasts in India using one. I recently bought a Surface 3 to upgrade from my first-generation Surface RT, which gets a lot of envious glances at coffeehouses and flights. Clearly, there are a lot of people in India who'd want to buy a Surface.
Durani further added,
In recent times, there have been a lot of Windows convertibles in the market – from global OEMs like Dell and HP to several low-cost ones from Indian OEMs like Micromax, iBall, and Notion Ink based on Intel reference design. While Surface is, of course, a premium device – in design and build quality - it will be left to see how it competes with the low-cost tablets and convertibles in India. Also, I'm wary of raising hopes too much since there's been no comment on timelines.
Source: The Times of India
There would be a lot of fans in the middle east ...

There will not be significant volume in India. Using 920 since last two years and want to upgrade to Lumia 930. Couldn't find the model on trustworthy etailers. No demand no supply.

WS Retail on Flipkart.
I hate how the 930 isn't even having a presence here. Nobody knows it exists and its father, the 920, had an excellent launch.

They imported like 5000 units and were done with it.

One of those situations where peoples' complain of Microsoft's marketing strategy stands valid. I'm yet to see a single Lumia 930/1520 ad on newspapers / TV or local web displays.

what does the lumia 920/930 have to do with a Surface tablet?

yea pretty much, they are barking at the wrong tree.

It's not about 920 or 930 per se.. it's about the lack of advertisement/marketing/distribution of flagships.. They never made an ad for the flagships.. That's changing now.. They're bringing Surface in India, they even said something about the next flagship being properly available in India unlike 930.. Though they shouldn't advertise Surface as a Tab but rather a Laptop or 2-in-1 IMO..

Congrats India! You've now been upgraded to first class: ComingSoon™.

That answers the eternal question: "Wen in india"

I opened this article to see the "Wen in India?" and related comments. Haha

Last Friday Night in India!

Instead India, why not worldwide?

Really? You would not believe how much happy I am. I was expecting though. Even I made requests on twitter as well as email. I read an article on somewhere where an executive of surface team told surface is not for India, who has a very price sensitive market. If that was the reason behind this long term awaiting then Microsoft is the dumbest company of the world, because look at the iPhone growth table during Suface's life time. You will understand what I am trying to say.

Yup. Someday I will understand what you are trying to say. Hamein batana jab Surface khareed lo.

I believe they waited so long because they knew India is bigger market. They just didn't want to jump right in. Plus other partners would also have reacted negatively if they had jumped in the hardware competition in India. But now, since they are on the way of establishing retail chain through Nokia Priority, I always knew Surface is coming. :) I sincerely hope the device gets huge publicity and sales. :) and MS supports it. India is a great market if handled carefully.

I see what you did there.
;-)

She's a fool ;) make it last longer!!

Let's hope they bring the latest iteration. Not the earlier generation, please.

Im sure they won't be second hands.

I think a 3G version will work the best as getting a SIM and a line is not as big a deal in those countries than in US or Europe.

I don't think so... More than a tablet, it's a laptop replacement... But your point is reasonable when considering Indian tablet market

I replaced MacBook Air with Surface Pro3 and I can say it was worth it. Happy at Microsoft's decision. Better late than never.

Which version Did you get?

Some good news finally...

Date of launch
Any idea......

They are still in the process of looking

"No timelines" spells it out pretty clearly.

I need it in Brazil. I'm still using a Surface RT I bought in NY in 2012. It's unbelievable slow now a days compared with new hardware. Unfortunately is extremely expensive import a new model.

For students considering it's price I don't think it will be a student segment.

Surface 3 could be a good choice for students.

Except that as per my understanding Surface 3 will cost nothing less then 40k.. I am not sure there are many who would be interested at that price.. But it will still be a niche product that people would want to own.. Damn I got to start saving..

Student's will sacrifice anything for a cool tablet! including money for their lunch...

Students here are better off than in the US. No students loans to repay like in the US .

Finally! MS should bring all variations to India. The SP3 is capable to replace a laptop in the enterprise and developer community.

I think the versions should suffice. An i3 and i5 version of SP3. And an S3 with SIM slot.

And next Indonesia please!

Yes, rather to buy an iPad definitely I will pick Microsoft's Surface. And congrats to India. Finally it is here.

Finally ! Yay, I better start saving now :p

When in philippines? Haha

When in North Edsa?
P.s Greenhills is always faster

Well I am in India and replaced my MacBook Air with a Surface Pro 3 from US. I never understood why they didn't bring it to India. The company I work for does not have Surface in their Laptop Lineup only because their India employees cannot get one and the US employees would have a hard time servicing theirs when in India. So we are stuck with Dells and HPs only.

well, I'm not holding my breath here in Brazil. I bought the first Surface Pro in Canada, and would have upgraded (maybe twice) by now if Surfaces were available here. almost everyone who sees my Surface doesn't even know what it is, and many of them ask where they can buy one before I can give them the bad news that they can't unless they travel or buy a smuggled one on the internet (I have many coworkers who buy expansive Dell, HP and Sony ultrabooks, because it's what we have here in terms of top specs)

"When in India" intensifies.

Finally.... Best 2-n-2 for biggest market :D

hope they include windows hello in surface pro 3(intel i7,instead of 512gb..1tb) for india + type cover + docking station for 1,14,000 inr :) $1800

Nope, Windows Hello needs Intel's RealSense, which is a hardware technology. Expect to see that in SP4

ya i just want them to redesign surface pro 3 for india with intel realsense hehehe i cant wait them to release SP4 in usa then after a yr in india :(

I think releasing surface 3 in India would gain high popularity and it will cut the sales of iPad.

Should be easy task to "bring Surface to India". I mean China is right next to it. Just try not to fuck up with the ads this time.

Finallyy! Wondering who drilled sense into Microsoft?
But yea...the pricing should be perfect for it to have success here...hope they don't botch up on that!
The launch of windows 10 on mobile, desktops and laptops and introduction of Surface to India would be one nice spot in terms of OS integration and variety for Microsoft.

30000 for surface 3 , 60000 for s pro 3

For the starter model right?

Yes..that would be just perfect!

Please bring it, I'm considering Windows laptops, but they're all mediocre, and I want something by December for my education

Oh its a superb study device. The split screen view really shines in this use case.

bring them to Slovenia, Croatia and other European countries too! I'd love to buy one!

Got tired of waiting for microsoft so finally had a friend send me a SP3 from the US and i absolutely love it. Hopefully i'll be able to buy the SP4 locally.

India is a developing country , excuse me for saying this but few will pay for it Bringing it to europe is much better

When you look at it from a tablet perspective yes.. too costly people will go for "THE NEW Galaxy Tab A5 S Neo Pro Duos Edge with 9 gigs of ram and eternity of lags". But when you consider it from a laptop perspective it's pretty amazing.. though this still depends on the pricing... EU would be a good place too though...

Nah, release it worldwide! :-o

I wish that happens soon..

i was waiting for a long long time..
finally ended up buying a MacBook Air instead.
too bad.
hope it is well received when it launches.

Well I have been trying to get it from US going people but never got lucky.

If they release the surface in India they should promote the Surface 3 ad. I like that ad.

It's too costly even for US people(Surface 3).I think it won't be a hit in Indian value market.

Hopefully they won't price it anything like this

this is REALLLLLLLLLLLLLLLLY great news. there are so many fans of SURFACE tablet in INDIA.plz microsoft bring it as soon as possible

How about the Philippines???

That's amazing! Waiting to buy it! Snapdeal just killed me with fake Surface Ada last year!!!

It's like a WPCentral comment come to life!

Awesome...yippee..the only I never got the SP3 was coz I was worried about repairs..not anymore..so happy !!

Looks like all the when in india comments came true.

Does anyone know who to contact to actually spring up a store in some parts of the Middle East? I have some interested parties and all our requests have gone unanswered.

Well you are knocking the wrong door. India is about cheapness. I dint think this will last much here. Very few people buy expensive phones so a tablet at that price is a dream chikne true. Ur wasting ur time.

Right.. You clearly have great knowledge about the Indian market.

Please bring it to Brazil! The Pro as well!

HMM it appears that Microsoft has got enough factories to manufacture enough Surface tablets to enter a big market like India where the population is a Billion People many of whom can afford to buy a Surface tablet at the high price point over there. this is very good for Microsoft. but for Microsoft to really get strong in the mobile world it has to sell a cheaper Tablet to the masses like the Madrid tablet they sold in spain it cost 300 USA dollars and had good specs. If it were updated to use the Surface 3's cherry trail atom cpu and given 4 gigs of ram it would be great and probably sell cheaper than a Surface 3 tablet.

Wish they'd bring it to the Philippines too... But Microsoft would probably leave it to the OEMs, who seem too keen to overprice they're devices here.

Bring to Vietnam's Microsoft Store.

I think there will still be some market for the surface here in Inida. MS should target business users as they have the requirement for mobility and security, which is best handled by the Surface. on consumer side, there will be little, but still enough traction to keep MS interested. If it is priced lower than similarly specced laptops, it will sell in decent numbers. Current pricing might be a bit restrictive for most users though, but I don't think MS is really looking to gain market share with Surface anywhere
Windows Central Newsletter
Thank you for signing up to Windows Central. You will receive a verification email shortly.
There was a problem. Please refresh the page and try again.