Microsoft Sway presentation tools to be added to Office 365 for business and education users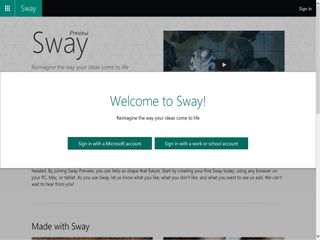 Microsoft is expanding access to its Sway multimedia presentation tools to Office 365 for business and education customers sometime later in May. Microsoft officially launched Sway to consumers in December for anyone with a Microsoft Account.
Microsoft stated:
Office 365 business and education users of Sway will notice some differences compared to Microsoft Account users, such as replacing OneDrive as a content source with OneDrive for Business, along with a new "My organization" option for the Share feature that will allow users to share their presentations just with their business or school employees.
In addition, Microsoft announced that more languages will be added to Sway sometime this quarter for all users. At the moment, English is the only supported language but Microsoft plans to add Dutch, French, German, Italian, Japanese, Portuguese and Spanish in the first wave of new languages.
Source: Microsoft (opens in new tab)
Windows Central Newsletter
Get the best of Windows Central in in your inbox, every day!
What is Sway anyway? I don't get it. Can someone explain?

Its like PowerPoint and prezi combined into one streamlined presentation service. Try it for free!

@Sagar Here check this out. I love SWAY. These are some of the SWAYs I've made. It's a great tool! :-) https://sway.com/r9jRpSzzeZyIuAmW

I tried using Sway a few times, but it felt really counter-intuitive and cumbersome to me, which I know is the exactly opposite of what they are going for. But, to me, it was a lot easier just doing whatever I needed to do in Publisher, PowerPoint, or Word. I'd like to get the hang of Sway, though, especially for making clean and elegant websites (seems too limited for this, though).

How does it work? I see only a static picture. There's a vertical scroll bar initially but it disappears after a few seconds.

Its an online presentation tool with built in animations, templates, interactive media etc. which just makes it super easy to make a very nice and interactive presentation or show...but it doesn't have the user control that PowerPoint posseses..u have to use what's built in in Sway

Want smooth performance without presentation-stopping bugs.

Want them to port their own Sway app from iPhone to their OWN mobile OS. **sigh**

I like sway. Easy to use and slick.

Prin to PDF would be great too. I know you wouldn't get the transitions, but for static pages it'd be nice.

So why is this a separate service from PowerPoint? Couldn't they make it a dumbed down version of PowerPoint rather than a completely different thing?

Where is the windows phone version?

if only they could make a universal windows app for Sway.
but no. how will people buy iPhones otherwise?

I use Sway with my class. As a teacher, I find the features easy to use, a central search stops the children going off onto random (and dodgy) websites and the children love sharing their final product with parents.

@MicoG33k Sounds cool! What grade do you teach?

Yep, we've avoided it at our school until proper O365 integration (so our users don't use personal MS accounts). Very excited to see this is coming now, our teachers and students are going to love it!

I'm so excited about this feature as I think more people should have access to Sway. I know its very different application but its innovative and I think it will go far...

Sorry is this iOSCentral? Isn't Sway a service for apple users?

Sway is also the name of Apple's new programming language, but it's completely unrelated to this Microsoft product.

I was expressing my displeasure at Sway being beta tested on iOS with no Windows apps, only web access.

There is a Sway for iphone app?? !
Windows Central Newsletter
Thank you for signing up to Windows Central. You will receive a verification email shortly.
There was a problem. Please refresh the page and try again.