Office Sway Preview now available for everyone, new features added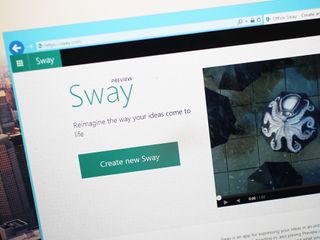 The Office Sway Preview has been expanded and is available try out for anyone with a Microsoft account. Sway is a new app from Microsoft that allows you to express your ideas in a brand new way across any all devices. The Sway Preview launched 10 weeks ago and has seen over 175,000 requests to join and over one million visitors. Microsoft has also announced a handful of new features available today within Sway.
Here are the new features available inside Sway:
Undo and Redo
Bullets and numbering
Editing text on the canvas
Reordering sections more easily
Importing a PDF into Sway
Improvements to the Color picker
The big news is of course that anyone can try out Sway to help present their ideas or thoughts. But we're equally happy to see improvements made to the actual service. We're excited to try out the new features. As nerdy as it sounds, we're glad that sections are easier to reorder now and that we have an undo/redo button.
Have you tried out Sway yet?
Source: Office Blogs (opens in new tab)
Windows Central Newsletter
Get the best of Windows Central in in your inbox, every day!
"Sway is a new app from Microsoft that allows you to express your ideas in a brand new way across all devices."
Summary: New presentation tool from Microsoft...

he didn't want the definition. explain him in simple words.

"New presentation tool from Microsoft" wasn't simple enough..?

Sway is the future of PowerPoint. Presentation tool suitable for touch, stylus, mouse and responsive layouts on devices from 4" up to 80".

Its terrible. I went straight back to PowerPoint. Its half baked marketing mumbo jumob, and all sways created look far too similar.

It kind of looks like it could be a blog writer

where do I download it on windows phone? I don't get why you are interested in a product where clearly MS don't give a S#!t about you. The product came out on IOS 4 months ago We are kissing MS b*tt while they are kissing IOS b*tt, ironic for all of us IOS hater in here. IOS user are having the best experience everywhere.

Microsoft's version of swag

I LOVE SWAY!!!
Here are a few that I have made so far!
https://sway.com/r9jRpSzzeZyIuAmW

Nice commentary on the Microsoft Band and wearables in general. I think you hit the nail on the head and the Sway makes a nice avenue for displaying it!

@ferrumcampitor Thanks for the kind feedback! :-)

Its microsoft new presentation tool available on all platforms, including windows, android, and ios and web. Easy accesibility and simple and elagent to use and present.

Sway is just amazing! And I see sway in the in the Microsoft Future Vision of 2020. https://www.youtube.com/watch?v=a6cNdhOKwi0 (And project Adam too!)

Hoping that they will add it to the Office Online quick launch soon. Such a handy tool, between, Sway, Mix, and OneNote great set of tools for presentations and teaching.

ya one is a great app and the app i use the most. I need a update very soon(a major one too).

Sounds like this should be a sub-part of PowerPoint... Static From
MrElectrifyer

"now available for everyone"...where? I want it.

Me too. I saw the phone in the video was an iphone. I have a Windows 365 account. Can I get this for Windows phone?

For now only via web browser: https://sway.com/

Can you save offline yet or to your own server? Or does everything still get saved to the Sway server? Not really a place I would want anything confidential or private for a presentation.

Everything is stored on the sway servers. Every presentation you make is publicly available, as long as people have the link.

Ya. That's the deal breaker.

They should put out a software version in their Office package.... even if only to get business attention or draw users eye to the free online version.

Not only SHOULD they, but this is what I EXPECTED! Conference season is coming up. I was hoping I might wow the audience and my boss with new SWAY presentations. I guess not. :/

Try interpretive dance instead then. I assure you that it will be far more memorable than a SWAY presentation and people will talk about it for a long time to come.

I tried it briefly before it went public. Pretty cool, and I'm looking forward to a Windows and WP app!

I signed up a few weeks ago, and it certainly looks interesting. However the welcome email annoyed me "P.S. Soon, you'll be able to create Sways from your iPhone, available now in New Zealand." How about prioritising WP before other platforms pls MS? - No flaming please!

How about prioritizing where all their users are? And WP will be history in 6 months. So why bother?

History, as in Windows 10. Can't wait. So I guess the Sway for W10 will run on PC and phone. Still hard to believe though. Can't wait to see it.

I'd like to see some real world examples of what can be done with sway, it seems a bit... odd?!

Hey Schickitar:
I've been using Sway for a few weeks now. I finished a few and still have a few I'm working on and some ideas i'm yet entertaining. In response to your desire to see real world applications I'd like to share the few I have completed.
The use scenarios are broad from creating stories, resumes, presentations, blogging...the possibilities are as broad as the imagination!
Tell me what you think.:-)
https://sway.com/r9jRpSzzeZyIuAmW

Sway is really slick, my eight year-old son used it to put together a presentation on Viking Longboats for his class and he was able to put together something really eye pleasing. Looking forward to seeing new features and I hope that Windows Phone doesn't lag behind other platforms.

Microsoft is unbelivable. Only MS could present a cool new app and use iPhones and iPads to present it. You don't se which Laptops are use and you just do regocnice the Surface Pro 3 if you know it but the Apple is presented all the time.

An iPhone in the video? Come on, Microsoft!

Saw the video about Sway. Its coool! Gonna test it out myself and switch :D

The welcome email states that it will soon be available for iPhone, and there is no mention of Windows Phone, unfortunately

Welcome to the new Microsoft, where iPhone and Android is first and their platform is last if at all. IMHO, I wish they would decide if they really want to be in the mobile space.

They are in the mobile space. Their apps and services are. Windows 10 will neutralize WP anyways. So I can understand them holding off developing for WP. If in 6 months the W10 app they built works on small and big screens, than it will work on "WP"

But they did not yet anounce a windows 8 Sway app as well just iOS for now.

If you are a photographer and want to put together a quick photo book to show off your work, Sway, while limited right now, does a fabulous job. Since it can grab photos from OneDrive -- you Windows Phone + Sway makes for a quick and intersting way to bang out a photo safari or photos for an event.

I've had a few weeks to tinker with Sway now and it's neat. A nice way to make digital pamphlets, but to advertise it as a PowerPoint killer is just absurd. Maybe forthcoming features will change this, but my research/data-heavy presentations will be staying as PowerPoint.

MS isn't advertising it that way, the tech media is, because they don't know what else to call it, I guess. It's not right, as you say, and I don't think MS intends for Power Point to go anywhere, but so it goes.

I signed up for the beta test and am still working on my first Sway. I don't do anything in a simple way. I'm building PowerPoint and Word tutorials for clients, so storyboarding and scripting are part of the process. So far, I'm finding Sway very easy to use. As with all things published, you can only build impressive Sways if you have impressive content. For those who don't know what this is... Sway is to PowerPoint what Infographics are to statistics. While more visually appealing, I wouldn't attempt a boatload of detailed information or charts/graphs/tables.

They need video support (besides Youtube) and normal offline mode for business/privacy. Not everyone wants their presentation publicly available on a shared server.

i need WP app comming out soon. Come on Microsoft hard on the starbaord

Love sway. I wish MS make a sway app for WP.

Sway is great and a nice concept. Keeps crashing on my mobile browsers. Uc browser and IE Lumia 1520
Windows Central Newsletter
Thank you for signing up to Windows Central. You will receive a verification email shortly.
There was a problem. Please refresh the page and try again.