Microsoft teases new Windows 10 UI in video celebrating 1 billion users
A new design for Windows 10 has been revealed in video celebrating one billion users.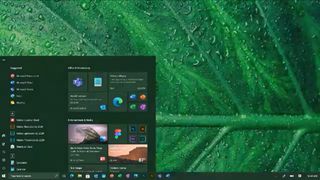 (Image credit: Microsoft)
Microsoft's Chief Product Officer, Panos Panay, has today shared a video celebrating one billion users on Windows 10 that gives us an interesting look into what Microsoft is thinking about when it comes to UI design on Windows 10. Panos Panay recently took charge of the Windows user experience, and in this video, we see a number of new user interface designs that may hint at where Microsoft is taking the Windows 10 UI in the future.
The video opens with a brief history of Windows' boot screens, dating back as far as Windows 1.01. From there, it cycles through all the different Start button designs, before showing us what Windows 10 looked like when it first launched. The video then begins transforming those Windows 10 intefaces with more modern design, simplifying things like the System Tray, and showcasing a number of new app designs including a new File Explorer, Photos app, and Calculator.
It also gives us a look at an updated Start menu with new icons and less color in the live tile interface, which makes it look cleaner and less noisy. None of the designs seen in this video are working code, and aren't currently available on Windows 10. But this does give us a good idea at where Microsoft is headed when it comes to the UI on Windows 10.
Windows 10 has often been criticized for its inconsistent UI, which is plagued with legacy UI components that date back as far as Windows 95. With Windows 10X on the horizon, Microsoft appears to be taking another look at the interface on WIndows 10 and updating it with a more modern look and feel, inspired by the Fluent Design System which itself has evolved quite a bit since it was first unveiled.
What are your thoughts on these designs? Let us know in the comments.
Windows Central Newsletter
Get the best of Windows Central in in your inbox, every day!
Zac Bowden is a Senior Editor at Windows Central. Bringing you exclusive coverage into the world of Windows on PCs, tablets, phones, and more. Also an avid collector of rare Microsoft prototype devices! Keep in touch on Twitter: @zacbowden.
🤤🤤🤤🤤 Panos is about to make Windows gorgeous.

Phill Spencer and Panos Panay are my two favs their passion is intoxicating, It really looks like with Panos's leadership they will finally make Windows better.

MY THOUGHTS? What the heck do you think my thoughts are?? THIS IS ABSOLUTELY STUNNING and is what I've been wishing and dreaming for for years! This is the Microsoft I know!

Can we finally get rid of those ridiculous index alphabets in the app list?

The speed dialer is an absolute gem! Arguably one of the most useful features of the start menu (originally from the Zune HD actually). No way they should get rid of that please!

🙄 What?.. the most useful feature of the start menu to me and my team. Nobody should touch that, please

There should be an option to turn it off for those who do not need it. Its easier for me to find my apps without it.

Better to have an option to turn off. Removing it is actually makes it harder for me to browse apps. This is why I also turned on with Microsoft Launcher and some other Launcher that has it. I'm not really used to just grid of icons like on iOS/iPadOS and default Android 10 launcher.

Having the option is fine, but like some of the other comments I like the alphabetized list

This should never be removed. Very useful. Would love to see it in all apps that has some kind of listing functionality. A setting to turn it off is fine with me but I will never do so.

I hope they don't. I have this issue in my laptop that has been there since last April's update. It's that my trackpad doesn't work on the start menu. It works just fine everywhere but the Start Menu and that forces me to use the alphabetical speed dialer. If they get rid of it then I'll be doomed considering I might have to use that laptop for two more years.

That sounds likea Windows issue, not a laptop issue. A factory reset doesn't fix it?

I sure hope NOT. With hundreds of apps it's the only way to get where you want when you're not a compulsive user of search...

You know you can click on those letters right? And then jump to the apps that start with some other letter. Can be much quicker and exact compared to scroll, scroll, scroll, etc. I almost always use it.

I am just glad they seem to intend preserving the live tiles, at least the mock-ups seem that way. It's been exceedingly useful to me, good to see it's still in play (hopefully)

Yeah the new Live Tiles that looks like with Acrylic and not anymore accented looks better with new icons. Looks cleaner and more consistent looking that way. This may disappoint some who rely on Live Tiles having its own colors, but with new icon design, accented Live Tiles don't work with new icons anymore. I also saw the new File Explorer in the video as well. Though that will take a while before it replace existing one since there is a lot to catch-up. That Windows Snap animation looks nice, but I'm afraid that's just for the marketing video. Currently Snapping app in Windows 10 is still feels static. We can't even resize when snapped vertically or in the corner.

@Kaymd; Yes, I love those "Live Tiles" and hope one day they will bring back Windows Phone. I can only imagine where WP would be today in opinion it had the most advanced OS on the planet for a phone. What we are seeing today is where WM was a number of years ago. If only Microsoft didn't give up...

This new design with also live tiles looks amazing! Finally something good from the new UI!!

I dig all that is shown (also live tiles are apparently not to disappear and are in fact evolving slightly) but Microsoft somehow always manages to make the end result not as good-looking as the concept, so we will see. This is not the first sexy concept they show and the first time we see new good-looking interfaces for some of their apps. But I'd be lying if I said I wasn't looking forward to this. The sooner, the better! Version 2009, perhaps?

I like how MS claims "inclusive for everyone" the proceeds to make the live tiles useless for those of us who can't see the tiny icons and rely on colors to figure out which app is which. Panos focuses too much of form over function. These backward steps in functionality, combined with the new capabilities of the iPad Pro line, make devices like my Surface Go seem terrible. Maybe it's time to switch to a platform and company that cares about it's users.

You can't have everything perfect. To be frank, I think we live tile fans got a pretty good end of the stick. In lots of other ways this is better than the old system since it is more consistent, less chaotic with a lot of live tiles and and there is always an icon visible so you never have to wait for the transition (the color/shape of the icon, combined with the content and position of the tile will be enough to identify what is what).

Since most of the live tiles end up the same color anyway (whatever your Accent color is), I've never found them useful for differentiating apps.

I'm not holding my breath in excitement. As Windows 10 likely transitions to 10 X and possibly other skews, I have still to see Microsoft manage to finish Windows 10. It's still filled with valuable features, but many are to date, after 5 years, still half baked. If Microsoft can't manage that as a big software company it raises more question than answers how Microsoft will go forward. I would love to root for Microsoft, but I'm not as excited as the days of Windows 7 and 8. Windows 10 has been a tumultuous experience for me as an end user. The future is still vague for Microsoft as they're increasingly stepping away from consumer engagement and want to focus on business, yet public engagement still feels like they're trying hard to engage with a flair of consumerism. The excitement of the duo and neo, gaming has this flair, but once the hype dies down I'm left with the thought where are we going with this for business? With android as a basis and the current UI setup I don't see me using it. I thought courier still made more sense as polished and an extension of business and input engagement organically. Duo looks and feels still very mechanical. After 7 years of Windows touch tablet pc's real productivity asks for a physical keyboard and a reasonably large screen. The duo doesn't fit that profile. I do see it's value as a sketching, nitetaking and small image taking and light editing in the field device. Phone function is an added bonus. Unless Continuum is part of the conversation from the start I think the device is a nice extension of the pc. But I don't think it will replace the current smartphone trend as a refreshing new concept. I think this design will have give a lot of head scratching in the long run as of its value. The thing that saddens me at this point in time is not we try out the next new thing, but that we also not take the time to stand still improve on what we have already and improve that further for longer. Even today's devices are amazingly great, but fit and finish of the software could still be far better and make a lot of users very satisfied and productive, before we move on to the next big new thing. I think we're far from there yet with Windows 10. It doesn't feel completed yet. I already have the same idea with the state of duo now. Logical now, But I question its future with how Microsoft is now running its software skews management. It just looks and sounds disorganised below the surface.

So much for live tiles going away lmao

"an updated Start menu with new icons and less color in the live tile interface" They got rid of the universal white logos on a tile with a user-selected colour and went with horrible colourful icons that might or might not work with the user-selected colour...HOW exactly is this "less colour in the live tile"? Otherwise the Grey Mode still looks horrible. I remember when Windows 10 looked good, with the Dark Theme actually using mostly black, like a proper Dark Theme does.

rofl. all these years later and you still hate everything. no matter WHAT android, apple, or Microsoft does, you hate on EVERYTHING. get a life dude. if you can do better, get a job at android and Microsoft and show them then way.
until then seriously dude, you've been hating on everything OS related for long enough. why don't you tell us what's wrong with Linux too. I am absolutely positive you hate it too. ALL versions.

Another month, another UI update.

Yes, but if done all a once, people would be mad add all the changes even if they were all very good changes.

I wonder if we gotten to the gazillion# count for UI updates yet?

So sad that Live Tiles are dead and never coming back. Sorry that was sarcasm.

That looks very cool. Can't wait to see it on my PC.

Very nice indeed. Interesting that this is the File Explorer from 10X

oh my god! I can't wait for this to be release!.

Looks like an upgrade for everyone actually, looking forward to this update. Next they should do some update with more and better touch gestures or animations or such.

Microsoft should get everybody in the company to follow UI design of Windows. Office and Visual Studio are two suites of apps that don't even let themselves be styled by the default Windows look and feel, so these apps don't even feel like they're from the same company.

Still some wasted space is there. Remove that text header & make tiles edge to edge. Only thing that is missing is ability to choose separate background wallpaper for startmenu.

the only thing that is missing is the ability to choose show/hide seconds in task bar clock

I still prefer only icons in start menu instead of icons on acrylic square.. but the File Explorer looks pretty good

The acrylic squares (tiles) just need to be have the size around the icons be configurable so that anyone not using touch can fix more tiles on the screen. Also adjust whether acrylic or solid black or white (depending on theme).

For the first time in a long time, Microsoft managed to release something about Windows that looks exciting. I was not prepared for this either. But I still cross fingers that among all these fake animation effects, the outcome will behave just as exciting.

Yes, Windows is looking better. They made a point to show off the live tiles also, not just touch friendly shortcuts. I just wish they allowed users to control how many units tall and wide a tile was. That way if they want to see the weather forecast on half the screen they can. The weather program would just need to allow them to select and arrange the content on the tile. Most tiles would be small or even placed inside folders, but some key ones can provide instant access to everyday information. Oh yea, remove the ability to place shortcuts on the desktop people would really take jump lists, recent programs and files, and tiles more seriously instead of simply using an outdated way to stay (un)organized and behind all their programs. Using the start menu puts these shortcuts in front of the programs without having to move or minimize all of the programs. I think after a few days of adjusting, they everyone will enjoy the new capabilities.

looks great! hope to see some of this bleed into insiders builds here soon!

it looks cleaner.... i bit like Google's Material Design.. I am surprised though that Office 365 Integration isn't tied right to it... What I mean to say, is this would be a great opportunity to make Outlook interactive by giving it an actionable live tile... same with say Teams o

I think it looks more modern than Android start menu.

Looks a lot like Linux Mint with Cinnamon, in a good way!

Hey Zac Bowden, have you seen this windows design concept https://www.youtube.com/watch?v=8kmyWVnmjwQ. It's absolutely stunning.

this looks great! can't wait
Windows Central Newsletter
Thank you for signing up to Windows Central. You will receive a verification email shortly.
There was a problem. Please refresh the page and try again.