Microsoft UK delays launch of the Alcatel IDOL 4 Pro another two weeks
The Alcatel IDOL 4 Pro launch has been delayed by two weeks in the United Kingdom, now launching August 7th instead.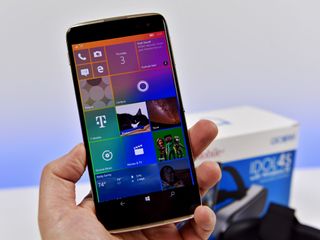 The online Microsoft Store in the United Kingdom has delayed the launch date of Alcatel's upcoming European Windows phone flagship. Originally planned for launch on July 26th, the Microsoft Store product page for the Alcatel IDOL 4 Pro has been silently updated (opens in new tab) to list August 7th as its new launch date instead.
This means anyone in the UK who pre-ordered the Alcatel IDOL 4 Pro from the online Microsoft Store will have to wait another two weeks before the product ships. It's unclear why the product has been delayed, but it's likely because stock of the IDOL 4 Pro won't be available in the UK for another couple of weeks.
The online Microsoft Store for Germany still lists its release date as July 26th however, so for now it appears the delay is only apparent in the United Kingdom. Did you pre-order the Alcatel IDOL 4 Pro? Let us know!
Zac Bowden is a Senior Editor at Windows Central. Bringing you exclusive coverage into the world of Windows 10 on PCs, tablets, phones, and more. Also an avid collector of rare Microsoft prototype devices! Keep in touch on Twitter: @zacbowden.
Zac has a sad face right now.

Even more so because I have the U.S. version of this phone but he can't use it because it won't work on his carrier :P

Arrh, that poor old little boy.

Whether he can use it or not, the main point is, this is going to be a dead platform, then why are they selling it? They cannot fool the people who know about it, are they trying to make money out of the naive?

Well, the Elite was released for the enterprise. Then why is the platform not supported.
Windows fans like ourselves are just fooling ourselves in the name of enterprise. Constantly rebooting an OS, will not give a bunch of healthy users even for enterprise.

That's how you want the platform to be supported. The enterprise think differently.
The last think they want is 2 feature updates a year.

I think this device is just a test to see who bites, and see if there's still a market for WP in the UK, which I suspect MS thinks there might be. If it does do "ok" then that might give MS future data for marketing future mobile devices.........
.....
Everything MS does with WM, from this point on, is to gather data for, or develop, the next generation of Windows on Mobile.

They never was a market in the UK for Windows phones. Cheap Nokia phones maybe, but Windows hindered their long-term success. After someone bought a Windows phone, it was hard keeping them on the platform even if they didn't return it immediately.

I see your point but honestly, I think it's just about Alcatel selling phones and that is it. As boring and uncomplicated as that sounds, it's more likely the case.

Lol. Can't just be that. They know only fans, and the like, would buy these Phones.. I think they are trying to see where the interest is.

Do yourself a favor. Thank the phone gods for the delay, and then run out and purchase a HP Elite x3 instead. Despite the fact that it is gorgeous, sleek, and PHYSICALLY well built, the Alcatel IDOL 4 S has been nothing but a glitch-filled, nightmare. I was in love with this phone when I first got it back in March. In the beginning, it seemed that it could do no wrong. So much was I in love with it, I convinced much of the fam to get them too. Maybe I have been spoiled by years of Lumia ownership, but the romance with the IDOL 4 S, soon wore off - I mean within weeks. Of the six family members that purchased these, only one of us have not been forced into a position of having to replace them with warranty exchanges, or by buying new phones outright. And it is not just one particular issue, but a plethora of them. Everything from it routinely not recognizing the SIM, to it randomly losing data connectivity, the speakers going out, the mics going out, overheating, random, extreme a battery drain, the screen not working, not recognizing the SD card, random crashing, the mobile hotspot randomly not working, not powering on, not powering off, horrendous level of static over phone calls, STATIC in 2017 . . . and I could go on. With the exception of one person, everyone has replaced these phones multiple times - my sister even had to replace hers SEVEN times. The whole family is at the point now, where we are all looking at just buying new phones, and ending this nightmare. Some are looking at the HP Elite x3, some are looking at purchasing refurbished Lumias, and some are looking at going to Android. Several have already reverted back to using their Windows 8.1 phones as their daily driver. And even the one person who has not had any serious issues, is worried sick that anyday, all this could start happening to him. So he is also looking into getting a new device. The Alcatel IDOL 4 S has been a complete nightmare. Which makes me wonder why Windows Central keeps pushing this device, and never mentioning any of these issues. Maybe Alcatel has fixed these issues with the IDOL 4 Pro; but I have not heard a single word to that effect. So can only guess that the IDOL 4 Pro will suffer from all the crap the IDOL 4 S suffers from currently. Before plunking down your hard earned money, consider yourself warned. And good luck.

They need to sort out the demand... Just Kidding 😀

Oooh Microsoft is making hype for this anticipated product, good move!

Oh well. Too late for me im off to a OnePlus 5, ill be back if whatever replaces W10M takes off

Very wise. This is no longer a place for people who want the full smartphone experience.

Great stuff. I did the same and couldn't be happier. I will wait and see if the proposition is better to switch back. We don't need to be loyal to come back. I will just wait and see if it picks up.

Pre-Ordered mine in Germany, Hoping it wiill be shipped Tomorrow.

because he is probably a desperate fanboy...otherwise I cannot explain the waste of money on a device running a dead os

Ouch. A bit harsh lol. But yeah I am not sure why you would want to, considering the App support and the platform will probably be dead in six months time. There is so much better out there

This was surprising in any case. Why release devices knowing that the support for the OS is up in the air right now. Even die hard MS fans aren't sure anymore. This device is running old hardware compared to what's to come from others and what's already in use by Samsung.

Big deal. So what that it's 'old' hardware. The 950xl is very old then by your standards and is lightning fast and still as awesome as 6 months after release. The X3 Is old according to you and ***** over most other crap ass apple or Android.

Must have been the overwhelming demand...

...not a hint of cynicism!

Yeah, pay a sh*tload of money for a phone to find out the OS has no support in like 6 months. Smart move.

I would have, if it was 25/07/2016 when I really wanted one..!!

Too big. Too pricey, support on the decline

5.5" too big???? Go back to 1990.

They need to spend time giving us firmware updates. This thing is in need of them badly!

Totally can back that one up.

I'm sure the two people who have it on pre-order are devastated :P

The world would know them, they are now great

They are probably having second thoughts about whether to release the phone at all.

The HP Elite X3 is currently cheaper in the UK at £550 when you include the £150 cash back...why settle for less?

X3 is fantastic and my daily, but the Alcatel us a superb phone as well and the specs are terrific.

Poor Zac, the only customer of Alcatel in UK. Maybe if he pre-orders at least one phone for every room in his home, Alcatel may consider delivering this phone to UK. LOL

:)) who on earth is that dumb to pay this price for a DEAD OS??

What is it with people and their need for pessimism? If a person wants this, more power too them, it is their money and their choice. Personally, I regret purchasing the Honor 6X because, although it is a good phone, I would prefer something the size of the Lumia 650 or Lumia 950. (This Honor 6X is just not a good one handed phone, the phone often flips to portrait when I try to reach the upper left hamburger menu with my right thumb.) I will say it again, if someone wants this phone, good for them. :) (I just do not use my 950 all that much anymore because bluetooth support on it is poor.) I use maybe a dozen apps on my phone, all available on the Windows Mobile platform but, once again, bluetooth support is poor. :(

Turn off auto rotate then.

Wharton Brooks - Cellurian Phone had more interest than this release and that takes some doing

Did the Alcatel get even 1 firmware update?
Windows Central Newsletter
Thank you for signing up to Windows Central. You will receive a verification email shortly.
There was a problem. Please refresh the page and try again.