Microsoft unwraps digital gift cards for the Windows Store and Xbox Store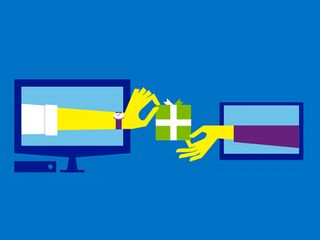 There's a new Microsoft site selling digital gift cards for the holidays. Over the weekend Microsoft launched the Digital Gift Cards app for Windows Phone. This app allows you to buy and send digital gift cards for the Windows and Xbox Stores. Now you can buy those digital gift cards with or without a Windows Phone.
You can use these money tied to these digital gift cards to buy apps, games music, movies and TV shows from the Windows,Windows Phone and Xbox Stores.
Just pick a unique design from within the app or website, fill out the required info and select a delivery date. Sending a digital gift card is an easy way to gift over the next few weeks. You'll see some great digital gift card designs for Christmas, but you'll also find designs for birthdays and other holidays like Hanukkah, New Years and more. You can gift in $10, $15, $25, $50, $75 and $100 amounts.
Anyone gifting a digital gift card?
Source: Windows Blog
Great! I am gifting a $100 card.

I'm right here, you're looking for me to present that gift

Guys...I'm here too. Any amount will do for me. Please do send some love WCentral gamers this holidays :) GT: Kenzibit

They need to make it permanent, not just for the holidays.

I think they will, seeing as the gift card templates have designs for things other than the holidays.

They need to build this into the store

A step in the right direction even though region availability is limited. Only US for now, I guess.

Not available for Germany :/

Was going to buy 4 for relatives, but not available in UK.. Like I was going to buy 2 MS Bands... Also not available in UK. Only MS could do this with such consistency

Your right.MS should mend its ways.

I'm not from US, and I'm able to buy it.

Was going to buy 4for my relatives in India.
Like was going to buy MS surface, Surface 2, Surface 3pro, MS band. But unfortunately not available in India. I have the fortunes though.

You have snapdeal though, pay 90k for a tablet, lol.

What about after sales services?

MS band is coming to India......

I hope so. What's your source?

A Microsoft employee.....

This is much better than me sending a text with the gift card code and saying "Copy that into your wallet".

I want a Christmas onrnament that looks like a mini controller, like on one of the cards.

I am gifting myself a giftcard

Wish I could do the same. But I don't have a credit card. And MS does not support debit cards. What a shame.

I'd rather see the ability to gift games/apps directly like iOS

Almost dropped my phone while reading this.

If there was one for an Xbox Live subscription, I'd do that, too. (Or, if someone knows of one, feel free to enlighten my lost, unedumicated mind. ;))

This needs to be built into the store. Then we'll be one step closer to being able to redeem codes for apps given to people

So Microsoft still only thinks about the US, and ignores World wide markets, and then wonders why it has such a poor consumer reputation.
Until Microsoft treats world wide markets, like Apple and Google, it will continue to fail to convince global consumer mind share.
Well done Microsoft 'Foot in Mouth' marketing at its best

I love Microsoft and all the good new and inovated stuff , but sometimes i fucked up, i dont live in US i live in Europe , but i pay the same Money for your Products Microsoft , so i want the same Service please.

Not for India... Microsoft at least provide one feature for users in my country.

Direct carrier billing. There is so much potential there outside of the US.

If u go to wallet u can redeem Microsoft codes there, easier than using your xbox or having to use a PC/laptop.
Windows Central Newsletter
Thank you for signing up to Windows Central. You will receive a verification email shortly.
There was a problem. Please refresh the page and try again.