Microsoft's Digital Gift Cards app lets you give the gift of apps, games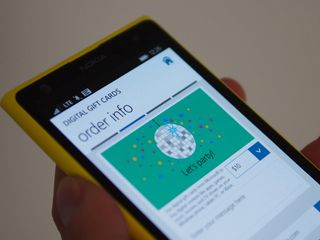 Don't know what to give friends or family this holiday or for any other special occasion? Microsoft is making it easy with a Digital Gift Cards app that will let you send a gift card in various denominations to your loved ones so that they can redeem the amount to purchase apps, movies, music, or other content from Xbox, Windows, or Windows Phone stores.
Here are some of the features of the app:
Select a gift by occasion and interests.
Include a personal note.
Easily select friends and family from your contact list.
Send your gift today or select a future delivery date – no shipping deadlines or last minute trips to the store.
The perfect "add-on" for family and friends receiving an Xbox or Windows device.
Track and manage your gifts using the History feature.
Recipients can choose great content from the Xbox and Windows stores to be enjoyed on their Windows 8 phone, PC, tablet, or Xbox.
Additionally, you can also plan ahead by pre-scheduling the gift card for future delivery on a specific date.
What digital content do you have on your wish list this holiday season? Will you be giving the gift of apps, movies, music, or games with the Digital Gift Cards app? Let us know in the comments.
Windows Central Newsletter
Get the best of Windows Central in in your inbox, every day!
Chuong's passion for gadgets began with the humble PDA. Since then, he has covered a range of consumer and enterprise devices, raning from smartphones to tablets, laptops to desktops and everything in between for publications like Pocketnow, Digital Trends, Wareable, Paste Magazine, and TechRadar in the past before joining the awesome team at Windows Central. Based in the San Francisco Bay Area, when not working, he likes exploring the diverse and eclectic food scene, taking short jaunts to wine country, soaking in the sun along California's coast, consuming news, and finding new hiking trails.
Soo..... Anyone gifting me a Microsoft gift card? Jk :P

Why we are talking amusing stuff, did anyone know you can get Skype app to return black in background color?

Try high contrast in the ease of use setting. Note that it affects all sections of the phone

Not available in Australia. As usual. Actually I'm surprised they didn't release it on iOs and Android first.

Lol, don't worry its comingsoon™

Ha ha ha... Brilliant... :-)

It's funny cause it's true...

No go for Canada as well.

Ain't that the truth we barely got ms store support before the app was pulled

Damn this, article should really warn us non-Americans

so is this how WC going to give out giftcards from twitch streaming from now on?

For the sake of intercourse, Microsoft do something right, please! US only really? Dafuq.

If that's what he meant by intercourse.... Then yes please..

He meant "for fuck's sake".

Ships, not for The Netherlands. O, well. Never did understand why I can't receive a giftcard by mail. FAIL

Not available for 8.0 in the US.

Only for 'tech savvy' US... :-(

US only again... this is getting ridiculous! Seriously! Why is this resticted to the US? Is there a law in every country worldwide except the US, that prevents its people from gifting currency to their loved ones? Wtf?

Microsoft is an American company it makes sense for them to favor the U.S.

No, it doesn't must of their users are outside of US

The "most" users of any country are in the U.S. This is the purchase of a near-currency. I'm sure there are laws, restrictions, taxes, etc., that have to be worked out. They will always start with their home country...and largest user base.

Thats total Bullshit. Microsoft biggest goal is to gain and retain as many WP customers as possible. Serving only the US will not help them in the least as people outside the US demand better experiences, too. If they can't get that on WP, they will for sure on Android or iOS. Its also important to note that many people are about to jump ship. This US only bullshit may be the final piece for them to strengthen their decision in abbandoning the platform forever and maybe Microsoft, too.

Cursing aside, you make no sense. Microsoft doesn't "serve only the US", just because something comes out in the US first. As for Android, they don't have a product like this no matter where you live, so if your tantrum sends you there, you'll be no better off. I swear people just love to throw a fit about everything. I'm actually shocked that no one had complained that the gift cards aren't free.

Well, the hardware is made in China. Nothing US about that.

Xbox/Windows Gift Cards are region locked, and this app is linked to MS Store (US), that's why it is US only.

I live in the US and I'm even saying that it not being available in other regions is getting obnoxious and it's only hurting MS

I wanna change to android because of this.

Well, at least they'd have to listen to the crying. They dint have a digital gift option at all. So, nice reasoning http://chromespot.com/2013/11/14/gift-apps-media-google-play-store/

Just let me be able to digitally buy/gift Xbox games to friends. That's all I want.

Read article nor app description you did not.

He's right, this s not something the app enables you to do. It only allows you to send currency to the other person, not a game. There's a difference between sending someone "here's $60 for you to buy Halo Master Chief Collection" and "here's a digital copy of Halo Master Chief Collection".

Nice idea to bad no Canada.

Rats, not available on my Windows 8.0 Icon. Le sigh.

No one was going to give me one anyway :'(

Is it integrated with the wallet?

Just forget it... We don't even have Mix radio in my country...

Amazing... But they really need to bake this into the Windows Phone and Windows Marketplaces. I still can't believe that developers can't generate codes to give to friends, family and reviewers so they can just redeem the app. It's mindblowing

I needed this yesterday... I needed to get my nephew in another state an Xbox gift card for some games... I eventually found out I could buy a digital gift card from Gamestop... I dont like ti buy from them, but they had the solution I needed... Microsoft needs to to provide a better way to gift games or cards... This a is a great step

Ok, i got myself XBOX credits. And why is there Microsoft Points? Like on avatar items. And i can't directly buy songs on phone, alwaya on Windows 8 PC.

Can my cousin from the US gift me to use it in India? not everyone has a credit card and microsoft seems to be overlooking operator billing in India.

but isn't there automatic conversion based on exchange rates? or do i have to change the region to the US and buy the app :(

This app upon further review seems silly and stupid. I could just by a visa gift card or buy the points and send the redeemable code via text email phone call... etc... This app I redundant. Any think Microsoft is artificial inflating the app count with silly apps lately. Like two lock screen apps ?

My country does not apply credit cards
Any one can offer me 10$⁉

Not available on my Lumia Icon

They should rather work on a basic app of Music..!!

True that. Even me facing the same issue.

Why the hell is MS even bothering about the rest of the world. Why doesn't it release all the features only to the US and see the rest of the world burn?

MS ad agency should use @outlook.com when email addresses are displayed, not Gmail. See app preview in store

Does anyone know if you can buy prepaid Microsoft cards in the UK so you can buy apps and music etc without entering your bank card details? Posted via the Windows Central App for Android

Well all I can say this should be for every phone if it isn't already cos I have friends and family that use other devices that id like to gift to or receive from
Windows Central Newsletter
Thank you for signing up to Windows Central. You will receive a verification email shortly.
There was a problem. Please refresh the page and try again.