Microsoft updates 3D Builder app with Windows 10 Mobile and Xbox support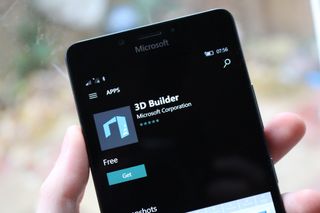 If you're a user of the Windows 10 3D Builder app, we've got some exciting news for you. Microsoft recently updated the 3D Builder app with support for Windows 10 Mobile and Xbox One, meaning you can now design and 3d print your models from even more Windows 10 powered devices!
For those who are unfamiliar with 3D Builder, it's an app bundled with Windows 10 that allows users to create, design and share 3d models, with the built in ability of being able to 3d print them directly from within the app.
Some might say it's similar to the recently released Paint 3D app, except it's missing all the "paint" features outside of being able to build 3d models and objects. The 3D Builder app also works with Kinect, allowing you to scan in items directly within the app.
Download 3D Builder (opens in new tab)
Windows Central Newsletter
Get the best of Windows Central in in your inbox, every day!
Zac Bowden is a Senior Editor at Windows Central. Bringing you exclusive coverage into the world of Windows on PCs, tablets, phones, and more. Also an avid collector of rare Microsoft prototype devices! Keep in touch on Twitter: @zacbowden.
Awesome, I thought only for Fast or Slow insiders, but no--Release Preview as well. Going to try this shortly! It's 5 am here. I woke up because my daughter was crying and I was putting her back to sleep. What's your excuse for being awake?

Mine is that it's 11am here

some kid next door was crying and woke up the damned neighbourhood

I think it's for all W10M builds, got on my 950xl, public release. ☺

I had to roll back my PC to Windows 8.1, then back to 10 because it crashed, and I only had the 8.1 factory disk.

@William, that can't be possible now. That window is closed. How'd you do 8.1 to 10 exactly??

But definitely not for all right? Only those who have already made use of the free upgrade option.

If you go to settings > update > activation it says "Digital entitlement saved to Microsoft account" (or something like that)meaning if you change your hardware, or reinstall Win10, all you need to do is log in on your MS account and it should use the licence saved on your account. Obviously as long as you are running the correct Win10 Variant for your licence (Home, Pro, enterprise etc)

I upgraded it to 10 on launch day. I had to roll back to 8.1

I just hope they keep this exclusive to Windows 10 and not give it to Android and iOS users too. At least for some time. Let us have something for a while.

You already have it. How would it impact you if they released it for other systems?

It won't! But all these months and the frustration piling up because we don't have MSFT apps that the garage team makes - the feeling of having an app that others don't is worth it.

My favourite thing about this news is that now it's on Xbox One I assume I can scan items in using my Kinect....I don't really have a use for Kinect on my PC right now, so I don't have one with the PC adapter but always wanted to try this feature just out of curiousity. I can scan items in on the Xbox, sync to the cloud and then use the scanned assets on my PC (I assume) to do the final building/editing

Wow! the same superb app from windows 10 desktop OS is now on windows 10 mobile.
No annoying issues in first release. Edge dropdown option in the app is interesting. Thank you MS.
Now we have this app prior to Android.

Now all I need is a 3D printer. Anyone have a few thousand dollars to spare? =P

They actually aren't that much anymore. You can get one for a few hundred. $1000 for some of the more expensive consumer ones. You can also use the app to contact a company to print it for you.

You can get a decent 3D printer for less than 400$ actually. If you are considering getting one, I would recommend you to check out the "3D printing" group on Facebook. I often see people post about various cheap printers.

Wow, I actually haven't kept up with the technology and my quick search showed several hundred, buy I figured how good can that really be for the price. Good to see the costs coming down.

Store link in article is specific to the UK. Generic link: https://www.windowscentral.com/e?link=https2F%2Fclick.linksynergy.co...

What is the app that will allow you to scan a 3d object with your phone and import it into Paint 3D? At the last keynote, they did this on stage with a castle.

I thought for sure that 3D builder would be it when I saw on MSPowerUser that you could use your camera to import new objects, but color me disappointed when the feature turned out to be completely different from the 3D scan we saw in the October event.

Exactly what I'm thinkibg

I think the scan on stage was based on a concept they are working on. It was too quick and smooth, with too perfect of a result to be a true live demo of working code. They obviously say they can deliver on this but lets see if it makes it in time for RS2, because so far it's not been released at all to Insiders which probably means it's not ready for real world testing yet. We don't know for sure but I am cautious about getting excited about this app and things like windowed apps in Continuum in terms of an RS2 release - They are both big features which require a lot of work and with the xmas/new year break there's only a few months for these to be production ready.

Try out Autodesk 123D Catch. It can be tricky to get good results. You can then export the models in FBX format.

I just tried it and It's wonderful. One issue though, It's that this app would have been so much easier to use if Windows 10 mobile had pen support.

OMG that would be perfect.

Does object scanning work? They should make it work with RealSense camera too, besides Kinect.

I mainly want to use this on my Xbox One (No PC adapter for the Kinect v2) and then I can use the assets on my PC once scanned. Never wanted it enough to buy a second Kinect w/ PC adapter but I will try scanning using Xbox instead

This is the worst app ever.

On that note I did "discover" that the Kinect adapter for the Xbox One-S was same adapter for PC. That did allow me to do some 3D scans on my Surface Pro2. And worked with Hello.

Nice! I've got a Creative RealSense F200 camera laying around here. I wonder if it will work with my Surface Pro 3 to do 3D scans. Now I just need to figure out how to make my beagle stand still. Scanapalooza has begun.

Yeah this is right, they replaced the PC adapter on the UK MS store with one that is now listed to work with both Xbox One S and PC

During the Creators Update event, Microsoft demonstrated capturing an item as a 3D object using the camera on a smart phone. Anyone know when that functionality is coming to the 950 XL ?

"soon". ;) Looked really neat. Waiting for that too. This does have a photo to 3d filter but it's not what we're all waiting for.

Yes lets cross our fingers. I think it was clear the demo was not a live demo by how smooth and quick it was, along with how good the result was (Not to mention the same Sandcastle asset was used in the 'here's one I made earlier' part). It would have been scanned in earlier - Really hoping this concept comes to fruition and is out for RS2 Creators Update, but along with Windowed apps in Continuum I am not getting too excited just yet. The Continuum change especially feels like it's going to be delayed to RS3 or something.

Hey Windows central I like to see a video review of the app cause it's complicated

When is that Windows Capture 3D app coming out? It seems like it'd be the perfect companion to this app. They said it'd be coming out very soon but it's been over a month now with no news or updates about it.

Wouldn't get too excited until the Creator's Update comes out.

Yeah I would not get too excited either - The demo didn't look like a live demo, so we don't truly have an idea of how far along it is - I could be wrong but AFAIK no journalist at the event got to try out the Windows Capture 3D app.

Did anyone successfully install this on an Xbox One ?
​Even with today's update, I can see 3D Builder and Skype Preview as available and ready to install, but both fail with the "installation stopped" error when trying to install them.

I'll be trying later on and will report back here. It's possible WC just noticed the app appear in the ready to download section on Xbox One and didn't have time to try it, will see how it goes

Good. Hopefully that means we'll be getting Paint 3D on W10M too.
Windows Central Newsletter
Thank you for signing up to Windows Central. You will receive a verification email shortly.
There was a problem. Please refresh the page and try again.