Microsoft updates Mail, Calendar and People apps for Windows 8.1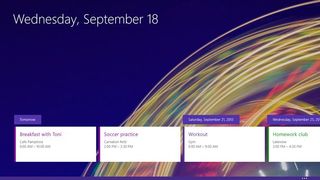 Microsoft recently rolled out an update for their Mail, Calendar, and People applications on Windows 8.1. The update introduced a variety of new features and bug fixes to improve your everyday productivity experience.
The Mail application for Windows 8.1 received the largest collection of updates and new features. You can now easily see all message from your favorite people, more clearly organize social updates and newsletters, and use the popular "Sweep" feature to clean up your inbox.
Other features include the ability to manipulate messages with flags, select multiple messages with checkboxes, search across all mail in all of your folders, and write messages without leaving your inbox. Users who use Windows 8.1 with a mouse and keyboard will also be happy to hear that Microsoft has added the ability to move messages into folders using the true and tried "drag and drop" method.
The Calendar app has received a few new updates including the ability to view your schedule in a "What's Next" view, jump to dates with the new "date picker, edit responses to invitations before having them sent out, and the ability to quickly add events in the week view.
The biggest portion of the update for the Calendar application is the "What's Next" section, which also gives you the ability to choose and customized the background image displayed. It provides a fresh and current look at your upcoming events.
Lastly, the People app has also received a few improvements including the abilities to add custom pictures for contacts and the ability to "search and browse for contacts faster than before".
If you already haven't, you can grab the update by clicking here (opens in new tab).
How are you enjoying Microsoft's bundle of productivity applications? Do you use Mail, Calendar, and People to keep yourself organized or do you prefer to use a different service/suite of apps?
Source: Microsoft Store (opens in new tab)
Windows Central Newsletter
Get the best of Windows Central in your inbox, every day!
I use the mail app quite often, but preferred it before the 8.1 update.

YES! Glad I wasn't the only one.

I guess opinions are like you-know-whats, but the mail app was beyond spartan before 8.1, not to mention quite slow (some of the speed issues were resolved before 8.1, though). Oh, and the pre-8.1 color scheme was absolutely unforgivable. The 8.1 improvements have made it almost a complete replacement for Outlook for me.

Just shows you how hard it is for developers to please everyone. (And how much humans hate change :) ) The mail app is now usable, it was not before. Drag and drop! For petes sakes, anyone using mail in anger knew that was the obvious missing ingredient. Its actually pretty decent now.

Amen brother, why they felt they have to hide the sync button behind a more button is beyond me.

You can still manually sync by pressing F5 :)

Me too. And so I preferred the old Search better as wel (I want in app search and not global search). And the colours are messed up too.

I use outlook.com and noticed that after the update the app options now shows a certificate error. Anyone else getting that?

I think this may be related to some other issues Microsoft was having today. Probably not the update.

This is good, but I wish they brough Messaging back! :(

Umm am I in a time warp? At least some of these features were part of 8.1 to begin with

Exactly. I did get an update recently, but I'm not sure what is different an any of these apps.

anyone else bothered by the lack of notification or at least indication that an apps been auto-updated? I like the feature a lot (and I know it can be disabled) but having a little overlay on the tile to signify that an app's been recently updated would be nice..

Just disable auto app updates.
Then you can manually update apps in the store and read the change logs before you install the updates.

No, they just quoted the old release notes

I like it more and more with every update, but they really need to enable Groups for contacts.

I was hoping when I read major updates, that would include groups. That is the only reason I continue to use Live Mail.

I don't know why they took this away. It's so weird without.

If only MS cared about Win Phone half as much. I've not had one single update to the mail app on WP8 yet my PC version of the app has had a number of updates. On the phone, I still can't use anything but the main address without changing the default, still can't email a group of over 25 contacts and attachments are a mess. And not one update. I thought the phone platform might take a bit of a lead with communication functions, but it seems to be forever waiting...

Those updates come with larger OS updates. Expect changes in WP 8.1. The stock apps won't be updated until then, unless MS goes the Android route of letting those apps be updated on their own.

That really is what they need to do. They need to get a small team together for each of the major internal apps and apply some polish.

Ugh, I wish they would update the mail app so that you could view all email accounts as one inbox like on WP. It's annoying to have to click on each individual email account.

I'm about to buy my first Windows machine. This is the way Mail works? Uhg. I have three email addresses for work.

I'm not seeing that option. Mail even says it's up to date as well :/

You can group all your mail in one inbox. Open any email inbox, tap the three dots down at the bottom and then tap link inbox. Select the other email inbox and you're done.

You can do so on Windows Phone 8, but that feature is sadly missing on Windows 8.1. That ist why I still use Windows Live Mail.

Use mail all the time and think its good. Preferred 8 version though where folders where always displayed, not a menu. Not a big issue though.

Just star all of your folders? Pretty simple solution there.

I don't use these apps, since I have an Office 365 subscription. Outlook is much better.

Office365 Rocks! Very impressed. And 5 installs!

I used to think so too until I realized that office outlook doesn't format html properly. All paragraphs end up with extra spacing in between when you send an email Also it doesn't know what to do with 3d fonts when you receive an email so it renders them as times new roman.

I don't have any formatting issues.

I'm using desktop Office 2013, not sure if older versions (or 365) have the same problem. When I send an email with spacing between paragraphs (I use hard returns to create spaces) the people who receive my email always see triple the amount of space between paragraphs that there should be.

People app is still a better experience on the phone, with groups and pinning.
The functionality in Outlook improved - but it was less daunting before 8.1
and the Calendar is just right. imo


Use this suit quite often. Good to see the update.

The snapped view in the calendar application is not as good in this new version. They should go back to the way it was before, or add that view to the options.

Guys, the update description is for the 8.1 update. This new update brings nothing new.
MS often doesn't updates this description and causes this kind is confusion...

I used to be able to chat in the People hub. It showed who was online. Is this feature gone now, or hidden somewhere?

Yeah its gone after stripping messenger app. The replacement is using the official Facebook app and Skype

Thanks for the update on the update. App updates happen automatically in the background for W8.1 so it's hard to know what's new.

You can always turn it off and update apps when you like.

They should fix there connection with Facebook, seeing triple birthdays for the same Facebook contact in the Calendar app and also on Windows Phone Calendar App.

There're somethings I prefered over 8.1, but you know, gotta keep those whiners happy.

MS what about updating WP mail and calendar apps? Right now they are sill light years behind what I had in VM. Also improve the Office app and the one to sync with my Tablet/Desktop which at the moment is an Alpha release.

The calendar app is such a pile of pooh, mail app is great. Why in every single windows 8 post does their have to be a commenter moaning about windows phone?

Probably because the site is "Windows Phone Central"?

if only i could get my google calander to sync without the outlook -->Gmail reach-around

This is what I need soo bad as well!! Using gcalendar at work, really sucks that I have to use web to use my calendar :(

Should update the WP8 built on apps also Calendar, Peoples hub etc...

Calendar needs to have an inset map that links to the location field. The maps needs to be clickable and launch the Maps app when clicked.

i recieved this update yestarday i really like the new mail design

I'm glad to see the sweep feature

I use Outlook for email. Primarily because the Mail app doesn't support isp email accounts (which are typically POP3/SMTP). If I could use it for my Comcast then I might be more inclined to use it.

win 8.1 mail app supports smtp. you can also pull the comcast email to an @outlook or @hotmail account

Why did they take out the messages app since 8.1? And I wished Google could be in it... Use it for business so it is a real miss...

Ya... I've seen all of these things since 8.1. This article is wrong. That's not what the recent update did. And btw to everyone that said the 8.0 mail app was better, you're just plain wrong, no opinions allowed :P.

I'm a bit dissapointed in the huge changes to the stock apps. Like the Photo app, the calendar don't need that wallpaper, it was better with the Photos app. Mail is fine for me, except the sync button.

Does calendar support To-dos yet?

I just want a WP calendar that I can actually read the text on when in monthly view.

The metro style apps are a pleasure to use, fluid motions and functional enough for most people.

Uhm... wtf? All these features were already there for months: selecting multiple email, what's next view, sweep command, I all already used these features a few weeks ago.
I first thought this article was written when Windows 8.1 came out like the title implies. Guys? Is this an error in the matrix or the room/time continuum or some shit?

I love the mail app, even choose it over outlook.

For all who are complaining lack of updates on windows phone specifically the mail. Please note that the next update will have matching API up to 75% which will allow developers at Microsoft to update the apps consistent with API frequently. Updating core apps on windows phone at this point is not adviseable because their API are completely different. It doesnt make sense to develop separate apps for phone and PCs. What makes sense is to develop the back end code that is consistent with PC & Phone. The only thing that needs to work on is the UI . UI for PCand phone will be separate . I understand that everyone is fustrated about the lack of apps. But note this after GDDR 3 update, expect more update to comes on frequent basis. The future looks bright and will take time for windows phone compete with android.

Hopefully they'll do the same for the native calendar app on WP its way over due for an update.

Are you to falling for old change logs, come on this was a small update.

Sorry I meant the next update after GDDR 3.

Huh? Most of the updates listed in this article were already there from the original Win 8.1 upgrade...?

I just hope Mail can now properly delete messages with my IMAP host. Outlook can, Mail on WP can, but the Win8 Mail app cannot.

Can I click a link on the mail now?

there is a rumor that win 8.1 mail app will be replaced by metro version of outlook....I hope it happens pretty soon.... :)

Still no POP3 accounts capability for the mail client?

Drag n drop and a few others were already there

Now the blessed update had made my mail app, calender app and peoples hub unusable, as soon as I started, it minimizes itself...****

I love the new updates to the mail app, and no, they were not all there from the 8.1 update. Can now essentially set favorites so their mail gets grouped, dragging and dropping and the Sweep function are well worth the update alone. The calendar as well. Put my favorite photo of the Grand Tetons in the back and have it set for my "What's next." Very cool. The people hub is where I see the least difference, but I may not be looking close enough.] Now if even 1/2 of this ever integrates with the phone, we will have made real progress.

I have updated the mail app but can't find the sweep option

It would be nice if windows 8.1 rt calendar could sync with the android calendar, such as the one I use continuously on my company issued samsung S III.