Microsoft updates Skype Preview with fix for crashing issues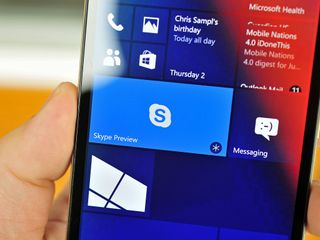 Well, that was quick. Microsoft has now pushed out a fresh update to the Skype Preview app, bringing along a fix for a bug that was causing the app to incessantly crash for some users after a previous update.
According to a post on the Feedback Hub, the update is currently rolling out to Fast ring Insiders and should make its way out to Slow and Release preview rings relatively soon. From Microsoft:
According to posts on a Reddit thread about the issue, some users have already started receiving the fix on Release Preview, so it's likely available to all Insiders, regardless of release ring, right now. If you previously downloaded Skype Preview version 11.10.146.0 and had issues with the app crashing, be sure to check for an update now and see if it remedies your problem.
Thanks to everyone for the tips!
Download Skype Preview from the Windows Store (opens in new tab)
Windows Central Newsletter
Get the best of Windows Central in in your inbox, every day!
Dan Thorp-Lancaster is the former Editor-in-Chief of Windows Central. He began working with Windows Central, Android Central, and iMore as a news writer in 2014 and is obsessed with tech of all sorts. You can follow Dan on Twitter @DthorpL and Instagram @heyitsdtl.
This is strange, or they're full of it. I'm on Release Preview yet got the 147 update to fix the crashes on both PC and mobile yesterday...

Updates don't come to all users at the same time...

Read the statement in the article again, find my ring (RP), then consider how I was updated some 18 hours ago.

If you follow the link you can see that the statement referenced in the article was released yesterday.

Not only that but they need to KNOW that the update is ACTUALLY fixing the problem by waiting for feedback before stating that the problem is fixed as it might not be

Man, I wish MS would have focused on Skype a bit more instead of playing catchup. Skype had so much momentum out of teh gate as one of the few applicatiosn that did what it did.

Yeah, they lost it all.. Skype is now being swapped by everything. For texting, we have WhatsApp, for gaming, Curse voice.
It's kinda sad how MS killed skype and just realized it now

Sure, it doesn't crash anymore but now I can't get my PC to sync with the phone. When it works, it's amazing. Hope they get these issues sorted out!

Did you enter the auth code on your phone? If you haven't you'll need to go to settings on both your phone and PC, then under SMS, your PC will show a code and your phone will need to have that code entered where it displays your PC name. I think this was a change a couple versions ago.

Yep, this was my issue too. Had no idea that became required to sync. Was driving me insane for a bit there.

Xsled's comment about uninstalling and reinstalling in specific order solved my sync issues! Thanks everyone!

You can just log out of skype preview and log back in and set up sync again and it will start working.

I tried that but only on the PC. I'll give this a shot if it happens again. Thanks

Actually, syncing doesn't occur directly. The phone , PC (and any other devices you have) sync with the cloud. So for messages to appear on other devices, it's a two step process. I do also wish (and yes, I've sent feedback on this, so please upvote) that the Skype dev team would add a manual sync button somewhere in the app (I'm thinking a wholesale "sync everything" at the app level, as well as a "sync this conversation" at the conversation level). Also, the association between conversations and contacts is still more than a little messed up... I really hope they fix this soon, because it's highly annoying. Update: After a few more hours, this new version appears to have correctly rethreaded everything and in cases where I was previously seeing multiple entries, some showing numbers, some showing names, my entire skype and sms history is finally all cleaned up. If any skype developers are reading this... Great work, guys... Took a while, but seriously, this makes it all usable again! Thank you!

Just make sure your contacts in skype have the same number associated as their sms contact in people. (you have to add the number to the skype contact from within the app). I hope at some point the linking gets better, but once I figured that out it fixed all of my duplicates. Yes, super annoying though.

does it still create another separate outlook contact on top of the existing one though? Not sure if it's fixed now, but whenever I added the number to the skype contact it would then make another outlook contact on top of the one I already had and then merge it all together. I would have to manually go into the people app and delete the newly duplicate outlook contact.

It does not add another contact for me. It just adds the telephone number for the already linked Skype account.

I've started getting contact dupliations again on PC, anybody else??

It doesn't seem that I am getting duplicates, (check and make sure you have their number added in the skype app), but... Nobody has showed online in days. I think most messages are going through, but I know of a few that haven't. So, there is definitely something going on.

See shannyman's reply. I will also add on, i had to uninstall from phone and pc a few builds ago to get it to work right. I have found, install and setup the phone first, including sms. Then install on the PC and go turn on sms. You will need to use the code to connect the two. I found that regardless of the code showing at first, refresh the code. It has been fine since (other than the crashing yesterday of course)

That fixed it for me! Thanks for the suggestion!

It works for me too again. Well done but a no go for an app with allegedly such an importance.

i hate the lagging/delay on the messages sent on skype... i receive msg too late and my msg are sent too late for my contact why cant msft fix this?

I had to completely uninstall from my phone so it would revert back to the native Messaging app. I was no longer even getting SMS notifications because the app wouldn't launch or run in the background. Glad to see it's fixed, I'll be reinstalling it today

go to Settings -> System -> Messaging. You can change the default app from there without uninstalling.

now thy just need to fix the count on the app. I wont use till it can display a # instead of the * for the count of missed.

No sound in the video message just your mouth moving they need to fix that. And you can only send one photo at a time sucks.

Still having downloading issues error code on download. You would think that a microsoft owned product would work perfectly on a Windows phone being they are both Microsoft. Wow... I am a WP user since before 7 and loosing faith fast!

Update: Fixed it. Can only install on hard drive not sd card.... Oops

Literally seems faster, but haven't tried it as my default text app again. Doesn't impress much as a text app...

When I reinstalled to this current version, I was surprised by the speed. I thought maybe it was just my perception of what I had seen. Good to see it isn't just me.

When Skype is connected in several devices (skype desktop in one, skype preview on W10 on another, and mobile 3rd), and I receive a call the desktop app goes crazy and I can't answer it. I'm really trying to use Skype as little as possible, such bad quality in all platforms.
Windows Central Newsletter
Thank you for signing up to Windows Central. You will receive a verification email shortly.
There was a problem. Please refresh the page and try again.