Microsoft updates Video Tuner app for Windows Phone 8.1 with bug fixes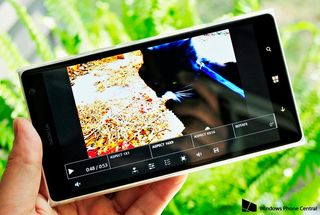 Microsoft has released its first update for the recently launched Video Tuner app for Windows Phone 8.1, but as it turns out, it's a rather minor update:
Officially, the change log for the new 1.1.0.133 version says that the app, which offers users a quick and easy way to edit their smartphone videos, has some "performance improvements" as well as "crash fixes". Hopefully, if you have been experiencing problems with the Video Tuner app crashing on your Windows Phone device, this will stop those problems.
Just a reminder: the Video Tuner app is just for Windows Phone 8.1 users and Microsoft says it works best with the Lumia Cyan update.
Thanks to everyone who sent in tips!
Windows Central Newsletter
Get the best of Windows Central in your inbox, every day!
Hope this update squashes the bug which made the app crash whenever we tried to open it..Never used the app till now just because of it!!

This. testing the update now, cross fingers! Edit: Can confirm, fixed in this update! :D

Still waiting on Cyan here. 822.

Many are all around the world!!

We're in the same line Aashish Bhai!

I this lumia exclusive? :/

Not Microsoft! It's Nokia

I think you are confusing Video Tuner with Nokia Video Trimmer. Video Tuner is published by Microsoft Mobile in the store, so it is Microsoft and not Nokia.

Nokia corporation has changed their name as Microsoft Mobile'

Nokia Corporation still exists. Microsoft bought Nokia's device division, not all of Nokia. So Nokia Corporation did not change it's name to Microsoft Mobile. Nokia Camera and other Nokia apps are now however listed by Microsoft Mobile in the store. This app was released after the acquisition, so even though it was created by former Nokia team memebers it is now part of Microsoft, so it is Microsoft and not Nokia.

May be its the policy of Microsoft not to test their apps before pushing it to the users....

I wonder, how they made FILES app

When is the wp 8.1 update 1 preview for developers roll out planned?

Your information seems a bit slower than me, wpcentral

Yes, it's much better now. After this update you can open it, but when you select video, it force close. Great improvement! Well done Microsoft, after xbox music and video, you have another great app with average rating 2.

No more crashing on launch.

Nice app but it lacks a function to add text in a video.

It's really getting irritating that WPCentral keeps posting articles about things that are only for "Windows Phone 8.1". While that may be true, I am unable to get the apps because guess what, it is Lumia exclusive. Please start mentioning that. I get that Lumia has a majority share of the market, but they are Not the only game in town guys. John is not the first one to neglect this little factoid either. All of the WPCentral writers have been doing this. It feels like this site should be Lumia Central.

Just as the iMore site from Mobile Nations includes all Apple devices, the WPC site includes Surface, XBox, and articles relevant to aspects of Microsoft that has nothing to do with phones. I don't have a Surface (yet) or an XBox (yet), but I don't mind WPC providing information about things that are not relevant in my universe at this moment. Considering that 95% (off the top of my head, can't remember the precise number) of WPs are Nokia, the 'Nokia only' apps are relevant to 95% of the WP users. I noticed an article today about a cab app for India. That's not relevant to me. I've seen several reviews for devices and apps that are available or relevant in other countries, but not the US. I applaud that. I recognize the importance of WP having global success. I know the news coverage is not as extensive as some would like, but compared to other US-based news sites, WPC does a decent job of it. I am sorry if you can't use Nokia only apps. Tuck it all away as "good to know" information. It's worth consideration next time you buy a phone. At the same time, check your phone manufacturer's website. Whether that's HTC, Huawei, Samsung, whatever. Ask them why they aren't developing exclusive apps for their WP devices... I'm sure that if they did, WPC would be happy to report it.

It is really annoying since this is wp 8.1. It's just like you installed an app on your laptop but it didn't want to work since you had a Toshiba instead of an HP, for example... I don't understand why are they developing subdivisions in such manner...

How does this stack up against Movie Maker and Movie Jax?

Even after the latest update, this app is completely useless! All videos are corrupted with colorful lines only with sound. Lumia 920.

isn't working for me either (after upgrade only). Have tried three videos they all end up with colourful diagonal lines across the whole video for the entire duration. Lumia 920

Hope the crashing is fixed in this update does Lumia 1520!

Regardless of how it works, I am happy that WP finally supports the WinRT runtime. Although the update is shown as a 40MB download, only what's updated is downloaded unlike Silverlight apps which require the whole xap to be downloaded even if the update is a very minor bug fix.

Erm, why won't this app install on HTC 8S? It says it's unavailable for me (running wp 8.1 as well)...

This app is for Lumia only.

When the window phone 8.0 can update

Ummm why can't I upload it to vine/insta? That's what they should've fixed. Lol. MSFT pays you all that money lol