Microsoft updates Windows 10 SDK Preview with new APIs, more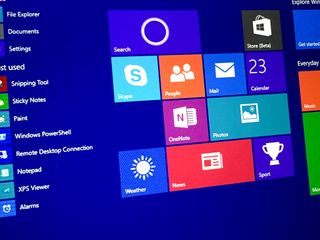 Heads up, developers: Microsoft has pushed out an update to the Windows 10 SDK Preview, bringing new APIs and more. Here's the breakdown of what's new in the Windows 10 SDK Preview version 10158:
Windows.Devices.Perception.
Windows.Devices.Perception.Provider.
This flight of Windows introduces two new related sets of APIs in the Windows.Devices.Perception and Windows.Devices.Perception.Providers namespaces. The Providers APIs allow IHVs and OEMs to expose depth, infrared, and color cameras (and related metadata) for computer vision into UWP, and to designate a camera as participating in Windows Hello face authentication. The Windows.Devices.Perception namespace contains the client APIs that allow a UWP application to access the color, depth, or infrared data of computer vision cameras. Windows.Media.Capture.AdvancedCapturedPhoto
Windows.Media.Capture.AdvancedPhotoCapture
Windows.Media.Media.AdvancedPhoto
AdvancedCapturedPhoto and AdvancedPhoto* APIs are new photo capture APIs for Windows 10 that enable apps to capture HDR photos on supported devices. For devices that do not ship with hardware HDR capabilities but support VPS (variable photo sequence), the API will use a platform provided algorithm to generate the HDR photo.
Windows.Media.Import.PhotoImport
The Windows Photo Import API in the Windows.Media.Import namespace is a new, modern, asynchronous WinRT API enabling Windows Store and classic applications to import photos and videos from portable devices such as smart phones and digital cameras, as well as memory cards and other removable USB storage media, with an emphasis on ease of use and performance. One of the key features of the PhotoImport API is that it runs in the background so that even if your app is suspended / killed, the import keeps happening.
Types now converged
Here are just a few types we've heard people are interested in which have now converged. We will continue to converge types based on developer feedback.
-Windows.Media.Capture.CameraCaptureUI
Windows.Security.ExchangeActiveSyncProvisioning.EasClientDeviceInformation
Unless you're developing for Windows 10, a lot of that will look like a foreign language. However, if you are a developer, you've got some new APIs to play with. As Microsoft notes in its blog post, you'll want to change the target version of your your project to the newest Windows 10 build before moving forward.
Source: Microsoft
Dan Thorp-Lancaster is the former Editor-in-Chief of Windows Central. He began working with Windows Central, Android Central, and iMore as a news writer in 2014 and is obsessed with tech of all sorts. You can follow Dan on Twitter @DthorpL and Instagram @heyitsdtl.
Where's my Achievement API?

Hahahahahahahahahahahha not funny.

I'm worried every time I read anything about Photo API.
I don't want again the fiasco of the Photo Rendering Engine API being horrendous in WP8.1.

Photo API will be great for developers. In my case, it will not be of use, but I am sure developers such as yourself will put it to use.

Well, it won't. The Photo API was limited before because devices were mostly underpowered.

Well, hopefully that will change my friend.

Hopefully live lock screen api for mobile will be released

Yes!! That would be awesome. I noticed in Windows 10 Mobile, they removed access to any Live Lock screen apps. I think they may be improving upon it.

So much to play with, so little time...

You have only 24 hours.
Then say goodbye to this cruel world

I see the importance of type convergence more than ever now. Build 10158 and the update to the Mail app finally fixed adding an Exchange account that requires extra security measures. Previously it would fail and mail, calendar and contacts from that Exchange account would not sync despite accepting the "measures" several times. Strangely, this bug was not present in any mobile build of Windows 10.

Have they already added a clipboard API for W10 apps? Right now on WinRT you need to use the launcher to call a third party Silverlight app to paste the content into the clipboard and that makes no sense :/

I'm a developer who relies heavily on the media capture features, the more available in UWP the less work I need to do in C++. This is great news.

How they can manipulate those API? i have almost 2 years of reading c# codes but until now i can't manipulate animation for png files.

Any reason why I'm not receiving updates since 10130? I'm on the "fast"track.

Whoa, your are very fast. Slow down man

You guys had better realeased more API's than ever cos I see no reason why you keep locking out some features for 'GOD KNOWS WHY' reasons. Stuff like that only make windows OS suck. C'mon.........21st century for crying out loud everything should be out there!!!!!!!!

No. They shouldn't be out.

I cant download it. It is giving me an error

Wipe and reinstall. Start fresh.

Can anyone help me with my issue with the windows 10 preview build 10159, I can't get my touchpad to work, all that happens is the screen and keyboard freezes and hard drive stops, then it restarts with a blue screen and a couple of small paragraphs with a final message saying DCP_WATCHDOG_VIOLATION

Use a mouse instead of the touchpad, navigate to device manager and rollback driver on mouse and pointing devices. Restart and it should be fine.

Thankyou, I just need to find a USB mouse and then, if it works, look for "device manager" on my comp with this build. (UPDATE)....i have just done the rollback and all is good, thanks again, I should of really known that but I suppose I got frustrated with it and didn't think straight.

how is windowsmedia.photo.import new? It seems like something that is already available in winodws 8.

No interesting stuff unfortunately. I hoped they would release more API's to get some more versatile or stable apps, but it seems this is all we get right now.

Windows phone 10 getting app installation from unknown sources??

There should be an option to sideload apps in the latest builds, it's there in the desktop builds.

It totally depends on what you want from your phone. Androids are for mass whereas iPhones are for those who consider that quality comes in heavy price. Let us compare iPhones and android for better understanding Price range: Iphones are pretty expensive and cannot fit every pocket whereas androids comes in wide price range to meet nearly every pocket range Model range: Numerous companies provide wide range of models with variety of features to choose from whereas buying an iPhone is simple just move in the store and get the limited editions to choose from Music: Here IPhones have an upper edge due to centralized music store. One has to download music from iTunes only whereas it doesn't matter to android from where you download the music which gives the user an ease to choose from wide variety of options available in the market Notification alerts: ITunes show latest alerts only on the apps whereas notifications in android are displayed on the home screen as well for better management. Apps management: The apps on the iPhone are displayed on the home screen and cannot arrange them as per groups or needs whereas on android have the option to manage them on screen as per need or groups Connectivity: One can share data from iPhone to iPhone only and they do not have Bluetooth or Google whereas one can search for information from any browser they want and can share data from any model with Bluetooth.

Are you trying to convince me to buy an iPhone? Not gonna happen bud :/ you're not fooling me.

Seriously, I don't see the head and tail of your long descriptive essay

can anyone please tell me what API and SDK are??

Applications programming interface and software development kit.

Change the target if your your project ___ correct that.
Windows Central Newsletter
Thank you for signing up to Windows Central. You will receive a verification email shortly.
There was a problem. Please refresh the page and try again.