Microsoft Ventures launches - wants to fund your next great idea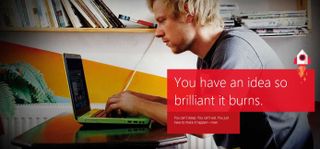 Today Microsoft announced the launch of Microsoft Ventures; a collection of tools, resources, and expertise for entrepreneurs. The program helps provide mentorships, technology guidance, seed funding, and other benefits to those looking to startup their business.
Microsoft Ventures will be a three part program featuring a community, accelerators, and seed funding. The company states that anyone with a "great idea" can benefit from the community and easily access resources that will help "to turn a great idea into a business".
The Redmond company isn't new to supporting startups; they have been helping entrepreneurs obtain Microsoft tools and technologies through their BizSpark program since 2008. Since then, over 75,000 startups from over 100 countries have been supported.
Microsoft Venture Accelerators will allow startups to apply for an immersive 3-6 month program. The program currently supports accelerators in Bangalore, Beijing, Paris, Seattle, and Tel-Aviv – the program will soon expand to include Berlin, Moscow, and Rio de Janeiro.
Companies applying to Microsoft Ventures must have a full-time founding team, "a bold vision for tackling a real problem", technology driven solutions and less than $1 million raised.
The Venture program will provide access to business mentors, technical and design experts, development tools and key resource – all to help entrepreneurs succeed with their startups.
In 2012 Microsoft launched the Bing Fund to provide seed money for startups; now, Microsoft will evolve the program by adding additional funding. To be eligible, a company must have a viable product on the market that demonstrates consumer traction and an alignment to Microsoft domain expertise - the company will than receive direct funding from Microsoft.
Microsoft Ventures is still in its infancy and seats to the program are currently full. Businesses interested in partnering with Microsoft can still visit Microsoft Ventures' website to sign up and receive more information about the program.
Do you have any great ideas raring to get to market – anyone here in or have a company that uses BizSpark?
Source: The Official Microsoft Blog
Oh, I have so many great ideas!!!

I'm the CTO of a BizSpark company....I'm very interested in the MS Ventures stuff

Take everything you have created with WP and turn over all intellectual rights and patents for them to iOS. Oh wait, your already working on that project.

I know right... Feels like they giving up on WP so sad....

Sorry I don't see how it does or where it just says that. I think Microsoft is on the right path with this..

My idea is to start a hugely successful marketing campaign for the WP lineup of devices.. My idea is revolutionary!.. You see, I plan to produce 10 television commercials over the next year that outline 10 different qualities, in detail, about the WP OS.. Here's the kicker❕.. I plan on airing the commercials on as many networks as possible, all day, and all night until the hinges fall off.. To insure succes of my venture I will make sure to air multiple spots during all of the major television events. This type of advertising will be relentlessly done worldwide.. When I finish WP will be a household name..
I wonder if MS will fund my Venture.. Its only going to cost about $950 million to make it happen.. Surely they have the funds to help me out,, right?

that lime colored laptop looks awesome, anyone know which model, brand is that?

That thing is seriously old dude.. I don't think you want that.. You can tell by how thick the damn thing is! That's a picture of Michael Archambault typing away on his thesis back in 1986❕
Windows Central Newsletter
Get the best of Windows Central in in your inbox, every day!
Thank you for signing up to Windows Central. You will receive a verification email shortly.
There was a problem. Please refresh the page and try again.