Microsoft tells us what to expect in the new Music and Video Preview apps for Windows 10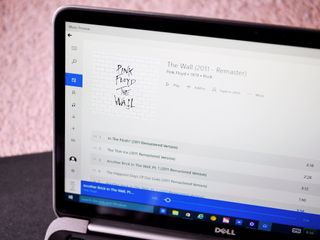 Earlier today, we reported that the new Music and Video Preview apps for Windows 10 were ready to download. Replacing the existing apps, these new versions strongly resemble the old ones but they are re-written to be universal Windows apps for Phone, Xbox, and PC.
Microsoft has now blogged about the release, remarking on the current status of the apps, what to look for, and what to expect in the coming updates.
Music Preview app
What's coming next:
Browse and buy music in the Windows Store Beta– until then you can still buy music in the existing Music App
Right-click context menus
Better back button for easier app navigation
Dark color theme
Compact mode
Settings improvements
Improved support for accessibility
And much more!
Here's what we know isn't working quite right yet:
After heavy use, you may see galleries disappear and show a blank white page. Restarting the app will solve the issue.
Playback of Music Pass content may fail with error 0x8004c029. If it does, go here to learn more about how to fix it.
There are no playback controls on hover when the app appears in the taskbar.
Video Preview app
What's coming next:
Discover great new movies and TV shows in the Windows Store Beta – until then you can still get them in the existing Video App or the new web Store at here.
Download movies and TV for offline play
New device management so you can play your downloads offline more reliably on the devices you care about
Improved search results
Movie reviews and cast information
Settings improvements
And much more!
Here's what we know isn't working quite right yet:
Movies and TV shows downloaded in other versions of the app cannot be played in this preview app. They can only be streamed. This preview app only supports streaming at this time.
Playback of purchased content may take several seconds to begin.
Adding or removing folders from your video library can hang the app. Instead, use File Explorer to manage your video library.
Playback of movies and TV may fail with error 0x8004c029. If it does, go here to learn more about how to fix it.
Expired rentals incorrectly show a play button. Playing expired content will result in a playback error.
Perhaps most impressive is the video app does support MKV video file formats. However, it does not look like the Music app is supporting gapless playback at this time. The good news is these are very early releases. Microsoft will be adding more features in the coming weeks and months before the Windows 10 release.
You can download both apps and continue to use the existing Music and Video apps (from the green Windows Store app) to manage and purchase media. Finally, remember to give the team feedback (opens in new tab) on the apps, including bugs or feature requests!
Download Music Preview for Windows 10 (opens in new tab) (PC)
Download Video Preview for Windows 10 (opens in new tab) (PC)
Source: Blogging Windows
Windows Central Newsletter
Get the best of Windows Central in in your inbox, every day!
Daniel Rubino is the Editor-in-chief of Windows Central, head reviewer, podcast co-host, and analyst. He has been covering Microsoft since 2007 when this site was called WMExperts (and later Windows Phone Central). His interests include Windows, laptops, next-gen computing, and for some reason, watches. Before all this tech stuff, he worked on a Ph.D. in linguistics, watched people sleep (for medical purposes!), and ran the projectors at movie theaters because it was fun.
...and if you don't, dark theme is coming next :P

Will it be the same with the notification center? The white color there just looks... cheap :D! Still thinking about if i should abandon Spotify(I've been a loyal follower since they were in beta in Sweden) after all these years and try Microsoft music service.

Abandon Spotify. I have never looked back at any other Music streaming service since I switched to Xbox Music

DO NOT!!! I gave the service a try in Jan and Feb. ANY other music service would serve you better. Syncing is broken, Windows 8 music app is a joke, store has less selection for purchase than Google's or Apples, no curated playlists. Trying to manage settings is bizarre mess of links, and I had to make a phone call to get it cancelled because the subscription kept renewing itself no matter how many times I cancelled it online.

That's good news the dark theme is an option, probably my favourite but will try the white too. Just really happy the options are being offered :)

Yes, dark theme will be a blessing for when I'm watching movies in bed at night on my tablet. Otherwise, I do like the white. But both Light and Dark is always a plus.

I'd like to see it in a dark color theme!

It really looks sophisticated. I'm loving it too!

Sophisticated? It looks like more flat UI hipster crap.

Sophisticated? Whaat? Lol. It's about as basic as it gets.

I like if MS remove sh(%y music video app from phone and introduce a new one

*sigh* still nothing about W10 for phones

Stop complaining and enjoy the goodness Microsoft released in the last 2 days. W10 tp for phones is coming very soon, so be patient.

*soon* I think I've heard that before

I thought you were leaving WP. Don't you?

Lol nope. But it quite disheartening to see how these developers treat us

Its digital age discrimination its just wrong, like because I live in Africa I can't view contents from US and Europe.

... Wasn't there just news yesterday?

It will be released, if not this week, early next week :)

So we'll have to switch apps to buy new content? I do not like this.

Beta testing is certainly inconvenient, right? I mean, you could wait for the final product instead.

Preview or not, that certainly seems like the direction they're headed based on the information at hand though.

I agree. It really sucks. Ughh...

It's part of the new unified store. I think the idea is that you're just doing your shopping in the Store then going to the music and video apps to consume perhaps?

That sounds like splitting the app into two? I actually love Xbox Music and Video as is, easy to use and all in one place. Looks like we have gone from a hub to separate apps, now the apps are players only? Don't like this at all, seems complicated, doesn't seem faster either⁉

This would bother me if I had not given up on Microsoft's ability to be provide an enjoyable and intelligent music experience. It took me a long time to give up because I had invested many years building a library but it was so much better once I gave up. They will never get it right, you just have to accept it. They are not going to put the development dollars behind it.

Those apps look horrible.

Sure. They're also basically shells at this point. The Windows team just wanted them out there for testing. Nothing wrong with that.

I understand that, but I'm really worried about the new design language. It looks boring and dated.

I'm hoping this is true. Action center, Cortana, and now this all look like shells ...but I've been worried that's actually Microsoft's new design. I hope not.

Thanks Daniel. While I can see that they are going in a slightly different direction design-wise, its also clear that since this is a tech preview they will be updating the UI prior to release. They have heard the feedback and its clear that the OS looks a bit disjointed but to me its akin to those spy photos you see in Car &Driver or Motor Trend. The actual design is obfuscated under additional panels or car bras. Or like the iPhone 4, under a shell of the 3GS. I'm hoping for a Zune-like reboot but the design language is pretty much already there... They just need to give it a fresh coat of paint when the debugging is done.

They look amazing.
They only thing that's terrible is your ugly yellow teeth

Clearly you have a bad taste.

Actually you are the one with the bad taste man. Majority of the insiders liked the design and you didn't, simple as that.

I can see why you don't like the new apps. I cry on the inside everytime I think about the demise of Zune.

Zune was the pinnacle of Microsoft's design. This Win10 design language is pure garbage compared to that. It it so fucking boring it hurts, has no personality, no "soul", everything looks old (blue-ish dark grey looks "premium", pure grays combined (#333 + #666 for example) give you that old and boring look and feel), wireframe icons are harder to understand than solid icons and so on and so on.

Have an UpBelfiore. WinPhoneCircleJerk would love you.

Pinnacle of desing... Sounds a bit closed minded, and resistant to change...

Just like how Aero is the absolutely perfect design, seeing as that's still one of top requests on Feedback app?

It's the Windows 2000 design. Blue and everything. I'm with you that the Zune player had much more soul, personality and creativity, especially for the "entertainment" side of the Windows software.

We are just sorely disappointed because we bought in during a special island of time at Microsoft. The Time They Tried Design. But, in looking back, it really was a unique period. It didn't translate immediately to sales, of course, Zune being a financial failure and Windows Phone not exactly picking up.So Microsoft jettisoned that "Design" experiment pretty quickly and now we are back to old times.

Your logic is flawed. Fix it.

I would hazard a guess that insiders are IT and Geeky people, hope they are talking to general users too, you know, the majority.

No, you have bad taste. These closely resemble the current Xbox Music app. They need a couple alignment tweaks and what not. But for an early preview, these looks pretty good. Certainly better than the other Windows apps MS has previewed so far.

I love pretty things. Win10 is anything but pretty.

Nope, they look sophisticated and fantastic. It looks a bit rough but that's given since this is only a preview.

I agree; hopefully the final design is COMPLETELY different, but I fear that this is pretty much it, as far as the design language. Which is 'blurgh'.

They should have metacritic scores built into the app.

Anyone remember all the supposed features we were supposed to get with the 8.1 music app that had been removed from the OS for quicker updates? Because they're doing the exact same thing now. I bet within a year well have at best a few new features and instead most of the updates will be fixing bugs. They never learn.... Fool me once, can't fool me twice.

Twice!? I count this at least rewrite #4 now.... Looking forward to the successor to these new W10 apps (due in 2017), I'm sure that'll have all the features we want... O_o

Omg, this guy can see the future :o and apparently Windows is doooooooooooooooooomed!

Yeah, I'm getting tired of new versions of these apps which inevitably just get replaced with newer versions with the same basic functionality. I get its universal and running off one store, but all those outstanding user voice requests still need addressing too!

The problem with uservoice is even if you have lots of votes for something they have a tendency to 'prune' them and clear them off even if they are only partially fulfilled or misunderstand the suggestion. Recently happened to my suggestion which had over 700votes, and there's no recourse.

what was your suggestion?

http://xboxmusic.uservoice.com/forums/209733-xbox-music-suggestion-box/s...

Microsoft only uses uservoice when it is convenient. Not a single idea is sourced from it, they simply highlight where their own dev filled a request- and they take A LOT of liberty with the idea of "filled" - like with your suggestion.

I can't believe they marked it as Complete...shaking my head.


Having now played with the preview app, it seems to work surprisingly well. Obviously a lot still to do but I'm encouraged.

EXACTLY this!!! Everytime the same history...

Nice. I hope these apps make it into the next phone build.

Looks like the same old garbage. Until I can make a real playlist (smart playlist - automatically updated based on search criteria; detailed search of metadata) it's useless.

Queue Xbox Music whiners in 3......2.....1....

Ah look! Someone beat me to it, the guy right above this post! Hint hint: Talk it out through Windows Insider and UserVoice. :) then get people to rally for your vote. It works. ;)

It doesnt, buddy. MS is going in a new direction with respect to the UI and they're not going to backtrack on that at this point.

No, it doesn't. Gapless playback and a couple of other things are there since ages. Plus, feedback without feedback is pointless.

A lot of the uservoice suggestions get ignored or 'pruned' after being only partially fulfilled or misunderstood. While it goes someway to showing the feature priorities, after that's happened a few times people cant be bothered wasting votes and effort doing it. For instance look at gapless playback - it's been the #1 suggestion forever! In fact they still haven't fixed the pop sound between tracks that's been here since WP8.1.

Wish I could go back to 2000

Yeah god forbid paying customers be disappointed with shitty homegrown services.

Well maybe if they would actually follow through with their promises, there wouldn't be any need to whine. Paying stuff on uservoice won't change that MS Music teams just loves restarting rather than using on what they have continuously. Push forward not doing the same work again and again.

Nowhere near as sexy looking as Zune desktop or even Xbox Music in WP8. MS is so scared of trying to create something beautiful now - they let mgmt and focus groups dictate everything.

Maybe holding back real UI for a big reveal? Gulp!

I wish... But dont count on it. But hey you never know- they brought us hololens without any leaks so a surprise is very possible.

Just make play by genre in the music app. Why I even have to ask MS for this is absurd

You know you can sort by genre and then play all music of that genre, right?

The music app in build 9926 was great (look wise)!! In fact all the Apps were having small fonts and everything got small and looked perfect and compact!!

Phone..... Getting really sick of the XBM app on WP.... Can't wait for some improvements.

This is the reason I left WP. I want the damn app to work like a Zune. Well, better as we have the cloud now. My biggest gripe is those Damn duplicates. No matter what I've done...have XBM on pc match the Metadata, Downloaded songs through my phone, synced music using the WP sync app, they just keep popping up. It's a good thing I keep a backup, if not I would be FURIOUS if I had deleted music and couldn't get it back thinking I had like 5 copies when in reality, it's a 2012 bug tha MS can't seem to get rid off.

Exactly... Zune never had this problem.... The service is seriously jacked.... Tired of these "can't play this file" message, and then the app gives up, and stops your mix... That is seriously frustrating.

Mine force closes ever since last update can barely start a playlist before it crashes

I think my did FC once, but that's not really a huge issue I'm having...
....
Did you try UN-I/RE-I❓❓

Music Management ... Hopefully that means it'll finally give full control over tags etc? (rather than what XBMusic service thinks how your music should be organised).

And I can't even install them. Great...

Same problem here.Download is not starting.After some time i get an error message.......not nice

Fixed, now WSReset.exe and a restart fixed it. By the way the new Music app is beautiful!

They need to bring back album dates... It is really annoying not having the dates albums were released..

All metadata should be available, it's the only way to make good, auto playlists when dealing with large collections.

This is true.... But, we still didn't have this issue with Zune... What changed❓ More so,, why didn't they must re-skin Zune for the time being.. Lol

The music app still doesn't show OneDrive content, but it did finally show all my content and the number of songs finally appears close to what u have online. Doesn't seem faster, it is faster.

What you mean with doesn't show OneDrive content?

Just reinstall the music apps it fix things

Is the Video app going to support DVDs? I know its kinda ancient but I've still a small collection and for lending someone a film it's still the one thing we all do. And we need a full replacement for window media player / -center ...

The problem is then, Microsoft has to pay for licensing the DVD Codec

I expect to use them when I install windows 10 on my main PC. I think I will skip the vm that I was on and move to a dual boot.

I'd like to see a dark/white theme in the system settings so then most apps would change to the same theme at once... Little bit like on wp

So is it no longer "Xbox Music" and "Xbox Video"?

I also wonder, if those apps actually need a "rewrite". If they can't take their existing C# or crappy C++ sources and be universal with few effort, then what should other devs think about W10? Or did they change horses?

Exactly they should have done this year's so. Facilitate trusting what you ask leafy have rather than reinventing the wheel every year

Why not keep using black and green for the app as they do in Windows 8.1 app. OK, just say I still can't forget Zune

Can you update the Metadata and create playlists like Zune? That's all I want these days.

Can you scrobble to last.fm? Could this be a potential feature? May go and suggest this on UserVoice...

Sync music easy like it was possible with Zune !!!

It would be great if there existed an app to transfer media on to WP and other drives, ala windows media player.

Now....if they fix/estabish the syncing problem we want, then they straight.

Hopefully they add "wish list"

Yes, that would be nice. And if they went in the STEAM direction and made it social, people could give music in buying them as gifts.

The entire Store (Apps, Music, Video etc.) should have a sharable wish list.

I'm looking forward to see how the compact mode looks.

Dan. The Wall ? Great musical taste

For me, the video preview app will crash when trying to add new search locations to your collection. The only default location is users\*user*\videos. For now it seems content will have to be manually moved to that location.

My old Zune software is able "View Music Files by Folder" in Zune! I do not see it yet!

For all the music programs Microsoft has created (Zune, Xbox Music, now this), they still haven't managed to beat their own Windows Media Player which is still the far better solution. Actually, they should just put the Xbox Music store into Windows Media Player, create a mobile version of it and be done with it.

Pains me to say it, but I completely agree with you.

They need to support Music albums bundled with videos. Many artists refuse to release their albums if they can't offer bonus materials. I've mentioned thus many times to the guys. Is it realm that hard to implement a plan? It's been well over a year and a half.

Video player of Windows phone should be improved too with more codecs and gestures.

I can't tell by the photo, but does it show the album year?

weird in build 10041 i can't add music in now playing section because i don't have music pass.

Man I bet Microsoft would have thought of OneMusic before that other developer

This is by far the most anticipated feature for me. They've made great strides with Xbox music but it'll be cool to see what they can do with a fresh start.

All good news the past few weeks, especially past few days, but please MS, for the love of god.. Show me Albums by default when I choose Genre and allow me to change filters if I want to. I still can't believe this is still missing from Xbox Music on WP8.1... I really hope they don't continue to ignore this obvious oversight.

Cant ms just copy Zune UI. It is 1000000000000000X better than this.

I'm not sure why they aren't just replicating what the Zune Desktop app...that was pretty flawless and good on the eyes, band art, play count, metrics up the wazoo

Totally agree with you. I still switch to it every once in a while. Beautiful interface and artist art. Only problem I had is that it was strangely unfriendly with pens. Fix that, add some more artist pictures, and stick a fork in it!

I'm confused by the Video and Music apps. Are they Xbox Video and Xbox Music? Or not? On Windows 8.1 they are called "music" and "video", but they're Xbox Music and Xbox Video. Why not just call them that instead of confusing customers?

All music and video will eventually be purchased from the Windows Store, so actually they are simplifying and consolidating it.

From one hub for music and video to two apps and now its 3 apps, that's not simplification!

Sometimes you've got to f*ck stuff up before you fix it.

Need Windows 10 for Lumia 520

I was wondering if I was the only one thinking that windows 10 is a step backwards in UI, I keep hoping it will improve, but so far, it is a disappointing disaster for touch devices. Kinda glad the won't be updating RT. I'm thinking it will be the new Newton :|

Shouldn't these apps be much farther along at this point? Like fully functional but requiring beta testing, bug fixing, and performance tuning? Seems like we're taking 1 step forward and 2 steps back with Music and Video again. Also - Good choice of Against Me! for the screenshot!

And looking at the update, it seems wireless sync will be available by the end of next year, at the earliest...

I hope windows 10 mobile is just a shell as far as ui/ux is concerned, because honestly its making me really sad that they are making such a beautiful and functional mobile is and making it feel like it really is windows mobile of yesteryear which was super hideous and a disaster in keeping things simple

for me the problem is Microsoft NOT support many countries (and NOTHING for my country Greece). So this is the problem guys. Google and Apple support it's very good.

I want live cable on my PC!!!

What does this mean for the windows media player?

This is almost identical to gnome-music on gnome3 Linux desktop:/ Dissapointed:/

OT: Was anyone here as brave as installing Win 10 on his/her Surface RT???
I'm thinking of doing it but if would be nice to know if you did it what experiences you had with your Device running the TP.
Thx for your answers in advance!!!

Impossible, due to the fact that RT is ARM and Win 10 is x86. You can't install it. Not possible. Not even close.

I just want an app that will automatically back up new music purchases from my phone to my desktop and cloud when I sync. It also needs to be able to remove music from my mobile that I have marked for removal, using a simple one-touch option... for example: the love heart, ala Zune. I would also want to be able to turn on a smart DJ option that will create an offline playlist of similar (local) music from my devices. I get this doesn't bode well, what with your insistent pushing of Xbox Music Pass, but its what I require. And, on that note, I need both a video and music app that isn't merely one big advert that lacks functionality. Please, this is what I ask. I don't know how much longer I can hold on having to deal with this Xbox crap MS have shovelled down my throat. It hard to believe I used to love the Xbox brand, but its slowly being associated with nothing but hate.

Add integration with musiXmatch to display the lyrics of the songs.

Yeah, like a hub for related apps, that would be awesome.....oh, wait.....

Yes! That's what we need. No "xbox" tag on music & video. Keep up the good work

If I can't use off line and download my music playlists on my phone to use whenever, I'm not interested... Will this option ok be offered?

I hope the WP versions are just as beautiful.

I dont see any difference between the old music and new music app. It's just white now?

Good thing dark theme is coming soon too.I like the dark theme.

I just want Microsoft to give me the ability to edit my own tags. It is really bothersome to rip a CD and find its songs spread over different collections or in weird music categories.
Windows Central Newsletter
Thank you for signing up to Windows Central. You will receive a verification email shortly.
There was a problem. Please refresh the page and try again.