Microsoft will now sell you a Surface Pro 4 without a Surface Pen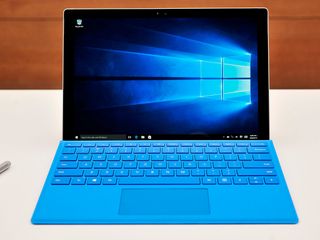 If you're looking to save a little bit of cash on a Surface Pro 4, the U.S. Microsoft Store is now offering a version of the tablet without a Surface Pen included (opens in new tab) (via Neowin). The option is only available on the lowest-end 128GB Intel Core m3 version of the tablet, but foregoing the Surface Pen knocks a solid $100 off of its price, dropping it down to $799.
The option to go sans Pen has been available with certain bundles at other retailers, like Best Buy (opens in new tab), before, but this is the first time the U.S. Microsoft Store has offered such an option. Still, the Pen is a big part of the Surface experience, so it's curious that Microsoft would decouple the two with this configuration.
That said, if you still want a Surface Pen, there's still some savings to be had. The Surface Pen is available on its own for $60 (opens in new tab), meaning you can grab the Pen-less Surface Pro 4, throw in the pen separately, and still save about $40. Not too shabby.
Interested? If so, you can hit up the Microsoft Store to grab one for yourself. Do keep in mind that this option only appears to be present on the U.S. Microsoft Store at the moment.
See at the Microsoft Store (opens in new tab)
Dan Thorp-Lancaster is the Editor in Chief for Windows Central. He began working with Windows Central as a news writer in 2014 and is obsessed with tech of all sorts. You can follow Dan on Twitter @DthorpL and Instagram @heyitsdtl. Got a hot tip? Send it to daniel.thorp-lancaster@futurenet.com.
My guess for the reason of doing this, is to save people the little extra money if they don't ever plan to use the pen. I've seen people that just don't use touch enough to justify having the pen. Like you said in the article though is good for someone like me, can buy the surface without the pen and order one after for less allowing you to spend $40 on something else to go with it.

I thought it was because people could upgrade now and not have to pay for a pen they have :).

The Pro 4 has a different Pen, I believe the older ones still work fine, just the new pen has some cool new features.

Only Surface Pro 3 and Surface 3 pens will work on SP4 and SB.
The original Surface 1 and Surface Pro 1 used Wacom tech :(

Then why my Surface Pen from 3rd gen Surface doesn't work on my Surface Pro 4? :P

it should, make sure you have it paired as a bluetooth device and that it also shows as a "Surface Pen" or "N-Trig Stylus" under Devices settings

Yeah but in all honesty, if you're not going to use the pen, why buy a surface?

It's still a powerful, lightweight tablet with laptop functionality.

I certainly cannot disagree with you there, but the surface is pretty purpose built. If you need powerful, you can get away with just a cheaper more powerful laptop, if you just need a lightweight tablet, you can get away with many cheaper devices. I'm in no way knocing the surface, I have one and I love it. I bought it specifically because of the power along with the pen (the laptop functionality is an awesome extra). Obviously there are outliers, that need a small powerful laptop that this fits in, but I just don't see that many to justify another package.

It's the build quality, the mostly higher specs, and expected long-time support from MSFT that people want to buy besides functionality. I sold a lot of Door Buster bundles (SP4 m3 with Type Cover sans pen) and the customers found it reasonable to buy then pen later if needed.

probably this is meant for people who were buying the Surface 3 as a regular tablet or large phone.

Because it's a laptop that's slimmer and lighter than the existing laptops in the market, that's why.

In Canada and UK, the model without Surface Pen is selling $120 more than the one with the Pen.

I usually only use the pen for note taking. I still believe the pen is essential for the Surface pro. In fact used my pro 4 for 1 year without a type cover and was okay, but I don't think I can go for a year without the pen.

It's a good deal. One they should have made long ago just like the Kinect-less Xbox One. I still think it should come with the keyboard though. The Surface Pro is an amazing device but pretty useless without a keyboard.

I'm not making a point but I'm curious... Do you think the same of an iPad? They don't come with keyboards at all either.

Having owned both, I think the iPad works better without a keyboard than the Surface does. In my personal opinion it's due to the versatility that W10 has though. Where I can run anything (within the specs of the hardware) I pretty much need a keyboard, whereas everything on the iPad is built with touch in mind.

The iPad is completely useless as a productivity device. Even the iPad Pro is a joke. The regular iPad serves to play Angry Birds, watch films and YouTube videos. That's pretty much it. It's just a media consumption device (which apparently even Apple fans are sick of, considering the continued decrease in sales). That's why it's irrelevant if they don't come with a keyboard. They're designed for touch and media consumption. The Surface on the other hand is a horrible tablet (since the Windows app store is a wasteland, the UI is a mess and even the form factor is very uncomfortable) but it's an incredible productivity device. And with Windows 10 it's more than ever rather a laptop than a tablet. Which is why adding the keyboard to it is essential in my opinion. The pen not so much. (For example, I only use the pen when I'm drawing. But lots of people don't even take it out of the box). If you're buying a Surface Pro to watch YouTube videos, you're wasting money.

iPad sales have declined because the device lasts a long time. We have the original Air, and it works just fine for everything, even after a couple years. I think you paint too harsh a light on the purpose of the device, as it is quite handy to me for many things--from browsing the web, checking emails, using apps that are actually designed for the iPad, like eBay, Amazon, B&H, etc. I even wirelessly connect to my DSLR and transfer photos over for viewing and sharing, and light editing, and the accurate display is quite helpful. No, an iPad doesn't replace a PC 100%, but I happily use one a few hours each day without issue. The other thing an iPad has going for it is spectacular standby time. When you put it to sleep, the battery doesn't drain. I charge the iPad maybe twice a week, where any Windows or Android tablet I've used required pretty much nightly charging. It's a good device if you actually give it a chance.

I think it's the different use expectation of the iPad versus the Surface. iPad and all its software is designed to be touch-first, with the option to add a keyboard if you are a heavy typer. Surface can work as a tablet, no doubt, but since the UWP store is so lacking, it depends much more on full win32 compatibility as a selling point. Not only does the keyboard make a lot more sense for Surface, so does having a high-dpi pointing device (trackpad) for hitting those UI elements that might not be so touch friendly. The Type Cover is essential, though I get why it isn't bundled for personal preference.

I don't know why anyone down-voted your comment. It was right on mark. Maybe they're accustomed to seeing your name and automatically down-voting you? :-)

I do not agree about the keyboard. I use Autocad and would use the pen and a detached keyboard. When nusing the pen, teh keyboard is in the way. I would luke to see the surface keyboard include BT.

They actually had something like that a while back--basically a bluetooth receiver that snapped onto the Type Cover. It never really took on, and I don't believe they are in production anymore. https://www.microsoft.com/surface/en-us/support/hardware-and-drivers/wir...

Yes. I was aware of that. It cost $60 and reportedly did not work well. Yoiu could get a ggod BT keyboard for substatially les cost.

I'm on the fence with that. I decided to buy Pro 4 sans type cover and got the Surface keyboard (awesome, by the way). Super happy on my desk. Tablet mode is fine with screen keyboard and when I take it on the road I use my foldable MS keyboard that I also use with my phone. In saying that, I think I'll get the type cover now as I feel it to be good as a protection device for the screen at a minimum, and bonus, it's a keyboard.

Wow, I would have taken advantage of this on my Surface Pro 3. I have used it like once. It is nice for the people who want it but this is great for people who don' have any use.

This is dumb. The Pen (And I think Dial, when buying a Surface Studio) should be free "add-ons" always. Charge the customer if they want a new one, but if you want to save a surface buyer $100 bucks, just sell the set as is for $100 less.

"Free add-ons" always get rolled into the price whether you choose to believe it or not.

unless they discount it as he is suggesting

Selling accessories separately is better than bundle.
Like Xbox one users who seldom uses Kinect or dial which is useless for a regular person using surface book.(dial can be used for all surface line device.)

At 4 thousand dollars, the Surface Studio should have the dial included, though. The hardware in it isn't revolutionary by any means to justify that price.

Would anyone like to buy me one lol

I would prefer to buy an eventual second hand Surface pro With stylus Than without. Same thing with a type cover. They are both relevant parts if the surface package experience.

Given with that price point, any people who want to send spare $40 money elsewhere, you can grab this one. Nice lifehack 😎

Does it include the pen loop with the keyboard anyway?

That was on the Pro 3. The Pro 4 has a magnetic strip on the left side of the tablet for the pen.

Couldn't imagine using my SP4 without the pen. I'm not an artist by any means but it is an essential tool for me. That being said I see nothing wrong with giving ppl the option. Choice is good.

I lost my SP3 pen, but then again, I've used it about half a dozen times in the past year and a half so it doesn't bother me all that much.

I wish they had that option for other tires as well. I was helping a friend to pick out a SP4 and she wanted a blue pen, but didn't want to pay twice for 2 pens.

I would love to pick up a Surface Pro, but the price point is still a bit steep for me. Maybe without the pen I can justify the cost. 😉
Windows Central Newsletter
Get the best of Windows Central in in your inbox, every day!
Thank you for signing up to Windows Central. You will receive a verification email shortly.
There was a problem. Please refresh the page and try again.