Microsoft working on Office Hub for iOS, codenamed Havana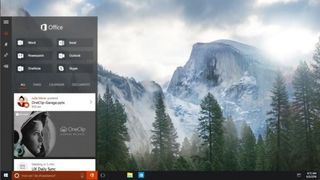 A few weeks ago, Windows Central exclusively revealed that Microsoft is looking at bringing an "Office Hub" to Windows 10 at some point in the future. This Office Hub would incorporate Office 365 into one convenient place, allowing users to see what's going on within their own Office 365 network, including what People are working on, Documents shared and created, and a whole lot more.
Now, it appears Microsoft is planning to bring that same feature to iOS, and we've received screenshots which confirm this.
The Office Hub app for iOS looks similar to the Office Hub concepts we saw planned for Windows 10, except adapted for the iOS design language. We've still got the same "streams" that are now more easily categorized into three areas; Now, Documents and People.
The Now area is where everything happening within your Office 365 network is showcased, similar to a social network timeline, this shows your upcoming events, priority inbox and more. Then there's the Documents area, which showcases recently opened documents, mail attachments and popular documents. Finally, there's the People area, which can showcase nearby people on your Office 365 network and sort all your shared documents, meetings and more with a specific person.
Codename Havana
The Office Hub for iOS is codenamed Havana, which is also the codename for some other productivity related apps, including Cache, the "successor" to OneClip. As we reported a while back, OneClip was not dead, and Microsoft was looking at ways they could bring it to life in 2017. I was told that the name "Bundle" was being thrown around internally too, and today leaks from Microsoft's Cache app appear to sport a feature called "Bundle", which isn't a coincidence.
It looks like Cache is definitely turning out to be OneClip reincarnated, but what's peculiar is it's codename. Perhaps the Havana codename is in fact related to Office productivity apps, which would make sense as in our Office Hub for Windows 10 story, we explained that Microsoft were looking at making users more productive within Windows in 2017.
Regarding the Office Hub for Windows 10, it's likely the iOS version will arrive before the Windows 10 version does. In internal concepts, the Office Hub is an integrated feature within Windows 10, whereas the Office Hub for iOS is just an app. It'll take longer for the Office Hub to show up in Windows, but we'll likely get a better experience too.
Or, what's more, these Office Hubs might eventually be superseded by Cache, which if you think about it, could make sense as they both are productivity based and allow for easy sharing of documents and information, but Cache offers the added benefit of a universal cloud clipboard. Who knows.
In the meantime, what do you think about the Office Hub on iOS? Let us know below.
Zac Bowden is a Senior Editor at Windows Central. Bringing you exclusive coverage into the world of Windows 10 on PCs, tablets, phones, and more. Also an avid collector of rare Microsoft prototype devices! Keep in touch on Twitter: @zacbowden.
Nice, the screenshots look quite "Windows 10-ish" with the hamburger and what looks like a pivot.

I get that the iOS version is easier to make, but still it's so frustrating to keep seeing everything come to other platforms first, it really does just give off a bad impression and the solution is so simple, release everything fully cross platform at the same time. Maybe it wastes a bit more money than necessary but let's face it, Microsoft can afford it.

I guess they'll integrate office hub into W10M as well, since it shares OneCore with desktop version. That would actually make sense. And integrating is not an easy feat to pull of. But that's all IMHO. :)

This is an unreleased app. The functionality also appears to be planned to be built into Windows with RS2. So, maybe we should wait and see what is actually announced, before assuming it's going to iOS first.

Read the article where it explains about the iOS app most likely coming first. I know it's not released yet but given recent history at MS it's pretty obvious that it will be on iOS and Android long before it comes to Windows. And even if it is planned for RS2 release in March there's not even a guarantee it will make it in.

Android already has the Arrow launcher, which is a) very similar to this and b) awesome.

Frankly, that's one reason I'm switching to an iPhone. Apple is slowly copying aspects of the WinPhone UI that is Superior to It's own, and Microsoft is prioritizing iOS. There's no need to suffer the App Gap anymore - in either direction. Continuum is a cool gift
Glimpse of the future, but as long as you have to carry a display and keyboard around to use it, might just as well use my Surface Pro 3. As long as the battery keeps working ;-)

To be honest, if I could stand using iOS or Android I would switch as well. I just don't like either of those OSs, they both suck in their own special ways. I am still considering getting an Android as I used a GS3 years ago so at least I would be familiar with it but I'm still kind of hanging on and hoping something will change with W10M, I'm happy with the hardware even if most people don't love the L950, but the app situation is a really bad downside and only getting worse.

For me, the adoption of widgets by iOS means that the lock screen will no longer be an information Desert. It's no Live Tiles, but it's a start. And as the Apps I need continue to dwindle on WinMo, and Satya had no plans to do anything about it, I'm afraid its time to make like Mario and jump off of this "Burning Platform".

To be honest, I love Windows 10/mobile but lately I've been looking at ios and It's beautiful. I think I'm going to buy an iPhone because it has everything I've been missing from Windows Mobile and more. Posted from my Lumia 640.

Lol nothing had been released and they will make it for windows mobile. Needing to release everything at once just waists time.
Why would you waist time and money because you FEEL like bad about it? What's good is good is good. Having office hub is coming at all major platforms. Idk when but it is and probably around the same time to. Also, I don't think it is easier to put on iOS over android or windows. They are probably working on all 3 right now and we just got word of the iOS version.

Its a very simple business decision. If microsoft wish to commit business suicide they would launch Apps and services on Windows Phone first, you know...the <1% market share penetration. I dont understand the reason people get frustrated, every buisness goes where the customers are.

It's perfect business sense for any developer in the world to go to where the customers are first. It's business suicide to go to other platforms before your own, it shows a lack of confidence and frustrates your loyal fan base which are the very people you need to get more market share. Remember, quite a few markets in Europe reached +10% market share which is pretty significant since iOS doesn't have much more than that, at that point Windows Phone was a viable 3rd platform, when MS started to release everything on iOS and Android first, stopped making devices pretty much and stopped marketing anything to do with mobile that's when things took a nose dive towards 1%. MS bought Xamarin, created all the bridges, created UWP, all of these things together make it very easy to develop cross platform and release at the same time but once again Microsoft shows a lack of confidence in its own products by still going to other platforms first. That really does negatively affect both consumers and developers when considering buying into the Windows ecosystem. Throw in poor communication, uncertain future and even major OEMs doubting the platforms future and it already is business suicide. MS needs to lead by example, regardless of cost, if they want to be relevant in the future. I fully believe in Microsoft's vision, their products and services are fantastic, but they keep making mistakes in execution of their vision and in the communication of it. While I previously thought retrenchment was a good thing, these days with the poor execution they've shown I think it was a huge mistake to sacrifice that 4% and suddenly decide to focus on enterprise only, even their "for the fans" promise hasn't paid off and looks like we have been abandoned too.

Well the whole xamarin thing angers me basically. I thought it was so easy to develop cross platform (according to MS) but even they don't do that. If they showed the powerful apps you can cross platform make, that might help in perception management.

Microsoft motto is "Mobile first". Nadella has said openly that mobile does not mean Windows Mobile but popular viable platforms.

@mbrdev, exactly. Someone of us have been asking for launch parity for ages. This is why people perceive that windows (especially mobile) is low priority compared to other platforms.

It looks like Microsoft are joining Office Hub and Cache together slowly. Wouldn't be surprised if Cache turns out to be a huge deal for Microsoft in 2017.

I have a question... what's the big difference from this (Office Hub) too Delve? Delve has these feeds, of course without the personal info which is more of a cortana byproduct/feature anyway. Cache on the otherhand is an actual new feature with it's intelligent & universal bookmarking system which could potentially replace the Filesystem as we know it and just rely on labels to group different files (which google has been pushing for with drive already).

Havana could be the main announcement of Office event.

Huh! Reminds me a bit of Delve (which, now that I've started using it, is very cool)

Why i am still using MS products, everything MS comes to IOS and apple first? Maybe Nadella should apply for the CEO function at Apple. Or someone should explain to him that he is not Apple's ceo ;-).

You are still using Microsoft products if you use this on Apple's hardware...

+1. Also, it's not all or none lol. I use Microsoft services on my other phones. Posted via the Windows Central App for Android

I don't use iOS so I don't care much.

Glad to see someone who doesn't

The stupidity of integrating it in to Windows 10, if it clearly can be an app, like on iOS.
Development speed can be so much higher if it was an app on Windows 10

Key word here is "integration". When you integrate something into the OS, it has a much higher level of access and capability than an app. For example, Cortana can do more on Windows than she ever could on iOS, because Apple restrict access to various components of the OS.

They need to provide these APIs to the public and just build the Hub on top of these. I really hope MS doesn't begin hiding internal APIs just so they can "integrate" these new features directly. Give developers APIs and they'll find fancy ways to use them that MS hasn't even thought of, see what Android apps can do even though Google's doing everything they can to prevent certain things from happening. It's not like they won't use an internal API anyway, it's not integrated in a way that'll make it difficult to remove or otherwise update as that would break everything they worked towards for the past 10 years (MinWin)

Though integration is a nice idea, it slows down the development of the service/app. By using the right API's, MS could achieve the same. Don't forget, MS is disintegrating a lot of its apps on Windows 10 for a reason

As to the iOS example; this is a restriction that Apple imposes. Obviously MS is not restricted by such a thing on Windows

There will still be the office apps, it's just the hub will be nicely integrated. Something are better integrated then as an app. It will give much easier access to office capabilities which is a huge part of why people are productive on windows machines.

Still, it always begs the question whether this integration is truly needed... If not, I think MS is better off leaving it as a separate app/service

Brilliant news....for apple fans using office

Those screenshots look WAY more like Android design language than iOS. Are we sure that isn't for the Android version of the app?

The phone reception bars look like they're from iOS 7 or above.

Also looks sort of like W10M design, which could mean they're using Xamarin to deploy it to all platforms simultaneously. But seeing as it could be integrated into windows, I have some doubts. :)

"Regarding the Office Hub for Windows 10, it's likely the iOS version will arrive before the Windows 10 version does​" this is completely unaceptable if true. I don't care if it's easier to develop an app than full integration with windows, the perception it gives the world would be that Microsoft things that iOS is more importatant than it's own OS, and that is like Microsoft shooting both of its feet.

the perception it gives the world would be that Microsoft things that iOS is more importatant than it's own OS

Far from perception, this is the reality Microsoft has embraced and encourage, not the first and wont be the last app from Microsoft that goes to ios first.

Lol where were u 2 years ago when this became common place?

This has been Microsoft's business plan for a long long time now. It's very well established at this point that if you want the best Microsoft experience, you should get an iPhone. Just don't close out your Windows Central account. This is where you get all the best iOS news. ;)

Every time you think yay windows 10 is getting a feature that's just ours Microsoft is like nope apple first. I'm all for cross platform but where's the give and take they get everything we get nothing I don't see iMovie's or siri on windows not even apple music which should be

The only thing ms is going to leave us with is the phone app lol

The act of having exclusive features for mobile has already been tried already and it didn't work. Yes, give and get is the ideal world but it's not reality right now.

I agree but I don't see google assist on iphones nor do I see,it coming to iphones anytime soon

This actually looks pretty cool. My company changed to 365 some months ago so this should work in theory, don't know if the IT dept needs to clear it or something.

I'm glad your company uses 365. At my school its all google and Apple, but that won't stop me from using good old Microsoft Office ☺

The usual butthurt W10 Mobile fanboys complaining about not being FIRST! Face it, iOS is where the action is FRIENDO!

So I'm assuming you wrote this on Imessage

So many people constantly surprised that a software company is making software... it's astounding. Posted via the Windows Central App for Android.. But waiting for the HP Elite so I can get rid of this junkie Galaxy S5...

Of course they are, every other platform first
Windows Central Newsletter
Thank you for signing up to Windows Central. You will receive a verification email shortly.
There was a problem. Please refresh the page and try again.