Windows 10 Redstone 2017: Office integration, Working Sets and more
Windows 10 is going to get a whole lot more productive.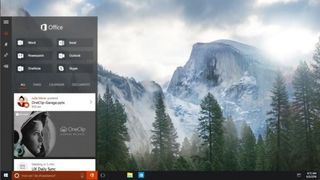 Now that Windows 10 'Redstone 1' Anniversary Update development is well out of the way, Microsoft can start focusing on what it wants included within the next set of updates planned for Windows 10, and first up is Redstone 2. We've been hearing for a while now that Microsoft wants to focus on productivity improvements with Windows 10 in 2017, so it's time to shed some light on what that means.
Now before we go any further, I want to stress that these plans are in very early conceptual stages, so obviously things can (and likely will) change between now and whenever Microsoft feels ready to push these new features. It's not clear if these features are pegged for Redstone 2, Redstone 3 or some other release planned later down the line, as it's just too early to tell. According to my contacts, Microsoft is still drawing out these ideas, seeing what might or might not stick. Also, the images you see in this post are conceptual images from internal documents, meaning UI's are not final and things will likely change.
Office Hub
Microsoft is looking at ways to better integrate Office 365 into Windows, with internal documents and concepts suggesting the company is looking at introducing a new Office Hub that gives users easy access to all your Office documents, emails, calendar events and apps, and keeps you updated with what others are doing within your shared documents via OneDrive and SharePoint via an Office 365 Stream.
Current internal concepts are still experimenting with where an Office Hub could potentially live. One area is within Cortana, being accessible via the Cortana hamburger menu. Another potential area is within the Action Center, as the Action Center is designed to keep you up to date with on-goings from specific apps.
A more interesting placement for the Office Hub would be it's own hub area on the taskbar, that opens up into a Cortana-like UI. This method would keep it in sync with both Cortana and Start Menu, providing a familiar interface for the user to understand. An Office icon would be placed right next to Cortana, similar to the Task View button, which when clicked would open the Hub much like how the Cortana UI does, even making the Cortana search bar turn to an "Office-orange" color that lets the user know they are in the Office Hub.
Along with the Office Hub, Microsoft is also looking at improving search by bringing more services into the Cortana and File Explorer search experiences. For example, the user would be able to use search terms like "emails from this week", and have Cortana pull in emails from Outlook, Exchange and more from the last week.
Office integration doesn't end there, however. Microsoft is also looking at ways of making Office contextual, as well as making it easier for users to work within Office without being distracted with a feature called "Working Sets".
Working Sets
With "Working Sets", Microsoft is looking at contextually bringing Office to the forefront of Windows by introducing new collaboration tools and Office integrations with Cortana, Action Center and even Edge. Starting with the collaboration tools, a new feature called "Working Sets" will help organize files and find documents, people, reference material and more under one 'set', giving the user easy access to all items related to an individual task or project.
These 'sets' can then be pinned to the Start Menu and task bar, giving users easy access to entire projects. Right-clicking a set pinned to the taskbar will give you a jump list that lists all the files and documents that is part of that project, which would make jumping to a certain document almost instantaneous when needed.
Pinning a set to Start would give you Live Tile updates on documents which have been updated since you were away, and launching this tile would bring you back to whatever you were working on previously.
Furthermore, with enhanced Cortana integration, she'll know exactly what you need when you need it, and float up on screen when you're working in a set with related files for you to use. Cortana will also gain new commands such as "Hold my calls", which would turn off all notifications, including email, messages and of course phone calls for 1 hour, minimizing distractions when working within Office.
Working Sets can also hook into Action Center too that show recent activity on documents that are being shared with other users, allowing you to jump in at any time and make your own changes or comment on changes that have already been made by others.
A little bit of OneClip
Microsoft is clearly interested in bringing Office 365 and Windows 10 closer together at some point in the future, which is great news for those who are actively using Office and Windows 10 daily at work or at home. In fact, Microsoft knows that a lot of users do use Office at work and at home, and have been working on ways to make sharing data between devices even easier with OneClip.
OneClip isn't dead, and we've got more to share on this front soon. Again, all features talked about in this post are still in very early conceptualizing and planning stages, so things can easily change. In the meantime however, let us know below what you think of the potential of an Office Hub being integrated directly into Windows 10.
Get the Windows Central Newsletter
All the latest news, reviews, and guides for Windows and Xbox diehards.