Windows 10 Redstone 2017: OneClip integration and a rebrand?
Microsoft is ready to take on Apple's own online clipping service with OneClip integration in Windows 10 and Office.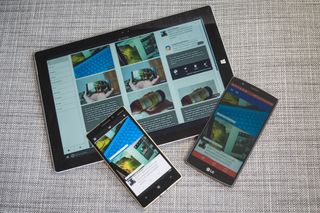 Windows 10 Redstone in 2017 is going to be interesting for businesses and consumers alike, as Microsoft is focusing much more on the productivity side of Windows. Microsoft is already looking into bringing an "Office Hub" to the taskbar with Windows 10 in 2017, alongside a new feature called Working Sets that would make Office contextual and organized.
Productivity plans do not end there, however. We mentioned last week that OneClip is still in the works, and there's a high chance we'll see it show up in 2017 as an integrated feature in Windows and Office alongside being available on a wide variety of platforms. Microsoft has reshuffled and refocused plans for OneClip many times internally, and now it looks like they finally have an area in which it fits nicely.
What was OneClip?
For those who were living under a rock in May of 2015, you likely missed out on the original hype for OneClip. In short, it was a Microsoft Garage project that leaked to the public, available on a plethora of platforms including Windows, Android, and iOS. Shortly after it had leaked, Microsoft pulled the service from the public, denying access to anyone outside of Microsoft.
OneClip was a unique garage project as it was the first of its kind, allowing users to copy text and images on one device and paste that content on another device that was logged in to the same OneClip account. This worked across PCs, tablets and phones of all kinds, making it the first universal app to do this.
It's been over a year now since OneClip was taken from the public, but that doesn't mean the project is dead. In fact, Microsoft has plans to introduce it down the line as a first-party feature, meaning it'll have tight integration with Microsoft products such as Windows 10, Windows 10 Mobile and Office.
OneClip in 2017
For the most part, the OneClip the public got access to last year will very much be similar to the OneClip we get in 2017. Apart from obvious UI changes and improvements, the main goal of the service is still "copy once, paste everywhere". What has changed however is the fact that it's no longer a Microsoft Garage project and is now being developed under the Office and Windows teams.
Microsoft is looking at ways it can make OneClip a productive piece of software that compliments Windows and Office in 2017, including integration with Working Sets, and positioning OneClip as a service that can not only copy your information, but back it up, store it, and collect information too.
For example, users creating a report or PowerPoint presentation for school or work can be doing research online, either on their phone, or on a computer that isn't their own. In this case, you find some information that will be great for your project, however you don't have your project on you at the time to add to. With OneClip, you can simply copy what you've found, whether it be a link, image, text or document, and store it within OneClip. When you get home, that piece of information you found earlier will be readily available to you from the OneClip stream.
OneClip and Working Sets integration will allow the user to simply pull up the OneClip stream whilst within a document, and pull content directly from OneClip with no fuss. With OneClip, you'll also be able to sort your clips into specific types of clips, being able to filter them easily for finding later. This is especially helpful for those who are constantly copy and pasting information between devices. Here's an example of some of the types of things you can copy with OneClip:
Favorites
Websites
Images
Phone numbers
Text
Locations
Email
OneClip is expected to be available on Windows 10, Windows 10 Mobile, Android, iOS and Mac OS.
Bundle?
I've heard from sources that Microsoft may rebrand OneClip as "Bundle" when it launches to the public, as the feature has expanded to more than just an online clipping service. Now that OneClip is under Windows and Office, the company can do more with it and expand it to more apps and services. It's still early days to lock in a name change for definite, but it's definitely possible, and "Bundle" is what I've heard.
As with all in-development plans, anything and everything could change between now and whenever Microsoft feels ready to launch OneClip to the public. The concepts you see in this article are from internal sources, meaning UI's are not final.
Zac Bowden is a Senior Editor at Windows Central. Bringing you exclusive coverage into the world of Windows 10 on PCs, tablets, phones, and more. Also an avid collector of rare Microsoft prototype devices! Keep in touch on Twitter: @zacbowden.
Can't wait to test this in Redstone 2 preview builds! :)

Sounds like a really handy project. Can't wait to test it!

Well it suggest that they're doing to bring it back which is great! Hope that this will be a baked functionality in the OS and API for developers to be used for their apps for added functionality. Hopefully it won't be just an app with integration with OS, this must be part of it.

Have to agree here. This is almost like when they wanted to rename Cortana to something seriously awful just before they first unveiled it to the masses (I've blocked it from my memory, so I can't actually remember what it was).

If I remember correctly they planned to name it Alyx. It is really weird that at times MS naming schemes are rather bland or isn't particularly sounds exciting, their codenames though many sounds much better.

Is Redstone 2, the next anniversary update? That's a hella long time to wait for this.

It's being released next spring sometime, version is likely to be 1704 or 1705 (April or May 2017)

No need to wait so long, just jump on fast ring and I'm sure some form of it will be along shortly. It's only 8-9 months away not a full year anyway.

Thats not what the insider program is for, joining it with just the expectation of getting the "latest" is what leads to loads of moaning and whining when stuff doesnt work, which it wont as its a ruddy PREVIEW!

I'm well aware of that but in my experience people will complain no matter what, someone complains about waiting till next year for a feature so solution is insider preview and when they complain about bugs I get to call them stupid!

Not only that, but when the new users do complain about the issues they find during the preview, Microsoft will be able to fix the issues before they release it to those who require a more stable environment! I think it is a good thing to encourage common users to sign up on the insider program, encourage them to submit reports and complaints, and test the heck out of the products!

Yup, having more users test with their main system would probably have saved the issue of Anniversay Update breaking a lot of USB cameras.

Cool! Finally! Hope to finally finally see this come to light. Hope everything works out according to plan. And one more thing Microsoft, now that Apple has done this in macOS, windows should too think about integrating files and media transfer through this universal clipboard engine.

I've been doing this for years with OneNote, guess we'll have to see what distinguishes OneClip from that.

OneNote: Copy text, Open OneNote, Paste Into OneNote, Open OneNote on other device
​OneClip: Copy text, Open OneClip on destination device ​So, two steps instead of four. That's distinguishing :)

The OneNote clipper extension in both Edge and Chrome you don't have to open OneNote at all, Same with the "Clip to OneNote" tool, that it can insert it directly into whichever notebook you want. All you'll have to do is to Open and sync OneNote on the other device.

Lol and how are we supposed to use that extension on mobile?

the clip to onenote bookmark link actually works on mobile, found out bu accident.

More than 4 steps... ​OneNote: Copy, open OneNote, Paste (wait for synq), open OneNote on other device, Copy, change apps, Paste where needed. ​OneClip: Copy on one device from anywhere, Paste on another device in anywhere.

The difference is that whatever you copy or CTRL+C will show up in OneClip instantly on all your devices without having to paste it into another application that syncs like OneNote. CTRL+C on laptop => CTRL+V on desktop.

If it works as good as it sounds, it will be incredible.

So ... basically, a real-time, synchronized Clipboard? Me likey!

Do we really need a new program for this when we already have One Note? Maybe just teach people how to effectively leverage One Note with tutorials. I surmise One Note is typically very under used, because of the lack of info on how great a tool it is.

This is something that should be an Edge extension too. Just the thing for sharing web links from my work laptop.

But why? If you copy the link in Windows, it will already be on OneClip, why would you need an extension on top of a native feature?

in theory, an extension could be available now instead of having to wait till mid 2017 for this.. lols...

The perfect Snipping Tool companion

FWIW, Office Hub's EXEs (and more) are already there in public RS2 builds. ;)

The biggest issue Microsoft should fix for improving productivity is focus stealing.

"Share across devices" is a nice app to get by till Oneclip makes its way back...

CopySpace too a nearly 90% equal to OneClip.

But the main feature is not free

expected to be available on Android, iOS and Mac OS first, Windows last - Suckma Nutella

Nadella needs to be ousted in a coup. He reminds me of a corrupt world leader that screws his own people for money. I don't know how he is still here smh

Satya in my opinion is very strategic, he is not interested in winning battles, he is in it for the war. He is positioning the Windows ecosystem ( windows 10, win10 for phones, iot, holographic, gaming, surface hub ) to be a major player in tech tomorrow. At first I didn't agree with a lot of moves like making Cortana cross platform or office, but he is a sneaky motherf***cker, a total genius.

For example, users creating a report or PowerPoint presentation for school or work can be doing research online, either on their phone, or on a computer that isn't their own. In this case, you find some information that will be great for your project, however you don't have your project on you at the time to add to. With OneClip, you can simply copy what you've found, whether it be a link, image, text or document, and store it within OneClip. When you get home, that piece of information you found earlier will be readily available to you from the OneClip stream. Can't someone do this with the Office online apps, or OneDrive?

Gammar **** comment "Microsoft is looking at ways it can make OneClip a productive piece of software that compliments Windows and Office in 2017" I think you mean complements, not compliments

Lol why cant OneClip sing praises to Windows and Office

OneClip should be combine with OneNote.

My thoughts exactly. When I first hear of this feature, I thought that was what OneNote was for. I get this will be a different interface, but how hard is it to launch OneNote and save an unfiled note? Seems like the same thing for me. In any case, I do look forward to seeing this feature in action.

Its an extra step. I like that this will be a specialized feature and easy to use. It might be why they are changing the name though. Bundle doesnt sound like anything close to OneNote. It doesnt sound good at all imo ;).

I don't think it should be combined with OneNote because this is not specifically for OneNote. This is a universal copy and paste function, which OneNote essentially has that capability, but that is not the main purpose of OneNote. This would be a much more lightweight and easier to access, I presume.

Sounds great, but in reality you can already do this with ONENOTE, using the webclipper or the send to one note function. So I'm not sure how useful this will for me. But I'd like to give it a try.

I hope that this comes to all Windows 10 users and not just enterprise users. I would love some more productivity features included for the average consumer.

Merge this with / repace the current Snipping Tool and add some of the cool functionality of SnagIt, and you are on to a real winner! :-)

Hey, look! Microsoft is stealing Pushbullet's idea!

Don't get me wrong I am a Windows Fan that recently switched to IOS (I still have my PC, Surface and Lumia 950) but there is already something similar on MacOS Sierra Beta that is coming this fall. I have played with it, it is really nice.

Apple calls the feature Universal Clipboard:

Copy images, video, and text from your iPhone. Then paste to your nearby Mac — or vice versa. There are no extra steps. Just copy and paste as you normally do. Find a great recipe while browsing on your Mac? Paste the ingredients right to the grocery list on your iPhone.

http://www.apple.com/macos/sierra-preview/

Finally have been waiting for this feature. Hope it is just as easy as copy and paste now on our device. It hopefully functions like a universal clipboard feature

How much extra money will this "bundle" cost the consumer? 29-7-2016 is over so every thing now it's going to cost us money, even if it is a service.

I very much doubt that the cost of Windows 10 is going to change because this is incorporated. They always intended to keep adding new features and this is simply part of that.

I'm not so sure. Microsoft has been quite direct that windows 10 is not free anymore, despite a few minor exceptions. They've recently changed the cost-memory strucure of onedrive. Not sure what they're going to do with the office 365 subscription prices. Netflix in the last 2 years has increased their pricing by 2 euros by increasing content. What would prevent microsoft from doing something similar by adding more services within the office 365 package? Can microsoft truly exist purely from the surface, azure and bing profits only to finance windows 10 and the rest?

Nice! But, seems slightly redundant, as it possibly should be added to OneDrive? IDK. Either way, I can definitely use this.

Nice. I can stop using Kopy when this comes out :D

Check out CopyCopy. It does clipboard sync and stores stuff for later and works on Windows, Mac, Android and iOS.

I really hope Microsoft doesn't make this cross-platform cause they really need some wow features to sell these to business. This could be one of those feature where a person forced to use this phone for work realizes the convenience of this feature and many others and decided to make it their daily driver. That how ms can regrow their market share even if they say they are not worried about it. because as a business why would I buy your elite x3 when I can have all the same features through free ms apps. Give them a reason to buy your phones ms don't put all your eggs in a basket with continuum.

That will not help the "app gap". You need the wow effect to get more ppl to w10m first...

Yeah I know that's exactly what I said w10m needs a wow factor put it can't have a wow factor if you put all of its best features on other platforms

Nice but Microsoft has to focus on fixing OneNote first. Way too slow when syncing even with only two lines of text or a small image attached.

Thank you, OneNote sync is the reason am looking of an alternative. they dont even have a paid version that would offer faster sync as a feature.

Add Windows ink maybe? :) Posted via the Windows Central App for Android

bundle is such a weak name. they should just call it Clippy (reuse and reassosiate that name with something more useful)

Clippy is back? OneClippy?

Absolutely looking forward to this feature, I usually type a long string of text and send it to someone on my phone. With this feature, it will save me the trouble of doing that.

waiting for it to be official...