Microsoft is working on Surface earbuds to compete with Apple's AirPods
By Zac Bowden last updated
A new pair of Surface headphones may be on the way, this time in the form of wireless earbuds.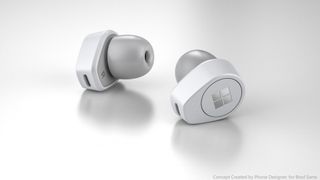 According to a new report, Microsoft is working on another pair of headphones, this time designed to take on Apple's AirPods with wireless earbuds powered by Cortana. Dubbed "Surface Buds," these new earphones from Microsoft are much smaller than the Surface Headphones, making them much more ideal for travel.
Codenamed Morrison, something we can confirm via our own sources, these new earbuds will likely feature Cortana integration and noise cancellation, just like the Surface Headphones do. I've known about the Morrison codename for over a year now, so it's interesting to see more information about these headphones show up now. It's unclear when this product will ship, assuming it hasn't already been canceled.
Hopefully, the Surface Buds will be cheaper than the Surface Headphones, which come in at $329 making them somewhat expensive for most people. If Surface Buds cost $149, that opens them up to a much larger market, one that people looking into Apple's AirPods might be interested in buying.
Brad Sams's report details the following:
Back before the Surface Headphones were announced, I was told that Microsoft were working on accessories under the name Morrison and Joplin, alongside its Andromeda foldable device. I wasn't sure we'd ever see Joplin and Morrison after Andromeda was delayed indefinitely. I was later told that Joplin was the Surface Headphones, proving that these accessories can ship even without Andromeda. So, it's not crazy to assume we'll see Morrison as well.
What do you think about these headphones? Let us know in the comments.
(opens in new tab)
For
First-rate audio.
Very comfortable.
Cortana works well.
Outstanding gestures and auto-pause.
Works with multiple Bluetooth devices.
Against
Noise cancellation is mediocre.
Battery life is short of the competition.
Large carrying case.
Our favorite Surface accessories from Microsoft
Every one of these valuable Surface accessories is Windows Central Approved and guaranteed to please.
Surface Precision Mouse (opens in new tab) ($77 at Amazon)
The Surface Precision Mouse is not only one of favorite Surface accessories, it's one of our favorite mice for any PC. It's packed with valuable features and customizable buttons. Its scrolling and tracking are seamless and spot-on. And it's rechargeable so you never have to buy new batteries for it.
Surface Pen (opens in new tab) (From $72 at Amazon)
Every Surface owner needs this Pen. Period. It supports 4,096 levels of pressure sensitivity, tilt support for shading density, and enjoys supremely low latency. When paired with a Surface PC, the potential is endless. And it comes in a bunch of cool colors.
Surface Dock (opens in new tab) ($136 at Amazon)
With two Mini DisplayPorts, four USB-A 3.0 ports, an Ethernet port, and a 3.5mm audio jack, this dock gives you the ports you need to stay connected to all your favorite devices. Plus, it easily turns your Surface into a desktop power hub. We highly recommend it.
Zac Bowden is a Senior Editor at Windows Central. Bringing you exclusive coverage into the world of Windows 10 on PCs, tablets, phones, and more. Also an avid collector of rare Microsoft prototype devices! Keep in touch on Twitter: @zacbowden.
I was close to jumping on the new powerbeats pros because I like the airpod style, just not airpods themselves. Maybe I'll wait a bit for these.

Yes. Finally something cool from MS we can look forward to.

Airpod style? Just so you know there are more then bests and apple. What about the style do you like? I can send you a couple links to do really good full wireless ones.

https://imgflip.com/i/2ayr0k

Looks nice 😍 , hmmmm what a about a new Surface concept, I can't wait to get a new one.

What kind of new concept might you be thinking of?????? 🤔🤔🤔

Instead of a Surface I would want to see a Sphere.

Hopefully, these earbuds will be within the $130 to $150 range. They need to get at least 6 hours of batterylife, as many true wireless Bluetooth buds only average 4 to 5 hours of continuous play. They also need to be water resistant for those of use that seat hard or like to run in the rain. I expect them to be pretty good buds out the box, because MS mostly makes pretty good hardware, IMHO. I just hope the sound is rich.

Yes, but if you only put one in at a time for some things then it will last a really long time since you can switch between them and then charge the other one while wearing one. Lol

Most wireless sets have this option, though it is typically only one side that can be used that way.

Sorry, I do not trust Microsoft for these types of products. The MS Watch was the last straw.

Do you mean the Band? They were late to the game with a chunky device the public didn't want. Even Fitbit is struggling these days. There was a Nokia Watch planned before the MS buyout, but that died shortly after.

Late to the game, would that not be a good way to describe these surface buds? Hopefully Microsoft can bring something new but not sure what that would be.

Well these are 'Surface' buds. So, they will likely offer something interesting, instead of being a run of the mill alternative to Apple. To address OP, the Band was just another MS product and not a Surface band...

Earphone?
What kinda support does it need? You buy it, you pair it, you listen.
Do people code for a earphone? MS needs to maintain or design the library / API?
Do you need a 2nd gen with much faster CPU/GPU or bigger harddisk? Looking at G+, Nearby, tons of messenger, PSV, Q, Android IOT...

Same but Band wasn't the last straw for me. W10M was. I just don't have confidence Microsoft won't abandon these.

So what if they did? Either they're good or not and, once you've bought them, they will continue to do what they were designed to do until they die or you replace them with something else. It's not like they need a store or even apps to function. Even if Microsoft were to release one set of in-ear headphones and no more, everyone who buys them will still get exactly what they paid for.

Were talking about bluetooth headphones. They won't abandon the warranty because it's illegal and it's not a platform so it's not like you will get updates and features if it was abandoned or not.

Nah. That smart watch market is saturated. Expected market growth didn't appear. And others were moving to dominate. Smart move to exit. Don't get me wrong. I had both Bands, and loved them. But I get why they dropped it.

The smartwatch market is far from saturated, with annual growth of 11% forecast for the next few years. Apple alone now makes more on the Apple Watch than all of Surface sales combined. https://www.forbes.com/sites/paullamkin/2018/12/19/smartwatches-to-domin...

Goddamn! The funny thing is that there is not a smart watch that competes with them at all. We need a DC to compete with Marvel.

When the original band released, even this site was saying the purpose was not to really take marketshare, but to demonstrate the capabilities of a set of sensors they wanted to try and sell as a kit to other manufacturers. After the Band 2, I just don't think they were getting any interest so they dropped it. It sucks, but it made sense. Plus, it wasn't compatible with UWP as far as I'm aware.

Is there anyone foolish enough?

I can understand the Watch because that was a platform but we are taking about headphones with Cortana as a feature. If you don't use Cortana you won't miss anything of importance if they decide to cancel the product line because they are headphones not a platform like the Watch was. And you could use your watch if you want, you just couldn't use the MS health platform. You could program whatever you want for it so that's an option. I never did because I didn't buy the watch because it was clunky and ugly as frak. And they have proven to be as good as Apple about warranty.

We are a cloud first, mobile last company. What sad stretch of years for this once vibrant company.

I'd buy these, based on the quality of other surface-branded gear.

Oh Andromeda, Your absence makes me cry.

I would probably buy these if they were not too over priced. The headphones are a bit too much for me plus I don't care for over the ear/head anymore. Prefer something light, less noticeable.

I'm waiting until the end of the year on Microsoft. If a portable cellular capable device isn't released then I'll seek out an Android and dive into that manufacturers accessories. I don't see a strong need to have MSFT stuff without their hardware since integrations are starting to bind features.

As in you're still using a windows phone device?! Good God, man! Stop torturing yourself

It would be great if they had a dedicated mobile platform for the surface pods to integrate into, but Nadella ruined any prospect of that.

Why do ear buds need a specific mobile platform?

Most heavy users of wireless earbuds want mobile integration specific to their os. AirPods users are mainly on ios and look for siri/ ios shortcut integration with their hardware. Galaxy Pod users also look for this on android. If you were to cross platforms and use the opposite platform's hardware, you could face issues where assistant integration or short cuts do not work. It would be helpful if surface pods were able to integrate in some way with a specific platform instead of being a free agent. It makes a big difference in sales if you have a mobile platform and status symbol brand to tie into is all im saying.

I mean, Android is fairly open and multiple companies have headphones that tie into the assistant. It's not the headphones you want increased integration with. You're saying you want the assistant to have increased integration. This still isn't really anything to do with the headphones directly, only indirectly through the assistant itself.

Not at all. I'm saying that Microsoft doesnt have as strong of a brand name for mobile consumers, and that the headphones will not necessarily appeal to the average consumer. There is no "status symbol" behind their brand that will drive popularity and sales.

I don't know how to put this but Surface is kind of a big deal. People know it. It's very important. It has many leather-bound books and it's apartment smells of rich mahogany.

Cool, maybe they'll be grossly overpriced like their headphones

Why do you think they are overpriced? The price is comparable to similar Beats and Bose. I own all three and each have pros and cons. I prefer the Bose, but I like the ergonomics of the Surface Phones, their comfort and controls.

The noise cancelling is really pathetic on the Surface Headphones which is really the main feature of over the ear headphones especially in the $300 plus range. I too have the Bose. They are awesome

Can you use these in the shower?!

You can use them in the future so why don't you wait until then to answer your question

Powered by Cortana... Already irrelevant for approximately 70 % of their potential customers even before they're revealed...

I think you mean 99%. I doubt Cortana gets much use at all these days.

bleached, I think you mean "I think you mean 99% OMG I hate my life."

Bleached. We talked about your execution and why how you deliver context is the reason you piss people off. Now after I broke this down to you, you were doing well. Don't go back to being a donkey. This comment would have been fine without the condescending "I think you mean 99%" part...
The person wrote EXACTLY what they thought they meant. You didn't need to assert your a-holeness.
I know old habits die hard but we must all grow with the passage of time. It's 2019 and you're STILL doing that. We'd love to see some growth from you. We're rooting for you buddy. Now go out there and continue your trek across the mobile nations comment sections and make us proud! No more letdowns, okay?

I'm not rooting for growth.. Growth is life... I'm rooting for the opposite🤷🏾‍♂️

I have the Jabra Elite Sport earbuds, which are pretty amazing and were $220 when I bought them last year. I don't think that it would be unreasonable for Microsoft to charge $250 or a bit higher for the Surface branded earbuds, especially if the sound quality is better than what I've got in my current Jabra earbuds (which is pretty decent as it is), plus Cortana would be a welcome addition.

The Jabra ones are suppose to be pretty good. Don't expect these, or any true wireless earbuds to sound really much better then what you got. It's Bluetooth.

The Jabra ones are much more feature packed though, they've got a heart rate monitor, waterproofing, and great sound.

Who's to say the Surface ones won't have as many/more features though? Don't get me wrong, I love the Jabra ones. They really are great, but I would have loved to have been able to pick up some Surface ones when I bought my Jabras.

I can imagine the Surface headphones will have everything bar the heart rate monitor, Microsoft are moving out of that sector and it would be incredibly odd for them to suddenly release a product with that goal. This is an answer to Samsung, Beats and Apple, not Jabra. It may be that they will have improved sound quality but you should be more than content with what you have Jabra are ace when it comes to sport headphones.

They need to be at or below the price of the Apple ear buds.

bleached, dude, you weren't even trying to be snarky here. All sorts of lame. I'm sure hating on Microsoft is tiring, but seriously, it's not like you have anything else to do.

Ohh, he has a low end Android phone. That's why he's mad.

I would be fine with a low end Android. They are quite good these days.

You have no choice but to be fine with one.. Please🙄🙄🙄

How was that hate? They have to be $150, maybe $179. They won't sell at that price, but at least they will have a chance.

You taking another breath of air is hate

I have the Jabra elite active sport and love them, I use them for both exercising and commuting. The passive (seal) and active noise cancelation is 'good enough' even bring in New York. I don't personally care about assistant integration and already have a fitbit so don't need fitness integration, plus like someone else said I think it would be a bit odd since they left the fitness watch market. As long as it has good battery life, not be airpod style but more like the Jabra elite active style, with a small case, and at the very least AAC Bluetooth codec or higher then I think it'll do well.

Really happy with my Jabra Elite Sport! I use it mostly for conference calls. The features are good for me and sounds clear. Wireless so appreciated on those long calls!!

Cool! I buy any expensive headphones or earbuds from the really good professional companies that really know what they are doing. Those Microsoft headphones are decent and have some premium feel but there's other brands I'd probably buy first personally if I wanted that type of headphones, like the Sennheiser ones.

I'm might be in minority here, but I prefer a cable between the two buds. I just drap them over my neck when not in use. Just pull them out/drop them when I need to talk to someone. Don't need to worry about losing them.

I sometimes run with only one earbud in so i can still hear stuff. I'm *really* looking into buying truly wireless earbuds so that this would be much more comfortable. Right now i gotta tuck the other wired earbud in my shirt or something to stop it from bouncing. Other times I just borrow my wife's Aftershokz.

Plantronics BackBeat Fit might be an option for you, they are designed not to block external sound so they are specifically made for people who exercise outside, whether it be running, walking or bike riding. I use them myself when riding a bike and it's a lot safer being able to clearly hear cars and people around you, while still also being able to listen to music.

Same. I have no desire for truly wireless earbuds.

I specifically like in ears that hook over the ear, I have often used in ears that have occasionally popped out when I'm exercising, I sure as hell don't want that happening with something like this, so I avoid completely wireless.

Lot of competition in this area. Samsung, apple, beats, huawei etc. See what special function they will come up with. I like the fqct Surface headphones can connect to multiple devices.

AirPods, Galaxy Pods, etc. are able to connect to different platforms, they just dont carry over shortcuts or assistant functionality.

Sure, just one more overpriced thing to end up getting ruined in the washing machine.

Maybe don't wash your headphones?

If they allowed them to integrate with Google Assistant, I'd be interested. I *have* Cortana on my phone, but I don't have her as the default assistant. Otherwise, I'd only go for these if the price/quality is justified versus a pair of 'dumb' fully wireless earbuds.

I hate earbuds and if I paid the stupid amount that apple wants for theirs and no doubt what MS will charge I would want to tie them around my neck. i have some Pioneers that I got a few years back, they cost a lot less than these buds and other over priced headphones and they have good sound, they also came out before manufactures started adding useless features to them. What is the point in ear/headphone being able to produce good quality sound when the audio being pushed to them is not good quality? Bluetooth is awful and will never be any different. for the best sound you need a direct connection.

If Nadella was consistent he would can these headphones because they are clearly part of the consumer market. Or, he could just majestic Surface an android product, most everything he has done being transferred to Android and ios, so why not Surface?

"Powered by Cortana." Ha ha. I remember when I my banking info was all "Powered by Microsoft Money." Then MS stopped supporting/developing money, and it was a huge amount of work to transfer all that banking history into a Quicken system that is now "Powered by Something Else" that is still supported. And then there was that time when my music was "Powered by Groove." Followed by me spending a lot of time getting everything moved over to another system "Powered by Something Else" that is still supported. And, oh yeah, all those apps I bought on my Nokia that were "Powered by Windows Phone," which became useless when MS stopped developing and supporting Windows Phones, so I had to re-buy all the apps and re-input all my information into apps that are now "Powered by Something Else." Almost like that time my health and fitness data were "Powered by Microsoft Band," and we all know what happened there. Unfortunately, I never did figure out how to transfer my fitness data over to my Fitbit, so I simply lost all the information when I had to get onto a fitness tracker that was "Powered by Something Else." I'm a bit embarrassed that it took me so many tries to realize that it's so much more sensible to skip the "Powered by Microsoft XX" step and just leapfrog directly to the "Powered By Something Else" part. I'll be skipping the "Powered by Cortana" headphones. For those who do buy them, I wish you all the best and hope this turns out to be one of the cases in which MS stays committed to its product line, which does happen. It just happens too inconsistently for me.

They're earbuds. Wth does Ms have to stay committed to? You want them to guarantee they will build surface earbuds if no one else does?!
Stop being childish.

They are earbuds with voice assistant functionality, which means that is part of their selling price and part of the reason people may buy them. If that is then removed due to the manufacturer no longer supporting said voice assistant then suddenly people will have a product which is no longer worth whatever value it had.

Of course, "powered by Microsoft". I am still using the free version Money Plus Sunset. 2010 flawlessly and if you pick the right add-on you can even still download your stock data automatically. My PC is still powered by Microsoft Excel (since 1991). Microsoft Word (since 1983), Microsoft Access (since 1992), Microsoft PowerPoint (since 1990), Microsoft Project (since 1984) - 35 years and counting, Microsoft Visual Basic(since 1998), Microsoft Visio (since 1992). So tell me what other software manufacturer is still around that still supports and develops 35 year young software? If you do the math you will notice that compared to e.g. Google the amount of dropped products @ Microsoft is pretty modest. But I trust you still drive a Ford Edsel listening to your ITT Schaub-Lorenz transistor radio? right? PS: Microsoft supports their Mouse since 1985, the Microsoft Xbox since 2001...

No thank you Microsoft, it'll be cancelled in the next 2 yrs

It'll still work even if they stop making them...

At least they cant drop support and firmware updates for earbuds...

Earphone?
What kinda support does it need? This thing's using standard bluetooth right? You buy it, you pair it, you listen. Do you need people to code for a earphone? MS needs to maintain or design the library / API? Do you really need a 2nd gen 7 years later with much faster CPU/GPU or bigger harddisk? Trust? By your logic, no company in this planet is trustworthy.
Can you trust Sony?
PSV was a gamble no? Lost support around 2016.
Xperia is losing more than gaming's gaining. Tape, memory card, readers, etc. And there are many niche products that no one know nor want. Can you trust Google?
Sure, they got lucky with Android but Android IOT is gone. G+, Reader, Inbox, Nearby, tons of messengers and other services are gone. Play Music is dying.
Who knows, Stadia could die in 3 years... iOS still exists, but Apple dropped many beloved lines too. e.g. SE (esp in Japan).
Mac had an OEM / enthusiasts support once, dropped. Unlikne WinPhone, a Windows that runs no XPA or UWP we run on our PC today, was a not a true Windows. It made no sense to programmers (me included) and it was late to the market.
Xbox, Surface, Mixer, IOT, AR, Simplygon, Havok, DirectX, C#, Azure Edge, WCOS are all connected to each other and are all related to our life.
Do you consider games like Uncharted, Rainbow Six Siege or Zelda, consumer products?

It's the "powered by Cortana" part that people are worried about. Think about the Pixel earbud concept that was shown which have the ability to translate languages on the fly. They are still technically just earphones, so losing that functionality wouldn't stop them from being used for music or calls or whatever. However I'm pretty sure if you bought a pair and you suddenly lost the ability to use the translation feature, you'd be pretty frigging pissed off.

> It's the "powered by Cortana"
Just don't use that feature... I've no idea why do I or people even need DA... the only time I use DA, is asking for a timer when I cook, or I just ask my girlfriend.
I'm not talking to "no one" during commute or in the office.
If I want information, instead of listening to DA reading me line by line, a bigger screen suits the job better. Which is faster? 1) Full sentence + wait time or 2) win key, keyword, enter?
Can DA help me code? Help me write design documents?

You know what would go really well with those buds? A phone. A foldable, Windows on arm phone. Just sayin

Still waiting for the headset. And Cortana. Just like with the band the main issue is availability, we can't be customers if we can't buy the gear. MS said Norway was a realease wave one country, but so far that's only given us late releases of Surface computers with reduced functionality (no cortana).

I have a set of Bang & Olufsen E8 earbuds and according to the reviews I read there IS a difference in sound from the various wireless earbuds on the market. The B&O earbuds are very good, from a company with a long history in audio technology. Microsoft are trying to compete in a crowded market of experienced companies. Incidentally, the B&O earbuds don't do noise cancelling - they do the opposite. When you use them they block out external sound, but there's a toggle to let in some external sound. It's a very clever little trick that doesn't mess with the quality of the audio you're listening to.

How do you toggle blocking sound other than physically? Otherwise, if it were electronically... then it's noise cancelling.

Yes, they block outside sound physically, they can let that sound in electronically. They use the microphones to create the external sound, so at the extreme setting of no music and all outside sound, they are acting like hearing aids. At the other end, all music and no outside sound, they are not electronically removing the sound, that may alter the music you hear. They rely on physical blocking instead

Uhm can Microsoft think of an original idea for once and not copy what Apple does?

Apple copied Surface&Pen too isn't it? And Android, and other products, designs. Able to resize-window-from-any-corner is implemented in Mac in 2012... pretty sure the feature is in win95 (I've never used anything older tho).
Still don't have a menu key and missing many UI interaction shortcuts. iOS... you still cannot scroll directly on a textfield, still cannot change AP directly from the Quick Settings, etc, etc. hnnn... Apple invented wireless earphones?

wireless earbuds was simply the next logical step. it's part of the reason bluetooth was developed to support it. Bluetooth enabled the technology before Apple made it. Apple didn't invent this.

The competition wouldn't be the Apple product, which is decidedly mid-tier in today's market, but rather the likes of the Jabra 65 series. I have a set of Jabra 65t and they are the best of the market right now. Give me a similar design, Cortana use (which is quite useful to me), and good battery life I would jump on board.

Expensive as heck Headphones that I might actually buy.

For once can Microsoft get out in front instead of constantly playing catch up 🤦🏾‍♂️

Who invented the 1st wireless earphone in the human history?
Pretty sure it's not Apple...

Playing catch-up to overtake the market is what Microsoft is good at. Example. Word, Excel, PowerPoint, Access etc. some of these products are 35 years around, alive and kicking. Xbox is here to stay as well, same for Surface product line. Surface Studio 2, Surface Book 2: playing catch-up?
Windows Central Newsletter
Get the best of Windows Central in in your inbox, every day!
Thank you for signing up to Windows Central. You will receive a verification email shortly.
There was a problem. Please refresh the page and try again.