Microsoft's 3D Builder app will soon let you make a 3D model from an image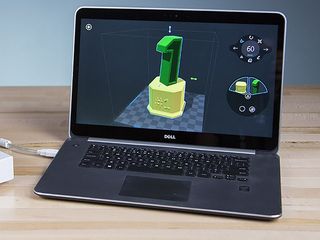 Leaked screenshots and information show that Microsoft plans to release a major update for its 3D Builder app on Windows 10. It will include a way for users to upload an image and turn it into a 3D model.
Microsoft first released 3D Builder for Windows 8.1 in 2013, which gave people a way to make 3D models that could later be created in the real world with 3D printers. WindowsBlogItalia has managed to obtain a internal version of the upcoming 3D Builder update. Their (translated) list of its new features include:
New GUI.
The templates are grouped into categories: in the foreground, games and accessories, train set, trophy pieces, family, miniatures, letters and numbers.
Added the ability to upload an image and turn it into a 3D model.
New options for creating a scene.
Added the possibility to print on plain paper as well as in 3D.
Added further information to identify the model name, author, description, copyright and licensing terms.
Added some settings to customize a scene.
There's no word on when the new version of 3D Builder will be released.
Download 3D Builder from the Windows Store (opens in new tab)
Good for making custom toys for your kids, other than that, what other purpose can 3D printing serve in a household?

Did you really ask that?! For any maker or anyone vaguely into electronics, they're amazing. Sent from my Lumia 830 running Windows 10 Mobile

Yes I did, and from the looks of it, if you're just a regular household, there's no benefit in 3D printers besides toys for your kids... Posted from my Surface Pro 2

I work in Structural Engineering so there are plenty of uses for this... Posted via the Windows Central App for Android

Structural engineering isn't "regular household" stuff... Posted from my Surface Pro 2

What we have made with our $350 printer: Globe, tectonic plate models for kids school project Hose bib spacer for the house MS band charger/holders Accessories for printer Digital sundial And, a few toys and trinkets

Interesting, thanks for shearing...

You clearly have no imagination. If the cost would come down for 3d printers I would buy one in a second and I have no kids. I could make tons of items for myself and others. Guitar picks, flatware, cell phone cases, stands for my electronics... honestly the list is endless. Just because you're not creative doesn't mean no one in an average household is.

Tabletop rpg miniatures, custom holders for phones, all kinds of stands and tools, the only limit is your imagination. Which some people seem to lack, it's understandable.


It seems like you somehow insulted people with this question, lmao. It does have some cool little uses here and there, one guy gave some good examples but for right now it's waaaaaayyyy too expensive. Posted via the Windows Central App for Symbian

The cost is getting closer and closer to the average laser printer every year (One KickStarter I saw had a retail price of like $300!)

It wouldn't surprise me if msft bought Autodesk...

ANY improvements they make to this app would be welcome. The best I could discribe this program right now would be confusing, inaccurate, unpractical, and oh yeah... FREE. So I guess I can only complain so much. This ain't no $2500-a-seat SolidWorks.

Have you actually used it to print a 3D model? I'm curious whether it fulfills its basic function. If it does, then it's not a waste.

I haven't tried that yet, as I don't have a 3D printer, and to be honest, haven't really made anything in this program worth printing because of the unprecise nature of it. I'm a professional draftsman, and am used to actually entering in values to create parts. There is no such system in place on 3D builder. They give you a few simple shapes that you are supposed to whittle down using omission, or build upon by attaching other shapes. It's terribly inaccurate, but I suppose if you were just making simple toys, it wouln't be bad. You definitely wouldn't be able to build a functioning modcopter like they tried showing off in their hololense demo from a while back... That's just downright misleading.

But you can print/view assets generated with other, more complex software, right?

I'm trying out FreeCAD. It's better than 3D Builder, but it's not quite up to SolidWorks or AutoCAD. Then again, it's free.

Can this be used to export the 3D models to files that can be used by Unity? This would be great for making apps with Hololens if it can do all that.

Awesome question. I'd love to know that too.

YES. You can export to .OBJ, which can be imported to Unity and then visualized on Hololens. You can also use 3D Builder as an in-line object editor for Unity. Nice to see improvements! The version of 3D Builder on my SP3 on Fast Ring already has the new GUI and updated features. I don't see an 'upload' but you can use your camera to take a picture of an object. Don't expect a miracle! There are a few ways you can interpret the input (contour, edge, stamp, etc.) but it's not like you'll suddenly have a 3D model of your head floating in the viewer with a single picture. Even a simple object like a pen is not too easy to use yet. I'm waiting their smartphone scanner to build a 3D model. Right now the best bet is using Kinect if you don't want to invest in more sophisticated solutions.

Link to article on microsoft's 3D scanner app for smartphones (2013): http://www.pcworld.com/article/2059209/every-existing-smartphone-and-tab... I wonder why this hasn't made it to the public yet...

Awesome! Thanks for the info! I hope to have my HoloLens soon and I look forward to taking advantage of this app's awesome features. I guess now's the perfect time to buy that Kinect for Windows adapter since I already have a Kinect from my Xbox One. I don't mind if it's not perfect yet, I'm sure they'll improve it in time. And considering I have 0 knowledge on 3D design, this is litereally better than nothing for me lol.

Just checked and thanks to the handy dandy new Store Downloads & Updates features on the latest RS build, I can see 3D Builder was updated with these features already (today).

Well, I still find it useless

Is this similar to SketchUp in the sense that you can use it for designing things for video games or no, completely different? Posted via the Windows Central App for Symbian

Now just allow us to render 3d models in png format with transparent backgrounds please

This looks like an app that will be discontinued in the near future.

That's the Microsoft way: release it, hype it, build an awesome app, then unceremoniously discontinue it. A year later, introduce a new version with more bugs, fewer features, and act excited by how innovative it is.

What is this app trying to be. CAD? CAM/Slicer? i have a 3d printer at home and i find this app pretty much useless. There are far supperior and free aplications on web. At least they coud do is add support for reprap based printers,

This program, while cumbersome to use, is great.....have used it primarily to add embossing (text, images) to existing models
Windows Central Newsletter
Thank you for signing up to Windows Central. You will receive a verification email shortly.
There was a problem. Please refresh the page and try again.